Want to experience holiday joy and festivities with an elegant raised pinky*? San Francisco is a great city for afternoon tea, and we have the details on which tea salons are offering seasonal experiences this year. From luxury hotels to cute cafés, you'll have your pick of the city for piping hot tea, delicious food and luscious wine pairings. *Raise pinky at your own risk!
You know what makes some of the world's best wine taste even better? Amazing food. Napa and Sonoma Wine Country offer what we think are the perfect pairings. Here's our favorite places to eat in Napa Valley and Sonoma County right now.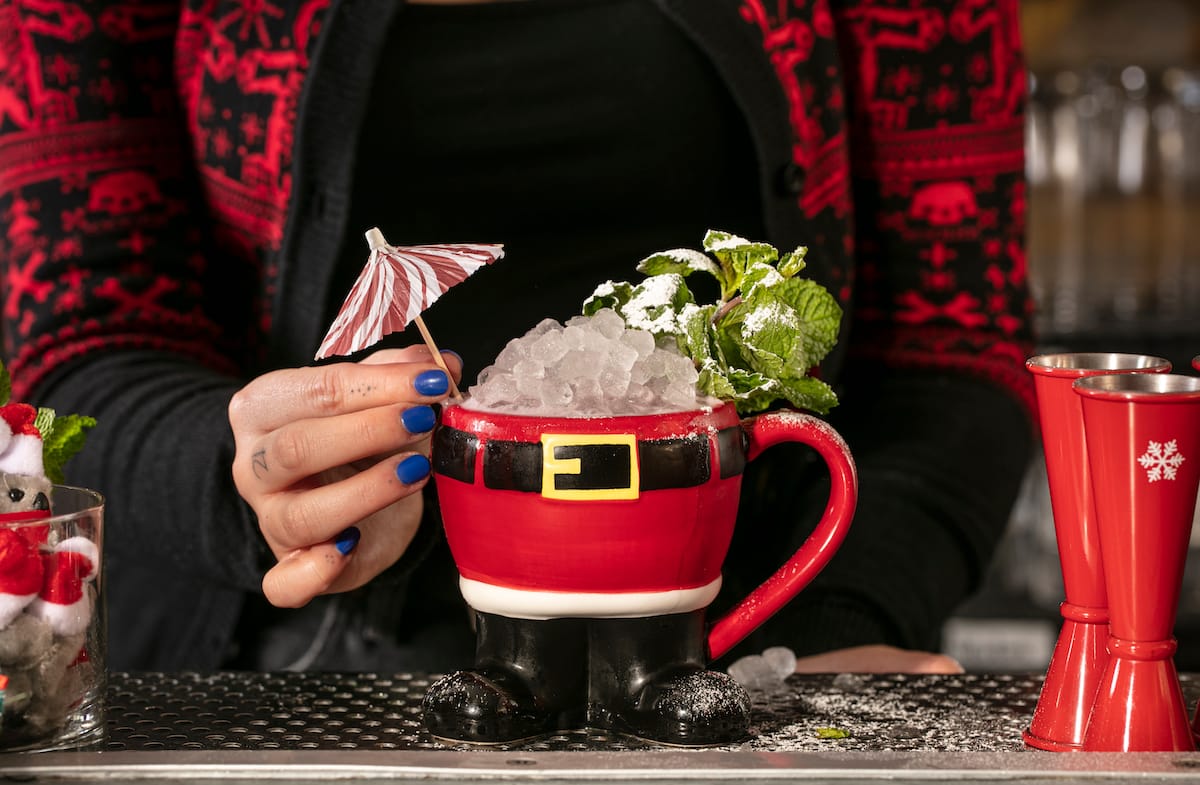 Let the Christmas countdown begin! Napa Yard is hosting the Miracle Christmas Cocktail pop-up from November 24 through December 31. Tuesday through Thursday food will be provided by food trucks including Loncheria Fusion Kitchen and Fancy Savage.  Friday through Sunday the Napa Yard Garden Kitchen will be open with its new winter menu.
Don't miss:
Newcomer cocktail Rudolph's Replacement. Reservations encouraged.
Celebrate the holiday season with festive afternoon tea at ceremony Ackerman Heritage House! The beautifully restored 1889 Victorian that Ackerman calls home will be decked out with sparkling vintage holiday decor throughout December.
Don't miss:
All the sweet treats. There's even seasonal, homemade butter, so come hungry.
All aboard the Napa Valley Wine Train for a merry adventure through Napa Valley with old St. Nick! Your three-course kid-friendly dinner includes a table-side visit from Santa.
Don't miss:
The cookies and cocoa. Tis the season!
Offering everything from bourbon deviled eggs to ahi tacos, and superfood salad with kale, roasted beets and more, The Lincoln, an American gastropub in Napa, boasts river views and it's open late.
Don't miss:
Brunch! Donut holes, fried chicken and waffles, lobster and chips. We could go on and on.
Stateline Road Smokehouse, the highly-anticipated Kansas City-Inspired BBQ eatery has begun a mouthwatering residency at Napa's Oxbow Public Market; chef Darryl Bell's permanent restaurant is scheduled to open in January 2024.
Don't miss:
Anything. An abbreviated menu is being served at Oxbow Public Market, but Kansas City-Invented burnt ends and Stateline Road baby back ribs are a good place to start.
It must be fall. The pumpkin shake is back At Gott's Roadside. Made with organic vanilla ice cream, milk and spiced pumpkin. Available until November 29, so plan accordingly.
Don't miss:
Another fall special offering — the crispy chicken torta with chicken, green cabbage and cilantro slaw, pickled red onions & black bean spread.
The new kid on St. Helena's Main Street, NO|MA House Café & Collective was brought to life by Ann Backen, entrepreneur and co-founder/CEO of renowned wine country architecture firm Backen & Backen. 
Don't miss:
While savoring dishes the likes of lemon ricotta waffles, mushroom tartine, and zucchini noodles with bolognese, you'll no doubt fall in love with something in the beautiful space. The good news — just about everything you see is for sale.
Fresh off a remodel, The Restaurant at North Block is back and better than ever. Along with fresh pastas and stone baked flatbreads and inventive dishes. 
Don't miss:
The Summer in the Valley — with pickled green strawberries, toy box tomatoes, summer squash, haricot verts, and carrot hummus — remind you to appreciate wine country's diverse bounty.
Neighborhood Nights are back!
Every Wednesday, Ari Weiswasser, chef-owner of the Glen Ellen Star, is serving up a two-course dinner for $45 per person. Menus are released on Sundays for the upcoming week.
Don't miss:
Complimentary corkage — cheers!
Along with the Tiki-Christmas cocktail extravaganza, Lazeaway Club chef Chris Ricketts has created a selection of festive bites. The holiday pop-up at the Flamingo Resort runs November 20 through January 8.
Don't miss:
Christmas Coco: crispy coconut shrimp, togarashi, (Japanese spice mixture) and vanilla pineapple glaze.
Engineered Dining Experience
For the holiday season, the Cantilevered Table celebration in the Bubbles Lounge at Cyrus includes a Cyrus martini or craft cocktail followed by small bites and three courses — served family-style — of chef Douglas Keane's favorite dishes served alongside Champagne. A minimum of six guests is required.
Don't miss:
The sweet treats from the pastry kitchen. They're the perfect finish to the evening. Besides, calories don't count during the holidays, right?
Inspired by Charles Goodnight, a celebrated Texas ranger, Goodnight's Prime Steak + Spirits overlooks Healdsburg Plaza and offers a steakhouse dining experience complete with wine, cocktails and oodles of bourbon and whiskey.
Don't miss:
Yes, it's a steakhouse, but there are veggie lovers who will appreciate gorgeous salads, the whole roasted cauliflower muhammara and house-made linguini with ricotta, eggplant and blistered cherry tomatoes.
Mediterranean cuisine with Petaluma River views. Plus, Luma's recently revamped menu boasts a Stemple Creek burger and burrata with heirloom cucumbers and Calabrian chili vinaigrette.
Don't miss:
Tuesday Date Night. Enjoy a three-course menu for two for $55.
Augie's French, named for Auguste Escoffier, the father of modern French cuisine, the newly opened bistro in downtown Santa Rosa is the eight restaurant by husband and wife restaurateurs Mark and Terri Stark.
Don't miss:
Classics like French onion soup, escargot, beef cheek bourguignon and steak frites.
After spending two years on the East Coast, Chef Shane McAnelly is the new Executive Chef of Dry Creek Kitchen in Healdsburg. A favorite in the wine country culinary world, McAnelly is well-known for his success at Healdsburg's Brass Rabbit and Chalkboard restaurants, as well as once leading the culinary program at Bricoleur Vineyards in Windsor.
Don't miss:
McAnelly recently unveiled a new menu at Dry Creek Kitchen; dishes include Liberty Duck with charred eggplant and figs, Matsutake Mushrooms with finger lime, mitsuba, and umami broth, and Street Corn Agnolotti with calabrian hot pepper, shishito pepper, cotija, and lime.
When You're Here, You're Family
Chef-Owner Dustin Valette from The Matheson in Healdsburg is serving up family style dinners every Wednesday. Menus change every two weeks and include a lineup of family recipes including prime rib and fried chicken.
Don't miss:
Save room for desserts the likes of peach and blackberry cobbler.
The City by the Bay has been a foodie beacon for over a century. Whether it's white tablecloth dining Tadich Grill, celeb-fueled glory days of Stars, or Julia Child's endorsement (and face) on the Tenderloin's Tu Lan menu, this town sets the pace for food trends around the country. This keeps our editors busy updating our guides featuring where to eat breakfast, lunch, dinner pizza, burger, sushi and steakhouses in San Francisco.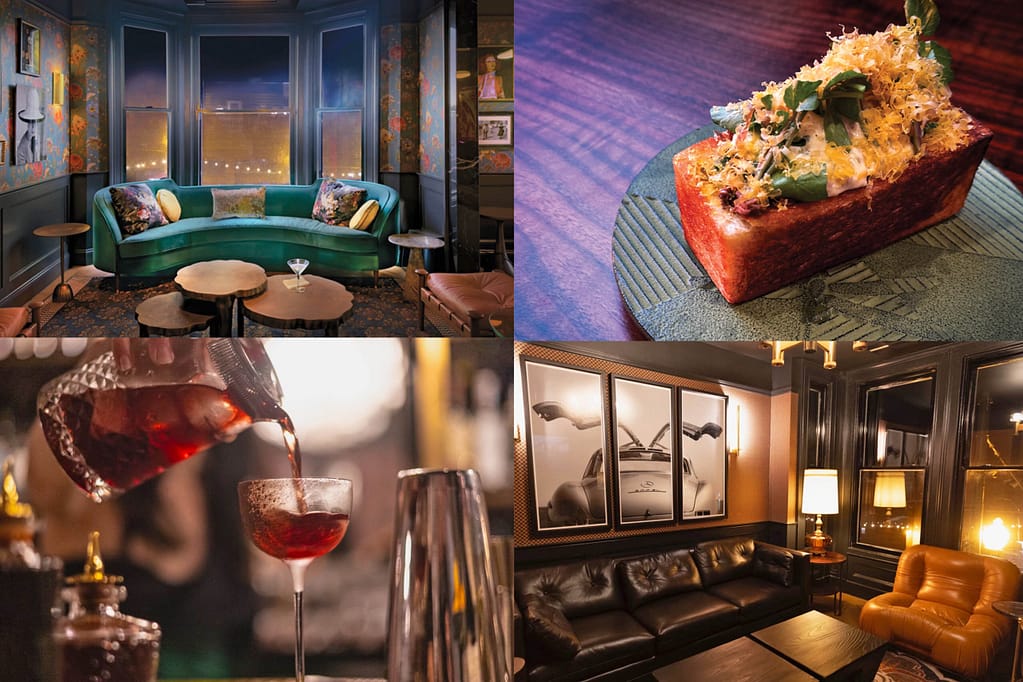 It's almost as much fun watching people question if the left door they are about to enter is the 'right' left door, as it is sliding into one of the plush settees and sipping on a bourbon in a fancy glass. Perfect timing for the city's bounce back, Left Door, perched above the infamous (beloved) Bus Stop bar at the corner of Union and Laguna, is a great spot for intimate bite or drinks with friends, there's a conversation zone for all.
Don't miss:
The martini, and just ordering Boujee Totchos will make you smile.
From December 1 through 31, Mr. Digby's in Noe Valley will be offering a menu of holiday-themed drinks like the Santa's Secret Barrel with rum, nocino, benedictine, and bitter and T'was The Night with bourbon, sherry, cassis, coffee, mint and cream. What's not to love?
Don't miss:
The truly unique Smoking Bishop with cachaca, smoked apple brandy, honey, vino and more.
Yes! Especially when it's from the team at Flour + Water. Originally in the Mission, the beloved group has opened a more casual spot in the heart of San Francisco's pizza scene. While co-chefs Thomas McNaughton (left) and Ryan Pollnow (right) came into the city with a campaign of making "pasta not predictable," their pizza, mozzarella sticks and soft serve are sure to be anything but predictable.  
Don't miss:
The glass-encased Dough Room — a perfect gathering spot for larger groups of 10–12!
Well if the foodies at the New York Times tell us Little Shuckers in one of the top 25 Restaurants in San Francisco, we're gonna have to agree. Great location on Fillmore, indoor and outdoor seating and we appreciate that they build the tip into the bill, via a 20% service charge. If you don't agree with the amount, you don't have to go back. 
Don't miss:
A little birdie (OK, a normal-sized guy named Aaron at SF Travel) told us about the super cool (as in outdoor, rooftop) Chotto Matte overlooking Union Square several weeks ago. Showcasing what's called Nikkei cuisine, but translates as sushi (and other Japanese dishes) with a Peruvian flair and views of Union Square, consider this for your holiday get-togethers.
Don't miss:
The Latest Wine From the Family Coppola
Cafe Zoetrope just got even better. The Family Coppola portfolio has grown with the addition of Niebaum Pennino, which are sustainably cultivated and sourced from organically farmed vineyards.
Don't miss:
Some of the best pizza in town paired with the new wine.
Michelin-starred chef Ho Chee Boon of Empress by Boon and team have opened Blue Whale Restaurant & Lounge at 2033 Union Street. Bringing the best of Asian cuisines made with seasonal ingredients to a garden setting in the heart of the Marina.
Don't miss:
The crispy pumpkin puffs are delightfully tangy, the grilled wagyu beef melts in your mouth and the Iberico Ham Shanghai Xiao Long Bao is a delectable twist on a classic dim sum.
Exceptional service, great value and ideal setting in the Castro? It's true! After a years-long vacancy, The Rustic just opened in the old Chow spot at 215 Church Street, steps away from the Muni Metro station. Owner Zoti Ali Turap, a Master Sommelier, managed the front-of-house at Chez Panisse and the attention to detail here reflects his experience.
Don't miss:
The truffle steak tartare. Hockey puck-sized and $18, it's perhaps the best deal in town.
Sick of the same old Tabasco? Tired of chasing down sriracha? Well, have we got news for you. A hot sauce haven exists in the Richmond District, and it boasts dozens upon dozens of top-tier tongue scorchers. Wood Goods and Hot Sauce is only open from 11 a.m. to 5 p.m. on weekends — and by chance Monday through Friday — at 1821 Balboa Street.
Don't miss:
The hot sauce bar, replete with tortilla chips and dozens and dozens of sauces to try.
Kudos to John's Grill at 63 Ellis Street — near Union Square — for recently packing the entire block to celebrate 115 years of serving San Francisco's glitterati and movers and shakers. 
Don't miss:
Combo seafood salad, created for fitness guru, Jack Lalanne and still on the menu!
Equator Coffee's Vote for SF!
Need a nosh in SoMA? Bay Area's favorite ethical coffee source has just reopened their SoMA location in the LinkedIn building, serving up the yoozh, as well as favorites from Rustic Bakery etc. Double karma points for being part of the SF solution!
Don't miss:
Apple Cider Cinnamon Cream hot apple cider topped with heavy cream shaken with vanilla and cinnamon … 'tis the season.
From Marin to Mendocino, farm-to-table doesn't get any fresher. The climate has been compared to Italy, creating the foundation for eateries including Tony's Seafood, Sam's Anchor Cafe and Farmhouse Inn. For the latest breakfast, lunch, dinner, pizza, burgers and sushi, look no further than Local Getaways.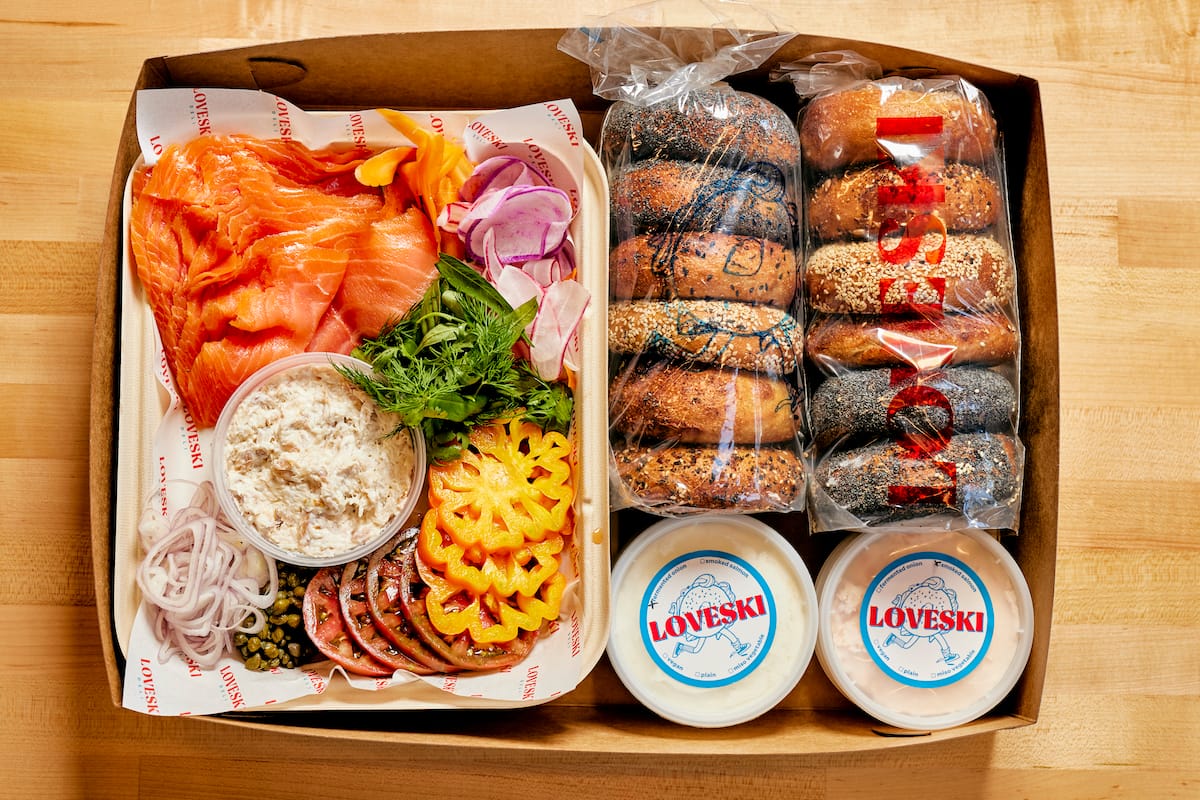 Still not quite open, but put it on your list. Chef Christopher Kostow, who earned three Michelin stars at The Restaurant at Meadowood in Napa Valley, revives his family's pre-Ellis Island family name Koslovski at a "Jew-ish" deli at Larkspur's Marin Country Mart. The menu includes flavors from his wife and business partner's Thai heritage as in, the matzo ball soup is flavored with lemongrass and chiles. Indoor-outdoor seating, grab-n-go fridge, coffee and wine, too.
Don't miss:
The catering options and large trays and spreads for special occasions, office lunches, corporate events and get-togethers.
The quintessential West Marin experience just got a boost since Top Chef Masters winner Chris Cosentino donned the coveted Nick's Cove toque at this coveted waterfront gem. Expect the classics as well some best in West Marin treats like fried oyster on a burger. 
Don't miss:
If you have the time, make a reservation for sunset, and spend the night in one of the quaint cottages. The bbq'd oysters taste best paired with Champagne on your own private patio.
Alan Scott's Legend Continues
If carbs could talk… For a true taste of the North Bay make your way to the hallowed hall of a well-used Alan Scott oven, which has produced fired up award-winning breads and pizzas for decades for beloved restaurants such as SmallShed Flatbread, Molina and Bootjack. The latest interaction, Madrona Bakery!  
Don't miss:
Caramel croissant half loaf — the holidays are coming you'll need to get your French toast game on.
It's a thing — the once sleepy town of Tiburon has become a foodie heaven! From newbies like Malibu Farms to classic (best view of the Golden Gate Bridge on the bay) Caprice, best viewed with a smokey Manhattan and branzino. 
Don't miss:
Dine with the wind! If possible, make it an adventure and opt for the Golden Gate Ferry as your ride to dinner or round trip for lunch. 
We all know Bar Bocce, Poggio, Angelino, Sandrino and now there's a new kid in town  — Vicino's.
Don't miss:
The pepperoni slice with the complimentary view of San Francisco's skyline (free with purchase). 
There's a reason culinary goddess Alice Waters started her career in the East Bay. From Alameda, Berkeley, Oakland and beyond the east bay boasts trend setting eateries that reflect the diverse population. Looking for your next meal in the East Bay, look no further, we've done the research for breakfast, lunch, dinner, burgers, pizza, sushi.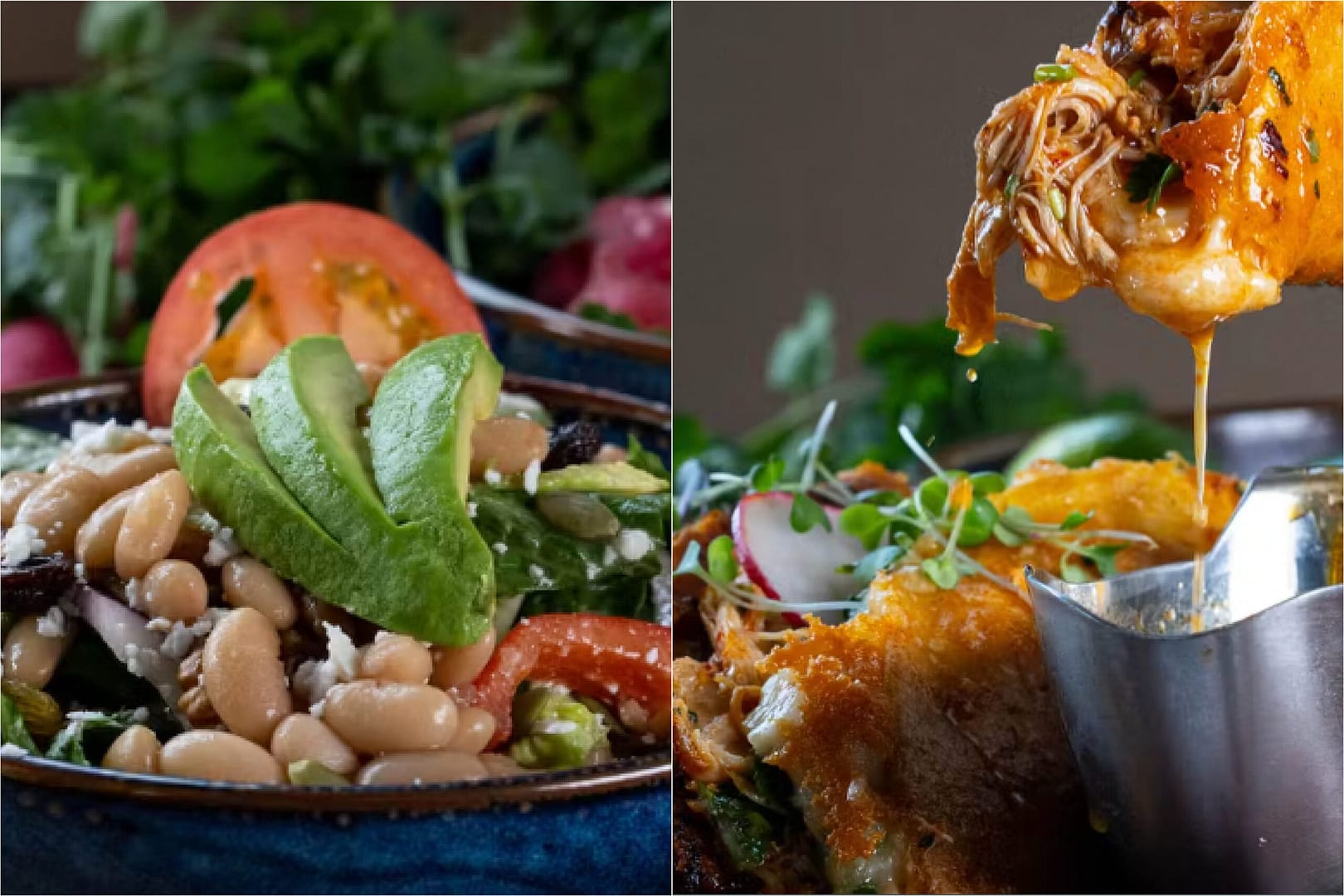 With multiple locations throughout the East Bay (Albany, Berkeley and Walnut Creek) you are never far from 5 Tacos & Beers. Created by chef Lito Saldaña — founder of Los Moles restaurants in Emeryville, San Rafael and El Cerrito (he knows his stuff!) — the menu changes monthly.
Don't Miss:
In November the tacos will be short rib, pollo al mole poblano, pork belly and cauliflower con elote.
Point is, Point Richmond is HOT!
We gave into the hype to check out Sailing Goat Restaurant — and we're glad we did. Chez Panisse alum Arnon Oren recently took over this waterfront spot and put chef Ross Kaplan at the helm to serve up inventive fare such as lamb shawarma pie. Make it a destination with live music and sweeping bay views.  
Don't Miss:
One of the hearty potjie pot stews for cooling nights. 
Tis the season to celebrate indigenous cultures and there is no better place to not only taste learn more about the Ohlone people and their history as you taste the modern version of Ohlone culinary treats at Cafe Ohlone, Hearst Museum of Anthropology at the University of California, Berkeley
Don't Miss:
Rawwnikma — chia seed flour brownies made with unsweetened chocolate and black walnuts taste even sweeter once you've heard the origin story. 
San Francisco's Michelin-starred chef Kin Khao Kasem Saengsawang has two East Bay locals, Daughter Thai in Montclair, but Farmhouse Kitchen Thai Cuisine in Jack London Square is our focus for this month. The views, the vibe and share plate noods make for a perfect date night.
Don't Miss:
Take advantage of the great weather and bay views with their outdoor dining at Jack London Squareluctus nec ullamcorper mattis, pulvinar dapibus leo.
Known for innovation, the South Bay aka Silicon Valley was at one time covered in orchards and fields, The rich culinary history abounds here with some of the best ethnic offerings. For this list we are considering the South Bay to cover the coastal area from Half Moon Bay to Santa Cruz as well as the techy towns (Palo Alto, Menlo Park, Los Gatos and San Jose).  Looking for your next breakfast, lunch, dinner, pizza, sushi , burgers and happy hour near you — we've got you covered. 
For fans of the sweet and tiny Sausalito taqueria — brainchild of Joanne Weir and Larry Mindel — this new location at Willow Glen will be a welcome experience. The new space is 6,300 square feet, two floors, entrees and large plates on the first floor and smaller plates are served on the rooftop terrace.
Don't Miss:
Gluten-free? No problem. The entire menu of Mexican dishes including tacos, ceviches, and enchiladas, is too!
Please DO pick these Flowers!
Sit back and enjoy the show at Flowers Saratoga. Their tagline — Beautiful Food Meant to be Shared — says it all. A sensory treat from the decor to dish, your instagram feed will thank you.
Don't Miss:
The cocktails are especially science forward, especially Kiss the Bubble! 
Even if you aren't committed to a lifestyle meant to prolong life on our planet, you'll have a great meal at the stately plant-based Burlingame eatery Twelvemonth. And guess what? By accident you are supporting a business that is committed to the health of the planet. Win-win! 
Don't Miss:
Get into the fall vibes with  Squashio e pepe as long as it lasts on the menu 
Seems like the city of San Jose is abuzz with the opening of Rollati Ristorante, just across from City Hall in downtown San Jose. 
Don't Miss:
All handmade pastas are delicious, but the "Thousand" Layer Lasagne is a bucket lister. 
Find all the restaurants you're looking for across Northern California.