When visiting San Francisco, at the top of many visitors' wish lists is a visit to the world renowned PIER 39, along with a stop for a platter of fresh seafood. They find their perfect match at Pier Market, one of the best restaurants at PIER 39, which serves up mouthwatering seafood dishes along with warm hospitality, and an experience that is both a great meal and a cherished memory.
This tried-and-true dining establishment is celebrating its 40th anniversary this year. It's another milestone for the Simmons Family, which has been at PIER 39 since it first opened. In fact, Warren Simmons, who initially created the family's restaurant business, is also the mastermind behind PIER 39. He took his vision of developing the pier into a full-fledged, truly San Francisco destination for tourists and locals alike with shops, restaurants and picturesque views of the Bay, and worked diligently through seven long years of legislation and construction to build it. Simmons' dream was fully realized when PIER 39 opened in 1978.
Following in Warren's footsteps as the second generation of Simmons restaurateurs, Scooter and Nancy Simmons opened Pier Market in 1983. Back then, PIER 39 was loaded with fine dining establishments, but the Simmons wanted an eatery that would stand out as approachable, casual and known for its great seafood.
"We ditched the formality in favor of paper plates and disposable cutlery, and had our staff dress in blue jeans and white polo shirts," says Scooter Simmons. "Every menu item was priced under $10 back then. We wanted our customers to feel at ease and at home in our restaurant, enjoying our seafood without any pretense or fuss."
The concept was a hit. Customers came in droves to experience the gem that is Pier Market, often snagging a coveted table with picturesque views of the San Francisco Bay, Golden Gate Bridge and Alcatraz Island to enjoy both a feast for the palate and for the eyes.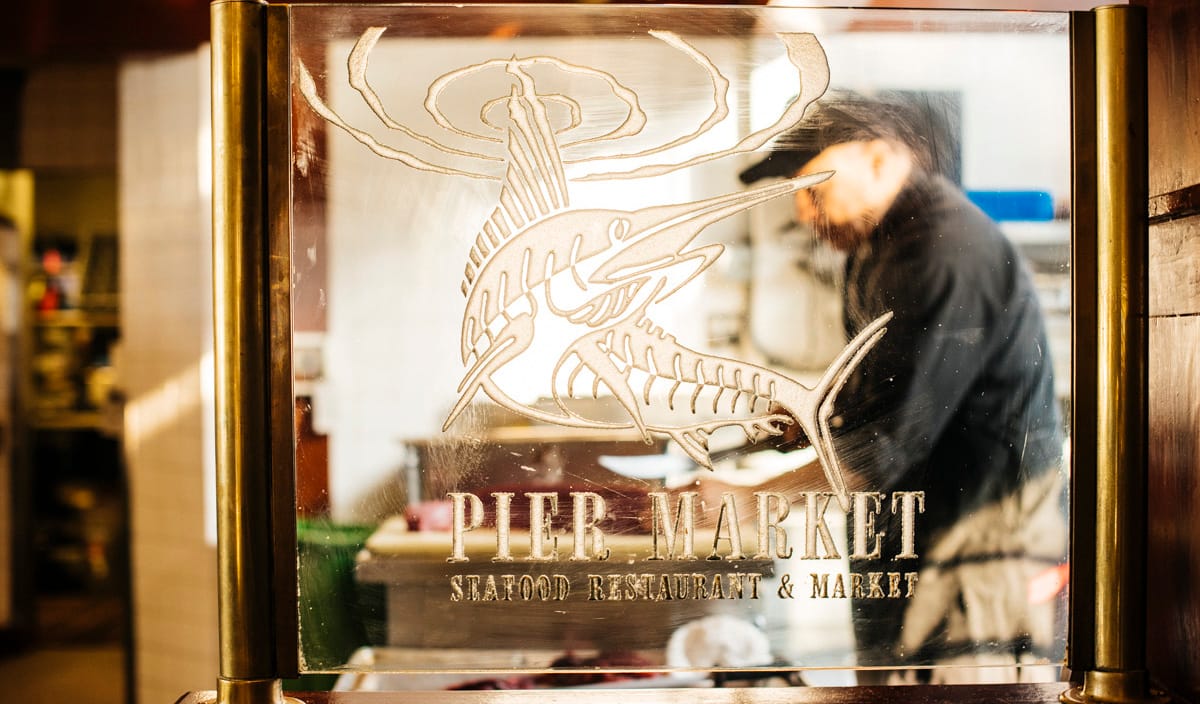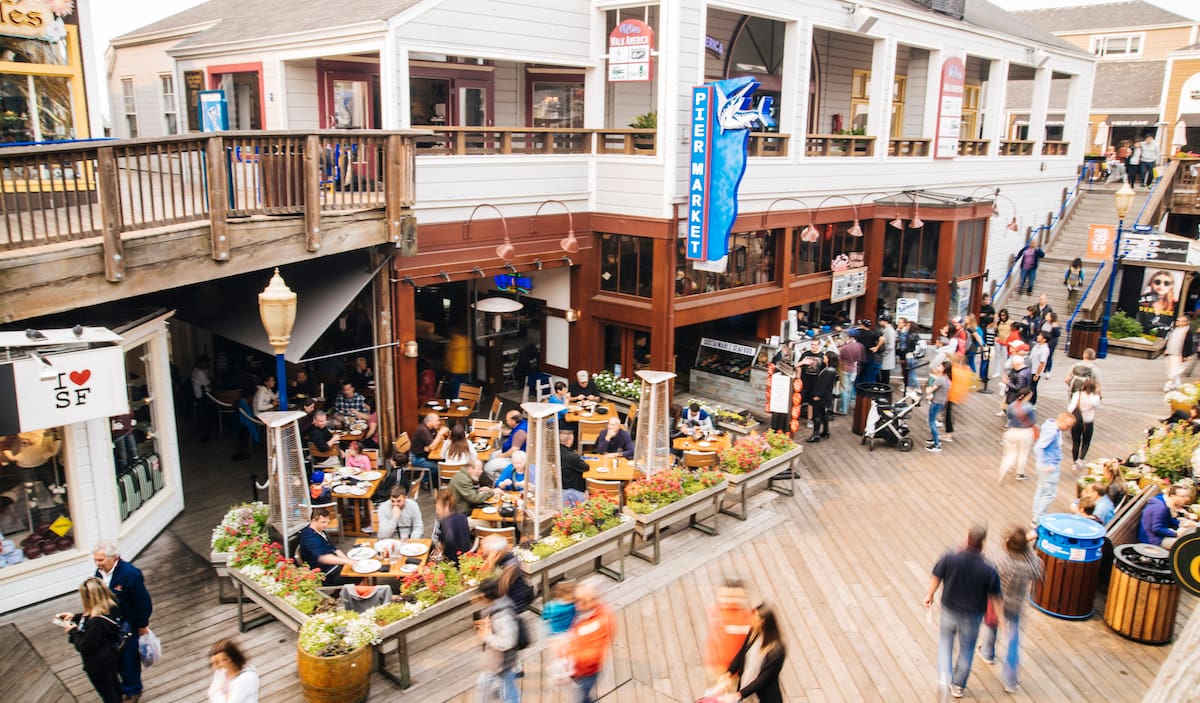 A Fresh, Sustainable Menu
Customers flock to Pier Market to experience its signature mesquite-grilled seafood, including salmon, Pacific cod, shrimp and lobster tails. Mesquite ​​grilling is a time-tested method that can elevate the flavor of even the simplest seafood dish. Executive Chef Cecilio Rojas, who has been with Pier Market 38 years, recalls when the mesquite grills themselves were a star attraction and customers would come in to watch the chefs cook. "Open kitchens were such a novelty back then (in the 90s); some folks were so intrigued that they would stay for hours, just watching us work the grill."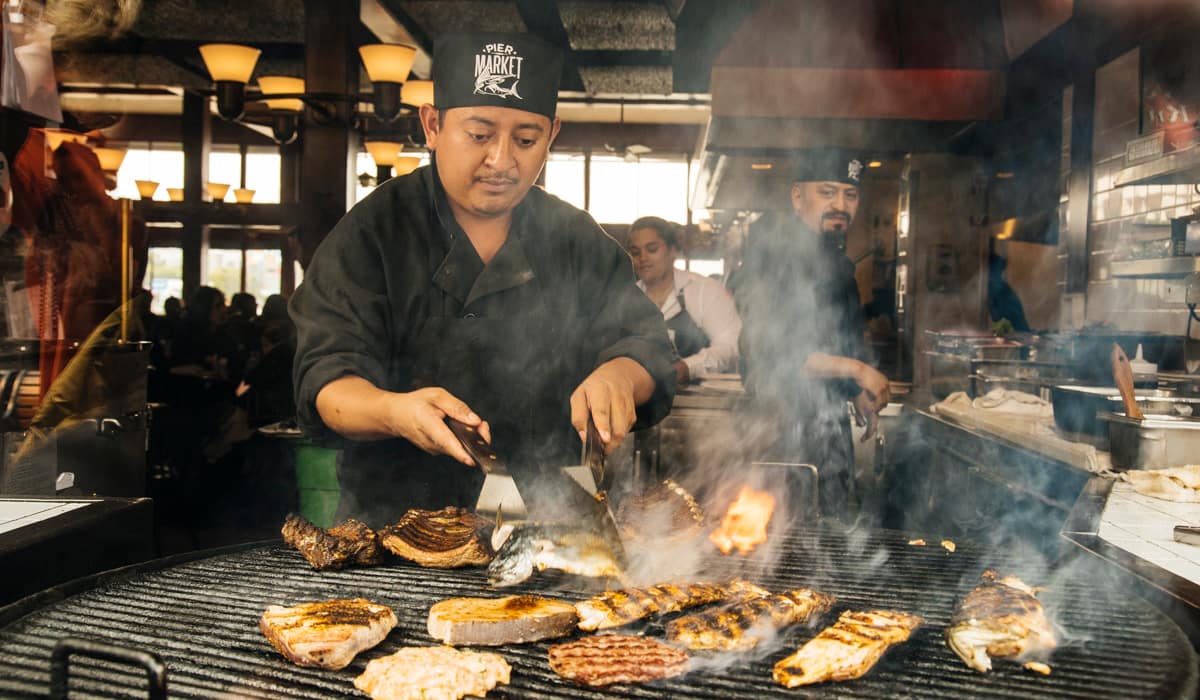 The extensive menu includes the restaurant's award-winning New England clam chowder which is always made from scratch daily (voted the best clam chowder on Fisherman's Wharf), available in a sourdough bread bowl. Other favorites consist of sweet-and-sour calamari, Cajun crab cakes and garlic fries, the latter of which have become synonymous with San Francisco.
The environmentally friendly restaurant is committed to serving sustainable seafood caught with responsible fishing practices that help keep the ocean safe. It sources the freshest ingredients possible, including seafood caught right in the San Francisco Bay, so that all dishes are prepared with ingredients at the peak of their flavor.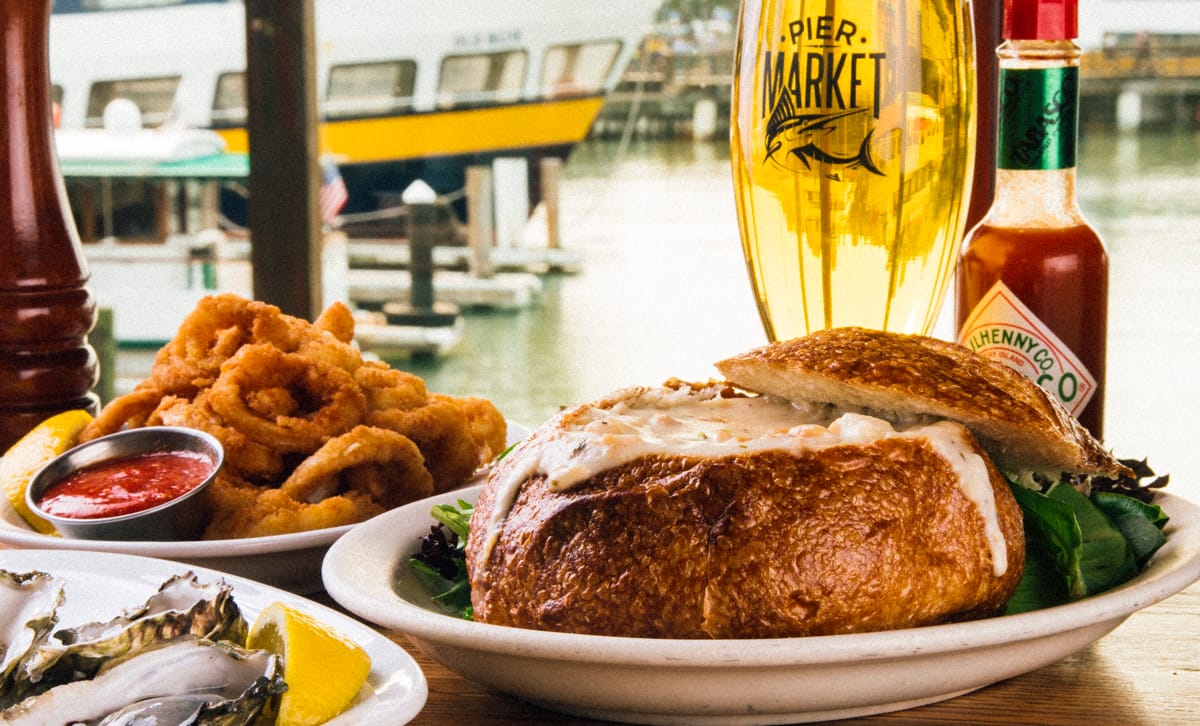 Pier Market estimates that one-third of its diners are repeat guests. "They may not come back once a week, or even every other month—but they come back every time they come to San Francisco," says Simmons. "It's exactly what we've aimed for; to be a place that people love to come back to."
He adds, "While we have visitors from around the world, a number of customers are right here in our own backyard. In 40 years, we have seen it all: couples on their first date, families on vacation, and locals who come in once a week for their favorite chowder in the city."
Michael Guevara, who started at Pier Market in 1985 as a busser and is now the restaurant's general manager, looks forward to seeing his favorite customers each summer —a couple from Los Angeles who have been visiting San Francisco since the '80s. "They will eat here as many as 8 times in one week, ordering the same thing: clam chowder in a bread bowl, steamed clams, teriyaki salmon and a medium-cooked New York steak," says Guevara. Even though he is in management now, Guevara makes a point of personally serving the pair whenever he has an opportunity.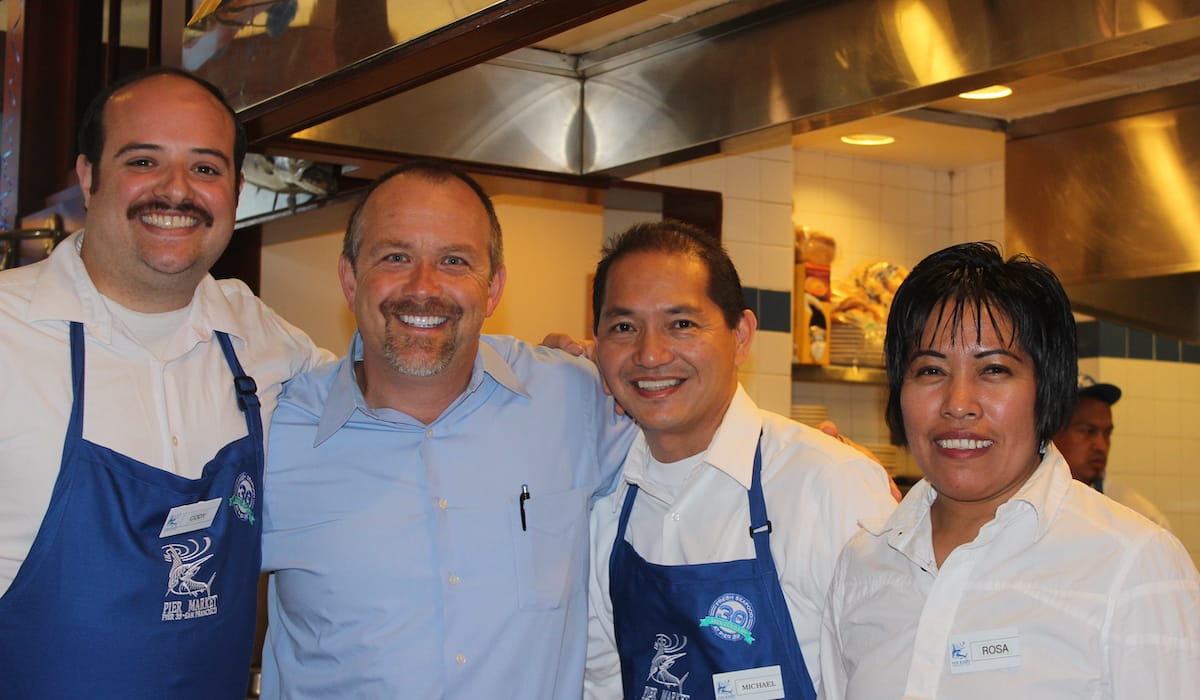 The Simmons Family takes pride in the fact that Pier Market, like their other restaurants, is foremost family-owned and operated. That "family feeling" is a common thread woven throughout everything they do: from making sure guests are well taken care of to taking care of all employees, many of whom have been with the establishment two decades or longer.
Today, management of Pier Market and the family's other restaurants has been handed down to third-generation siblings Ryan and Nicki Simmons. Both worked in the family's restaurants from young ages, learning the business from the inside out.
"Originally, we were going to name Pier Market 'The No Frills Fish Grill,' says Scooter Simmons. "Though that name didn't ultimately stick, the concept of providing fresh, mesquite-grilled seafood at affordable prices did, as has our unwavering dedication to being an approachable, family-run restaurant. For four decades, we are proud to have created a welcoming space where our guests feel like part of our extended family."
For more information or to book a reservation at Pier Market, please visit piermarket.com.