There are a handful of food items on this planet that are much more than just the sum of the fat, protein and carbs they're made of. Among them are avocados and bacon, and pizza — especially pizza. From the way you eat it, to the topics you prefer, pizza is a Myers-Briggs of the culinary world.
It has a personality of its own, and by ingesting it, you absorb those traits. Pizza eaters are fun! Carefree! A person of the people! It has to be said that as of 2023, this is a bit of a misnomer. Pizza is far more nuanced now. We're talking cauliflower crust, gluten-free, dairy-free, Neapolitan, Detroit, pizzaiolos (the people who make them) and so on. 
Our methodology in choosing these pies was to represent a wide swatch, in terms of cost and varieties. That said, here are our San Francisco Best Pizza winners for 2023, selected by our editors — look for our readers' choice winner, selected by our audience.
Featured Photo: Tony's Pizza Napoletana
Embarcadero, FiDi, Union Square, Chinatown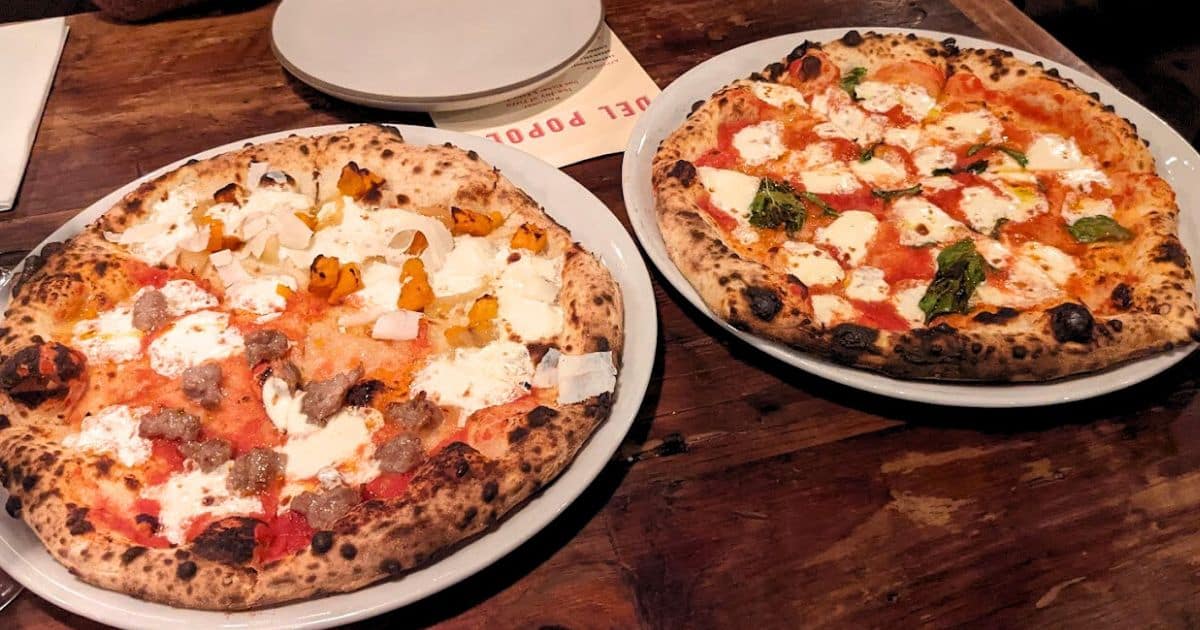 In 2012, Del Popolo was just a glass-enclosed shipping container on a truck, serving up pizza on the go. Its commitment to pizza and its loyal customers have brought it to the brick and mortar restaurant it is today; one of the best pizza places in the city with two Michelin Bib Gourmand listings to prove it. Try their potato pizza with crispy bacon bits or their sausage and fennel pizza, all served on a naturally-leavened crust piping hot from their wood-fired oven. delpopolosf.com
In or Around Fisherman's Wharf:
Ghirardelli Square, Russian Hill, North Beach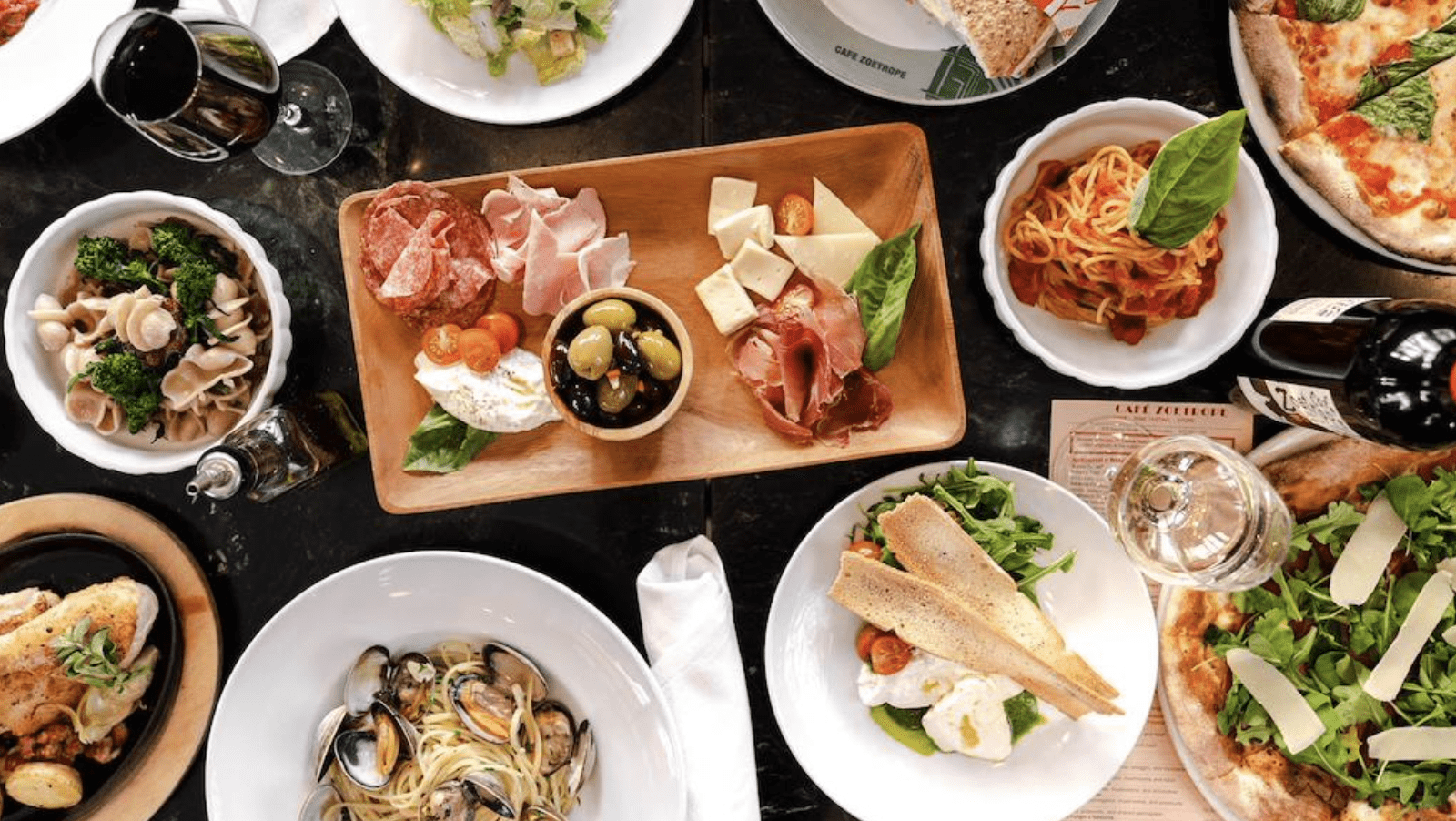 A European-style cafe in the heart of North Beach offering authentic Italian cuisine and a wide selection of Italian and California wines. Try their classic Luigino pizza, a margarita pie, or their pizza Sofia, with arugula, prosciutto and shaved parmesan. Hours are Sunday through Thursday 12pm to 6pm, Friday and Saturday 12pm to 8pm. cafezoetrope.com
Atop Russian Hill or in the foggy Outer Richmond, dining at Fiorella is always a great choice. Serving perfectly crispy yet chewy-crust pizzas from its wood-fired oven at both locations, this place is a neighborhood darling and tourist destination. Go with a friend and share to get a better lay of the land — while the pies are phenomenal, the salads, wings and sides also shine. Some of our favorite items are nonna's meatballs, the OG baby lettuce salad, and the salami pie with provolone and red chili. Hours are 5pm to 9:30pm Monday through Thursday, 5pm to 10pm on Friday, 4:30pm to 10pm on Saturday, and 4:30pm to 9:30pm on Sunday. fiorella-sf.com
A long-standing favorite of post-drinks crews, these bountiful squares are excellent for sopping up booze and so much more. It all started with Peter Sodini's vision in 1978 of a fresh baked, delicious, focaccia with pizza toppings. A runaway hit that spawned another location and wholesale contracts, the business is now run by Peter's sons. Traditionalists will love the cheese and pepperoni, but the adventurous types should definitely opt for the clam and garlic — stinking for a day after is worth it. Hours are 12pm to 8pm daily. goldenboypizza.com
Tony's is where 13-time World Pizza Champion Tony Gemignani creates his masterpies. Located in San Francisco's Little Italy, you will most certainly wait to eat here, as "No Reservations. No Exceptions," is a prominent slogan, but it is worth it. All of the ingredients are imported from Napoli, the "Pizza Capital of the World." Yes, that's a thing. Order the gold-medal winning Cal Italia — asiago, mozzarella, Italian gorgonzola, Croatian sweet fig preserve, Prosciutto di Parma, parmigiano, balsamic reduction, no sauce — and the signature Negroni. Hours are 12pm to 9pm Monday and Tuesday, 12pm to 10pm Wednesday, Thursday and Sunday, 12pm to 11pm Friday and Saturday. tonyspizzanapoletana.com
In or Around the Mission:
Mission District, Noe Valley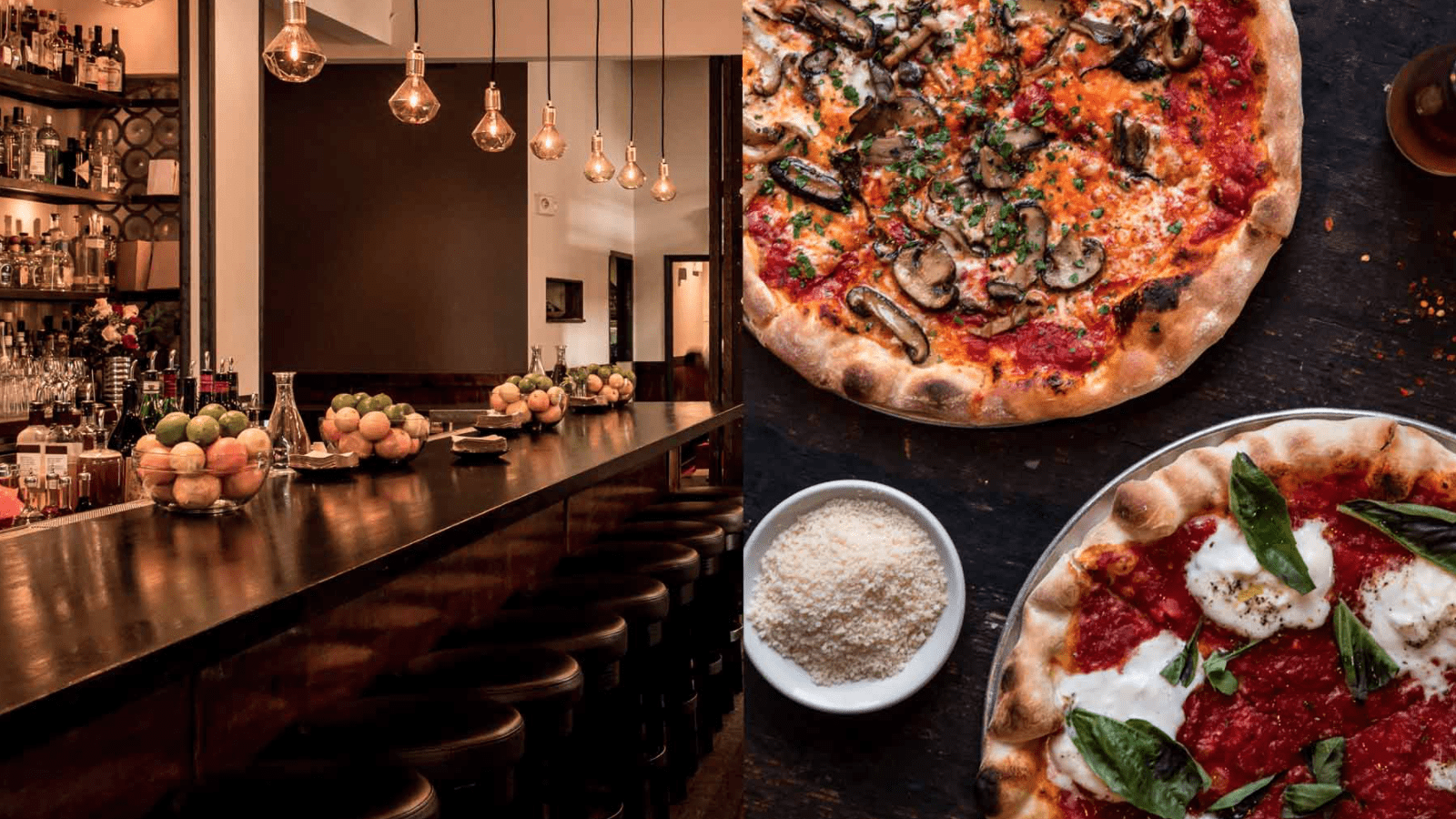 An indisputable success ever since its Mission location opened in 2008, Beretta is known for its consistently spot-on thin crust pizzas — Prosciutto di Parma one is our fave — killer cocktails, savory sides as well as vegan and veggie options. Quick note on that: guests would be remiss to skip the walnut bread burrata when ordering, it is transformative. The pop-up location opened off Divisadero in the middle of the pandemic and offers all the same goodness at exceptionally fair prices for the city. Hours are 5:30pm to 10pm Wednesday through Sunday. berettasf.com
Pizzeria Delfina might have originally started with a cozy 600 square foot space, but its instant success has resulted in an additional four locations popping up across the Bay Area. This farm-to-table restaurant serves up Neapolitan-inspired pizza alongside a constantly changing menu of small entrees and antipasti like lamb tartare or deviled eggs. If you're looking for a fan favorite, you can't go wrong with their prosciutto pie topped with fresh arugula. pizzeriadelfina.com
Since 2009, Flour + Water has been serving up dishes as thoughtfully put together as they are creative. Their menu can change daily, with an array of house-made pasta and pizza influenced by whatever is in season. With attentive service and artful plating, you'll feel like you've arrived somewhere that truly takes pizza to the next level. You might get a taste of their Bianca Verde, a fresh take on a traditional pizza bianca. Or opt for their tasting menu if it all simply looks too good to choose. flourandwater.com
Cole Valley, Haight, Richmond, Sunset
A newcomer on the pizza scene, Laura Seymour opened Damnfine in early 2021 to much fanfare. Among the reasons for the hype: a 5,500-lb wood-burning oven that pumps out pies in minutes, a location steps from the beach in a burgeoning neighborhood, and one of the most inventive drink menus around — Damnfine has a full liquor license. The range of pizzas here include the humble margarita and racy Acapulco, topped with spicy red sauce, sausage, pineapple, jalapeño, mozzarella, pickled onion and habanero, queso fresco and cilantro. Hours are 4pm to 9pm daily, closed Mondays. damnfineco.com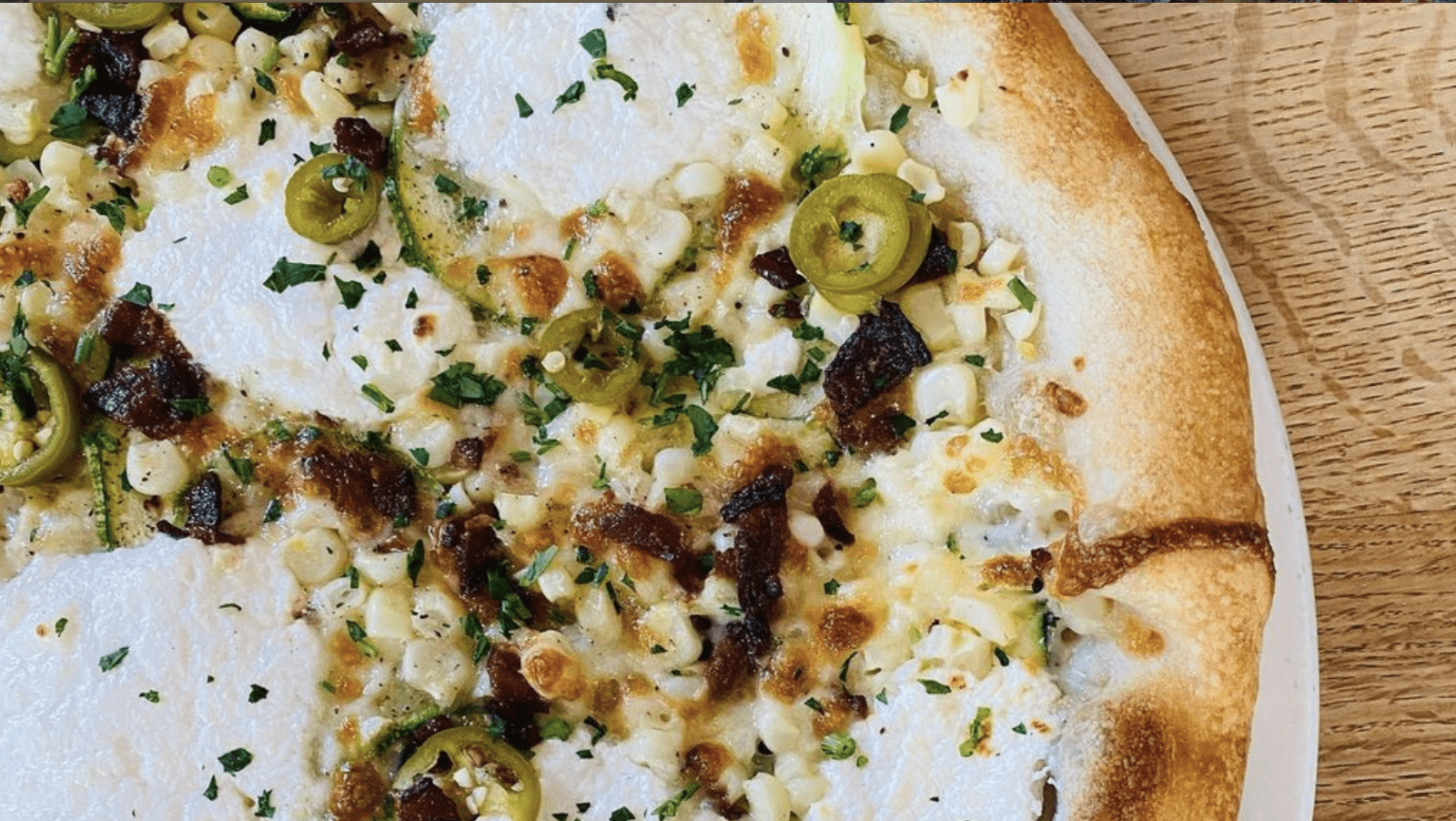 Italian for "girl," Ragazza is the sister restaurant of Glen Park's Gialina, a treasured place since 2007. In 2010, chef and owner Sharon Ardiana took her magic over to the Lower Haight and opened Ragazza. With helpful servers, an approachable wine list in terms of price and selection — they offer carafes — and a well-rounded menu of Neapolitan-style thin crust pizzas, salads and sides, there's just an ease here. Bigger parties: take advantage of the gazebo in the back. Hours are 4pm to 8pm Sunday through Thursday, 4pm to 8:30pm Friday and Saturday. ragazzasf.com
Near AT&T Park and Chase Center: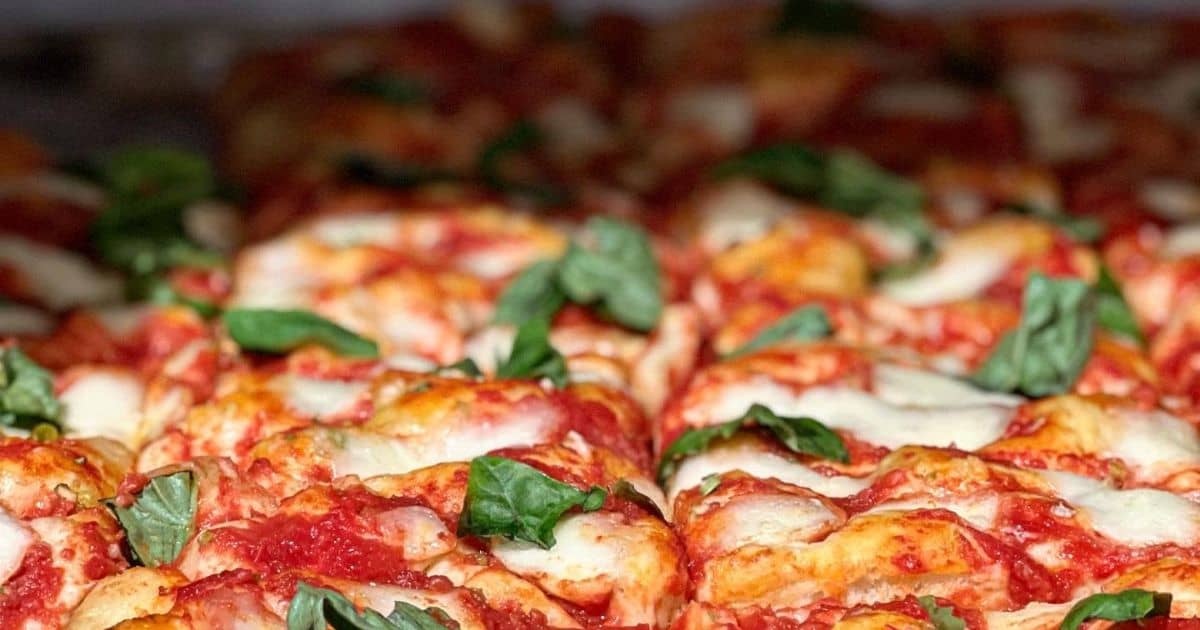 With a seasonally driven menu and hand-tossed crust, it's easy to see why Piccino has become such a community hub. Alongside favorites like their Funghi pizza with roasted mushrooms and chili oil, Piccino also serves up fresh pastas, pork meatballs, and creamy burrata on a hearty slice of crispy toast. Save room for dessert, as fans go wild for their zeppole with white chocolate and passion fruit ganache. As a dinner pairing, pick out a wine from their curated list that focuses on smaller producers. piccino.com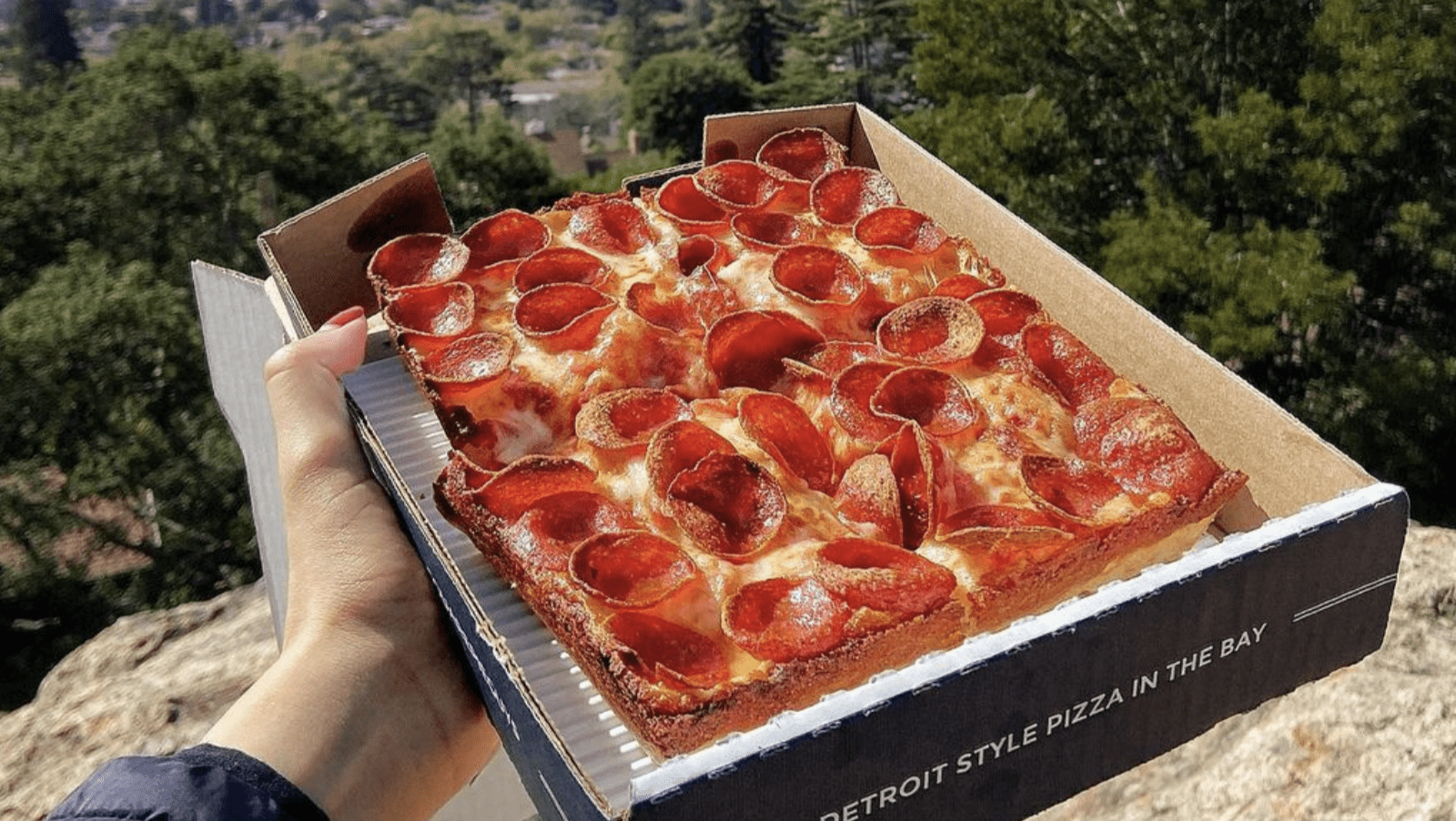 A very substantial style of pie that's been making big moves in the San Francisco pizza scene in recent years may have seemed like a clap back at waif-like Neopolitan pizza at first, but with numerous brick and mortar spots now dedicated to these robust blocks, it's clear that this supposed fad is here to stay. Baked in pans originally used to carry automotive parts, Square Pie Guys pizza has a crunchy bottom, fluffy middle, and crispy, cheesy edge. Be sure to pour on plenty of Mike's hot honey. Hours are 11:30am to 9pm Monday through Thursday, 11:30am to 10pm Friday and Saturday, 11:30am to 8pm on Sunday. squarepieguys.com
Cow Hollow, Marina, Presidio Heights
Every pie that walks out of the kitchen at A16 is made to the gold-standard for Neapolitan pizza, bringing the best of Southern Italy to San Francisco. A16 has long been a family-owned restaurant, bringing that welcoming vibe to their restaurants to encourage diners to bring their whole family for a fun night out of top-notch food with none of the formality you can get at higher-end places. With their crust that has the perfect blend of chewy and crispy, their flavorful and fragrant sauce, and their rich mozzarella cheese, even a simple margarita pizza will blow you away. a16pizza.com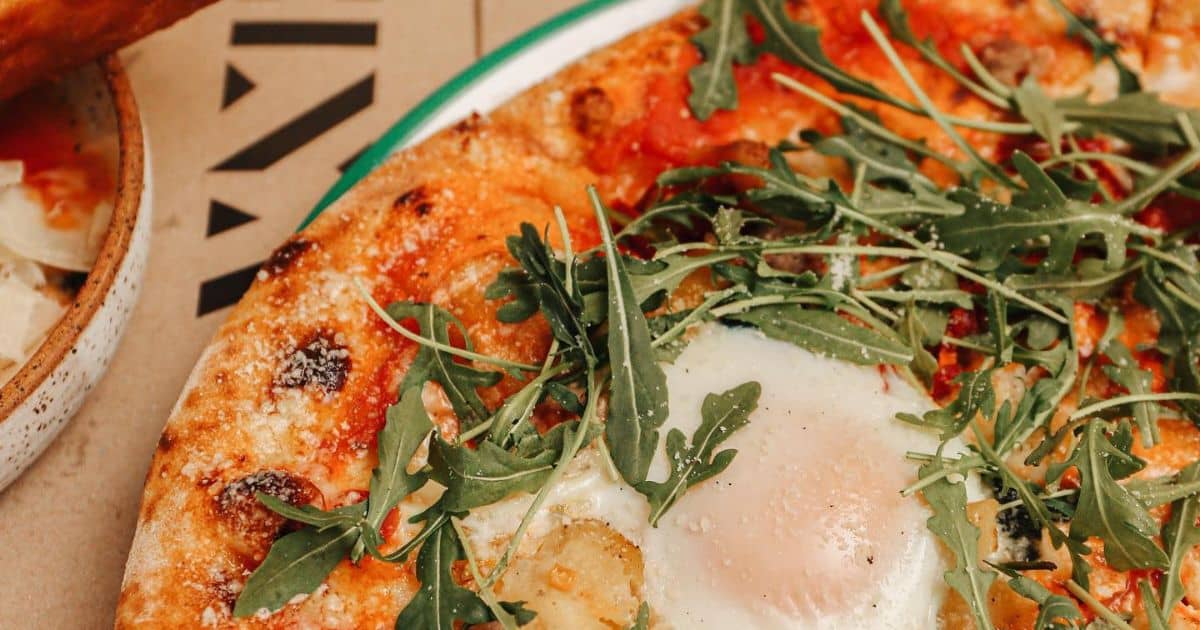 In Italian, Norcina is slang for 'female pig butcher', and that cheeky twist is reflected in the wide range of charcuterie options available in both their pizzas and pastas. Sit outdoors or in their beachy interior and enjoy a slice of their Porky Pepperoni pizza with mozzarella and fennel sausage, or get a bowl of their cheesy black pepper bucatini. Order a charcuterie and cheese board to munch on between dishes – you won't regret it! Save room for their earl gray budino, their classic chocolate olive oil cake with crispy rice and caramel sauce. norcina.com