There is no shortage of places to dine out in San Francisco, really — the most recent tally puts the number of restaurants in the city at 4,415. This figure has definitely dropped since the pandemic, but regardless, the amount of options are crippling. 
If you're looking for a meal that's upwards of $300, that exists. Or if you're looking for amazing dim sum that clocks in below $3, you can find that, as well.
Our methodology was to find a sweet spot, places that could do it all. Somewhere with superb food, first off, but also restaurants that could work for friend outings, dates, work meals, and more. That said, these are our San Francisco Best Dinner winners for 2023, selected by our editors — look for our readers' choice winner, selected by our audience.
Embarcadero, Fidi, Union Square, Chinatown
Take a seat by the wood burning hearth and gaze upon stunning waterfront views at this Michelin-starred restaurant. With a menu focused on the local bounty of the sea, you can expect to find anything from grilled sea bass with a chili crisp to paper-thin bigeye tuna tartare, but the food changes based on what's fresh and what's in season, so you'll get something different every time. Additionally, there's an impressive wine cellar with everything from Burgundy to nearby Napa. anglerrestaurants.com
For a taste of classic, old-school San Francisco, look no further than the Beacon Lounge. The elegant dining room in the Beacon Grand lies right in the heart of Union Square, its dark wood walls, golden accents, and signature fireplace transporting you back in time while you sip on a martini or an old fashioned. Come for a bottomless mimosa brunch or a farm-to-table dinner with a wine pairing highlighting some of California's finest vintners. Ensure you make a reservation in advance, as they don't take walk-ins. beacongrand.com/dine-drink
Chef Ho, a Michelin-starred chef, brings his 36 years of experience working in the world's most renowned Asian restaurants to Empress by Boon, the latest Chinatown gem. With a prix fix menu at $98 a person, you'll experience a full range of flavors with dishes like Scallop and Caviar Rolls, Crispy Squid Donuts, Iberico Pork Xiao Long Bao, and more. Pair your dish with either their optional wine pairings or Asian-inspired cocktails. Dedicated to giving back to the community, each night, Chef Ho offers one table to a Bay Area healthcare worker to enjoy a complementary prix fix dinner for two at the restaurant's bar or tea lounge. Available by reservation only and proof of a medical ID, dinner can be booked by emailing frontline@theempresssf.com.  heempresssf.com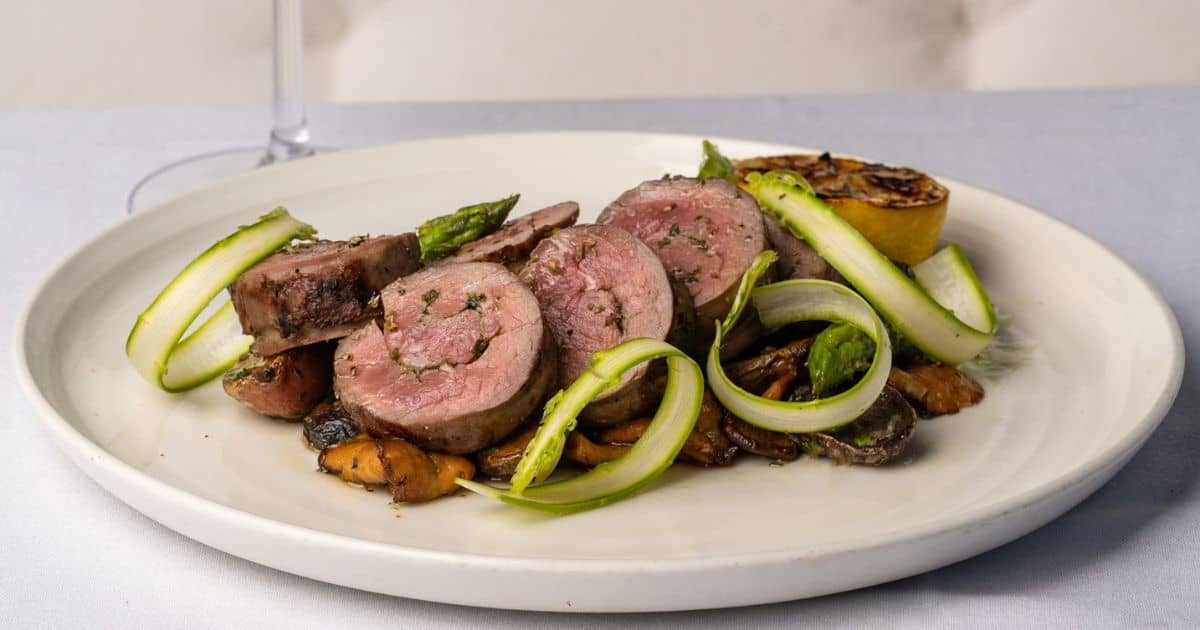 Award-winning chef Michael Mina is bringing Greek flavors to San Francisco. Once you have a taste of the wild mushroom moussaka or the grilled octopus with santorini capers, you'll find yourself transported to the Greek Isles without even having to leave the city. As is expected from a Mina restaurant, it's on the pricier end, but the top-notch service and mouthwatering dishes make it more than worth the bill – to say nothing of their handcrafted cocktails and impressive wine list. michaelmina.net
Few places are more quintessentially San Francisco than a pier view from the Embarcadero, and the quality of the food more than holds its own against the quality of the ambiance. One of their signatures is The Hawaiian, a juicy cut of ribeye steak with pineapple-soy-ginger marinade and a side of fries – perfect for soaking up every last drop of delicious sauce. Do make sure to have a reservation, as Hillstone's popularity can result in long wait times for those that haven't called ahead. hillstone.com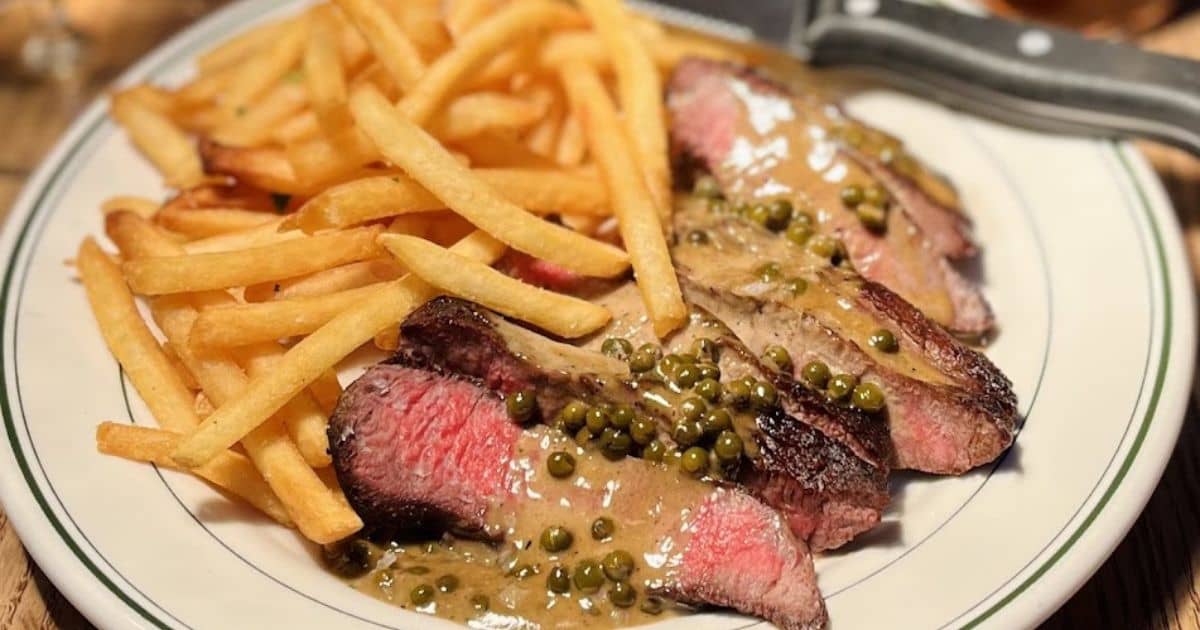 Key Klub advertises itself as a place to "Eat, drink, and party" and it's got the menu and venue to live up to that hype. With various flavor twists to classics like their grilled cheese with pumpkin seed pesto or sourdough french toast with duck liver mousse, every bite is guaranteed to be as unique as it is delicious. Their menu is constantly changing to further entice you to keep coming back. . keyklubsf.com
The Lyon & Swan and Eco Terreno Wines & Vineyards location in the historic Jackson Square below Columbus Ave pays homage to the many forms the space has taken since 1918. Food fit for kings and wines and spirits from bay area farmers enhances the nightly entertainment, a montage of music, cabaret, and comedy from mostly local artists. The warm and welcoming ambiance makes for the perfect night out on the town! www.lyonandswan.com
With a beautiful waterfront location and an emphasis on fresh seafood, La Mar Cebicheria Peruana takes a deep dive into Peruvian cebiches, tiraditos and nigiris (Peruvian-style sushi). There are so many tempting choices: classic cebiche made with the fresh catch of the day in leche de tigre with red onion, habanero, corn and sweet potatoes; ahi tuna nigiri; a flavorful mix of prawns, octopus, scallops, the catch of the day and potatoes; and even four different types of empanadas. Can't decide? Go for the tasting menu, served family style, and don't forget to order a pisco sour. Dinner hours are Sunday through Thursday 5pm to 9pm, Friday and Saturday 5pm to 9:30pm. Lunch hour are Monday through Sunday 11:30am to 2:30pm. Happy hour is Monday through Friday 3pm to 5pm. lamarsf.com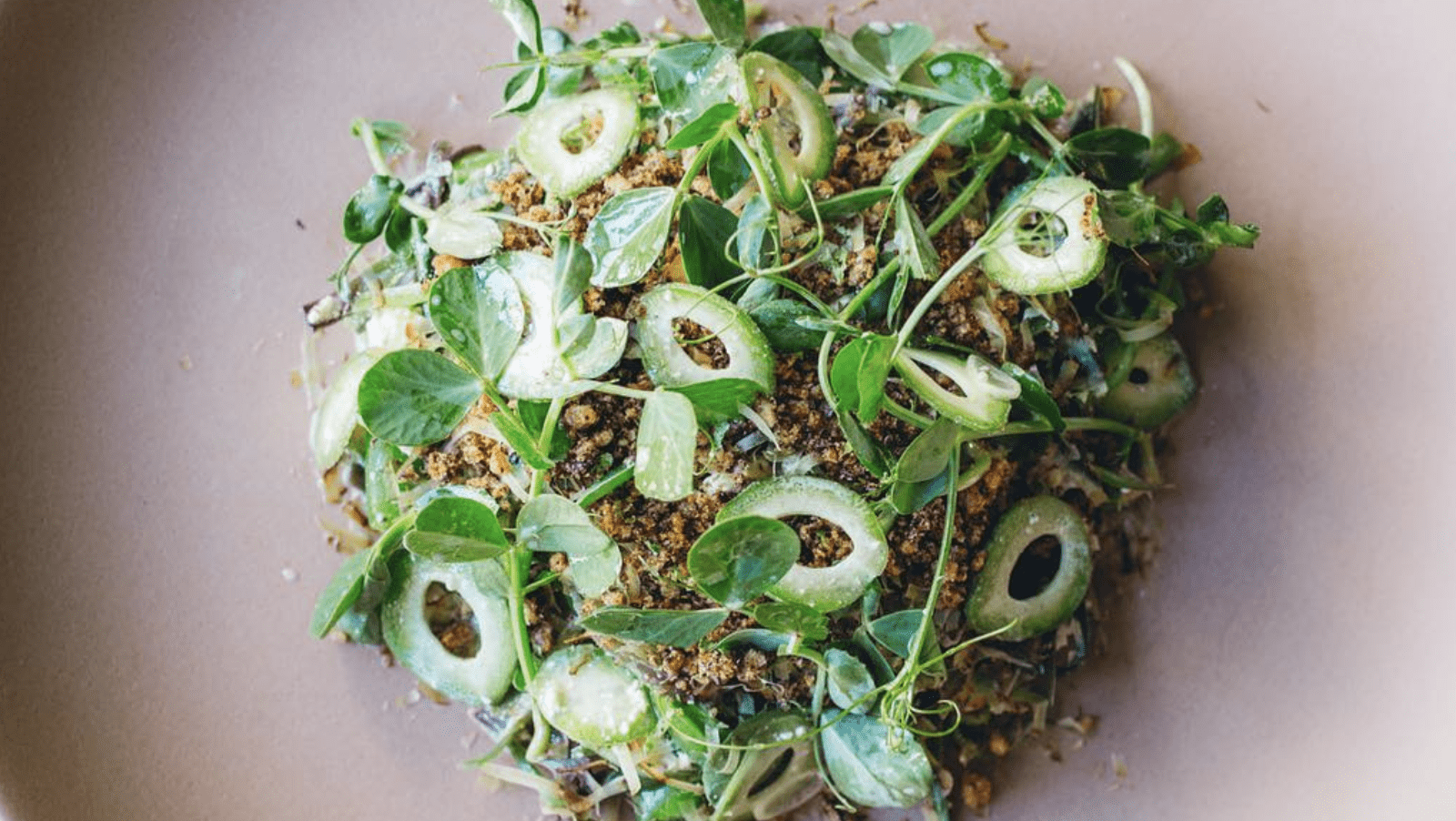 Now that you can walk into Mister Jiu's — indoor resumed when the entire staff was vaccinated — do it, because it is an electrifying experience. Tucked away in a Chinatown alley, the restaurant has the vibe of a posh club with traditional Chinese flair, i.e. modern lazy-Susans. But about the food. Light and teeming with flavor, opt for the chilled beef tendon with Stemple Creek Beef Chow Fun garlic chives, scallions, bean sprouts and horseradish. If the hour-long prep time isn't a turn off, the Liberty Farm roast duck will (lovingly) haunt you in your dreams. Hours are 5pm to 8:30pm Tuesday through Saturday. Closed Sunday and Monday. misterjius.com
For classic pizza and pasta, you can't go wrong with Nob Hill Cafe. They might not have the most extensive menu, but every single dish has been perfected and is sure to blow you away. Their classic margarita pizza is far from plain with the numerous customization options available, and gnocchi bolognese is simply to die for. Their low-lit and romantic atmosphere makes it a perfect date spot, and they also make it easy to grab some takeout if you're in a hurry. nobhillcafe.com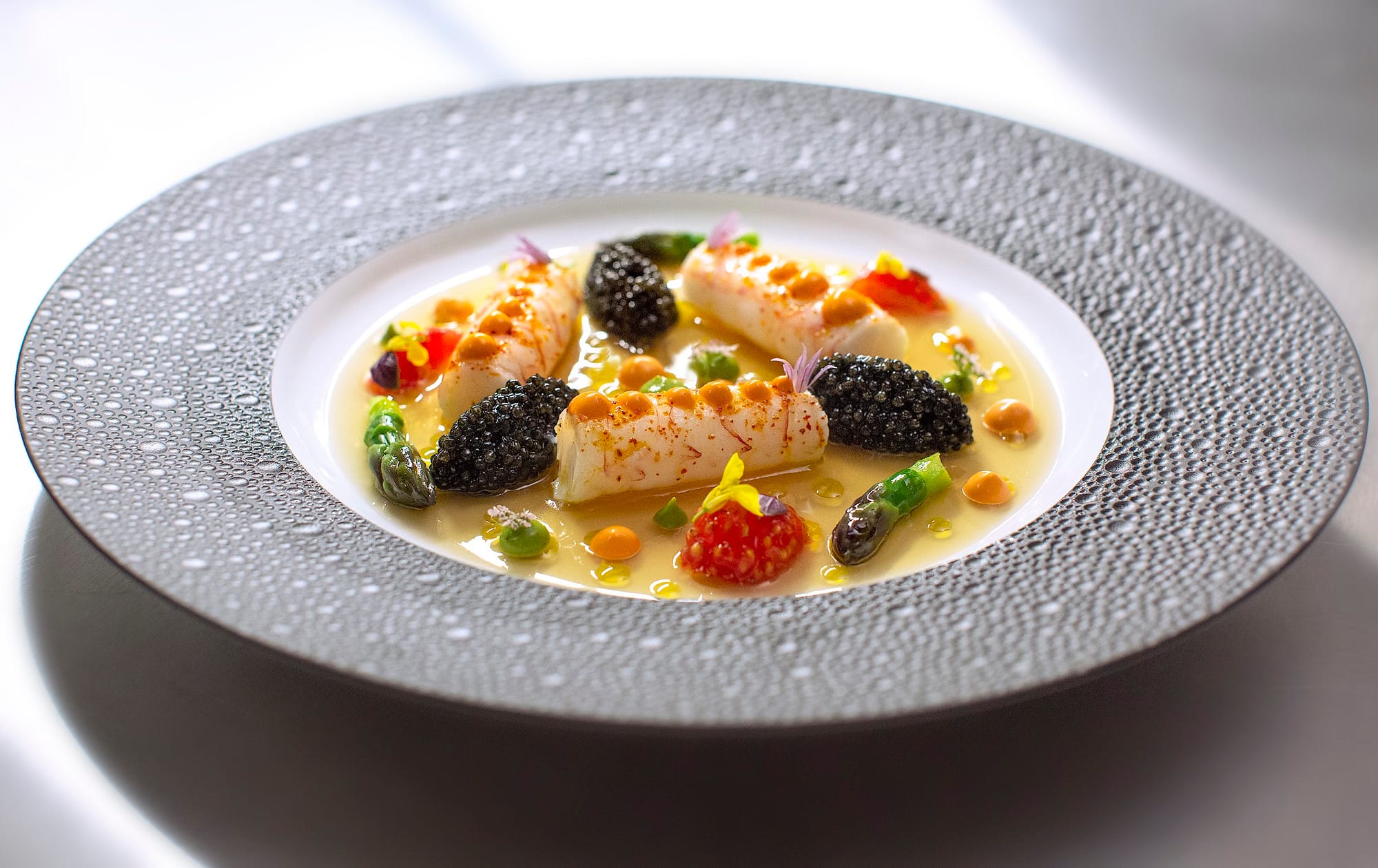 ONE65 is a unique and elevated French experience – literally, as each floor of the building you ascend provides something different. Downstairs you can enjoy their all-day breakfast and pastries, from dainty macarons to opera cake. Make your way up to their casual bistro, serving everything from creamy Maine Lobster bisque to roasted chicken breast complete with fingerling potatoes and white asparagus. Above is a contemporary bar and lounge for classic cocktails, and at the top floor is O', their fine dining restaurant with an impressive 12 course tasting menu and various wine pairings. one65sf.com
In or Around Fisherman's Wharf:
Ghiradelli Square, Russian Hill, North Beach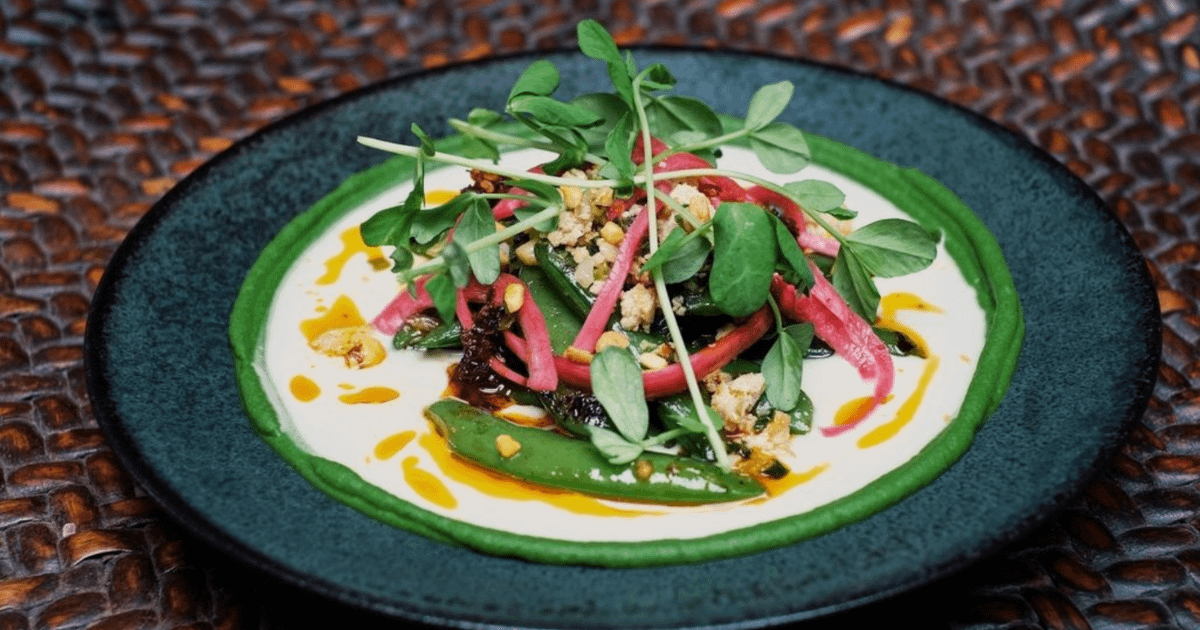 Located inside the Kimpton Alton Hotel, Abacá serves as a love letter to husband-and-wife co-owners Francis and Dian Ang's Filipino roots. Francis, named a Rising Star Chef by the San Francisco Chronicle in 2018, divided the menu into four sections that showcase a range of Filipino- and California-influenced flavors: skewered, grilled bites like curried shrimp with beet relish; small plates like a pork lumpia salad; rice and noodle dishes, including fried rice with chicharron, poached egg and pickled onion; and larger plates such as black cod in coconut and pine broth with maitake mushrooms and purple daikon radish. The beverage program includes a tightly focused wine list that pairs perfectly with the food, along with creative cocktails like the lavender-hued Ube-Colada, a blend of Bacardi Cuatro, pineapple and ube-coconut cream. Dinner hours are Monday through Saturday 5pm to 9pm. Brunch hours are Saturday through Sunday 8am to 1pm. Breakfast hours are Monday through Friday 7am to 10am. restaurantabaca.com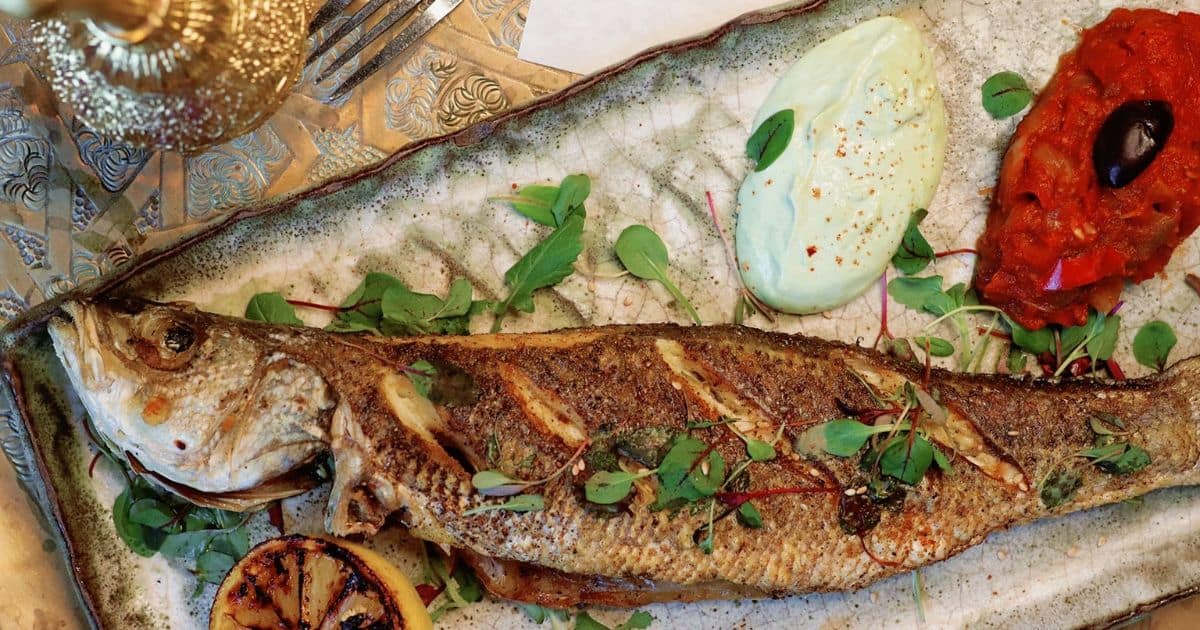 There are few places that truly do a classic dinner-and-a-show experience anymore, but Berber is the stand-out exception. With a display of aerialists, acrobats, dancers, and live musicians, and the cabaret-style seating makes sure that every guest has a clear view of the stage to ensure that you'll end the night wowed by both the food and visuals. The Moroccan-inspired cuisine features classic shakshuka and zaalouk alongside rarer offerings like their fan-favorite camel burger. Due to how complex their dining experience is, there are only a few showtimes per week, so book well in advance.
berbersf.com
On or Around Fillmore St.:
Fillmore, Japantown, Pacific Heights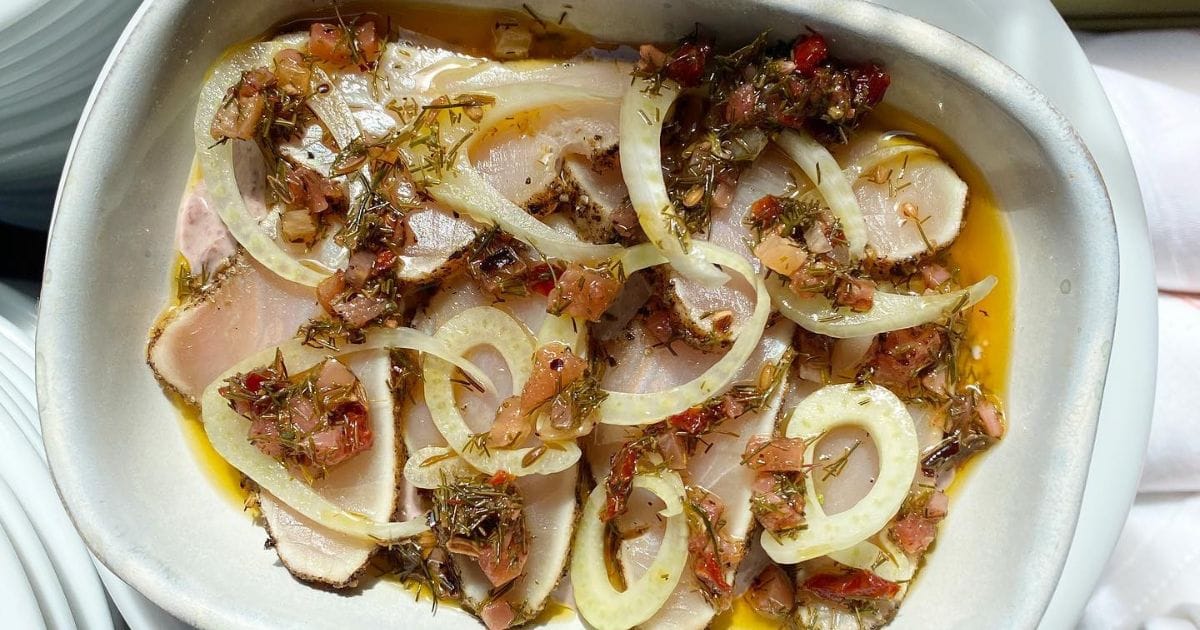 This wine and seafood bar is all about shellfish from small, traditionally-minding producers, avoiding factory farms or overfishing practices. Sample their meyer lemon miso clams and chili lime scallop tartare, or eat your fill of oysters from the raw bar. As the name suggests, they also have anchovies as you've never seen them before, like their anchovy toast with smashed peas and mint. For those with a sweet tooth, they also have a pastry kitchen churning out all the carmelized arlettes and anchovy-coconut-cashew crumble that your heart desires.theanchovybar.com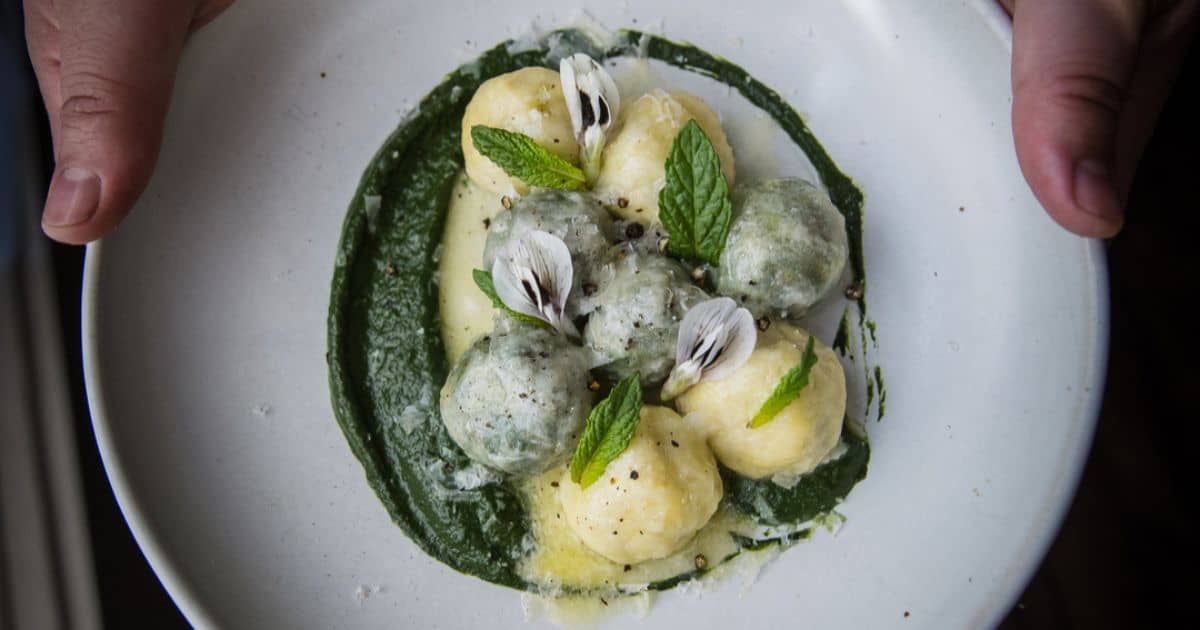 Acclaimed Chef Melissa Perello opened her second restaurant, Octavia, to highlight her commitment to sustainability and her passion for the Bay Area's fresh ingredients. Watch the chefs expertly toss pans and plate dishes in the open kitchen while you relax in the dining room with its 19th century masonry and framework. On one hand you have fresh sweetwater oysters, royal caviar, and spring trout, while on the other you have hearty duck breast with apricot and Flannery Beef picanha. Finish it off with some brown butter friand and no diner will go home hungry or dissatisfied. octavia-sf.com
San Francisco's thespians remember the original Progress Theatre that first opened in 1911, but foodies know of how it was revamped into The Progress restaurant, which threw open its doors in 2014. It quickly began collecting a long list of accolades, including the honor of becoming one of the city's most beloved restaurants. Family-style is encouraged here, so you can try a bite of absolutely everything, whether that's their local halibut crudo with cherry aguachile, guinea hen schnitzel with a Pleasant Ridge cheese fondue, or even pig head accompanied by apricot & chile fish sauce for the more daring in the party. theprogress-sf.com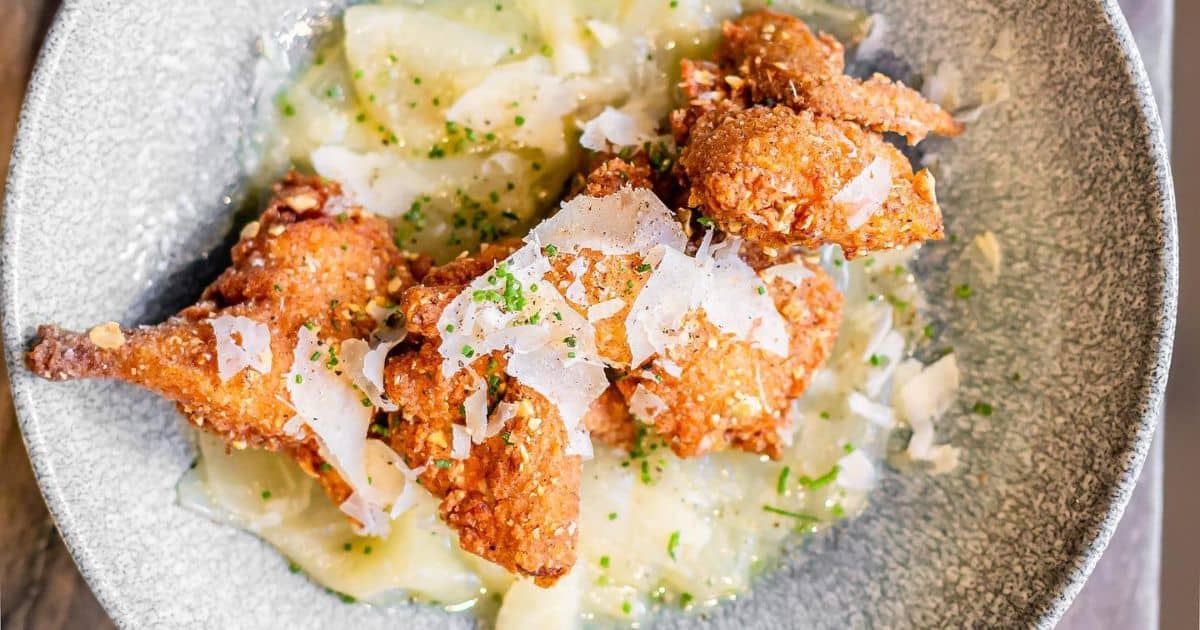 State Bird Provisions began back in 2011 as a recipe for serving quail and has since then evolved into the Michelin star restaurant it is today. Its ever-changing menu keeps diners coming back to see what seasonal provisions will be on offer, from seared ahi with spicy avocado sauce in June to wagyu carpaccio toast in January. With its reputation as the most affordable Michelin restaurant, you can experience the best of the best without wincing when the bill arrives. statebirdsf.com
In or Around the Mission:
Mission District, Noe Valley
It's said that we're a mosaic of everyone we've loved, and truthfully, also of everywhere we've ever worked. For Chef Brandon Rice, the mosaic is about as vast and esteemed as it gets. After stints overseas at Noma — that's widely accepted as one of the world's best restaurants — and stateside at Coi (RIP) and Michelin-starred Rich Table, Rice struck out to helm his own restaurant, Ernest. Living up to his credo of thinking globally but cooking locally, Rice elevates humble ingredients like corn, featuring the surprising versatile vegetable in the form of mustard-hued reduction and individually-fried tempura kernels. Guests will encounter thoughtfulness and innovation throughout the entire dining experience, making the restaurant's presence of countless "best-of" lists easily understood. Hours are Wednesday through Friday from 5pm to 9:30pm. ernestsf.com
One step inside colorful Good Good Culture Club, helmed in the kitchen by Liholiho Yacht Club chef Ravi Kapur and a diverse and talented team, and you know you're in for a treat. The scent of aromatic and inventive dishes that take a cue from all over Asia fills the room, like catfish, manilla clams, kohlrabi, blue lake beans and cilantro bathed in house-made green curry, or ribeye "yakitori" smothered in five-spice glaze with pickled red onion, bean sprouts and Thai basil. There are plenty of choices here that are gluten-free, veg, vegan and dairy-free, too though, like the crispy rice salad with delicata squash, red curry vinaigrette, sunflower seeds and dill. Order one of the beautifully executed tropical cocktails infused with ingredients like yuzu liqueur, guava and sour plum to accompany your meal, and save room for the tres leches cake made with coconut milk and embellished with kabocha mousse, citrus marmalade, five-spice honeycomb and pepitas. The lush rooftop garden is an added perk. Hours are Tuesday through Saturday 5pm to 9pm (last seating). goodgoodcultureclub.com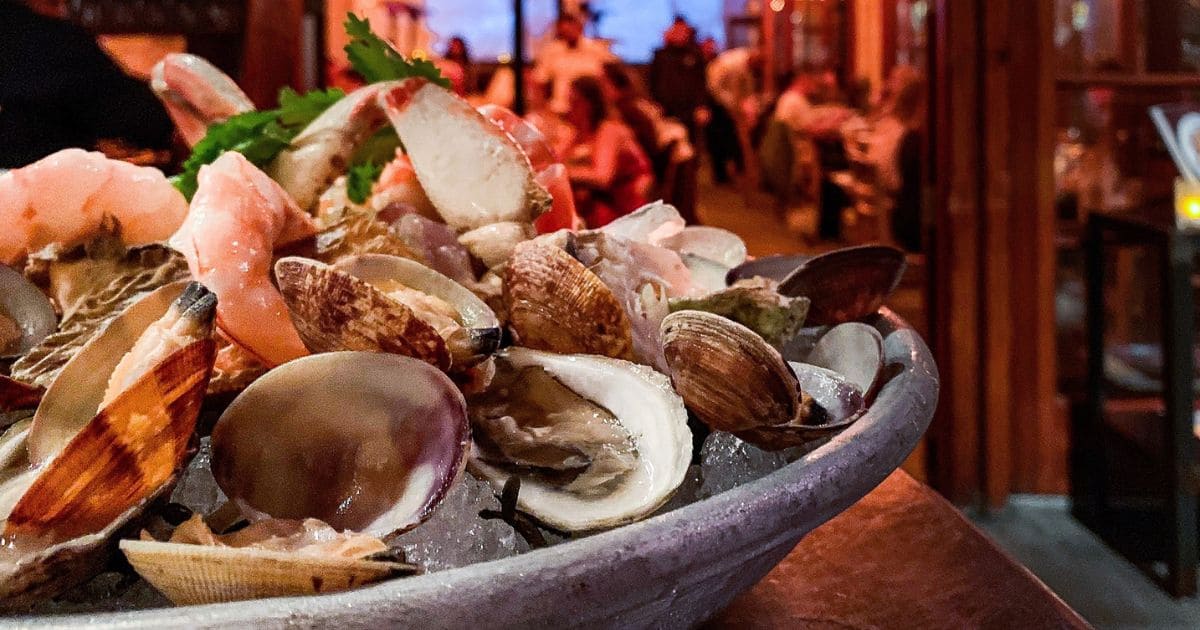 Take a seat in this industrial chic restaurant and enjoy the foreign films screened against the covered patio wall, providing a one of a kind ambiance. The indoor dining room is beautiful as well, with funky hanging lights and a warm color palette, making you right at home as you nibble on fresh oysters on the half shell. Don't miss out on their saffron risotto galettes with spiced baby carrots or the pork chop brined with lavender, and make sure to check their menu to see what film will be accompanying your meal that evening. foreigncinema.com
When you step into Rintaro, you'll find yourself transported to a Tokyo izakaya, right down to the cozy atmosphere and Japanese-inspired architecture. For those in the mood for something cool and raw, order the sashimi plate for two to sample mouthwateringly fresh fish. If you're craving something filling, go for the hand rolled udon in various broths or even as a carbonara. And for something truly classic, order some of their many charcoal grilled skewers – negima, chicken thigh and onion, is an izakaya staple for a reason. izakayarintaro.com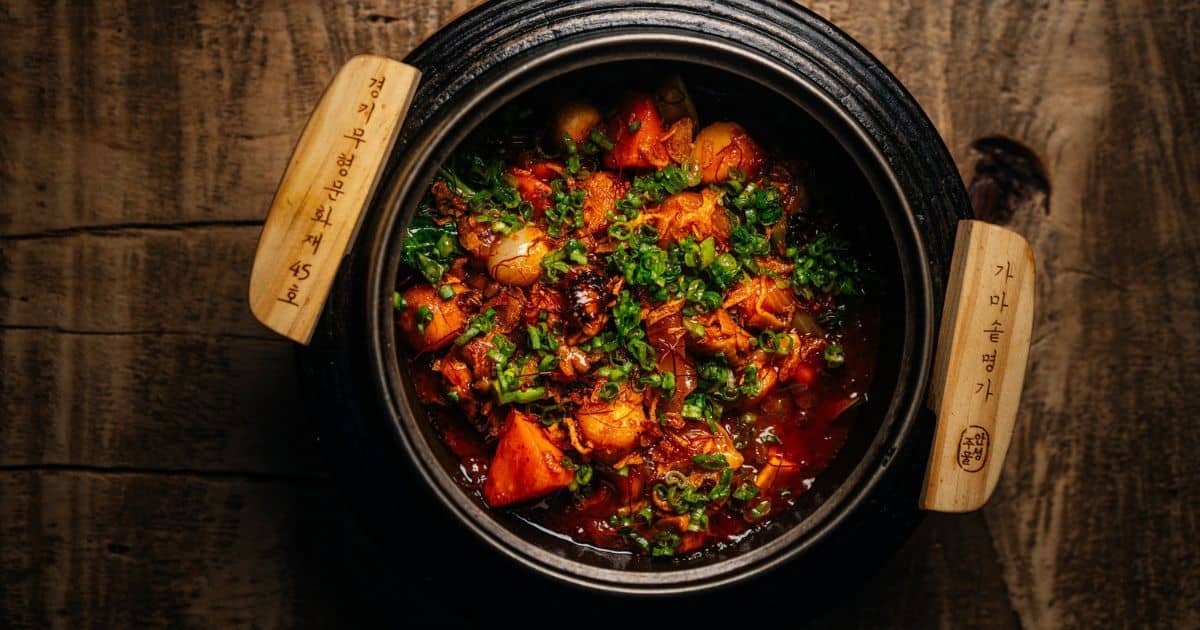 You can't have a good barbeque without good fuel, and SAN HO WON's lychee wood charcoal grills elevate any cut of meat to perfection. Beyond their fan-loved barbeque, they also have green onion pancakes with blood sausage, seasonal vegetable bibimbap, and grilled mackerel filets. But of course, you simply must get the house galbi or glazed pork ribs or any of the other marinated and masterfully prepared meat options. End your meal with a slice of dalgona cheesecake or soft serve ice cream. sanhowon.com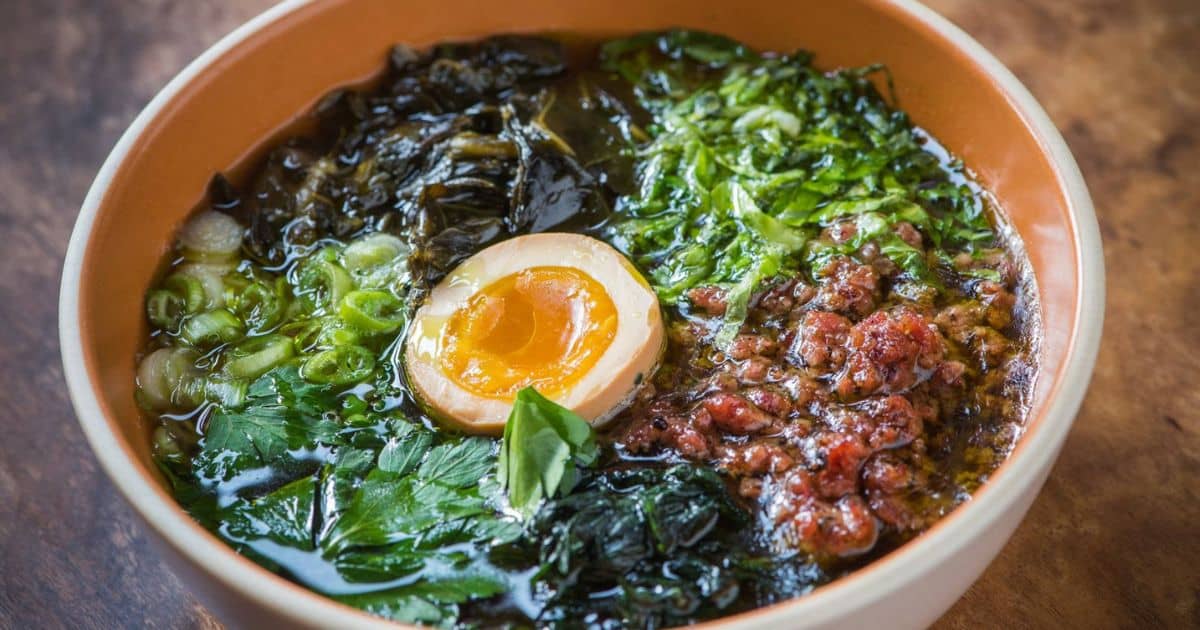 True Laurel's chic black exterior opens up into bright white walls and funky blue accents, giving the restaurant a contemporary feel and casual vibe. Come by for brunch to taste their grilled cheese omelette sandwich that practically oozes molten hot cheesy goodness, or head there for dinner if you're dying to try their popular crispy hen of the woods mushrooms. They're also known as one of the city's best cocktail bars, so even if you're not in the mood for a sit down dinner, don't rule this place out for a fun night. truelaurelsf.com
Cole Valley, Haight, Richmond, Sunset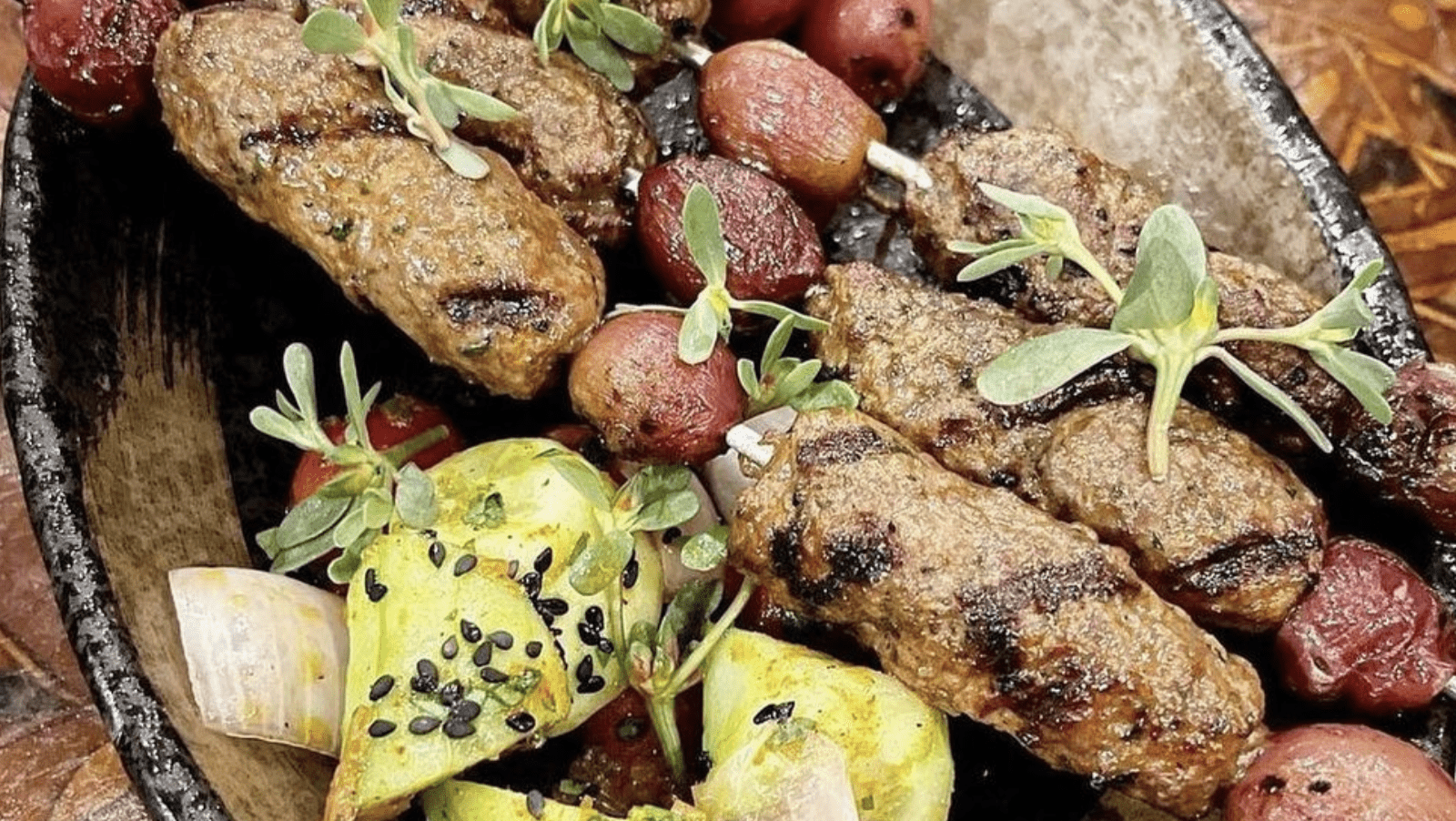 After a three-year closure, Chef Mourad Lahlou reopened Aziza at the end of 2019 to the delight of foodies everywhere. With a stunning new look and refreshed menu that paid homage to what made the Michelin-star restaurant a stand out, the culinary team concocted a fresh take on Morroccan spices and flavors. Not to be missed: the kefta meatballs with grape, cucumber, za'atar and black sesame, and the braised lamb shank with farro verde, grilled green onion, prunes and herb salad. Dinner hours are Wednesday through Sunday, 5pm to 10pm. azizasf.com
Few things warm the soul quite like Arabic comfort foods, and Beit Rima's halloumi, hummus, and hand-kneaded bread are guaranteed to put a smile on your face by the end of your filling meal. The Mezze Sampler is a favorite with its mix of fire-roasted pepper muhammara, baba ganoush garnished with mint, and lebna with za'atar yogurt. Grab your plate at the counter and grab a seat at one of the many indoor tables or the outdoor dining area. While there's sometimes a wait, the service is speedy and the atmosphere is more casual, so the line always moves quickly. beitrimasf.com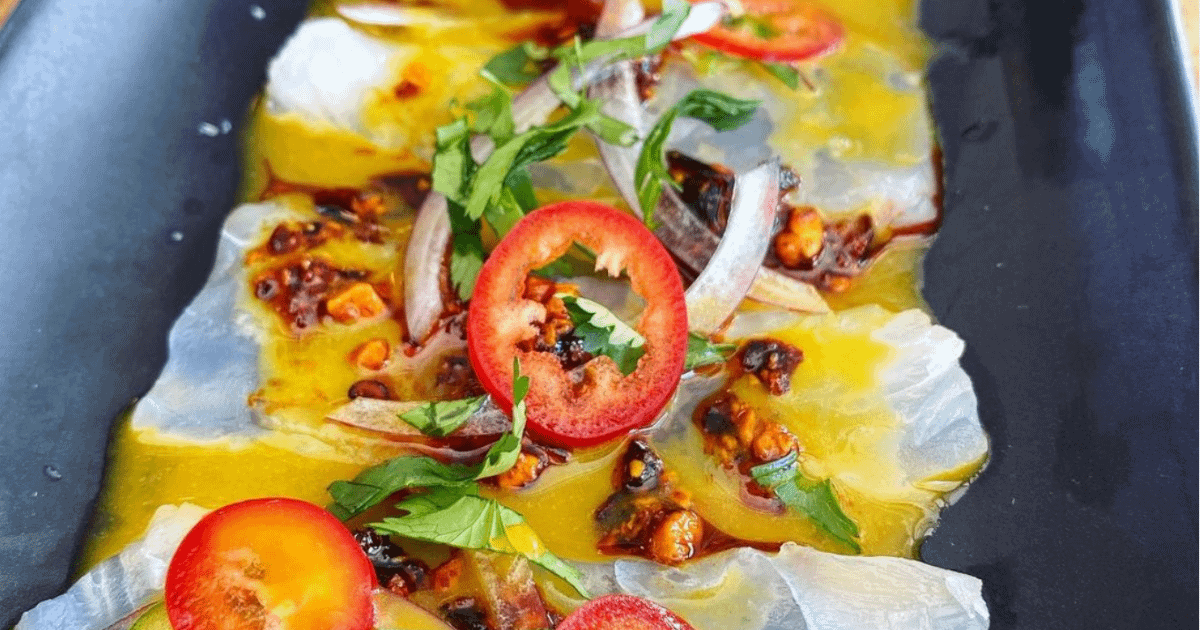 With a menu that celebrates California cooking and Mediterranean flavors, Pearl 6101 changes things up regularly, often introducing new dishes to keep diners coming back. Starters may include the chicory caesar with crispy prosciutto, or a roasted Cauliflower with black tahini hummus, while pastas and mains on offer have included handkerchief pasta with white bolognese and seared scallops served with butter bean and spinach ragout. Finish off your meal with deserts like the irresistible sticky date cake accompanied with vanilla bean ice cream, compressed pears and toffee sauce. Drinks to match hail from many local producers. Hours are Tuesday through Sunday 5pm to 9:15pm. pearl6101.com
With a curated tapas menu, Canela is the perfect place to take a group of friends for a leisurely evening. Try everything on the menu from their lollipop lamb chops to their stuffed piquillo peppers, and make sure to enjoy what their extensive wine menu has to offer. Grab a glass of champagne or rosé for a celebratory meal. For those under 21, they also have a selection of fancy, non-alcoholic bubblies. canelasf.com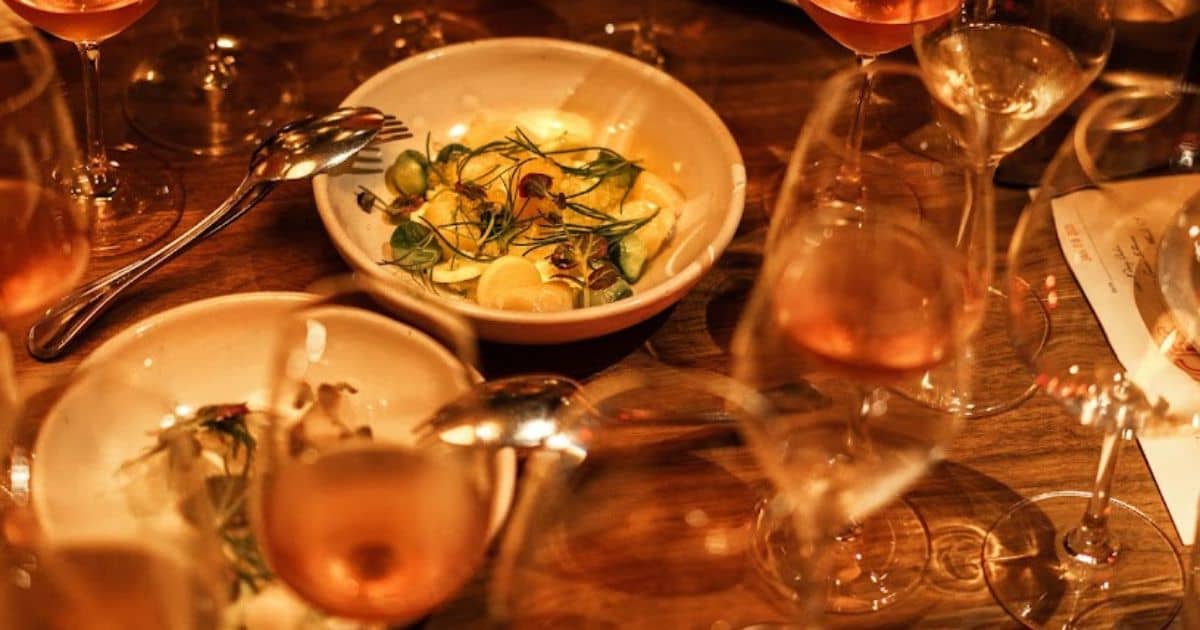 The moment you take your first bite at Frances, it'll become obvious why the restaurant has won so many accolades, including a prized Michelin star. Start your meal with a fresh slice of their housemade sourdough slathered in cultured butter or dipped in Sicilian olive oil, before moving on to Campanelle tossed in zucchini pesto or black cod drizzled with beurre blanc. The most popular option is the chef's tasting course, with the option to add a wine pairing selected by their own sommelier. frances-sf.com
Hidden away behind an unassuming exterior, once you see the charming dining room or walk out into the gorgeous backyard patio filled with heat lamps and hanging lights, you'll find yourself right at home in Poesia. Order a bowl of their Agnolotti al Plin or Tagliatelle al Ragu to enjoy their speciality; fresh pasta made in-house. Although you'll be greeted by a menu of traditional Italian dishes, most things on the menu can be made gluten-free and there are more than a very vegetarian options. poesiasf.com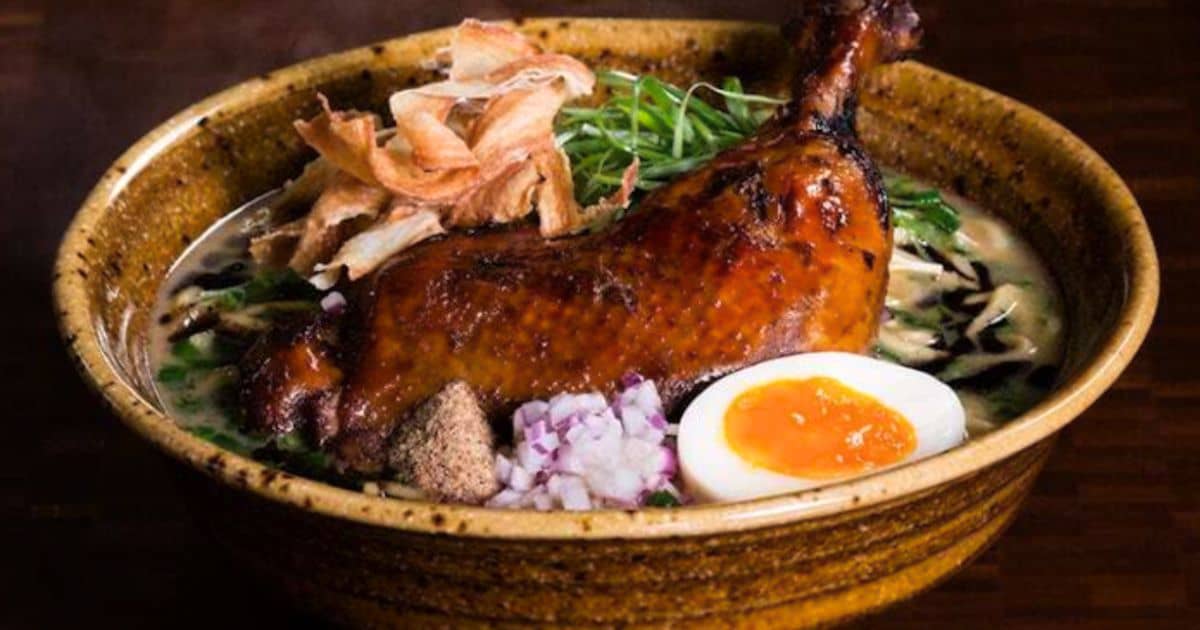 As much as we ramen lovers adore a hearty tonkotsu broth, sometimes you're in the mood for something different. Nojo's Chicken Paitan broth is a departure from the traditional, providing a rich, salty broth, perfect for the restaurant's thicker noodles and pairing well with their spicier menu options. Their signature bowl of ramen comes with a whole chicken leg on top to provide a true showstopper. While ramen is typically fast food, Nojo isn't, so expect a proper sitdown meal with a slightly higher price point that the quality more than justifies. nojosframen.com
Chefs Evan and Sarah Rich bring over three decades of combined experience in the San Francisco and New York culinary scenes to the eponymously named Rich Table. Fan favorites include their dried porcini doughnuts, bluefin tuna toro toast, and szechuan pork schnitzel with mala aioli. And if you understandably need more, worry not, for you can take home their umami powder, RT chili crunch, or even a whole loaf of bread. They also have a reputation for welcoming staff and service that runs like clockwork. richtablesf.com
Near AT&T Park and Chase Center: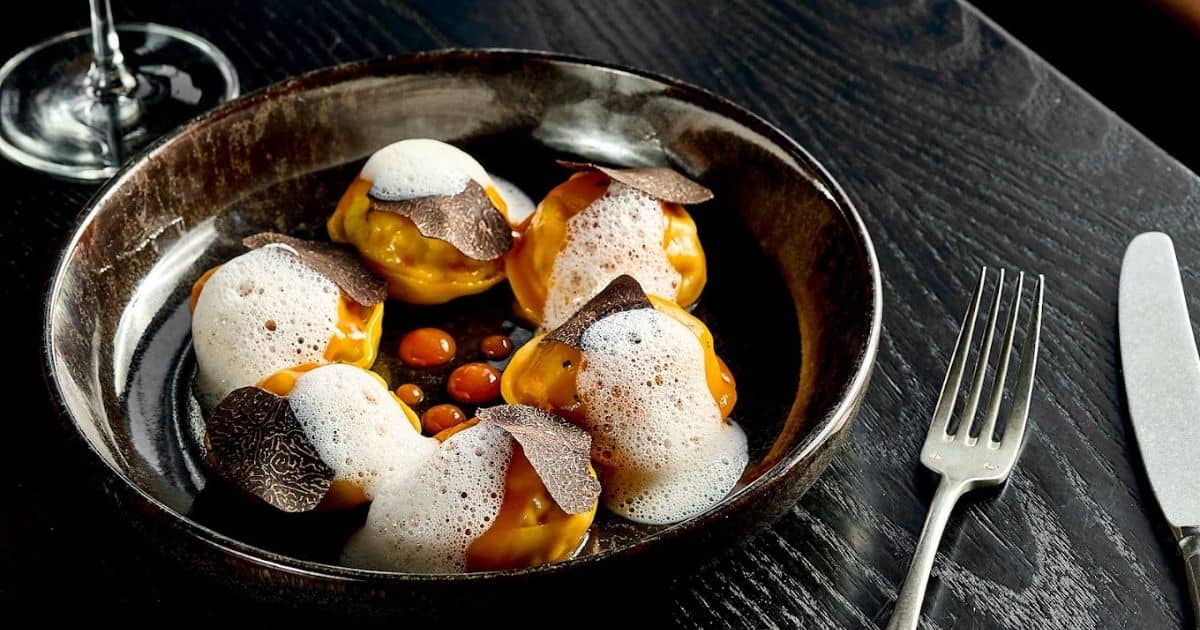 At AFICI, modern American cuisine melds with the best of French and Italian flavors. Enjoy the prefix menu with its A5 Wagyu charcuterie canapes and white sturgeon caviar before making your way down to the white asparagus panna cotta or the rabbit ballotine with mustard gelée. Save room for a matcha truffle or collection of caramels for dessert. For those not in the mood for a longer dinner, go to their Lounge and Bar Top to sample their a la carte dishes while sipping a glass of chardonnay or one of their signature cocktails. aficisf.com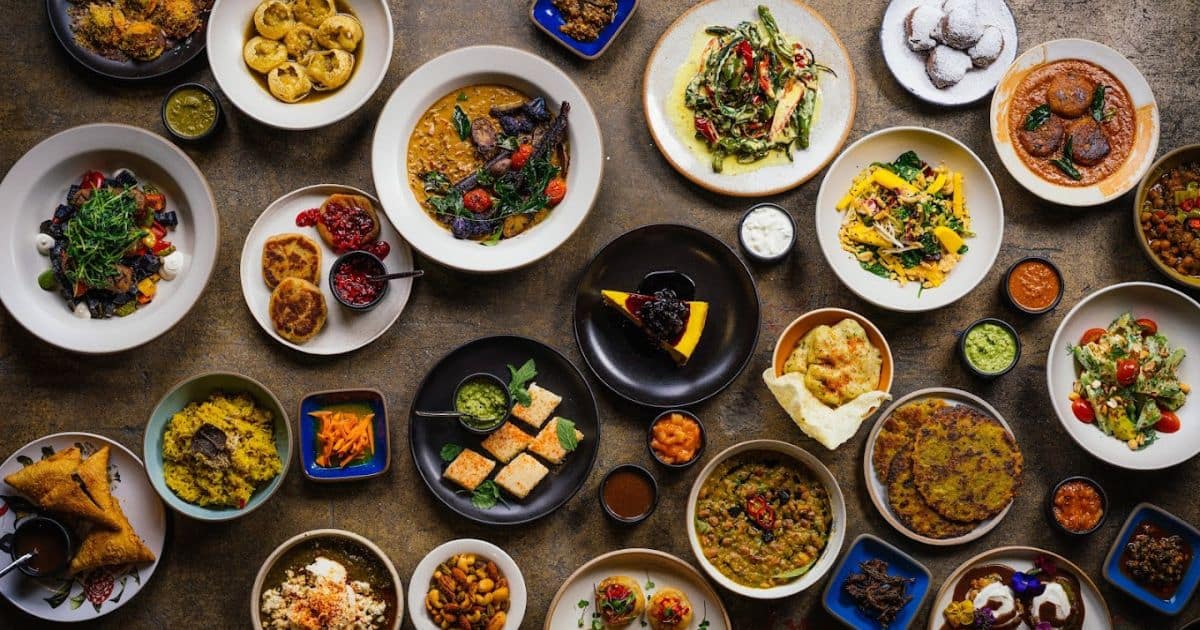 Besharam is tucked away inside the Minnesota Street Project, a bright and contemporary art space, providing the perfect backdrop for its bright Indian cuisine influenced by chef Heena Patel's childhood in Gujarat. Familiar favorites like the hearty mango chutney sit next to the lesser-known Sambhar with lemongrass and coconut or the Gatte besan pasta with a chili honey drizzle. Not sure what to get? Give their tasting menu a try and sample the best of the best. besharamrestaurant.com
Cow Hollow, Marina, Presidio Heights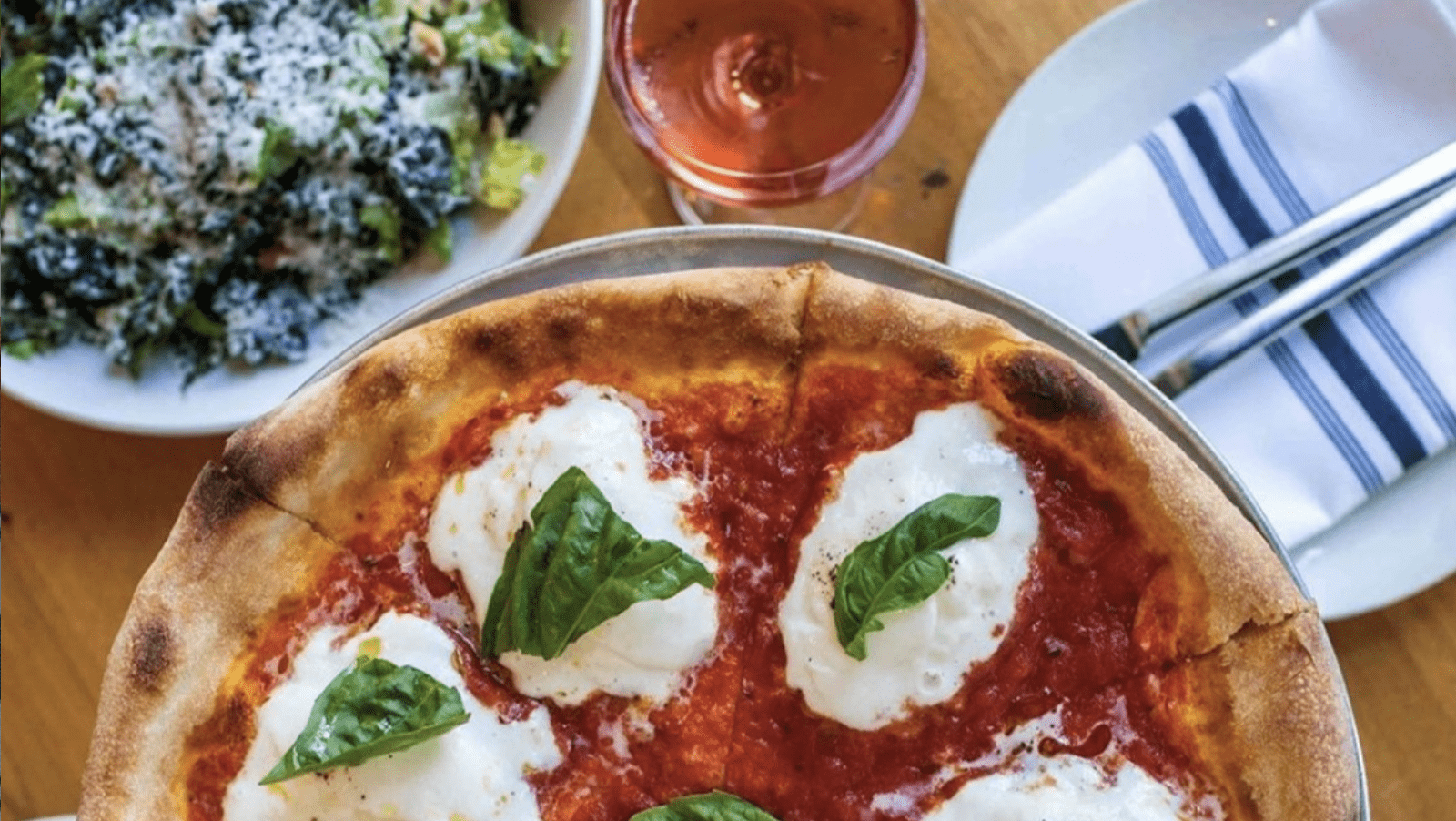 A hit that hasn't waned since it opened in the neighborhood in 2010, crowds flock to Delarosa — there's always at least a 20-minute wait — for the Roman-style pizza, easily shareable small plates like the burrata bruschetta and consistently great wines. It's proximity to the Golden Gate Bridge makes it a popular spot with tourists, but you're bound to see plenty of locals and their designer pups at the tables outside. Hours are 12pm to 10pm, Monday through Thursday, 12pm to 11pm on Friday, 11am to 11pm on Saturday, and 11am to 10pm Sunday. delarosasf.com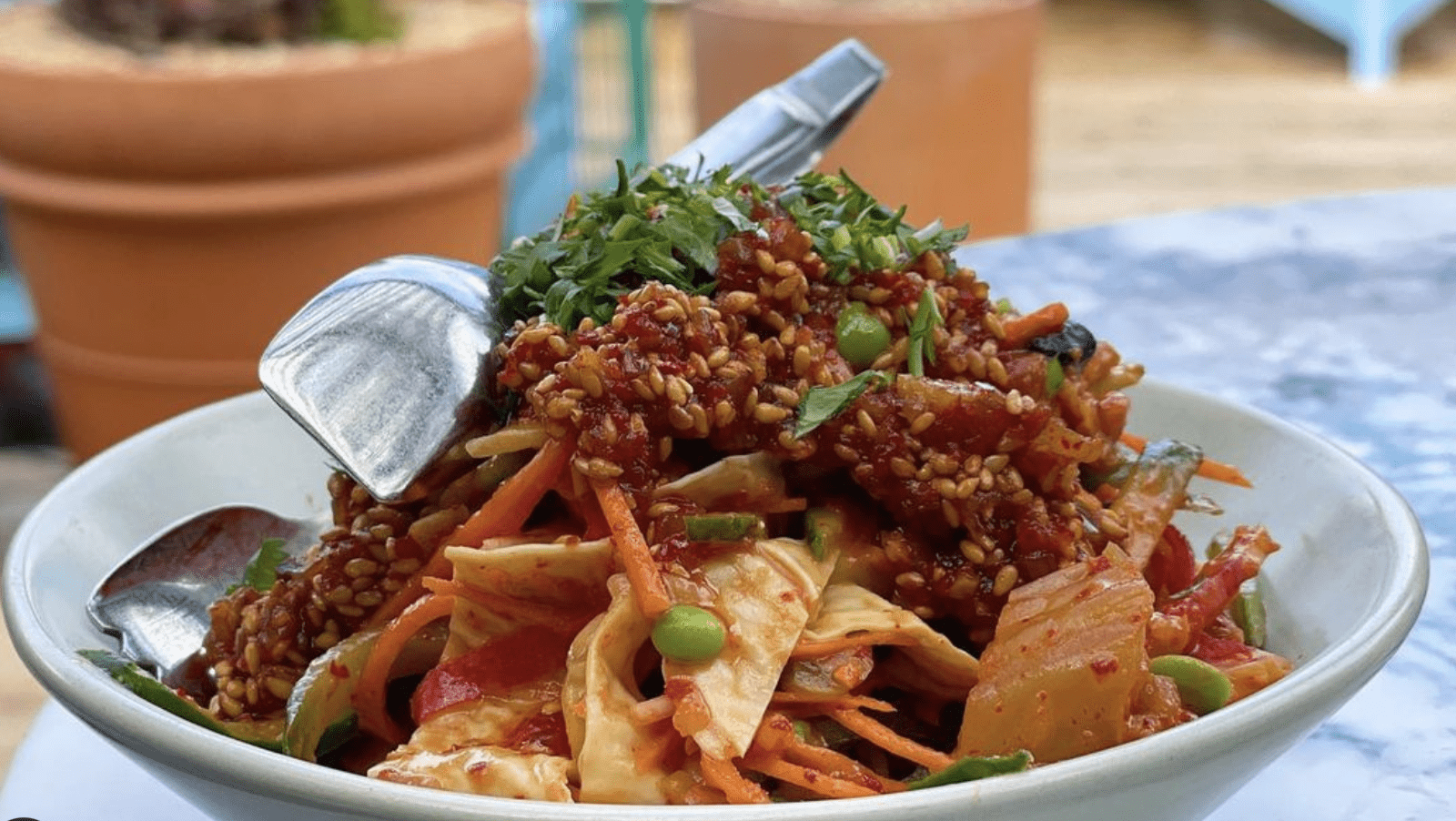 Hawaiian-born Ravi Kapur named the restaurant Liholiho Yacht Club to honor his uncle's beach pop-up on Maui that had great local food, music, and fun with Ohana — which means "family" in Hawaiian. Here you'll find one-of-a-kind dishes like fat rice noodles with bacon, cabbage, fermented black bean sauce, and the delectables coconut turmeric fried chicken with fermented cabbage salt. The drinks are all winners, but our money is on the Okinawan Sour. Hours are 4pm to 8pm, Wednesday through Saturday. Closed Sunday through Tuesday. lycsf.com
More Local Favorites in San Francisco