Featured Photo: Dan Gold via Unsplash
It's been a long year of road construction in downtown Mill Valley — just ask anyone who's battled the traffic. Construction took an especially hard toll on the town's restaurants which suffered as people avoided the chaos. 
But now, rehabilitation projects, street paving, sidewalk and sewer improvements along East Blithedale, Miller Avenue and Throckmorton are finished — and downtown restaurants are celebrating with the Downtown Mill Valley Restaurant Rally, September 10-17.
"Everything is complete and it's absolutely gorgeous," said Peter Schumacher, an owner of Playa, Bungalow 44 and Buckeye Roadhouse restaurants. "We encourage people to come and rediscover Mill Valley. It's a cool town and there's a lot going on: shopping, galleries, a movie theater and of course, restaurants. It's a one-stop town for a great time."
The week-long Downtown Mill Valley Restaurant Rally sees seven of downtown's favorite restaurants offering three- and four-course prix fixe menus for $55. Every night of the rally, one restaurant will also offer a Willy Wonka-style "golden ticket" with a $50 gift card toward each participating restaurant (a $350 value). A few will also offer a specialty cocktail for $8.
"It's a great community event to celebrate all the wonderful restaurants in town," said Felicia Ferguson, an owner of Coho and Piazza D'Angelo restaurants. "This is a great way to experience what each restaurant is about and try new dishes not normally offered on the menu."
Participating restaurants include longtime favorites: Californian eatery Bungalow 44, Southern Italian Piazza D'Angelo and contemporary Mexican Playa as well as newer discoveries: seafood-centric Coho (opened in February), Modern American Gravity Tavern (welcomed a new chef last year), Sweetwater's Latin and Southern-inspired The Rock & Rye (welcomed a new chef last year) and New American Paseo Bistro (under new ownership but around for 75 years — in the same spot!).
"We are hoping now that construction is completed, people will come back to rediscover this gem of a town and all the great local boutiques, restaurants and business that bring this city to life," Ferguson said. 
The Downtown Mill Valley Restaurant Rally is presented by Marin Magazine and the Marin Dish. 
Bungalow 44
3 courses for $55
Course 1:
Halibut crudo with aguachile, Fresno chilis, citrus-spiced pistachios, herbs

Course 2:
Macadamia-crusted mahi-mahi with cilantro-lime cauliflower rice, heirloom tomato and mango salsa 
or 
Braised short rib with foraged mushroom risotto, roasted carrot puree, Bordelaise glaze and micro celery

Course 3 (dessert):
Berries & Cream—Mascarpone ice cream, berry coulis, toasted meringue crumble, mint

Cocktail special ($8):
Made in the Shade—Meili vodka, watermelon-basil shrub, Fresno chili, lime, aquafaba 
Photo: Courtesy of Bungalow 44
3 courses for $55
Course 1: 
Heirloom tomato salad, house made ricotta crostini, arugula, basil oil   
Course 2: 
Petrale sole, green beans almondine, steamed rice, shiitake brown butter
Course 3 (dessert):
Mini apple pie, chantilly cream
3 courses for $55
Course 1: 
Sonoma County lettuces, Brentwood corn, heirloom cherry tomatoes, sherry dijon vinaigrette

Course 2: 
Petit Creekstone Farms filet, Maine lobster tail, grilled asparagus, béarnaise
or 
Anson Mills farro, gypsy pepper relleno, salsa ranchero 

Course 3 (dessert):
Flourless chocolate cake made with Valrhona chocolate, gold leaf
or
Lavender cheesecake with candied almonds
Photo: Courtesy of Gravity Tavern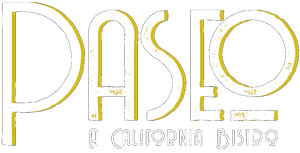 3 courses for $55
Course 1:

Hamachi Tartare: 
Crispy shallots, ponzu sauce, summer melon carpaccio, tomato chutney

Course 2:
Maine Lobster Pot au Feu: glazed turnips and carrots, fennel puree, rich consomme 
or 
Akaushi Filet Mignon: 
Rosemary pomme fondant, summer vegetable melange, 

Course 3 (dessert):

No Bake Cheesecake: Goat cheese mousse, stone fruit compote, olive crumbs, Saba 
or
Chocolate-Hazelnut Bar: Daquoise biscuit, Valrhoina Gianduja chocolate mousse, crispy "things"
Specialty Cocktail ($12):
Maui Wowie Mule: Maui rum or vodka, liliko'i foam, ginger beer, lime
3 courses for $55
Course 1: 
Mixed green salad, Sungold tomatoes, pickled red onions, creamy basil dressing 
Course 2: 
Housemade rigatoni, zucchini puree, roasted zucchini, zucchini chips
or
Braised short ribs with soft polenta
Course 3 (dessert): 
Ricotta ice cream, candied orange peel, toasted pistachio, shaved dark chocolate, cracked cannoli shell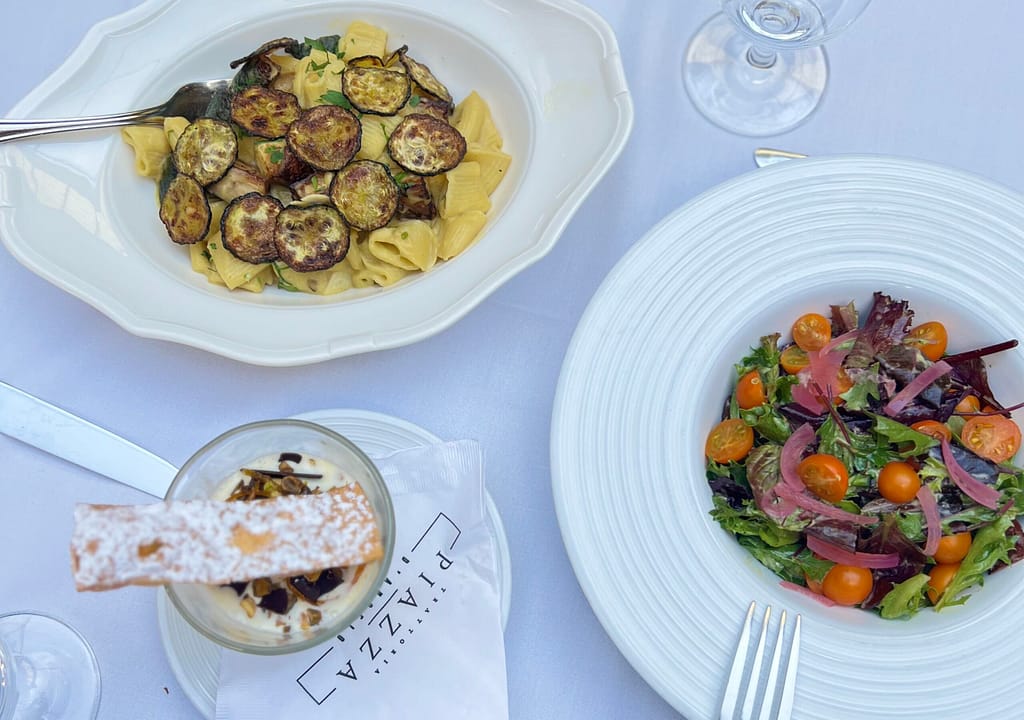 Photo: Courtesy of Piazza D'Angelo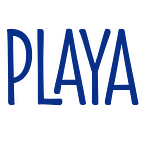 4 courses for $55
Course 1:
Playa's famous guacamole with chips and salsa
Course 2:
Bay scallop aguachile with Heirloom cucumber, radish, cilantro, serrano chile
Course 3:
Slow-cooked beef birria tacos with a three cheese blend, griddled tortillas, consomme
(Vegetarian tacos also available)
Course 4 (dessert):
Flan de queso with blueberry compote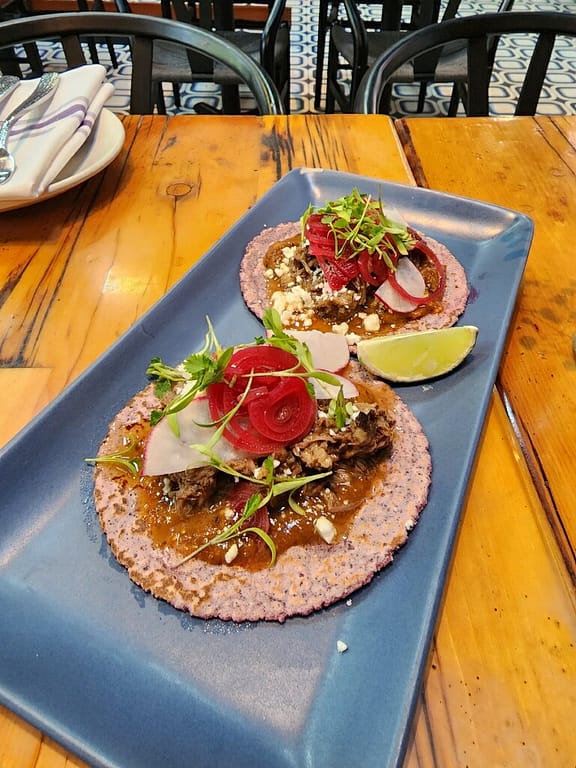 3 courses for $55
Course 1: 
Mixed green salad with house vinaigrette, queso fresco
or
Fried Brussels sprouts with mushroom, black bean sauce, lime dressing
Course  2: 
Rock cod a la plancha with clam, shrimp, sofrito, creole sauce and chive oil
or
Pork chop with lima beans, sofrito, spinach, butter, chorizo and chimichurri sauce  
or
Lima bean stew with sweet potato, mushroom, tomato, pickled red onion and fava bean   
Course 3 (dessert):
Tres leches cake with whipped cream, strawberry sauce  
or
Chocolate croissant bread pudding with chocolate gelato 
Optional wine pairing ($16):
Each course paired with a 4-ounce pour of our favorite wines
Cocktail special ($8):
The Sweetwater's Rock & Rye—Sazerac rye whiskey infused with honey, apple, orange, Horehound rock candy, clove and cinnamon
Photo: Courtesy of The Rock & Rye
The Downtown Mill Valley Restaurant Rally is brought to you by:
More Activities in Northern California