Featured Photo: Jay Sinclair
Everything you need to know about visiting Santa Barbara.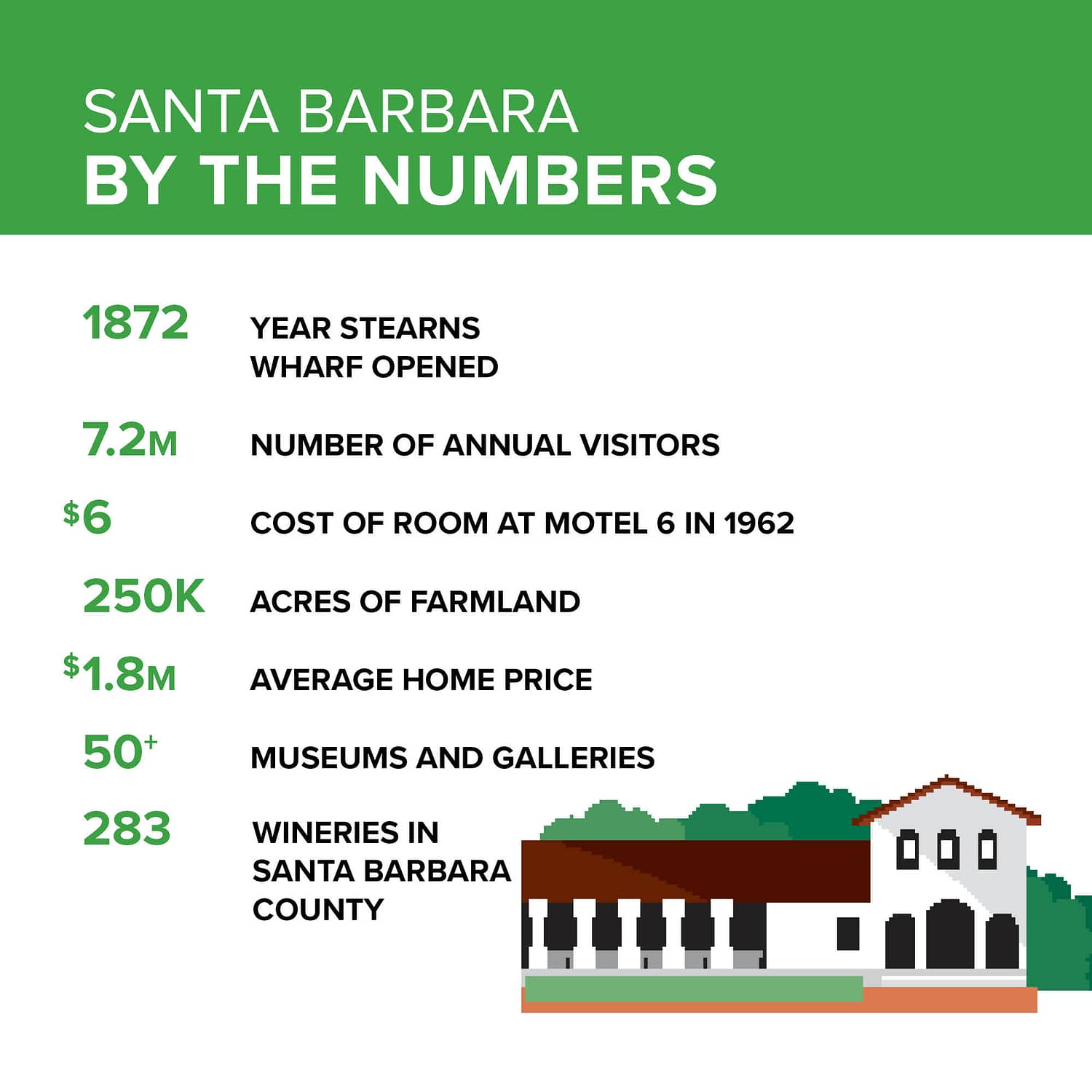 With its Mediterranean climate, this city has been dubbed "The American Riviera."
There is a farmers market every day somewhere in Santa Barbara.
Known for it's sandy beaches, there are many coastal camping opportunities — Refugio State Beach has 85 beachfront campsites.
Hotspot for movie locations, including It's Complicated and Seabiscuit.
With a pleasant temperature year-round, Santa Barbara is an all-around top destination for many types of travelers. Winter is one of the best times to visit even the Monarch butterflies agree, as November marks the beginning of their migration and they can be seen decorating tree branches until they leave in March. Foodies, better plan a week to hit all the hot spots and world-class wineries; couples, choose from many romantic lodging options, long beach walks and shopping; families, count on beaches and parks abound.
Speaking of beautiful, winged creatures, kids of all ages love the walk-through butterfly garden at the Santa Barbara Museum of Natural History. And for history buffs, a long afternoon at the Santa Barbara Mission will be one for the books. As it's not the usual hot and dusty adobe complex; it's considered the Queen of the Missions.
One could say, Santa Barbara as the pretty sister of California cities. She doesn't try to be, but she's just got that "wow" factor, and it just comes so easy. Her white sand beaches, surrounded by the Santa Ynez mountain range freckled with bright, white Spanish Colonial Revival architecture, colorful tile roofs and brilliant splashes of bougainvillea have earned her the trademarked moniker, The American Riviera.
The American Riviera's rich history began with the Chumash Indians, a hunter-gatherer tribe known for their rock art and basket-weaving skills. In 1602, the name Santa Barbara first became associated with the area when Spanish maritime explorer Sebastián Vizcaíno graced the channel and surrounding islands with it in gratitude after surviving a violent storm there. The region began evolving with the arrival of the Spanish Colonials. In 1822, Santa Barbara became a territory of Mexico after the Mexican War of Independence. With the conclusion of the Mexican-American War in 1847, Santa Barbara became part of the United States.
Santa Barbara's personality continued to transform with the excitement of the Gold Rush, the Victorian Era, which launched a lifelong love affair with health and well-being, rolling right into the Silent Film Era (1910 to 1922), when Flying A Studios saw hits from stars like Charlie Chaplin before the advent of talkies. Still to come was an oil boom, two devastating earthquakes, and those stationed in Santa Barbara during World War II drawing attention to the idyllic region.
It's easy to spot Santa Barbara's past reflected in the city through its mission-style architecture and landmarks like the 1872-built Stearns Wharf (California's oldest working wharf), the 1786-founded Old Mission Santa Barbara, where Franciscan Friars live to this day.
What to Do in Santa Barbara
Where to Stay in Santa Barbara