Featured Photo: Desert Willow (Firecliff), ©Robert Kaufman
Everything you need to know about visiting Palm Springs.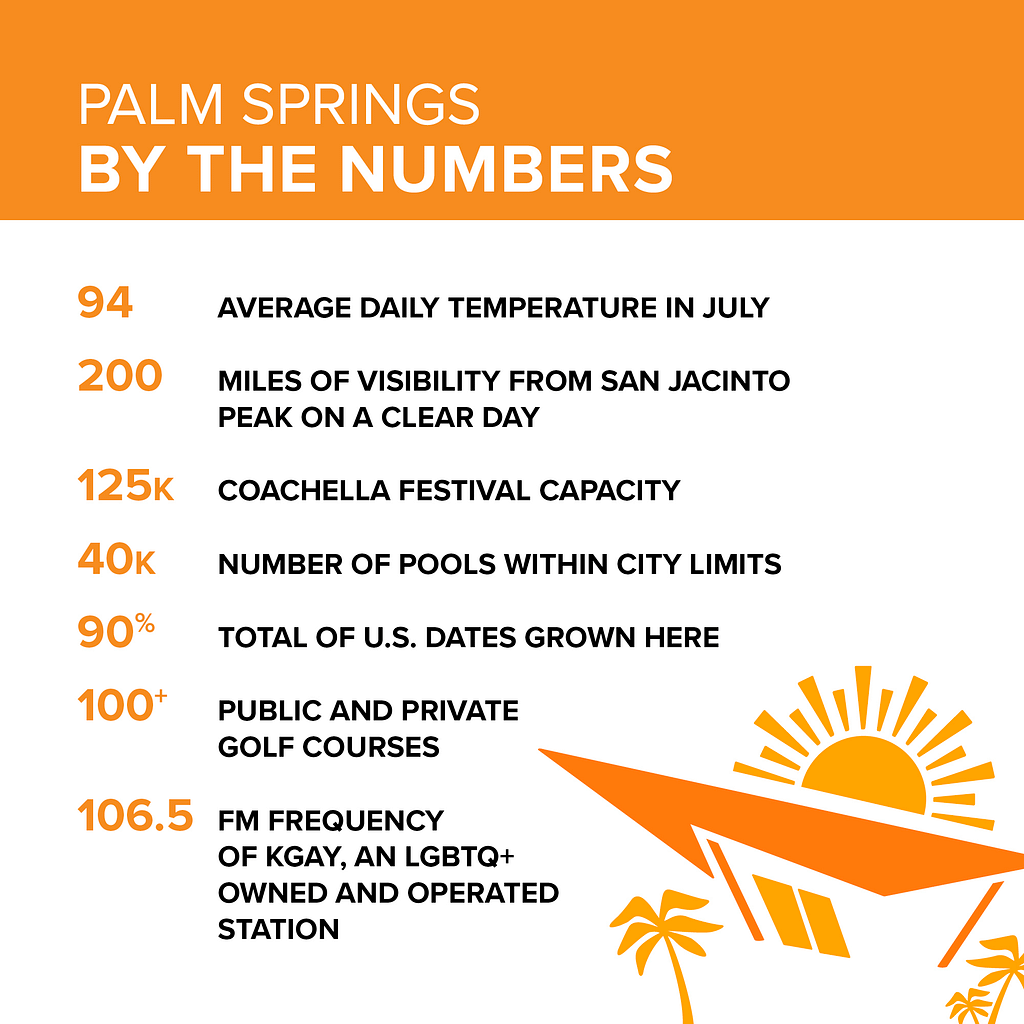 Back in the 1890s, the then-president of Southern Pacific Railroad, C.P. Huntington, brought back a few date shoots from a vacation in Algeria. Botanist Pat Gale planted them in the arid soil and today Palm Springs, nearby Indio, and the surrounding agricultural area produces 95% of the dates in the U.S.
There are more than 50,000 pools.
As a year-round sunny spot, this Southern California oasis' population triples in the winter months.
Long before Coachella (Valley Music and Arts Festival) and the influx of Bay Area tech employees fleeing to drier pastures, Palm Springs was already an established escape, a sun-soaked oasis with other-worldly windmills, hidden hot springs, snow-draped peaks, flower-trimmed fairways and 1950s finger-snapping cool.
Here, old Hollywood glam meets Mid-century modernism and the ghosts of the Rat Pack linger in the red boothed piano bars and iconic movie star homes. There's something for everybody — Pride parties and pool time, music, motorcycle and film festivals, along with incredible art and adventures in the desert. Not to mention, Palm Springs is home to arguably the most pleasant airport on the planet. So grab a hat, a hardback, your favorite swimsuit and clubs, and head to this sunshine sanctuary.
Between martinis poolside, verdant green golf courses and lucrative tribal water rights, this arid-high desert hideaway — a.k.a. Palm Springs — has always been a popular destination despite the lack of accessible water. 
Before Hollywood celebs drove 100 miles east to get some R&R and dodge the prying eyes of gossip columnists, this particular plot of the Sonoran Desert at the base of the San Jacinto mountains was a tumbleweed-laden expanse with a reputation for healing. The Cahuilla people called their homeland Se-Khi, meaning boiling water — later the Spanish explorers referred to this stop along their journey (of conquests) ​​La Palma de la Mano de Dios, meaning Palm of God's Hand.
In 1876 the United States government established the Agua Caliente Reservation, again a reference to the hot springs, which is over 31,128 acres in a checkerboard format of alternating sections of 640 acres. Some land went to the Southern Pacific Railroad and some to Agua Caliente tribe, securing very valuable water rights. 
Then came the hotels. The first couple that opened were Dr. Welwood Murray's Palm Springs Hotel in 1901, and Nellie Coffman's The Desert Inn in 1909. In 1926, La Quinta Resort was built, espousing the benefits of the area like its predecessors, and the rest is hospitality history.
Where to Eat in Palm Springs