California's north coast is one of those places you head for when you want to go wild. Big surf, small towns, and plenty of quiet — and hotels that know how to showcase the charm of each destination. Whether you're looking for a romantic night of star- and fire-gazing or a weekend getaway in a historic setting, these North Bay hotels have it all dialed in.
Featured Photo: The Inn Above Tide
Blue Door Inns is made up of three separate Victorian mansions a few blocks apart, which between them offer 19 plush rooms, each with its own whimsical elegance. Privacy and communal spirit go hand in hand here; the rooms are set apart and most have separate entrances, but numerous common areas offer plenty of chances to hang out and meet fellow guests. All three inns are in the heart of the absurdly picturesque village, which is chock-a-block with eclectic boutiques, bookstores, cafes and restaurants. They're also within walking distance of Mendocino Headlands, the open bluffs between the town and the sea criss-crossed with walking paths.
HIGHLIGHTS:
The Blue Door Inn, the group

'

s flagship, manages to be both sophisticated and surprisingly cozy. All five rooms have fireplaces, and several have stunning ocean views.

Three blocks away, the peaceful and intimate Packard House has a more bohemian vibe, with colorful furnishings and a sculpture-filled garden.

JD House, the closest to the ocean, pays tribute to the seafarers who were among the town

'

s founders.

The unstructured English gardens at all three inns are vivid with flowers and feature protected spaces perfect for sitting down with a good book.

A stay at Blue Door Inns involves lots of food — breakfast is delivered to your room every morning and mini baskets of wine, cheese and cookies are set out every afternoon.
*Casa Madrona Hotel & Spa
From its perch above the Sausalito waterfront, Casa Madrona Hotel & Spa gazes down with patrician elegance, the tall windows taking in the whole of San Francisco Bay. The hotel started life as a Victorian mansion built in 1885, and even with numerous additions it maintains that crooked-pinky feeling. A 2002 addition houses 31 more modern rooms, many of them with private balconies. Tucked amongst the extensive gardens are casitas designed for the utmost privacy. Seaweed wraps and salt scrubs are among the sought-after spa treatments; once you're suitably relaxed, enjoy a custom cocktail on the roof deck, considered among the best in the North Bay.
*Readers' Choice Best Luxury Hotel in the North Bay
A member of the Mosaic hotel group, Casa Madrona offers a wealth of amenities including laundry service and an electric car charging station.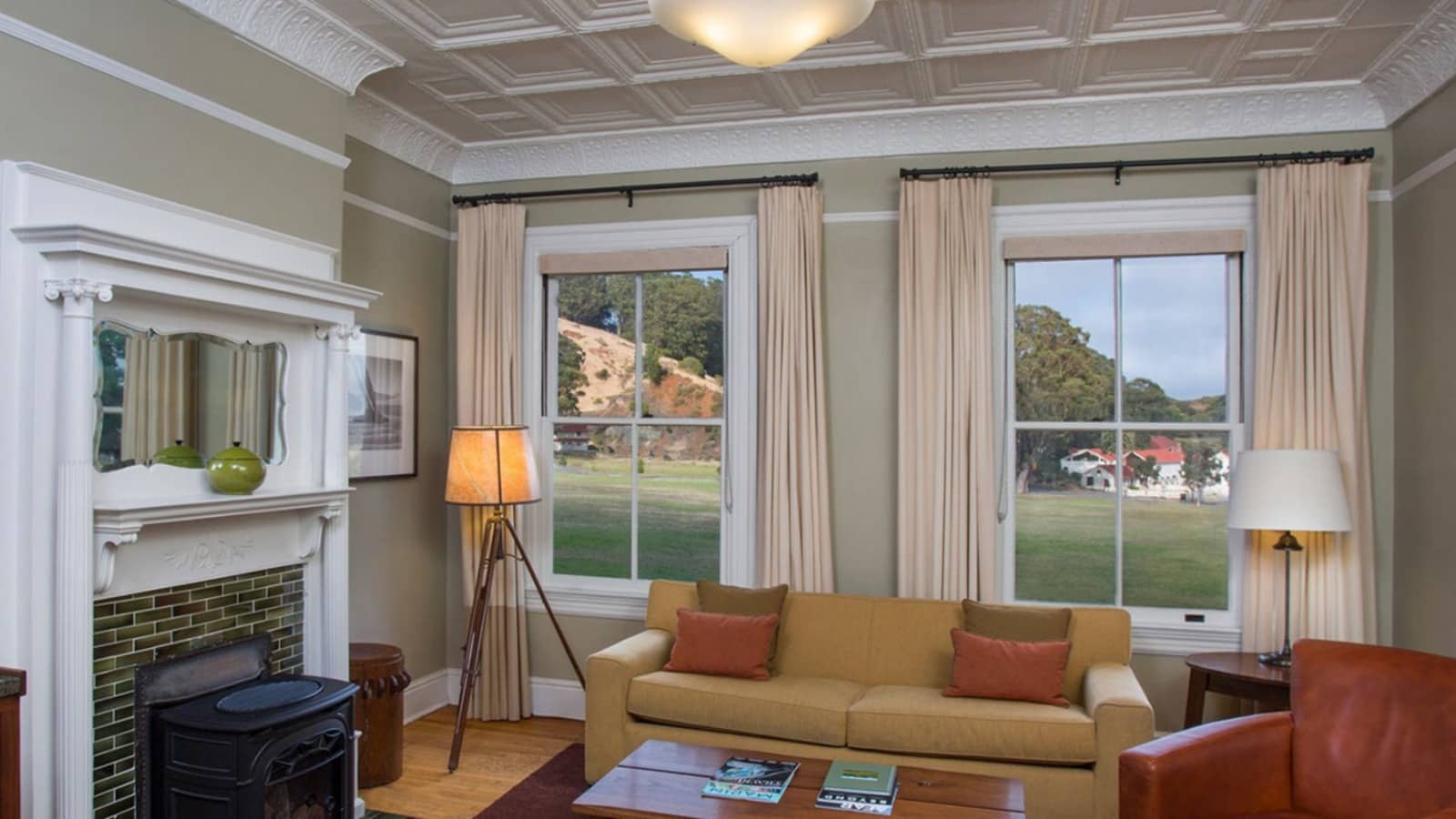 Look around Cavallo Point today and you'd be forgiven for likening the extensive horseshoe-shaped compound to one of the Adirondack resorts renowned for Dirty Dancing-style revelry. But in fact this enclave of isolation directly underneath the Golden Gate Bridge was once Fort Baker, a military installation dating back to 1902. Rooms in the historic officers' quarters are reminiscent of a Greek revival mansion, with wide front porches and turn-of-the-century woodwork, while rooms in the new wings feature radiant heat floors and plate-glass windows, some with stellar views of the Golden Gate Bridge. Dogs living their best lives frolic on the property's expansive front lawn and are arguably just as pampered as two-legged guests.
Cavallo Point's dining options,

American bistro Farley, signature restaurant Sula, and cozy gathering spot, Sula Lounge

, are favorites of locals looking to celebrate a special evening.

The sprawling complex also includes hiking trails and a 

Healing Arts Center & Spa

, with a cypress-shaded outdoor meditation pool and a tea bar serving health-giving infusions.
Binoculars in every room and balconies that jut directly over the water are just two of the reasons to stay at The Inn Above Tide, a bayside lodge. The main one is, of course the view, which couldn't be more spectacular — almost every one of the 31 rooms looks directly out at the city, with Alcatraz and Angel Island in the foreground. Sit on your glass-enclosed balcony and watch the city lights twinkle on, outlining the iconic skyline. The complimentary breakfast is served buffet style in the dining room or delivered to your room, and you'll also be fêted with a wine and cheese reception every evening from 5 to 7pm. 
While there

'

s no restaurant onsite, that just gives you an excuse to try out a few of Sausalito

'

s dining establishments starting with Napa Valley Burger Company next door. But Italian is the way to go in Sausalito, whether you prefer

Poggio

with its old-school classic ambiance or

Osteria Divino

, which serves its fresh California-inflected Italian dishes to the accompaniment of live music on Friday and Saturday nights.

Stay with the Italian theme and finish the night at

Bar Bocce,

its outdoor terrace glowing with lantern light.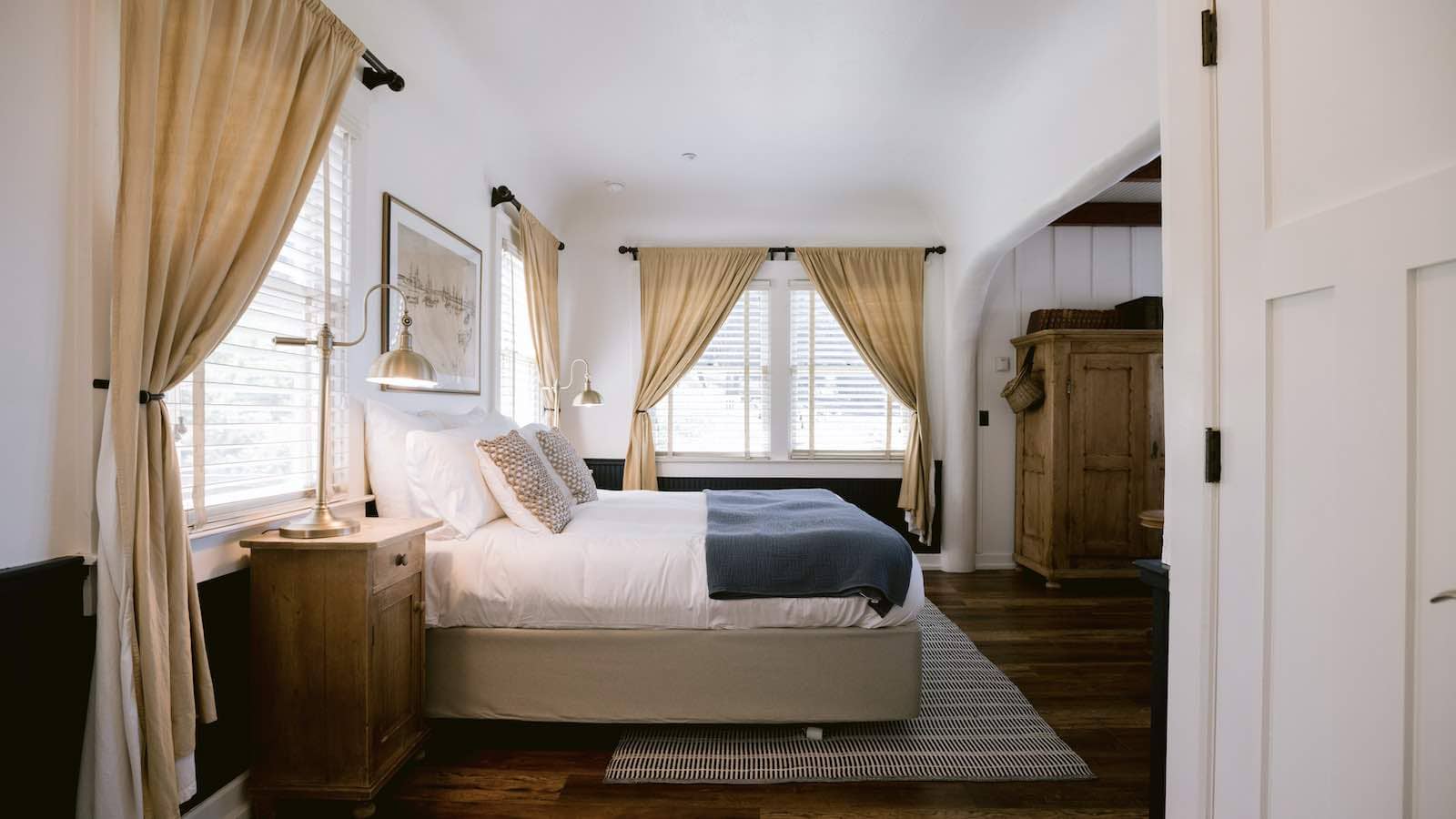 Nick's Cove has been serving seafood from a working pier for more than 80 years, since Yugoslavian immigrant Nick Kojich arrived in the Tomales Bay hamlet of Marshall and began offering crab and shrimp cocktails to passing motorists. As tourist traffic increased in the early 1930s, he added waterfront fishing shacks for weekenders. Today Nick's Cove is arguably better than ever. In late 2022, for the first time in 15 years, all 12 rustic-chic cottages got a got outfitted with new furniture, bedding, towels, décor, paint/wallpaper, floors, and more. Don't worry — the fresh look and feel still evokes the historic inn's classic spirit and legacy.
It

'

s all about seafood here, and why shouldn

'

t it be — the area once celebrated Tomales

'

Bay

'

s bounty with clam digs, crab feeds, and believe it or not, stingray and shark derbies. You

'

ll taste the freshness in the much-praised

restaurant

'

s Tomales Bay clam chowder, enlivened with leeks and bacon, or Oysters Nickerfeller, the signature dish of proprietor Dena Grunt, who just released a cookbook.
And don

'

t miss a stop by the Croft, as the team calls the onsite garden, from which it

'

s likely your salad or breakfast fruit came.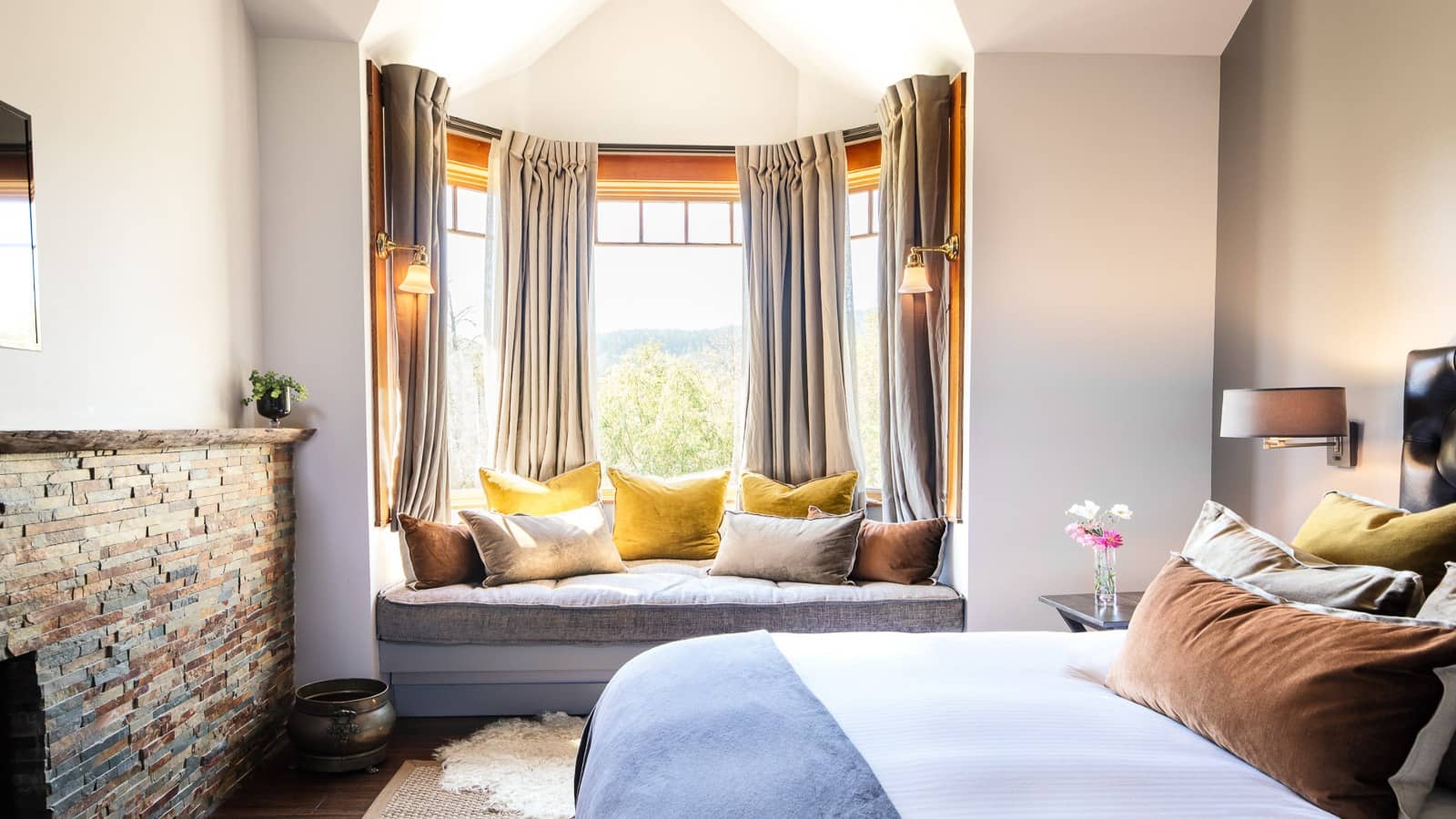 There's no better way to explore the Point Reyes National Seashore than from Olema House, positioned as it is on the edge of the park itself. Behind the inn, a wide lawn slopes down to a tumbling brook, across which the parklands begin. Those more interested in local food and culture will be just as happy with the location, five minutes from the village of Point Reyes Station with its galleries, shops, bakeries, and the Cowgirl Creamery artisanal food hub. Every room faces onto the lawn, tall glass windows framing views over the creek to Inverness Ridge and Mt. Wittenberg beyond. All the rooms have radiant heat-warmed floors, a welcome addition on foggy nights. Onsite restaurant Due West and its artisanal market stay true to their setting in a 19th-century roadhouse, serving local cheeses, baked goods, and other picnic makings.
With just 22 rooms and two cottages surrounded by four acres of greenery, the new Tablet Hotel Group property has a decidedly intimate feel.

The rooms themselves are airy and open, some featuring vaulted ceilings and others a loft-like arrangement.

The aesthetic is both classic and contemporary; elegant and rustic furnishings blend nicely into the wood-and-stone backdrop
Where the redwoods meet the sea is how Timber Cove Resort describes its location, and indeed this rugged stretch of the northern Sonoma Coast has ocean views and natural serenity to spare. And with 23 acres to wander, Timber Cove takes full advantage. Coast Kitchen, the resort's cliff-top restaurant, utilizes the Sonoma farm country's seasonal offerings and local vintages. The 46 rooms, which include 8 expansive suites, exude a rustic-glam vibe, the modern decor fitting naturally into the 1963 Frank Lloyd Wright-inspired design of architect Richard Clements, Jr.
Amenities range from the elegant to the arty, with in-room dining and wine-tasting experiences and a library of vinyl records available to play on retro players.
More Local Favorites in the North Bay