It's known by a lot of names — Dig Me Beach, Sans Souci and even occasionally its true Hawaiian name, Kapua — but most everyone calls this tiny stretch of heaven at the foot of Diamond Head Kaimana Beach. Appropriate, because "Kaimana," Hawaiian for diamond, is a true jewel of a strand. At only about two hundred yards long and twenty-five wide, Kaimana is probably Oahu's most beloved beach (if you're measuring love by the square foot). Those wanting to escape the crowd down at Kuhio Beach will find a more private Waikiki at Kaimana, which comes into its own at sunset — it's a popular gathering spot for locals and visitors alike, who spread out blankets, pop open a bottle of wine and watch the sky turn incandescent during the golden hour. 
Featured Photo: Michael Olsen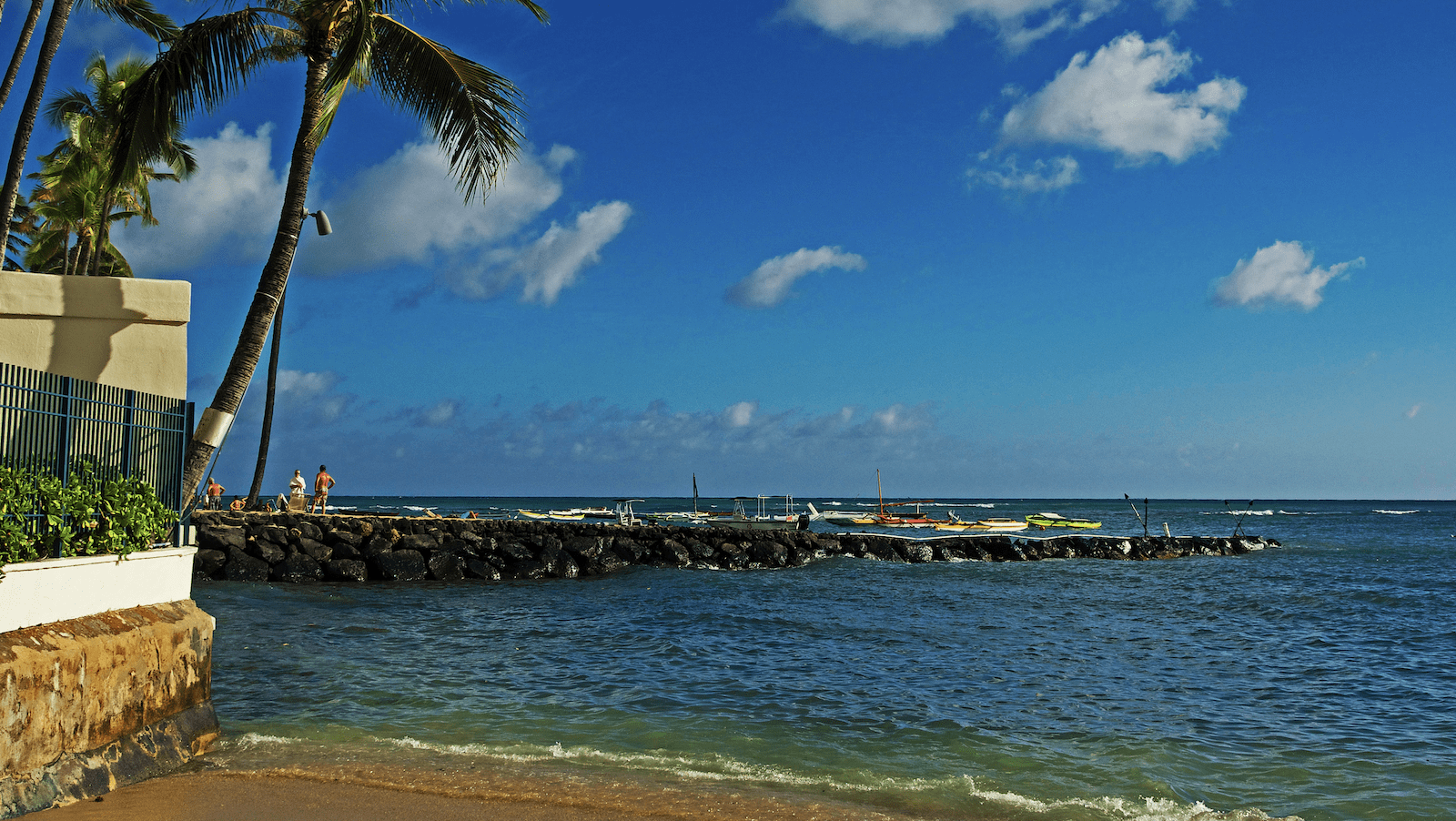 Kaimana is an excellent swimming beach, with a sandy bottom and few rocks. Its calm, reef-protected inshore waters make it ideal for kids. Those who like a little exercise often swim to the windsock and back — about five hundred meters roundtrip. The reef offers good snorkeling for beginners, too, and if you're lucky you might encounter large schools of baitfish just offshore. Stand up paddlers, kayakers and outrigger enthusiasts will find easy passage through the reef, and surfers can paddle out through the channel to breaks just east of Kaimana. 
There are a few of coconut palms fringing the back of the beach, but if you need respite from the sun, bring your own.
The Kaimana Beach Hotel abuts the beach; you can walk sandy-footed from the shore to the hotel's bar and order food or enjoy a sunset cocktail. The hotel's restaurant, Hau Tree, offers fine-dining takes on Hawaii Regional Cuisine.
Kaimana is located at the Diamond Head end of Waikiki, just east of the Waikiki Aquarium. Metered parking (bring coins) is available at Kaimana Beach as well as along Kalakaua Avenue or, if things get too tight as they sometimes do around sunset, on Paki Avenue across nearby Kapiolani Park.
Critically endangered Hawaiian monk seals have recently begun visiting Kaimana and even birthing pups there. Sightings are still rare, though, and frequently attract a crowd. If you're lucky enough to spot a monk seal resting on the beach, observe from a distance; it's illegal to approach closer than fifty feet. Hawaiian green sea turtles are regulars at Kaimana, too. Stay twenty feet away, though there's no law that can stop them if they decide to swim up to you.
Each September the Waikiki Roughwater Swim, a loosely competitive 2.35-mile race, begins at Kaimana. The 2021 event was cancelled due to Covid, but plans are in the works for 2022.