Feature Photo: Courtesy of Bryson Hoe
It may take an expert crew to raise the sails on a Hawaiian voyaging canoe, but it also takes a village onshore to raise their spirits, especially during an epic journey around the Pacific.
The crew of the Hokule'a found just such a welcome recently when they spent nine nights in  Sausalito before the sailing canoe's public arrival ceremony in San Francisco September 24 — its first visit since 1995. The iconic vessel of the 50-year-old Polynesian Voyaging Society (PVS) is four months into a four-year journey called Moananuiakea, designed to raise awareness of the "Vital importance of oceans, nature, science and indigenous wisdom," according to the PVS website.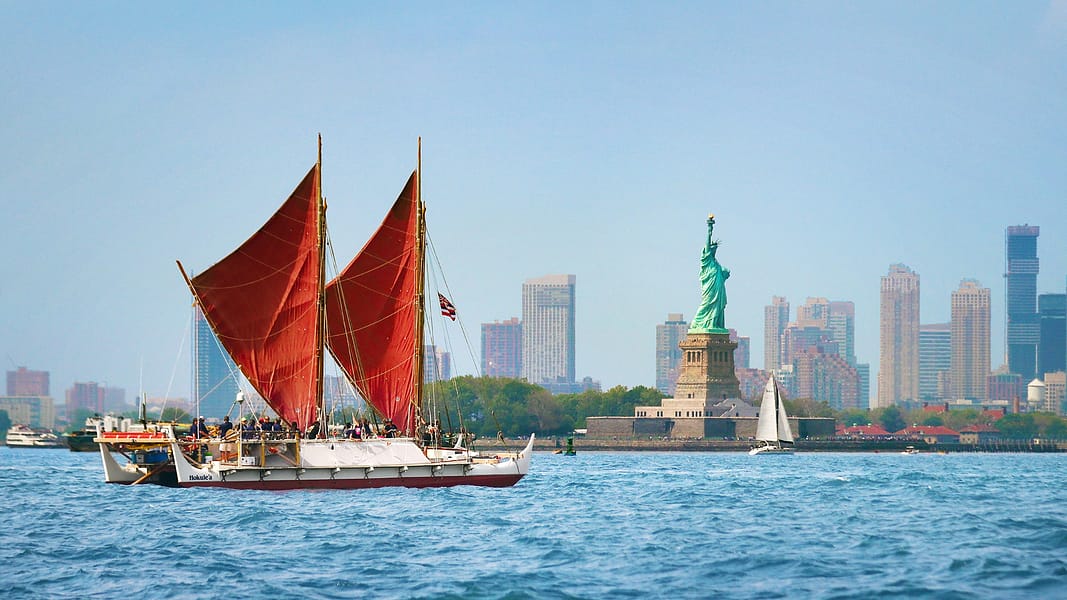 Even before Hokule'a sailed under the Golden Gate Bridge, three Marin mariners played an instrumental role in arranging its safe — and inspiring — travel from Washington's Puget Sound to San Francisco Bay. Mary Crowley, founder and executive director of the Ocean Voyages Institute in Sausalito, tapped veteran bar pilot Kip Carlson of Strawberry and licensed maritime master Jim Robinson of Sausalito to help Nainoa Thompson, her friend and Hokule'a's renowned navigator, determine where, when and how the canoe would stop on its way south. "The 'ohana supporting Hokule'a is enormous," Carlson noted. "So much of this for me is from the heart because of all the people involved."
Robinson relied on his expertise in weather forecasting and years of running a yacht-delivery service to identify Coos Bay, Oregon, and Eureka as ports of call. Carlson then lined up bar pilots to guide the canoe through unfamiliar waters and found indigenous leaders whom Thompson could ask for permission to enter their territories, following traditional Hawaiian protocol. In Coos Bay, a Coquille chief told Thompson, "We don't own the water and the lands, we are stewards of the water and the lands, and you are more than welcome to share them with us," according to Carlson. "Every time I heard this, I got chicken skin," Carlson said.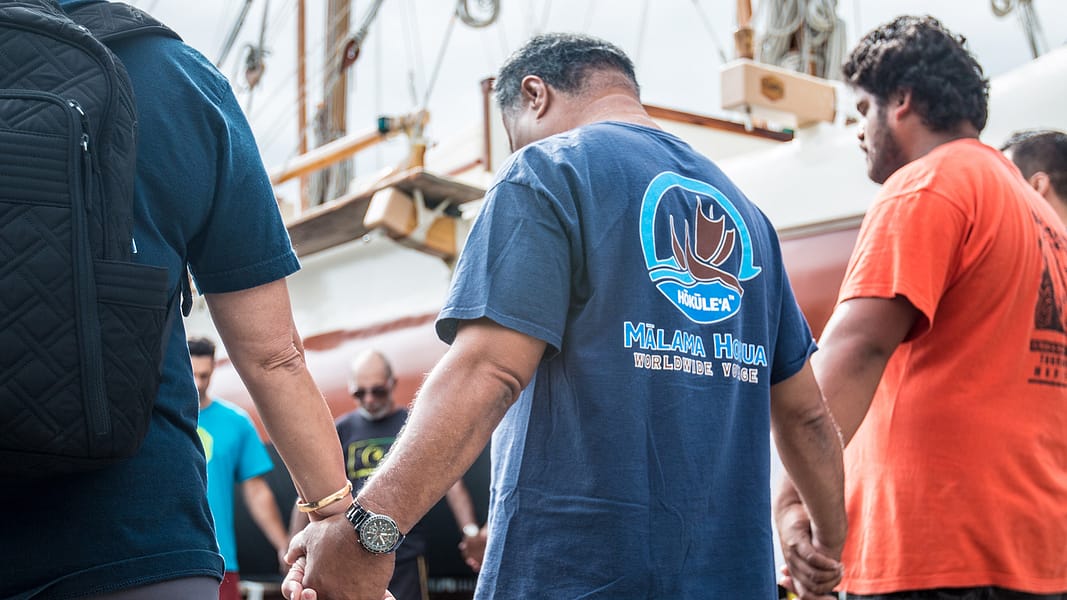 Interpreting data from satellites, buoys, the Coast Guard and other agencies, Robinson shared with Thompson and crew what to expect in terms of the swells, winds and visibility along the notoriously foggy coast. "I could tell them what I thought would happen in four hours, eight hours, and long term. Off the coast of California, they were in zero visibility, so I would set my alarm for every four hours to tell them what I knew," Robinson said. "It's a beautiful coast, but they didn't see it." 
Once Hokule'a arrived in Sausalito, the nonprofit Call of the Sea, which offers educational sailing programs, helped secure a safe dock for the 61-foot-long, 15.5-foot-wide canoe. Sausalito Equator and Mill Valley'sFloodwater provided meals for the 14-person crew, while the Sausalito-based Tamalpais Outrigger Canoe Club hosted potlucks. Another Sausalito company, Dave's Diving Service, helped with repairs and cleaned the hull of Hokule'a to prepare for the next leg of the voyage. 
After exact dates have yet to be announced, Hokule'a will visit Monterey and Morro bays as it continues south along the West Coast until November. The canoe will spend the winter visiting Mexico, Central America and South America before heading to Rapa Nui (Easter Island) and throughout the South Pacific to New Zealand. More destinations in Melanesia, Micronesia, Asia and Russia follow in 2025 and 2026, with Hokule'a returning to Tahiti in spring of 2027. Supporters can follow its travels and donate to its mission on the PVS website.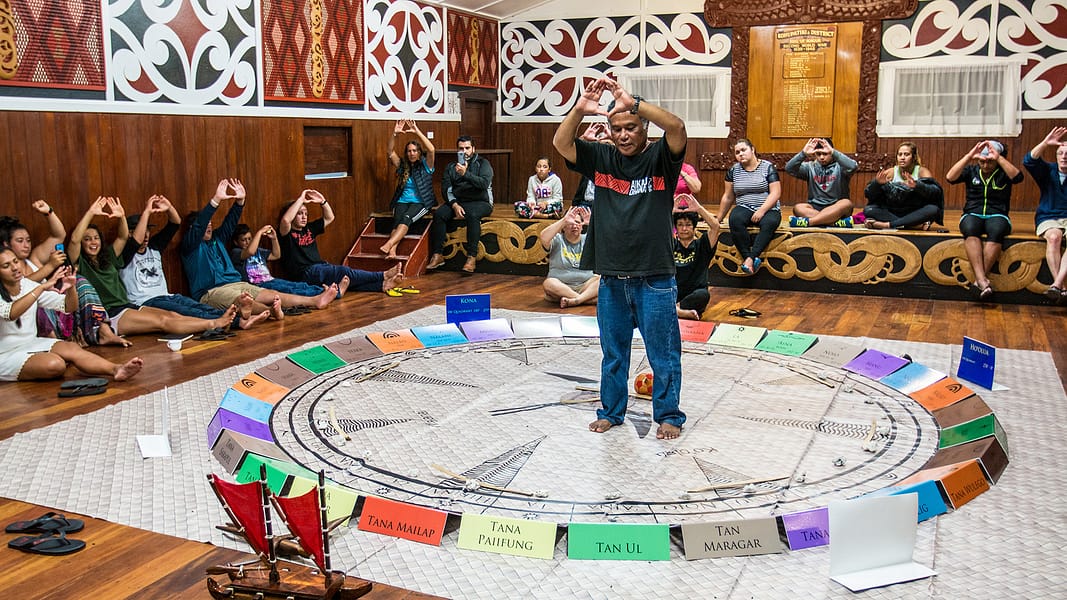 "Through this voyage, I hope young people can understand the importance of the 21st century need to explore," Thompson said."It's not about trying to climb the highest mountain or go to the deepest part of the ocean. The exploration we're looking for is how to take care of the earth….Everyone has the capacity to make a contribution to something good, something bigger than themselves. Every time someone does an act of kindness, whether it's caring for a coral reef, or placing a native tree back into the land, it's for the whole planet, it's for all of us."
Thompson's environmental message is "incredibly timely," Robinson said. "It's also timely that Nainoa preserved the heritage of those canoe voyages across the Pacific. It's an open boat! I appreciate what that means. Most people don't if they haven't been on the open ocean — it's brutal, and yet there they were."