The best place to experience wines is where they are made, according to Francois Vignaud, director of Napa Valley's renowned Harlan Estate. But since the winery in Oakville's forested western hills isn't open to the public, "the second-best thing is to come to people and let wine speak to them in the glasses, in the right setting, with people we think will really appreciate the story behind the wines and the passion of it."
Photo courtesy of Four Seasons Resort Hualalai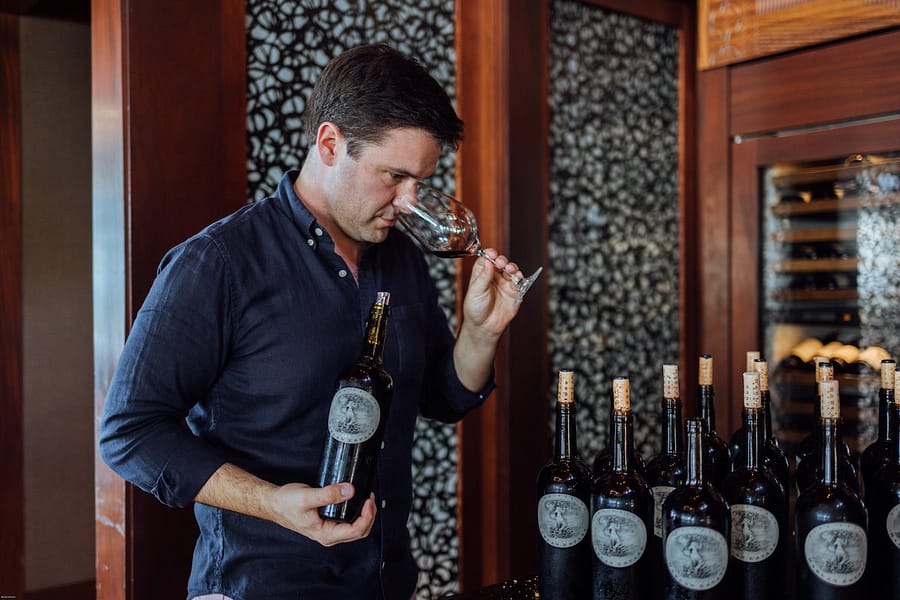 Hawaii's Four Seasons Hualalai has become just that setting for Domain Harlan, the family-owned winemaking group that includes Harlan Estate, BOND and Promontory properties in Napa Valley, and the Mascot, which produces wine from the younger vines of the three estates.
"They have this warm and kind hospitality that is understated but is so attentive to details, and in many ways is similar to what we do," said Vignaud, who recently led Domain Harlan's second of three Winemaker in Residence events at the resort.
Four Harlan Estate vintages — all Bordeaux blends, including "precious bottles from the family cellar" from 1999 and 2006, according to Vignaud — accompanied executive chef Richard Polhemus' locally sourced, four-course Winemaker Dinner at Ulu Ocean Grill. After carefully shipping the wines overnight in ice packs, Vignaud ensured the wines were cooled to slightly lower than the regular cellar temperature of 55 degrees and served in crystal glasses with small bowls at the al fresco dinner for about 24.
"As a producer, the biggest concern with a temperature like this is for everyone around the table to have the best experience," Vignaud explained. The smaller surface area of the wine glasses means subtle aromas can come out more slowly, he noted, and diners "can experience the freshness of our wines."
The next Winemaker in Residence event at Four Seasons Hualalai features Anthony Mendelson, director of The Mascot. He'll bring pairings for an open-fire cooking dinner by Polhemus on Oct. 13 ($395). Call 808.325.8000 to reserve or visit the website.
The annual Hawai'i Food & Wine Festival also brings opportunities to meet Wine Country luminaries and sample their wares. Although the full lineup has yet to be announced, this year's winemakers include Thomas Rivers Brown of Rivers-Marie in Calistoga and Mike Officer of Carlisle Winery & Vineyards in Sonoma. Highlights of the final weekend on O'ahu, Nov. 3–5, include grand tastings with chef pairings at Hawai'i Convention Center and Ko Olina Resort and wine seminars and the Art of Food and Wine gala at Halekulani in Waikiki.
Named for the wife of iconic Napa Valley winemaker Andy Erickson (with Stag's Leap, Screaming Eagle and Harlan Estate among his credits), Favia wines are one of Erickson's newest projects. They're also a highlight of the Chef's Table Experience at Ka'ana Kitchen at the Andaz Maui at Wailea Resort ($195 per person.) Sommelier Tia Hubbard's Premier Cru pairings ($125  per person) focus on "off-the-beath-path" wines while her Grand Cru pairings ($250 per person) involve "hard-to source but very easy-to-love wines," she notes.
Other Napa pairings for Chef Chance Savell's current iteration of the customized, six-course intimate dinner have included Summer Dreams Sauvignon Blanc — the latest project of Calistoga's Hundred Acres winery — in addition to Heitz Cellar Grignolino. To book a table, see www.opentable.com/r/chefs-table-at-kaana-kitchen-kihei.
The 43rd annual Kapalua Wine & Food Festival is June 6-9, 2024. Wine-tasting seminars, winemaker dinners (including afternoon tastings and Sunday brunches), and a Grand Tasting Gala. Last year's event showcased several California vintners, including Kristy Melton of Freemark Abbey in Napa Valley and Jeff Stewart of Hartford Family Winery in the Russian River Valley.
Melton brought some of her Rutherford winery's most prestigious wines to pair with a dinner by Riko Bartolome, the in-residence private chef of Montage Kapalua Bay, while Stewart took part in a dinner boasting four Top Chef celebrities and Cleo Pahlmeyer of Sonoma Coast winery Wayfarer Vineyard, among others. For schedule updates and tickets (multi-day passes for 2023 cost $1,300), see the website.