The good news: It is hard to go wrong when choosing a wine tasting room to visit in Carmel. The vast majority are family-owned and small-batch focused with quality grapes from outstanding growing regions not far from this adorable Hamlet-by-the-Sea, so you're getting good juice in every tasting space.
The better news: Local Getaways is making it easier to prioritize what you want to hit. The quality of wine, setting and seating, and also vibe, personality and value have all been taken into consideration. The result is a mix of long-established, newer and always interesting destinations.  
A final dose of encouraging news: After Carmel's one square mile of incorporated "city" experienced an all out tasting room boom starting around a decade back, dozens of rooms proliferated, all within walking distance. So a perfectly valid alternative way to go about selecting where you want to swirl and sip would be to map which places are closest and go directly there, no guide needed.
Here's a six pack of welcoming spots, listed in alphabetical order. While Carmel provides an avalanche of worthy wine destinations, it doesn't do addresses, so cross streets provide the best coordinates.
Featured Photo: Scheid Vineyards, courtesy of Mark C. Anderson
Dolores between Ocean and 6th, Carmel
Solids: Local breads and olive oils, cheese and charcuterie boards, hummus and pita chips, chocolates truffles 
Liquids: Elegant and old world-style Pinots are a clear strength, but don't overlook the Chardonnay 
The relatively young family-run operation likes to describe its wines as demonstrating "uncommon beauty and grace," and they're not wrong — and the same can be said for its centrally located tasting room and its Carmel stone aesthetic. Grown at 1,250 feet in Carmel Valley, its coastal wind-chilled Pinot Noir is some of the best to be found in a region defined by Pinot — it's simultaneously lean, delicate and floral. Their new sister tasting spot in Carmel Valley Village is a beautiful locale too. Hours are 12pm to 7pm daily, until 8pm Friday and Saturday, reservations encouraged. albatrossridge.com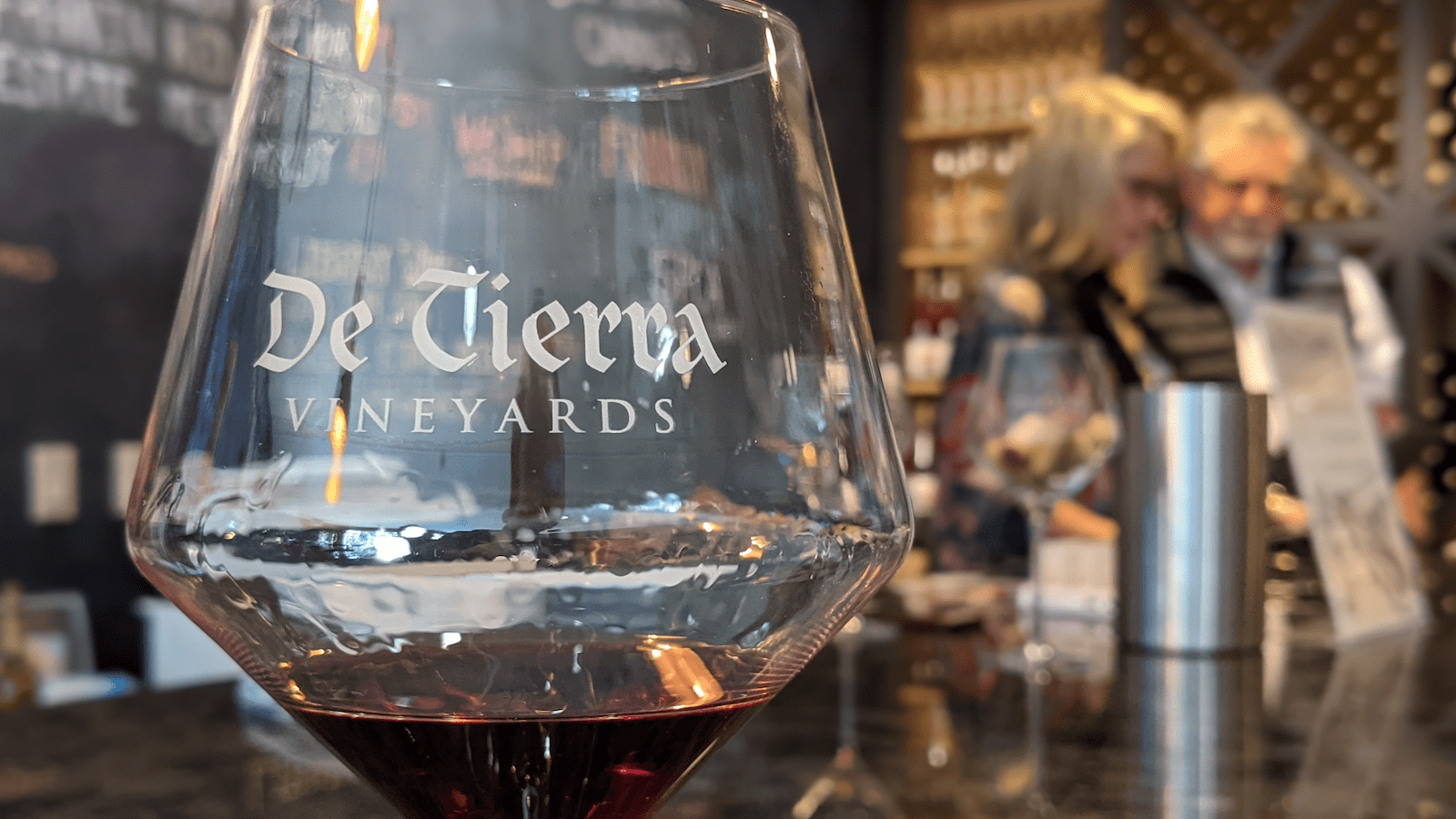 Solids: Charcuterie boxes, BYO food also welcome
Liquids: Rotating wine tasting menu features estate reds and atypical blends and is customizable
Huge picture book windows make the indoor venue and its polished stone bar and lounge seating feel outdoors (there's also a small patio). Fun and dynamic wines like the estate Russell Vineyard Pinot populate a list of five tastes. Co-owners Alix Bosch and Dan McDonnal hand pour their wine four days a week and help stoke the homespun spirit. But the real stars are the ones wearing vests that say SECURITY in all caps: Freya and Annin, the house doggies who welcome club members, new visitors and other canines alike. They also appear on the labels of the blends, which dedicate a portion of sales to local dog rescue causes. A collection of recent contest medals hang from current vintages, and another impressive award awaits: 2020 Winery of the Year at 2021's Monterey Wine Competition. Hours are 1pm to 6pm Monday through Thursday, and 1pm to 7pm Friday through Sunday. detierra.com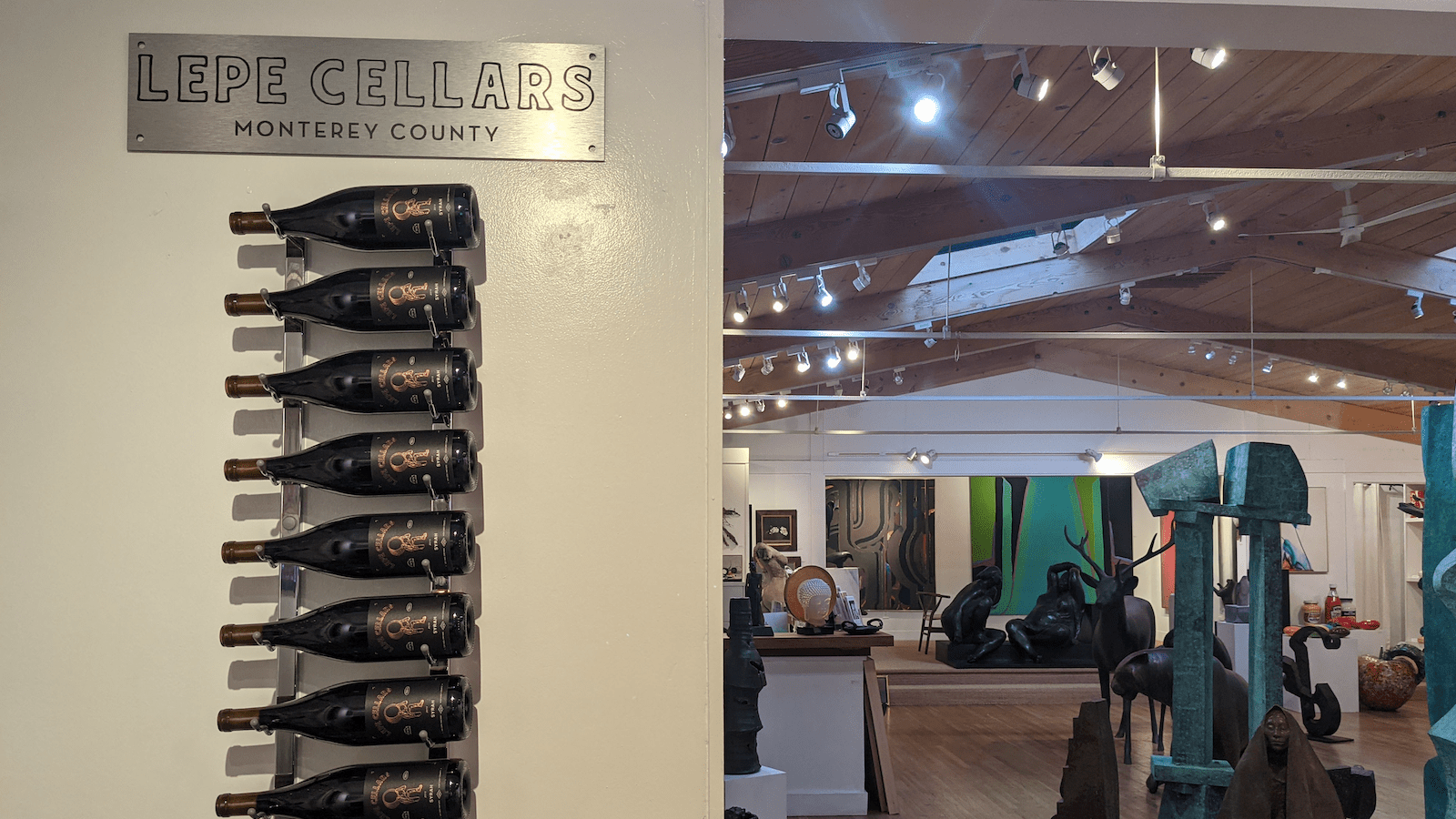 Winfield Gallery, Dolores Street between Ocean and 7th, Carmel
Solids: Visitors are welcome to bring in sensible food; LC recommends La Bicyclette pizza from across the street 
Liquids: Dry, light and ever-changing local varietals sourced with sustainable partners who grow in small amounts 
Carmel-by-the-Sea's newest tasting room can claim one of the region's few winemakers under 40, and fewer still who are Latinx. Miguel Lepe's gift for the craft — and range with which he applies it — are revealed by a choice of four tastes from seven options skirting from a flower blossom Carmel Valley Chardonnay to a spicy Santa Lucia Highlands Pinot to a savory San Antonio Valley Petit Verdot. A nice bonus: The modest and stylish tasting surface shares space with one of Carmel's cooler art galleries. Hours are 1pm to 7pm daily. lepecellars.com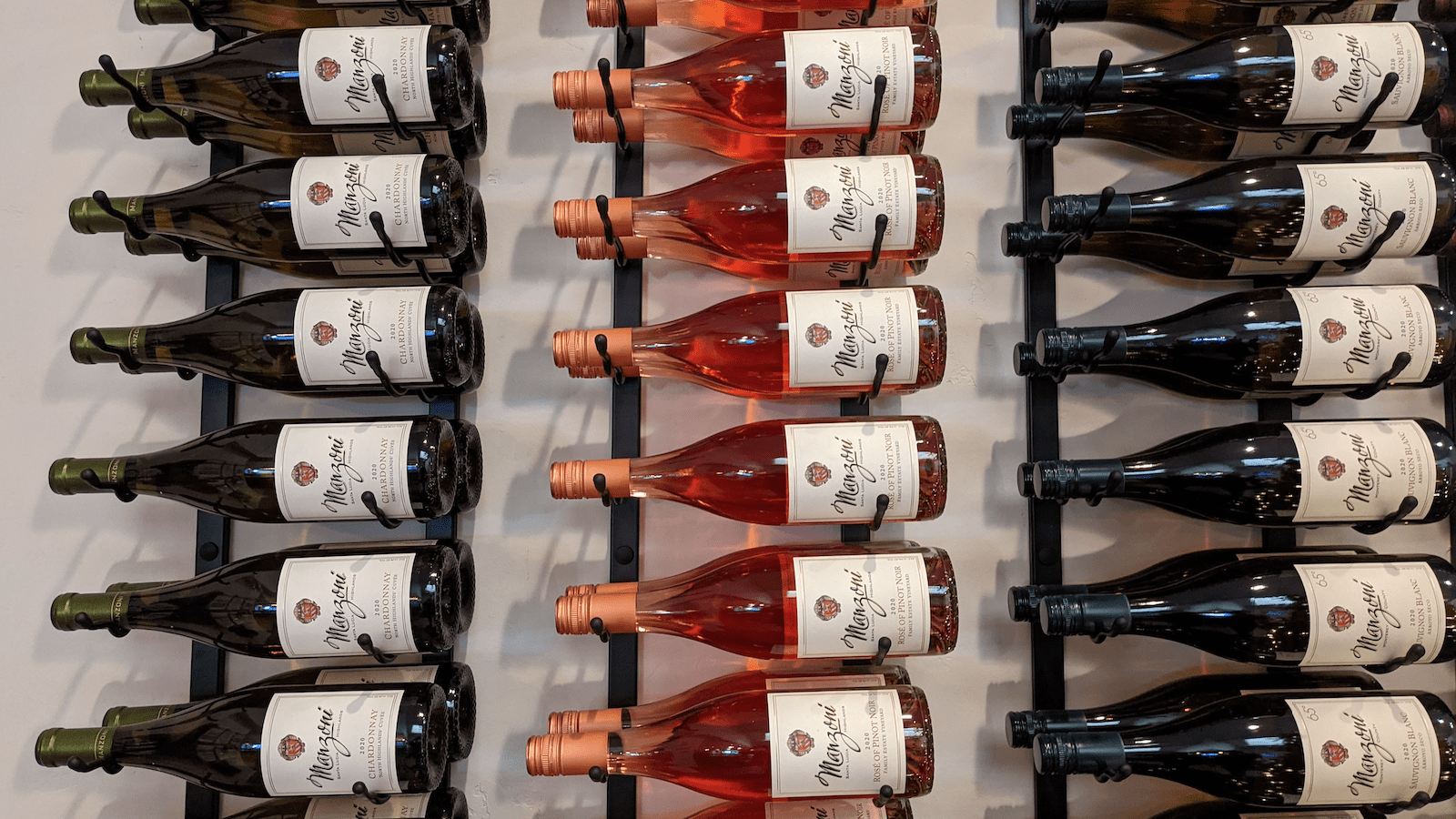 #4 Hampton Court, 7th between San Carlos and Dolores
Solids: Charcuterie boxes are available, and outside food is also welcome
Liquids: A far-ranging lineup of around a half dozen expressions go light and bright whites to bigger and bolder reds
Owner-operators Sabrina and Mark Manzoni are often present to help elevate a welcoming atmosphere that's notably popular among locals. A sizable patio, pretty tasting bar and various seating areas provide a setting for sips that swoop from new Arroyo Seco Sauvignon Blanc to Santa Lucia Highland estate Pinot to a cuvée Bordeaux blend, with highlights including — but not limited to — the cool-climate SLH Syrah that's required try. Hours are 12pm to 6pm daily, tentatively closed Tuesday and Wednesday in winter. manzoniwines.com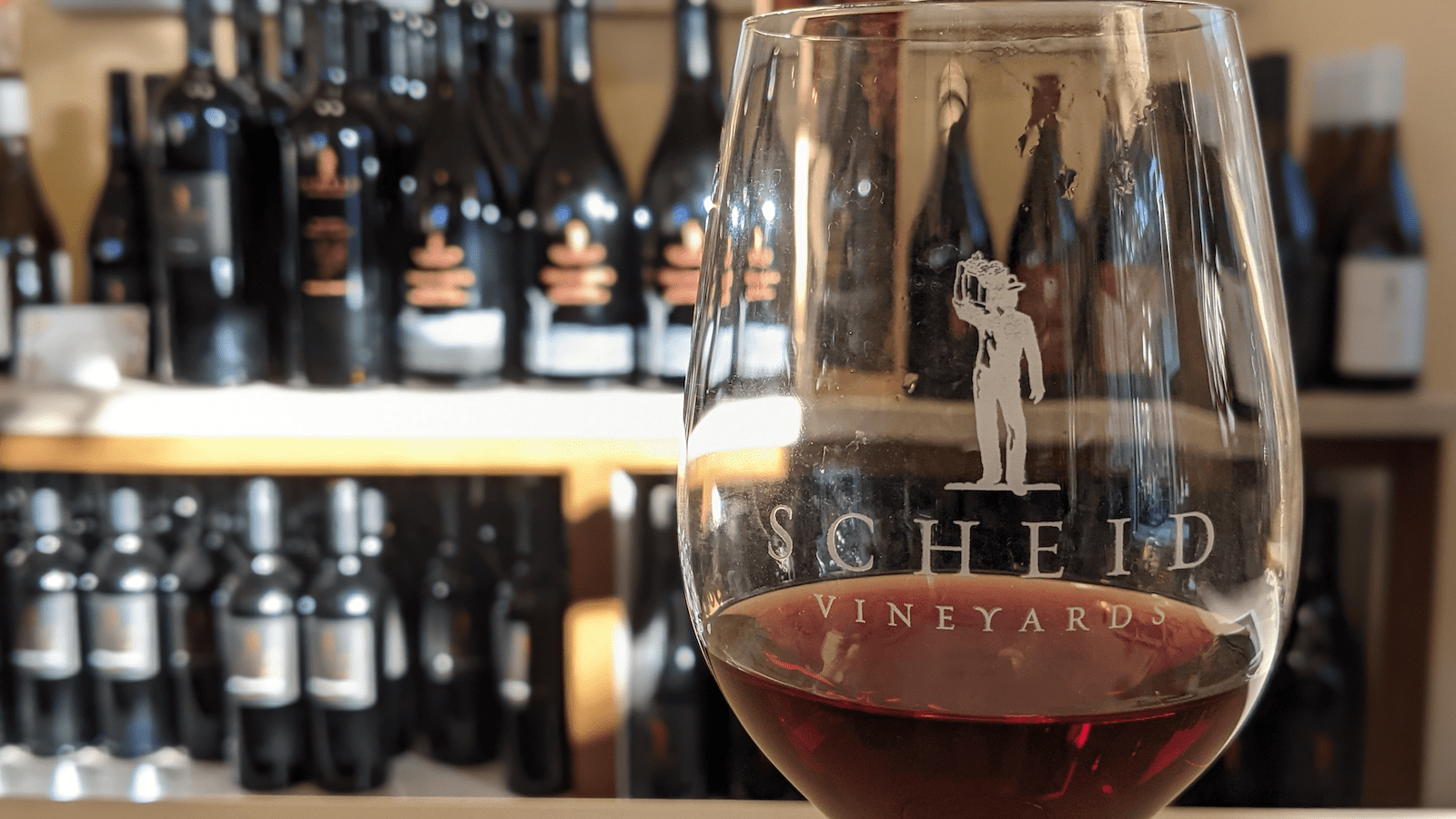 San Carlos and 7th, Carmel
Solids: While Scheid's South County sister tasting space serves food, Carmel's does not
Liquids: A versatile tasting list flows from a signature sparkling to a flagship GSM, with many stops in-between
This spot earns top billing from area residents for a social atmosphere born of stylish stave-built tables and chairs, a long tasting bar, and friendly/educational staff. The diversity of varietals doesn't hurt either: After 50 years (as of 2022), Scheid's 4,000 South Monterey County acres furnish a range of soils, climates and conditions to produce roughly 40 varieties that range from area standards (note the quality Pinots) to grapes less common around these parts (think Dolcetto and Roussanne). Hours are 11am to 6pm daily, until 7pm Friday and Saturday, reservations recommended. scheidvineyards.com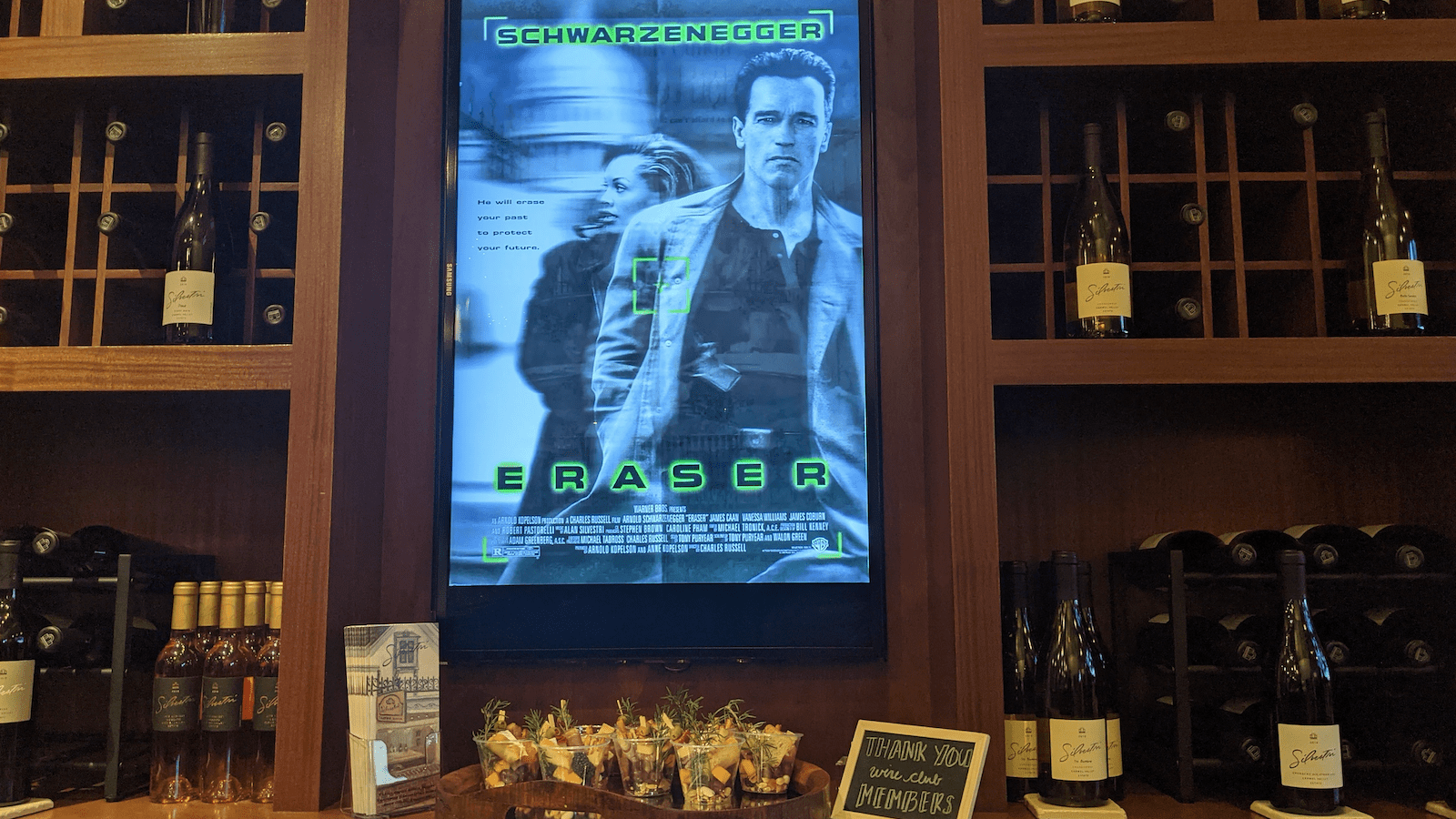 7th between San Carlos and Dolores, Carmel
Solids: Bring-your-own snacks are welcome
Liquids: An increasingly famous and widening selection of locally sown wines star Chardonnays, Pinots and Syrahs, but also interesting big reds
While Carmel is lucky enough to enjoy a wealth of compelling tasting venues, nowhere in the world presents an experience quite like Silvestri. Here dozens of movie posters — who the namesake owner composed the soundtracks for — appear on the walls and scroll by on a digital screen, from The Avengers: Endgame to Forrest Gump. The digital marquee sits surrounded by polished wood racks filled with a prestigious and tasty family of wines, some named for family members, with the Italian heritage to match. They do Central Coast's greatest hits with aplomb (to reiterate, it is a Pinot and Chardonnay show in this part of the world), but also dip into varietals that are atypical around here, like the full-bodied Barbera, the first of its kind cultivated on the Central Coast. Hours are 12pm to 6pm daily. silvestrivineyards.com