You can make a formidable case that the Monterey Peninsula is the World Capital of Golf. It can also lay claim to the title Marine Science Capital of the World, with Monterey Bay Aquarium and several other research institutes surfacing and sharing massive amounts of aquatic insight.
Both are relevant here: A number of the area's nearly 30 courses enjoy restaurants with peaceful views of the adjacent greenery and beyond (though only one cracked this list), and the Aquarium food operation has a well-deserved place on this rundown too. 
The real star, however, is the Pacific Ocean, which figures in mightily with all of the following spots, where the primary recipe priority is to enjoy quality food with brilliant visuals. 
That said, here are our Monterey Peninsula Restaurant with a View winners for 2022, selected by our editors – look for our readers' choice winner, selected by our audience.
Featured Photo: Beach House Restaurant & Bar at Lovers Point
Monterey Peninsula Dining Map
Bayonet & Black Horse Grill
This place commands a powerful presence among golf nerds. Among gourmands, not so much. But don't sleep on the innovative action happening out of the kitchen, which provides food that's well above par. Or views that reach from the highlands of Seaside across soothing fairways to the Peninsula and the Pacific beyond. The happy hour is strong too. bayonetblackhorse.com
This place commands a powerful presence among golf nerds. Among gourmands, not so much. But don't sleep on the innovative action happening out of the kitchen, which provides food that's well above par. Or views that reach from the highlands of Seaside across soothing fairways to the Peninsula and the Pacific beyond. The happy hour is strong too. bayonetblackhorse.com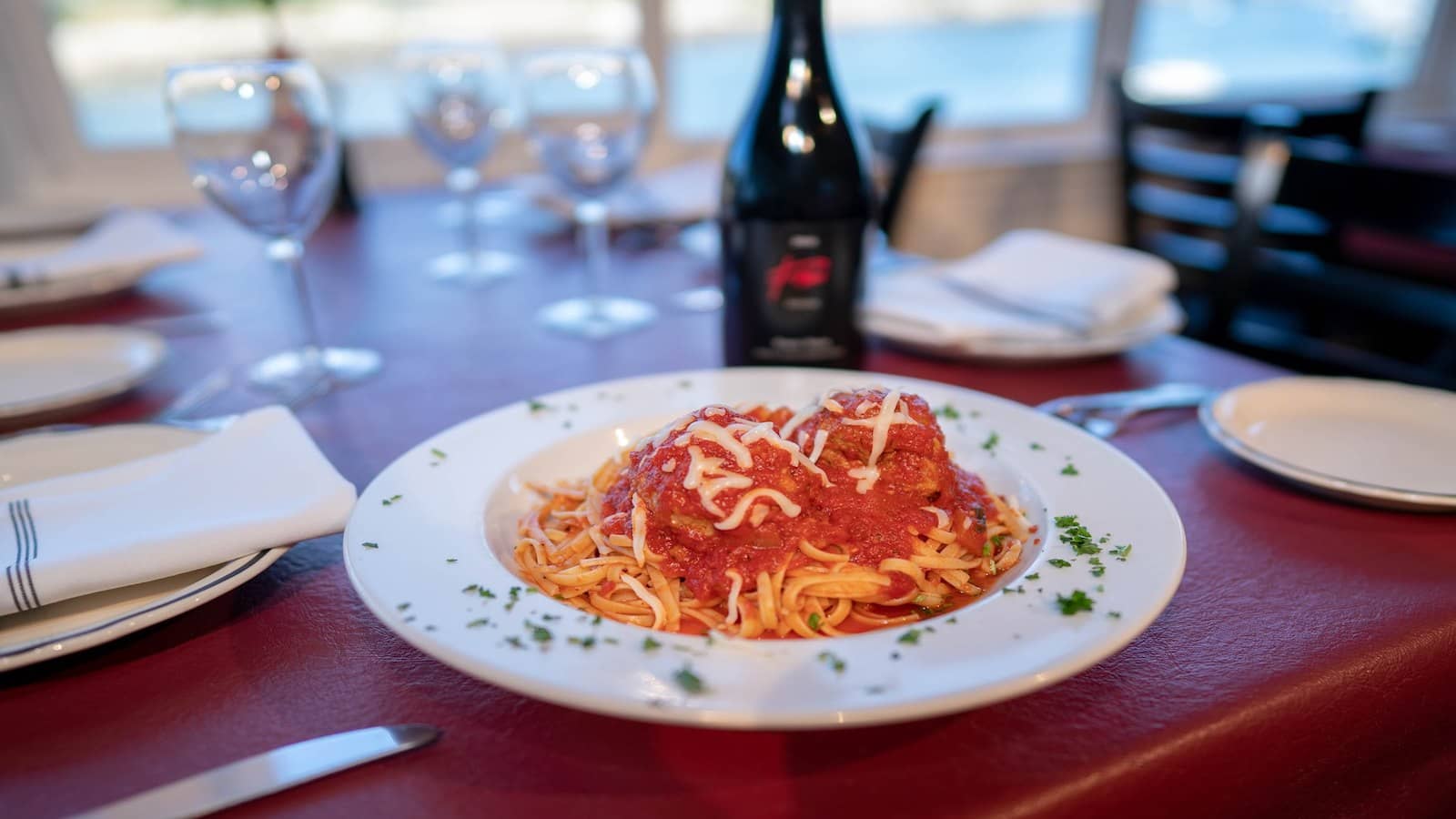 Fina is one of the restaurants superficial locals sleep on because they assume — incorrectly — that it's a Fisherman's Wharf tourist trap. Instead it's a farm-fresh treasure and a full-on seafood destination with Dungeness crab four different ways (when in season), robust seafood cioppino and dynamite mesquite-grilled wild salmon. Plus the harbor views are relaxing. Choose a seat wisely. cafefina.com
Coastal Kitchen/Schooners
Monterey Plaza Hotel enjoys a ledge on the edge of the Pacific that helps protect a little pocket of sand called Secret Beach, a great launch point for scuba diving and kayaking. Not many know about it. In contrast, the word is out on Schooner's (a great place for lunch) and the fine-dining destination that is Coastal Kitchen because the food is that good and the dramatic positioning on top of the water is outright epic. montereyplazahotel.com/dining
The sheep are fluffy fabulous on their own, and they enjoy an incredible background of pasture and seascape and sky. The brunch still ranks up there among any in the area as well, as does the forthcoming return of piano music. Also a top contender for early bird discounts they call, in a nod to the poofie cuties in the grass, "Early Grazing." missionranchcarmel.com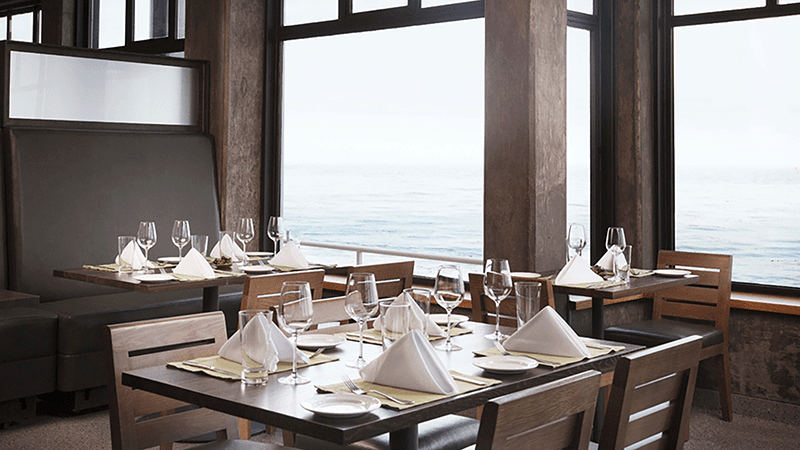 The days of the full-service restaurant with binoculars and wildlife ID guides on the table have migrated away. But the biggest visitor attraction on Monterey Bay has an underrated food operation, with spectacular views (grab a table next to the window). Executive Chef Matthew Beaudin leads a culinary cafe scene that's overachieving in sustainability and flavor, with items like Baja fish tacos and rockfish burritos. Bonus points and inspiring al fresco views come with eating out in the amphitheater seating next to the Great Tide Pool. montereybayaquarium.org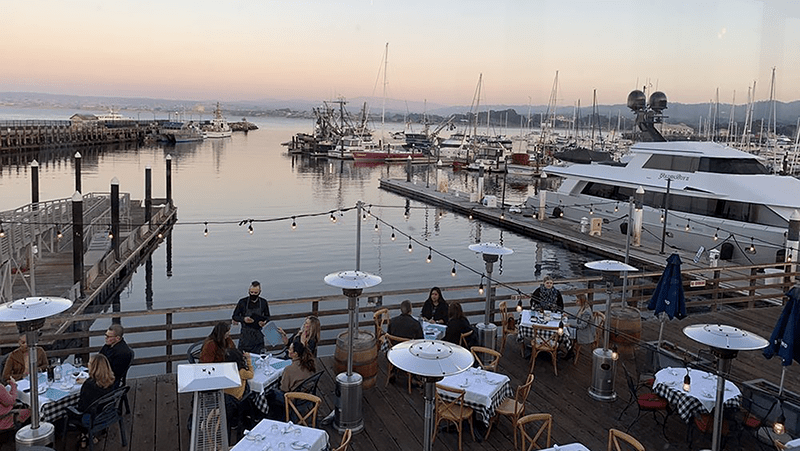 The least understood of Monterey's three piers has one of its most intriguing restaurants. On a second story down by the San Carlos Beach on the end of the pier awaits Osteria Al Mare (In Italian, "restaurant at the sea"). Sublime Italian food like fettuccine ai funghi, fritto di calamari, beer braised pork shank and pollo piccato make this place a perpetually underrated destination. osteriaalmare.com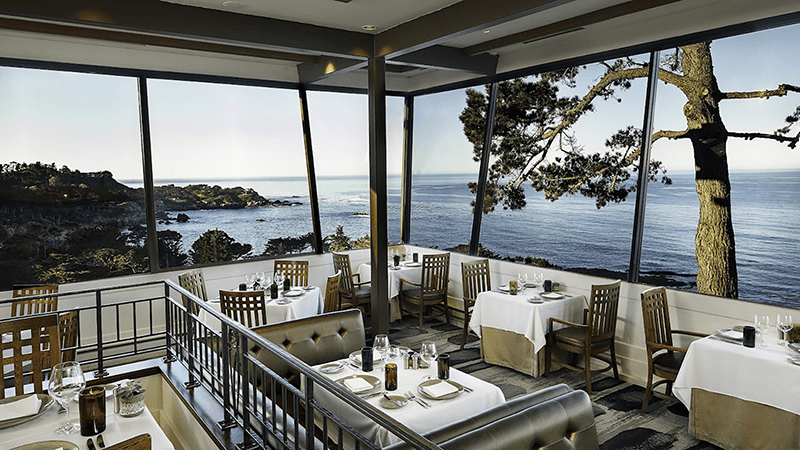 Locals like to vote it Best Place to Splurge and Best Place for a Romantic Meal with good reason. A remarkable wine list pairs with a seasonal menu long on fine steaks and seafood like braised short rib bourguignon and pan-seared Pacific halibut. The real stunner is the setting, with craggy Cypress trees and the seemingly infinite Pacific visible through huge windows high above Highway 1. The adjacent Sunset Lounge allows for all the views without as stiff a price tag. hyatt.com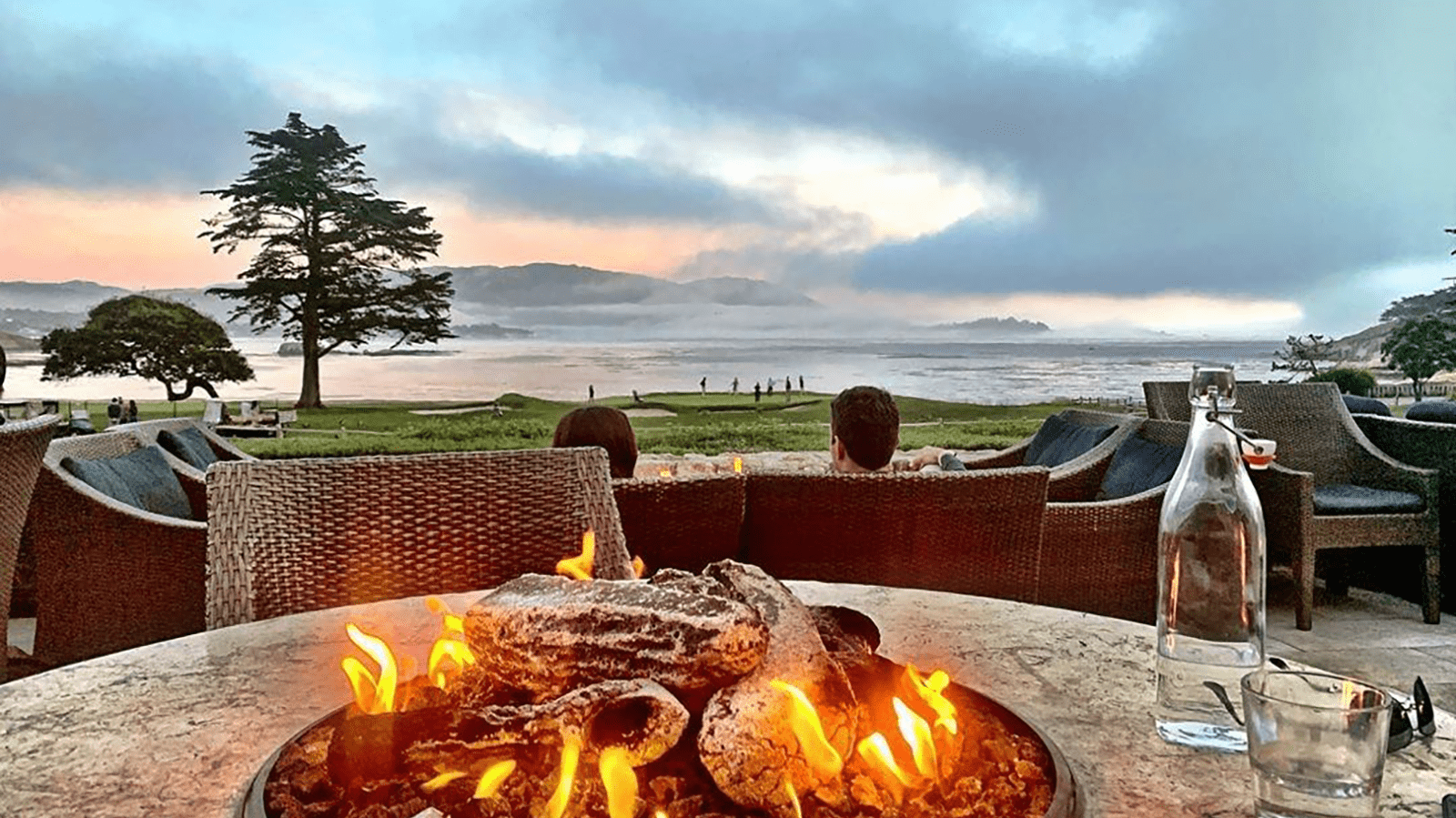 Stillwater Bar & Grill/The Bench
This pair of Pebble Beach Lodge spots shares a slot here because they're so close to one another, but despite their proximity the feel of their views take on disparate character. Stillwater serves its raw bar items, seared sea bass and braised lamb shank floating above the iconic 18th fairway and the cove that gives it its name. The Bench does butter chicken flatbread, wood-grilled hanger steak and steamed clams at ground level with patios that border the wide swaths of green. Two great choices, zero chance of going awry. pebblebeach.com/dining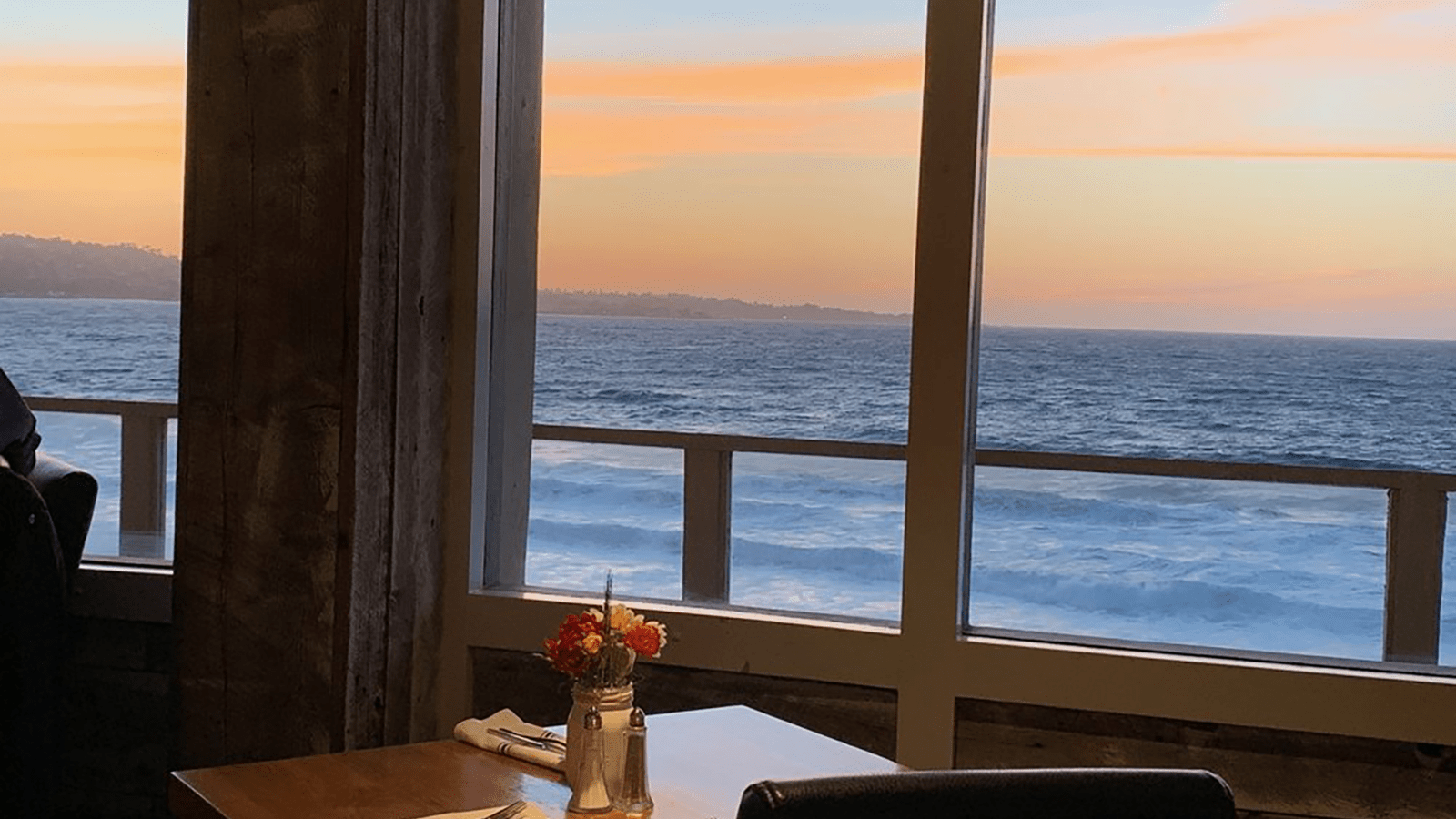 For years this was a locals secret as a homey Best Western with a dynamite top floor perch for an underrated restaurant. Two different boutique hotel chain owners later, plus several makeovers and a star turn as part of HBO's Big Little Lies, and the place is gussied up. But the real star remains the views of the adjacent Del Monte Beach break and the dolphins that frequent it, viewable from on high or in the comfortable lobby-bar-lounge through floor-to-ceiling windows. montereytides.com
More Local Favorites on the Monterey Peninsula
Monterey Peninsula Dining Map