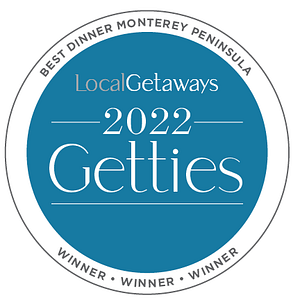 For an auspicious amount of time, decades all told, Michelin Guide hit the brakes on its restaurant coverage just north of Monterey Bay, arbitrarily excluding the Monterey Peninsula from its range. That changed recently, and a collection of restaurants earned mention, while Aubergine earned a well-deserved Michelin star, which was a nice plot twist.  
Another thing that has changed more recently: A flood of restaurant openings have occurred, more in, say, the first few months of 2022 than entire years previous, as Covid abates and tourism revs back up.
That's made it hard to keep pace, and inspires inclusion of three downtown Monterey landmarks that are a touch too new to list in depth, but merit mention because they each occupy historic and beautiful spaces and have standout chefs at the helm: Cella in the Cooper Molera Gardens (with Chef Ben Spungin); Montrio in a former firehouse (with Chef Sascha Lyon); and Stokes Adobe in a huge house built in 1833 (with Chef Bryce Hansen). 
With that in mind, here are our Monterey Peninsula Dinner winners for 2022, selected by our editors – look for our readers' choice winner, selected by our audience.
Monterey Peninsula Dinner Map
7th Avenue Monte Verde Street, Carmel-By-The-Sea
831.624.8578
When Justin Cogley first took over at venerable Aubergine after a career as a pro figure skater and time working under Charlie Trotter in Chicago, he installed a tank in the kitchen to have the freshest of the fresh abalone ready for plates. His creativity, precision, technique and sense-of-place rank tops in the area, but it's that obsession with local product and freshness — which leads him to forage ingredients personally — that really resonates. Plan ahead for the sublime tasting menu experience: This is the hardest reservation to get in the area. auberginecarmel.com
867 Wave Street, Monterey
831.333.1200
If pressed to present a go-to date spot for the Monterey region, this would be it. That's the level of welcome from Wine Director Colleen Manni and French chef-owner Didier Dutertre and interplay of wine guidance, bang for your buck, seasonal Parisian-leaning food and picture book bistro backdrop. The best options are often simple and classic — escargot, coq au vin, moules frites, confit de canard — and the house signature dish, spinach gnocchi, is a must-do. bistromoulin.com
5th Ave, Carmel-By-The-Sea
831.216.3811
One of Carmel-by-the-Sea's biggest destinations of the last two generations — and biggest successes — Casanova does locally sourced French with aplomb, so bring on the potato croquettes, ribeye tartare, duck confit and braised beef cannelloni. The house bread program proves outstanding, the wine cellar is award-winning and the gorgeous setting matches the rustic food. casanovacarmel.com
750 Cannery Row, Monterey
831.375.4800
The soaring windows give way to the adjacent Pacific, and every table and booth has a great sightline. More eye-popping visions appear on the plate. Executive Chef Matt Bolton has been a star chef in the area for a generation, and assembles the thoughtful sustainable seafood dishes to reflect it — from the Dungeness crab pappardelle to the king salmon in mussel-saffron sauce. Located in the Intercontinental Hotel on Cannery Row. thecrestaurant-monterey.com
Dolores St. between 5th and 6th, Carmel
831.250.7005
For a taste of Oaxaca on the Central Coast, there's no surer bet than Cultura Comida y Bebida. Superb food, great service and an outstanding setting — including a nice outdoor seating area away from the street — make this a fail-safe. A great date spot, you'll find an assortment of family-style dishes on the menu as well as a full bar specializing in unique cocktails and traditional mezcal. Order the street tacos or the chicken tinga burrito and wash it down with a rotating mezcal creations born of regular staff retreats to the southern edge of Mexico. For dessert, try the oat milk flan. culturacarmel.com
NW Corner of Mission and 6th Avenue, Carmel-By-The-Sea
831.624.6562
Grasing's was already capital-G great. When Chef Cal Stamenov came here from Bernardus, he turned a great restaurant into a superlative one. He jokes that his job is to sell the big bottles from the wine cellar, which enjoys arguably the best wine list in the region, but he's being self-deprecating. More than a generation of the area's most celebrated chefs trained under him, and he continues to deploy the sourcing and savvy to create wow-worthy chophouse fare with flair. Great bar menu too. grasings.com
Gusto Handcrafted Pizza and Pasta
1901 Fremont Blvd, Seaside
831.899.5825
When I named Gusto best new restaurant of the year back in 2015, it was a bit of a coup. People travel from Seaside to eat in Carmel, not vice versa. But the bedroom community known better for taquerias and noodle bars got a sit-down star specializing in authentic Northern Italian-style pizzas like the diavola and carnivora, handmade pastas with rustic sauces like the bolognese and porcini-marscapone, and other treats like chicken parmigiana and slow-braised short rib. gusto1901.com
700 Cass Street #102, Monterey
831.717.4363
Some might be surprised to see a pizza place on a list with so many upscale spots, but such is the power of HPC's deep dish pies. Pizzas like the namesake "Heirloom" with garlic, mushrooms, bacon and spinach can be done with Chicago depth — or thin crust — and without gluten. Combined with elements like a good wine list, local and exotic draft beers, fresh and hearty salads, it was enough to make it one of 10 best new Monterey County restaurants of the last decade. heirloompizzapie.com
Ocean Avenue between Lincoln and Monte Verde, Carmel-By-The-Sea
831.677.6750
Carmel comes packed with quality Italian spots, including Aubergine sister restaurant Cantinetta Luca. Il Tegamino, named for the giant traditional pan hanging on the wall, qualifies as Local Getaways' favorite. That's for a range of things that include the adorable (and tiny) dining room, romantic patio, rustic Italian comfort food — Carbonara! Lasagna di Carnevale! Meatball trios! Bucatini! — great wines and masterful hospitality from hands-on owner-operators. iltegaminocarmel.com
Junipero between 5th and 6th, Carmel
831.250.6295
La Balena — "whale" in Italian — shows that fried chicken can be elegant. Just take a look at their pollo fritto. It's half of a Fogline Farm chicken that's crusted with arborio (an Italian short-grain rice) and served with a small side salad. Crispy on the outside, tender and juicy on the inside, it doesn't get much better. Other standouts at this unassuming and exceedingly hospitable spot include the bruschetta topped with Seka Hills olive oil, and a robust wine list. labalenacarmel.com
48510 CA-1, Big Sur
831.667.2345
Open since 1949, Nepenthe is renowned for the panoramic views of the coast it offers from the sprawling wrap-around deck. The restaurant features a menu of Californian, Greek and Mediterranean cuisine, all highlighting locally grown food. Appropriately named, the famous Ambrosia Burger is Nepenthe's version of heaven, served on a French roll with their famous ambrosia sauce. If time permits, have a drink before or after dinner out on the deck. If it's chilly there is a vast selection of warm drinks like the Keoki coffee, made with Kahlua, Crème de Cacao and Korbel Brandy, topped with whipped cream. nepenthe.com
701 Lighthouse Avenue, Pacific Grove
831.655.3311
Local Getaways' favorite seafood restaurant by the bay, Passionfish earned an international following for its leadership around sustainable sourcing. But it's Chef Ted Walter's creative treatments, and a wine list notable for its rare finds and rare affordability, that make it a local legend. Some tastes to consider: sea scallops in tomato-truffle butter, Saltspring Island mussels in bacon-fennel broth, and an otherworldly Dungeness crab salad-avocado tower with spicy ginger vinaigrette. passionfish.net
701 Wave Street, Monterey
831.373.3775
The icon that really made Cannery Row a culinary destination continues to be run by the families who founded it, and remains required viewing. The bar lounge area, dining rooms and cellar are as memorable as they come aesthetically, and the Factory has been around so long the food (like the abalone bisque, Pacific sand dabs, filet and lobster tail) are perhaps taken for granted by now. The Wine Spectator-celebrated wine list and double happy hour certainly are not. sardinefactory.com  
47900 CA-1, Big Sur
831.667.2800
If I had one spot to go out to eat on the planet, period, it might be here. Such is the alchemy of setting (on the edge of a cliff), sourcing (relentless and often from the on-property garden) and execution (immaculate). Just getting to Post Ranch Inn is an experience, then the sensorial fireworks start arriving from Chef Reylon Augustin's kitchen, paired with wines that have earned the Wine Spectator Grand Award since 2012. postranchinn.com
More Local Favorites on the Monterey Peninsula
Monterey Peninsula Dinner Map