Teeming marine life. Farm-fresh produce from the Salad Bowl of the World — dished at adored restaurants. A world-class aquarium. Storied golf courses, in a staggering quantity. Towering redwoods. John Steinbeck history. Stunning beaches. Highway 1 vistas from Big Sur and beyond. Surf City USA. Wine country stretching from Carmel Valley to Salinas Valley. Some of the best scuba diving known to man.
The Monterey Bay-Central Coast area of California can claim any number of items that attract waves of visitors, and famously so. One other thing it provides, with all the quality and a fraction of the recognition, is great group lodging. The venues that go above and beyond in that category function well on a number of fronts, from unforgettable settings to scalable conference space to accessible entertainment. Here are our Monterey Peninsula Group Getaway Hotel winners for 2022, selected by our editors — look for our readers' choice winner, selected by our audience.
Featured Photo: Carmel Valley Ranch
Asilomar Conference Grounds
**Readers' choice 2023 winner
The forested complex of lodging and meeting spaces predates World War I, when it served as a YWCA Leadership Camp. It became a state park in 1956 and enjoys 107 acres of state beach, restored dunes and buildings. Those buildings earned architectural renown thanks to the legend of architect Julia Morgan, who designed 13 structures like soaring Merrill Hall that remain today, and are listed on the National Register of Historic Places. (Celebrated in his own right, John Carl Warnecke created seven more structures three decades later.) Between its diverse types of rooms and suites, winding paths, deeply natural setting and expansive halls, it's a village-like destination on its own, with Carmel, Pacific Grove and Monterey all within a few minutes' drive. Depending on the season, it's also a good option for a vetted value hotel. 
HIGHLIGHTS: The dramatic pine and cypress trees merge poetically with the earthy style of the buildings, and so many birds call it home — from hummingbird to hawk — parks staff conduct regular birding tours. The history and architecture prove worthy of being celebrated too. The picturesque beach of the same name sits across the street, and Carmel, Pacific Grove and Monterey all await within a few minutes' drive. The food program is award-winning and inspiring: Keeping with the grounds' pioneering green policies, it trends towards maximum sustainable flavor and zero waste.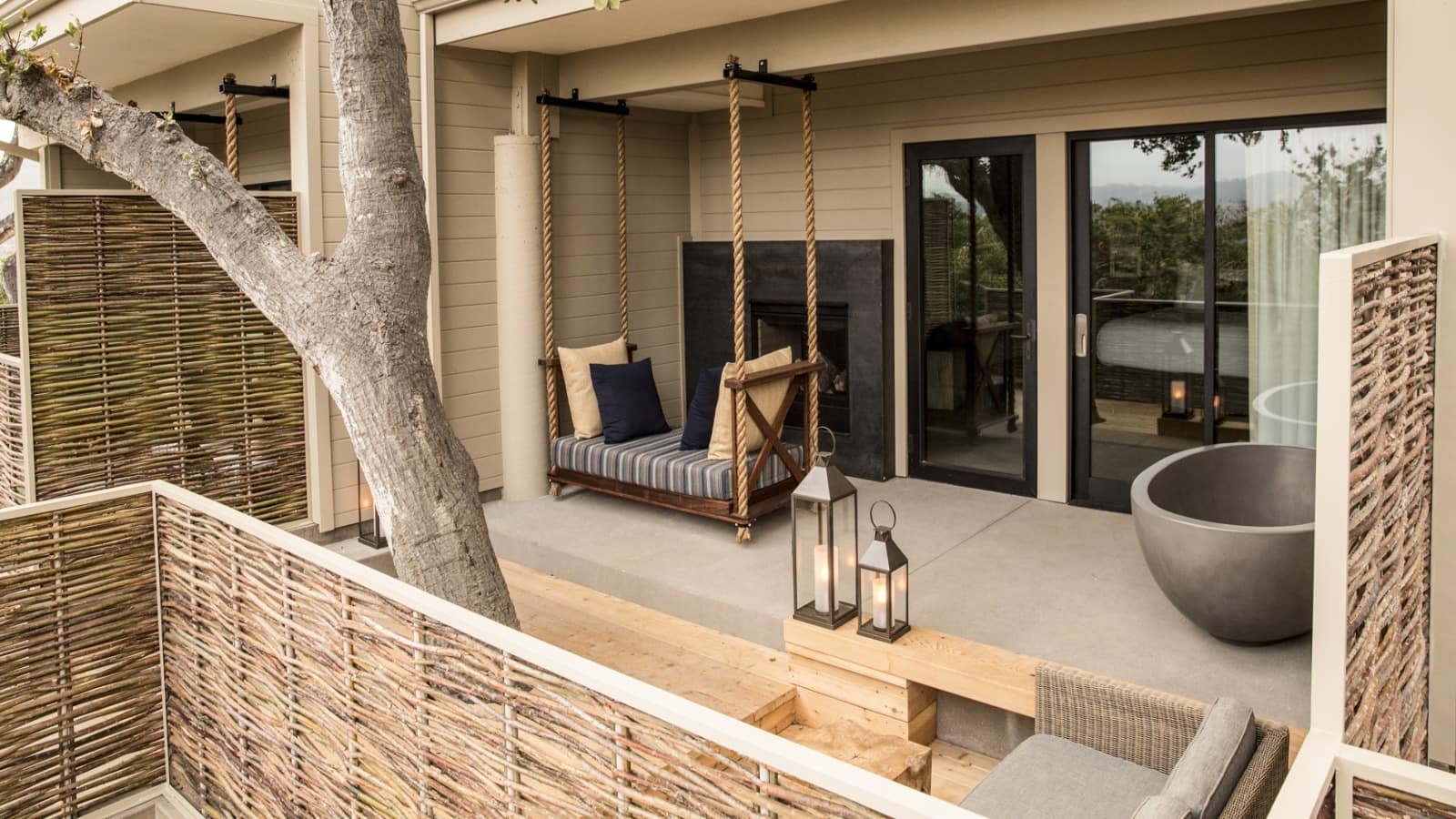 Want to try your hand at archery? Falconry? Beekeeping? Or maybe you just want to play a round of golf on a par-70 Pete Dye-designed course? Spread across 500 acres in the foothills of the Santa Lucia Mountains, Carmel Valley Ranch has space for it all — including three different swimming pools. The almost overwhelming activity menu also might include cooking classes, foraging hikes, or yoga in a hilltop pavilion. The extensive fitness program includes barre, circuit training and water yoga while the menu at Spa Aiyana features ten different types of massage — making it one of the best hotels for wellness as well as luxury. Among the resort's 181 rooms are a variety of accommodation styles and levels, many featuring fireplaces, private decks or both for a true hideaway vibe, meaning you can add it to the list of the region's best hotels for romance, too. 
HIGHLIGHT: "Equine experiences" involve interacting with the ranch's five horses as a form of relaxation and learning. Therapist Robert Magnelli, who calls himself The Horseman, developed the programs, which include the adult-oriented Growing Awareness and the family-friendly Getting to Know the Herd. You can also hang with the herd of goats, alpacas, cows, chickens and their babies born on the property.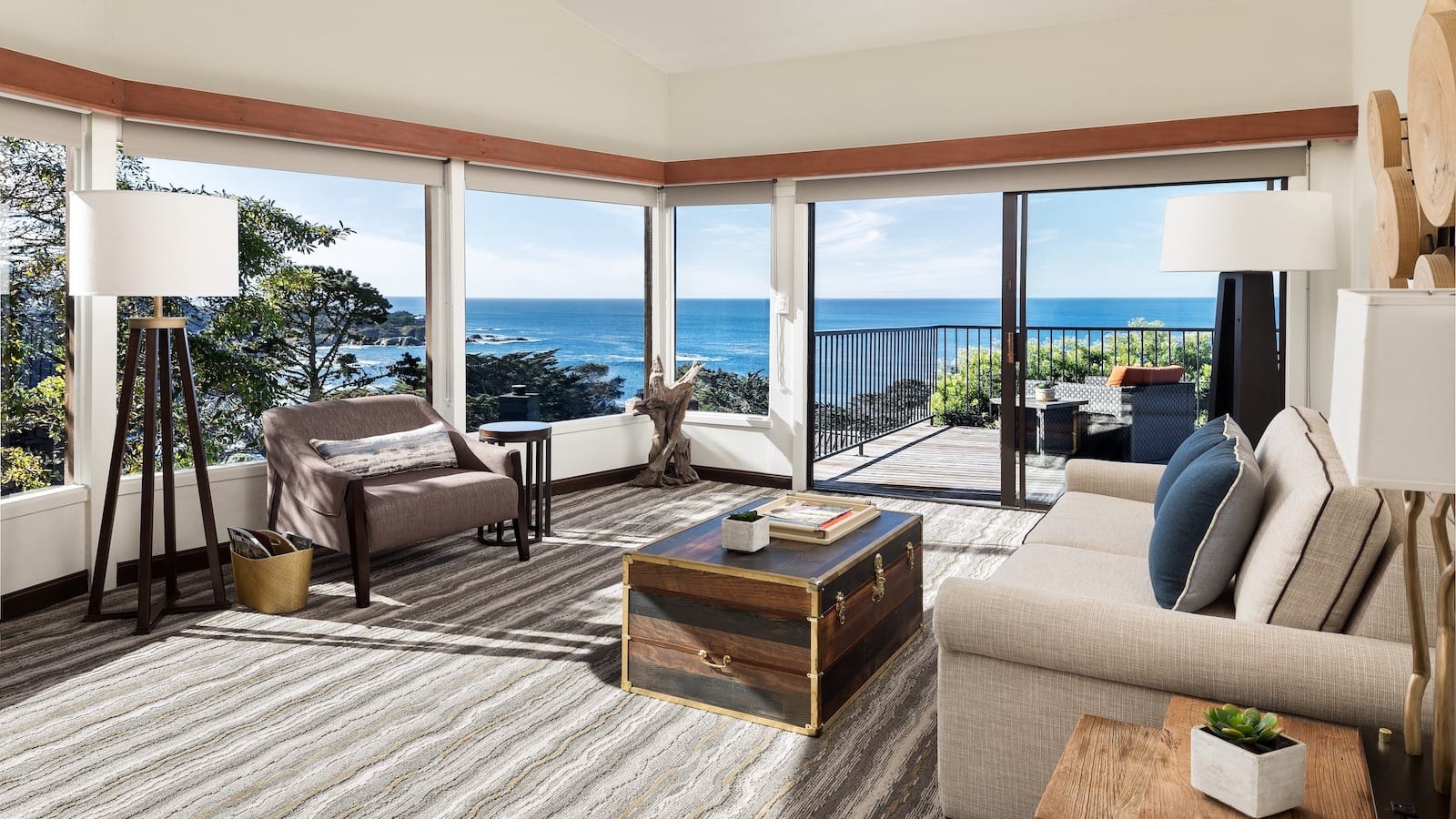 A hillside compound in Carmel Highlands, just south of the spectacular Point Lobos State Natural Reserve and only a 10-minute drive to Carmel-by-the-Sea, Hyatt Carmel Highlands has had several incarnations since it opened in 1917. Today its 48 luxurious guestrooms, scattered across rustic buildings, include 11 suites, 32 ocean-view rooms and five garden-view rooms with modern Mission-inspired furnishings; some have full kitchens, as part of the onsite Hyatt Residence Club (which goes by the resort's original moniker, Highlands Inn.) The highly esteemed, California-inspired Pacific Edge restaurant provides a sweeping vista to the striking shoreline just across Highway 1.
HIGHLIGHT: The heated, sheltered pool and three outdoor hot tubs provide great gathering places to relax after a day of hiking in Big Sur, shopping in Carmel or wine tasting in Carmel Valley. You can also toast your adventures in style at the appropriately named Sunset Lounge, which offers a wall of windows overlooking the Pacific and live entertainment on weekends. The site of many special culinary and wine events over the years, the inn has a reputation for top-notch food and drinks.
Picture 93 ranch-style bungalows set amidst 850 acres of verdant valley that was once a working dairy and you'll have a sense of Quail Lodge & Golf Club, a Carmel classic since 1964. Closed in 2009 after 45 years of operation, Quail Lodge reopened in 2013 following a ground-up renovation and redesign by Barry Design Associates, the design team behind the Beverly Wilshire and Mauna Kea Beach Hotel. Vaulted ceilings and tall windows nod to Eichler, framing spacious rooms with plenty of living space ranging in size from 395 to 650 feet. Although it's luxurious, its rates are among the more moderate.
HIGHLIGHTS: In addition to the 18-hole golf course (updated in 2015) that put Quail Lodge on the map the grounds incorporate three tennis courts, pickleball, bocce ball and a nine-hole putting green. The on-site restaurant, Edgar's, celebrates sustainable seafood and locally grown produce serving up grilled octopus and shrimp, Monterey Bay sand dabs, and farmers market salad.
Monterey Plaza Hotel & Spa
If your ideal group getaway involves shopping, dining, spa treatments and sightseeing, then Monterey Plaza Hotel & Spa should be on your list. On the quiet end of Cannery Row, but close to everything, the upscale hotel offers 290 recently renovated rooms and suites. Many feature dazzling Monterey Bay views and some have balconies so close to the water you might think you're aboard a yacht — one reason this also makes our best waterfront hotels list. Dining at the new fine-dining Coastal Kitchen and the lively, bay-view Schooners Monterey are excellent, as is Vista Blue Spa, which provides its own panoramic views from a rooftop terrace with whirlpool spas. 
HIGHLIGHTS:
With a large, well-equipped fitness center overlooking Monterey Bay, the award-winning spa and proximity to the Monterey Bay Coastal Trail, this is also on our list of best hotels for wellness. Groups will love the suites that feel residential-sized, with classic yet contemporary decor, as well the easy access to Cannery Row, Pacific Grove and Monterey.
A tranquil enclave of beach bungalows, boardwalks and sand dunes near Marina, Sanctuary Beach Resort hosts 60 recently renovated rooms and suites with ocean views. Each wood-framed cottage contains a room and a suite that can easily be combined for group stays. Families will love the heated pool, nightly bonfires and quick drive to Monterey attractions; adults will gravitate to the weekend nature walks and beach yoga sessions, nightly wine and cheese tastings, and the services at the Spa at Sanctuary Beach Resort.
HIGHLIGHTS: Saltwood Kitchen & Oysterette serves detour-worthy seafood in a casual-chic, indoor-outdoor setting. Active types can pursue bocce ball, volleyball and croquet on site, or rent one of the resort's bicycles to head farther afield — the nearby Monterey Bay Coastal Trail spans 18 miles, from Castroville to Pacific Grove. It's one of the best waterfront hotels in the region, and is a contender for best wellness options, too.