Traveling as a group, whether for a corporate retreat, for a wedding, or as a family (or a whole group of families), means looking for locations that meet a lot of different needs. California's North Bay has a mix of resorts large, small and in-between, places where you can spend a day in a boardroom with a gorgeous view and a towering fireplace, at a wedding with 200 guests and amazing food or hot tubbing with friends. Remote or close to San Francisco, towns with great shopping and great food, infinity pools and spas — the information you need for planning your next group getaway is all here.
Featured Photo: Courtesy of Cavallo Point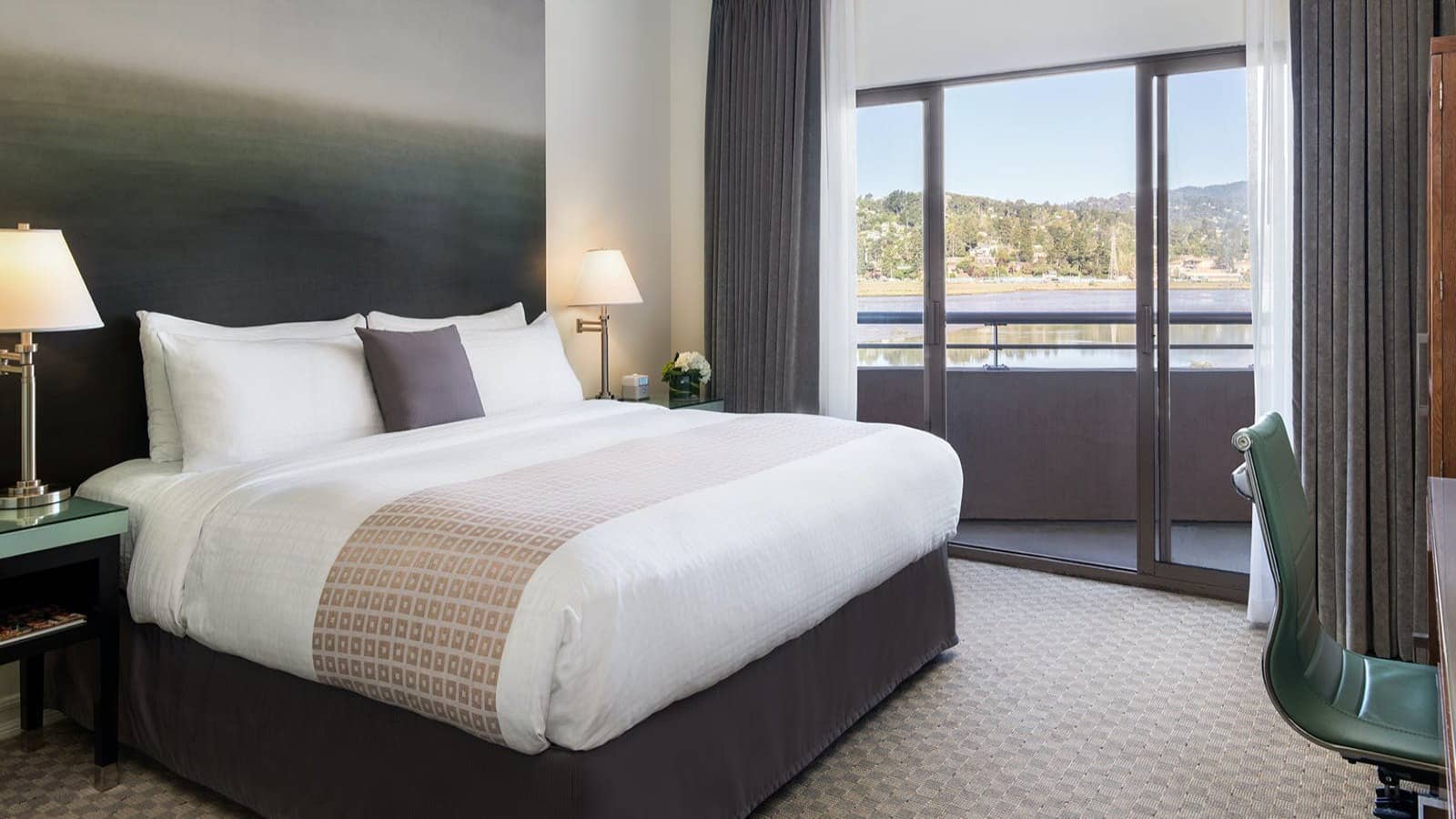 Ideally situated for a quick ride into the city and easy access to Muir Woods and Stinson Beach, Acqua Hotel is perched on a spit of land just south of the town of Mill Valley and alongside Highway 101. The rooms all face Pickleweed Inlet with soothing water views, and some include gas fireplaces and outdoor patios or balconies. Groups of friends and family traveling together will appreciate perks like the complimentary breakfast and wine reception included with every reservation and free mountain bike rentals for exploring the area's many standout trails, as well as the hotel's outdoor bayside terrace and 1,600 square-foot meeting space that make it a favorite for hosting weddings and family reunions.
HIGHLIGHTS: Within steps of the hotel are two restaurants: Piatti for farm-to-table Italian and Robata Grill & Sushi.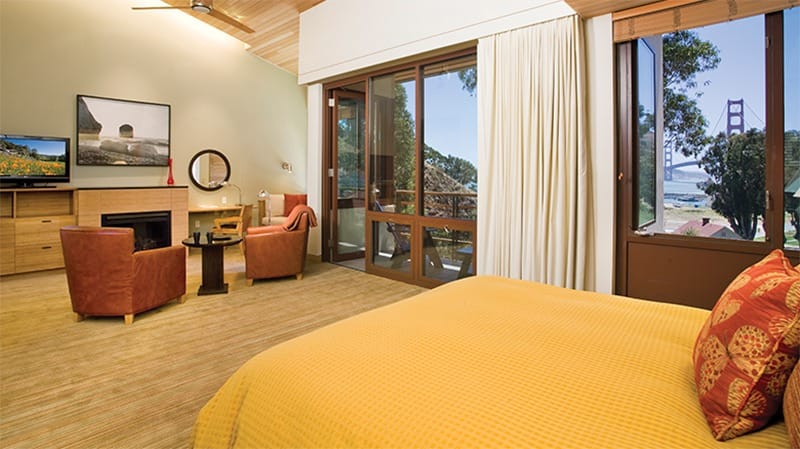 Known affectionately by locals as the lodge at the Golden Gate, Cavallo Point is tucked into a sheltered nook in the Marin Headlands that faces south for views of the Golden Gate Bridge and San Francisco. A broad meadow, once a 10-acre parade grounds for the U.S. Army troops who were stationed here, fronts the property. A large main lodge hosts a full-service restaurant, Murray Circle, and adjoining Farley Bar, complete with a large fireplace to keep the fog's chill at bay on many a summer's day. For larger groups, there is over 14,000 feet of indoor event space and room for up to 200 seated guests at sit-down dinners.
Lodging is divided into two styles. Contemporary Lodging, which is built into the hills behind the main lodge, features floor-to-ceiling windows, fireplaces in every room and suite, and radiant heat floors. Historic Lodging is built into the property's landmark Colonial Revival buildings, the room and suites' unique details preserved with grace. French doors, Ben Franklin stoves and pressed tin ceilings are some of the details you might find in your room that reflect architectural styles popular in the area as early as 1877.
*Readers' Choice Best Group Getaway Hotel in the North Bay
HIGHLIGHTS:  Families with kids under 12 love Camp Cavallo. Parents can plan a day or a week off knowing that their kids are not only looked after but are also getting the most out of their time at Cavallo Point. Nature hikes and exploration of the region's history, lawn bowling on the parade grounds and kids bingo are just a sample of what's available. The Bay Area Discovery Museum is designed for young children and is just steps away.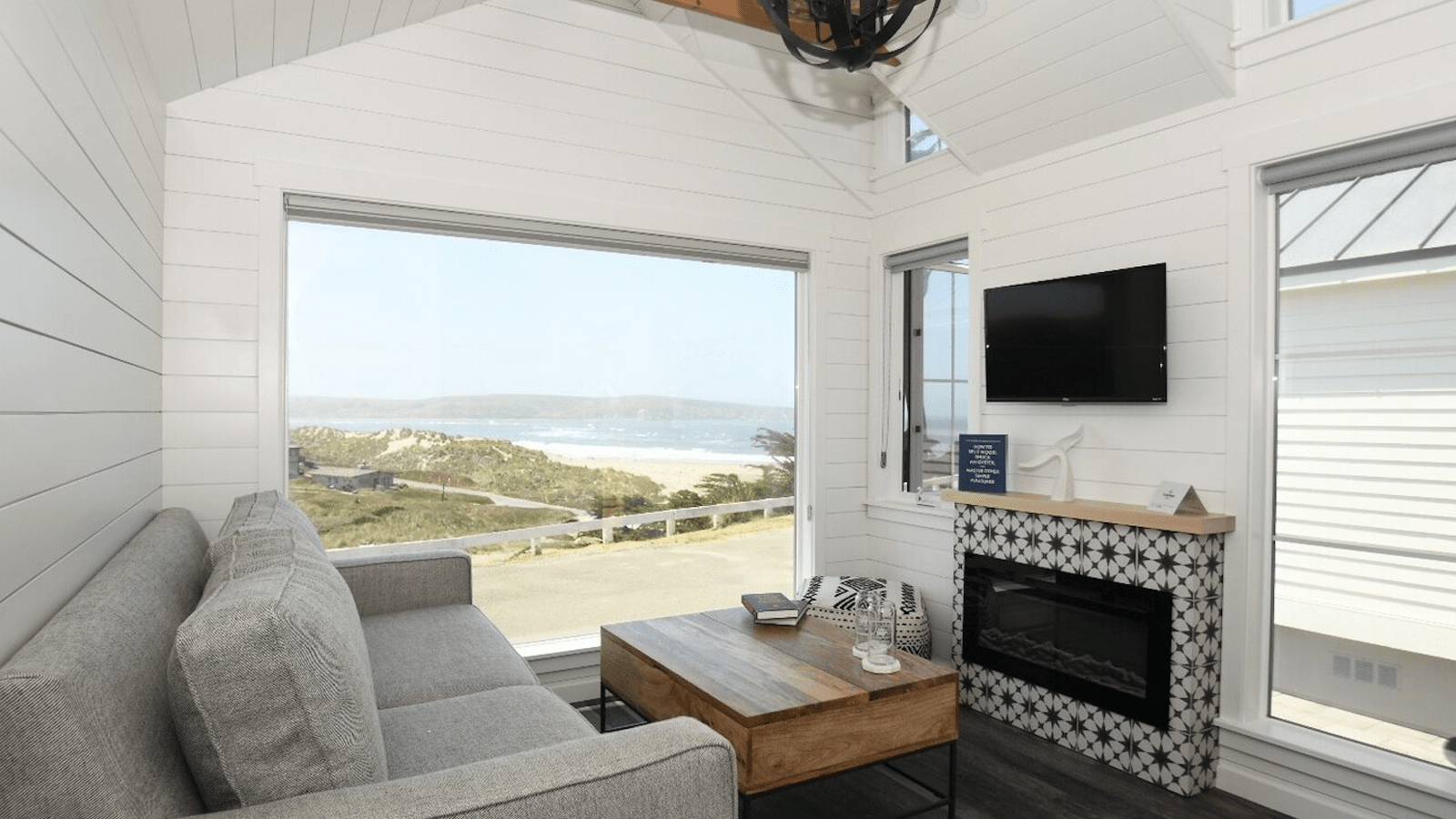 Perched above the sweep of Dillon Beach in the northern reaches of Marin County, Dillon Beach Resort is built to maximize views of the Pacific Ocean while providing guests on a group getaway a homey feel. To think of Dillon Beach Resort's rental homes as Airstreams without the wheels gives prospective "renters" a sense of the cool design and thoughtful features that went into this coastal community. Though they are not sheathed in aluminum, rental homes maximize natural light and ocean views but provide privacy between units. Each unit has a kitchen and a private deck, accessible only from each home. In some homes, the bedroom is downstairs for single-story living while others have an upstairs bedroom for additional privacy.
If your group doesn't want to cook its own meals, the lodge's main dining room, Dillon Beach Coastal Kitchen, serves up seasonal favorites from local fisherman and farms at lunch and dinner. The accompanying Dillon Beach General Store is one part surf shop, two parts beach eats. Coffee and espresso drinks, plus fresh baked goods and soft serve for an after-beach treat are here plus beach-safe drinks, snacks and other goodies.
HIGHLIGHTS:  The drive into Dillon Beach is classic Marin. Head west from the tiny town of Tomales, stopping at the first overlook to admire the majesty of the unobstructed landscape. Admire the miles-long beach and crashing waves below. Swoop down the hill past dairy cows and trees bent into crazy shapes from the wind. After you reattach your lower jaw to your face, you've arrived at Dillon Beach where, remarkably, there is cell service and picnic tables, a perfect spot to enjoy a treat from one of Marin's many food artisans.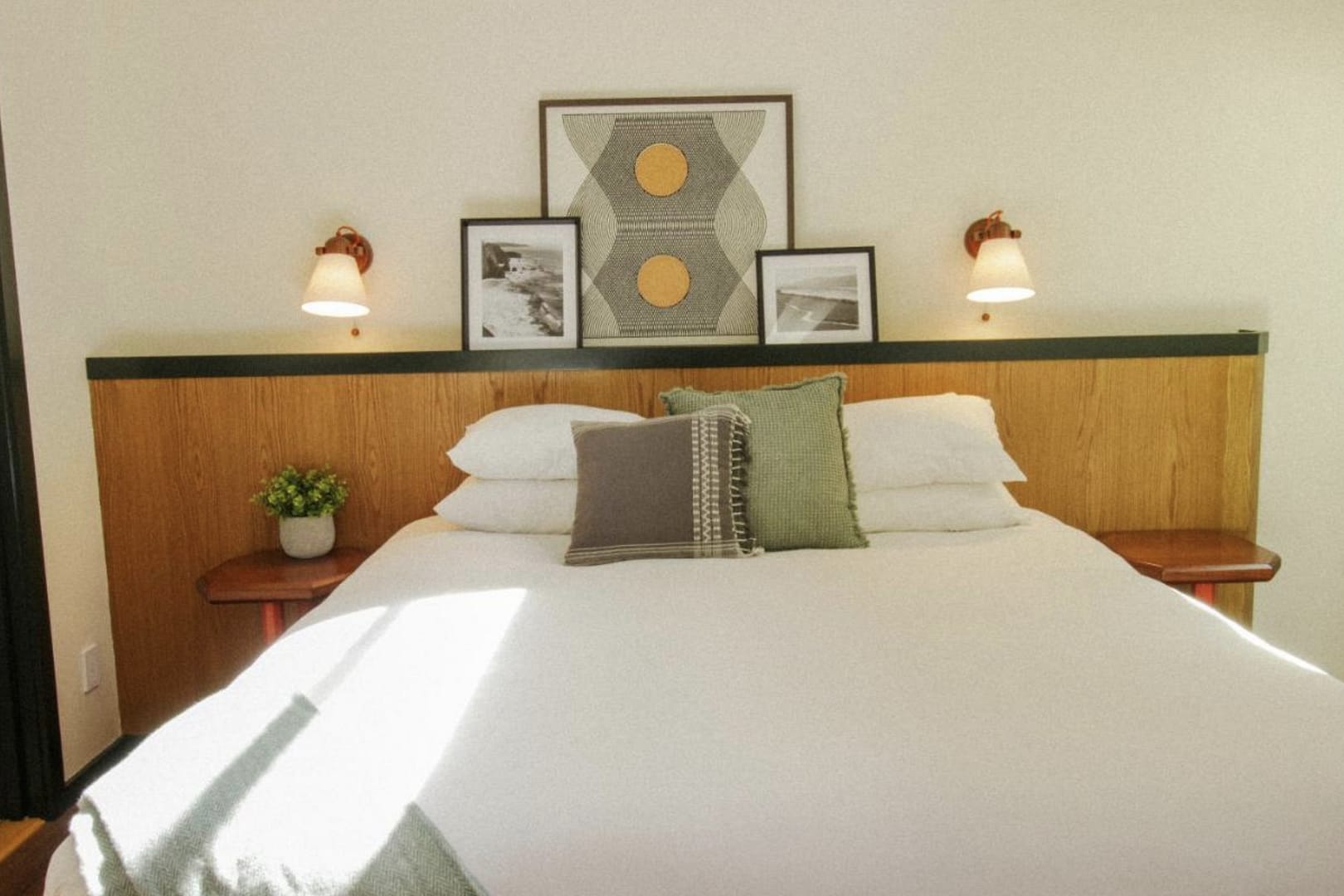 It was the middle of World War I when Guglielmo Marconi, the inventor of the radio, constructed a radio receiving station, hotel and cottages on a plot of land overlooking Marshall, and more than 40 years since the property's lodge and guest rooms were designed by renowned architect Ellis Kaplan. Fast-forward to Covid Times when two of the co-owners of Marconi Hospitality, Adam Mendelson and Rodney Fong, began renovations, reimagining the buildings as a coastal retreat and event destination within 62 acres of Marconi State Historic Park. With 45 hotel rooms, three meeting spaces, two wedding suites and three outdoor event/activity meadows, access to the bounty of west county is more available than ever.
HIGHLIGHTS: Marconi feels a world away, yet it sits only an hour away from San Francisco and two and a half hours away from Sacramento. Nestled between thousands of acres of protected grasslands and breathtaking Tomales Bay, it is home to some of the finest oysters you will ever come across.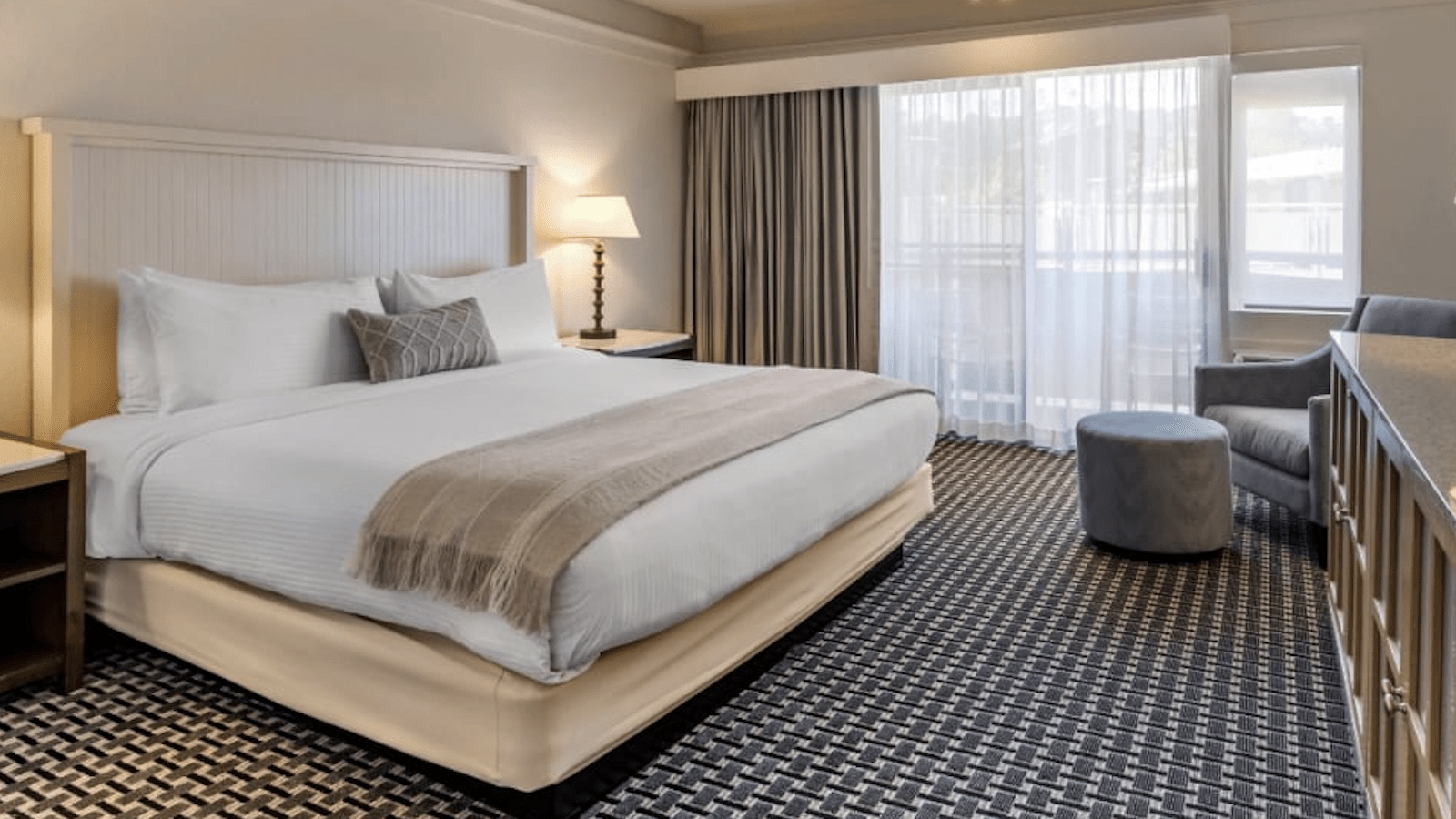 Set on three acres of landscaped gardens in a town set on a peninsula overlooking the San Francisco Bay, The Lodge at Tiburon is designed in a circle. Guest rooms are set towards the back of the property for quiet nights while a restaurant with terrace, indoor lobby and meeting rooms are on the street side. Suites include a full living room and deck and most rooms have a terrace. There are over 11,000 square feet of multi-use conference space, including the SkyDeck Open Air Lounge with a grand fireplace.
A gated pool and hot tub with shaded cabanas and service from the onsite restaurant are popular with families and couples.
HIGHLIGHTS:  Downtown Tiburon is a beehive of activity and the Lodge of Tiburon, a block away from the action, is perfectly positioned to take advantage of it all. Ride your bike along the bayfront trail to Muir Woods or downtown Mill Valley. Skim over the waters of San Francisco Bay to arrive via ferry in San Francisco with regular return routes to Tiburon. Savor dinner at one of the many bayfront restaurants with broad decks, fresh seafood and amazing cocktails. It's all in Tiburon. Or go shopping at one of the 40 boutiques that line Tiburon's main street.
More Local Favorites in the North Bay