"Getting away" means different things to different people, yet Northern California has myriad options when wellness is in order. Unique properties — a former U.S. Army base, water towers, natural hot springs and more — mean no get-away is cookie cutter, but is as individual as the guests who spend time there. More remote locations in Lake and Napa counties offer a chance to unwind amidst a great expanse of nature. Staying closer to San Francisco provides opportunities to unwind and quickly rejoin the big energy of a major city.
Featured Photo: Courtesy of Cavallo Point 
Known affectionately by locals as the Lodge at the Golden Gate, Cavallo Point is tucked into a sheltered nook in the Marin Headlands that faces south for views of the Golden Gate Bridge and San Francisco. A broad meadow, once a 10-acre parade grounds for the U.S. Army troops who were stationed here, fronts the property. A large main lodge hosts a full-service restaurant, Murray Circle, and adjoining Farley Bar, complete with a large fireplace to keep the fog's chill at bay on many a summer's day. 
Lodging is divided into two styles. Contemporary Lodging, which is built into the hills behind the main lodge, features floor-to-ceiling windows, fireplaces in every room and suite, and radiant heat floors. Historic Lodging is built into the property's landmark Colonial Revival buildings, the room and suites' unique details preserved with grace. French doors, Ben Franklin stoves and pressed tin ceilings are some of the details you might find in your room that reflect architectural styles popular in the area as early as 1877.
HIGHLIGHTS:  Peer through the cypress trees on the hill to find the holistic spa. Integrative medicine programs, including acupuncture and martial arts, complement spa treatments, yoga, and a Tea Bar. An outdoor meditation pool, indoor and outdoor showers, and an outdoor fire pit and Zen garden provide ample opportunities for lounging and deeply inhaling the pine-scented aromas.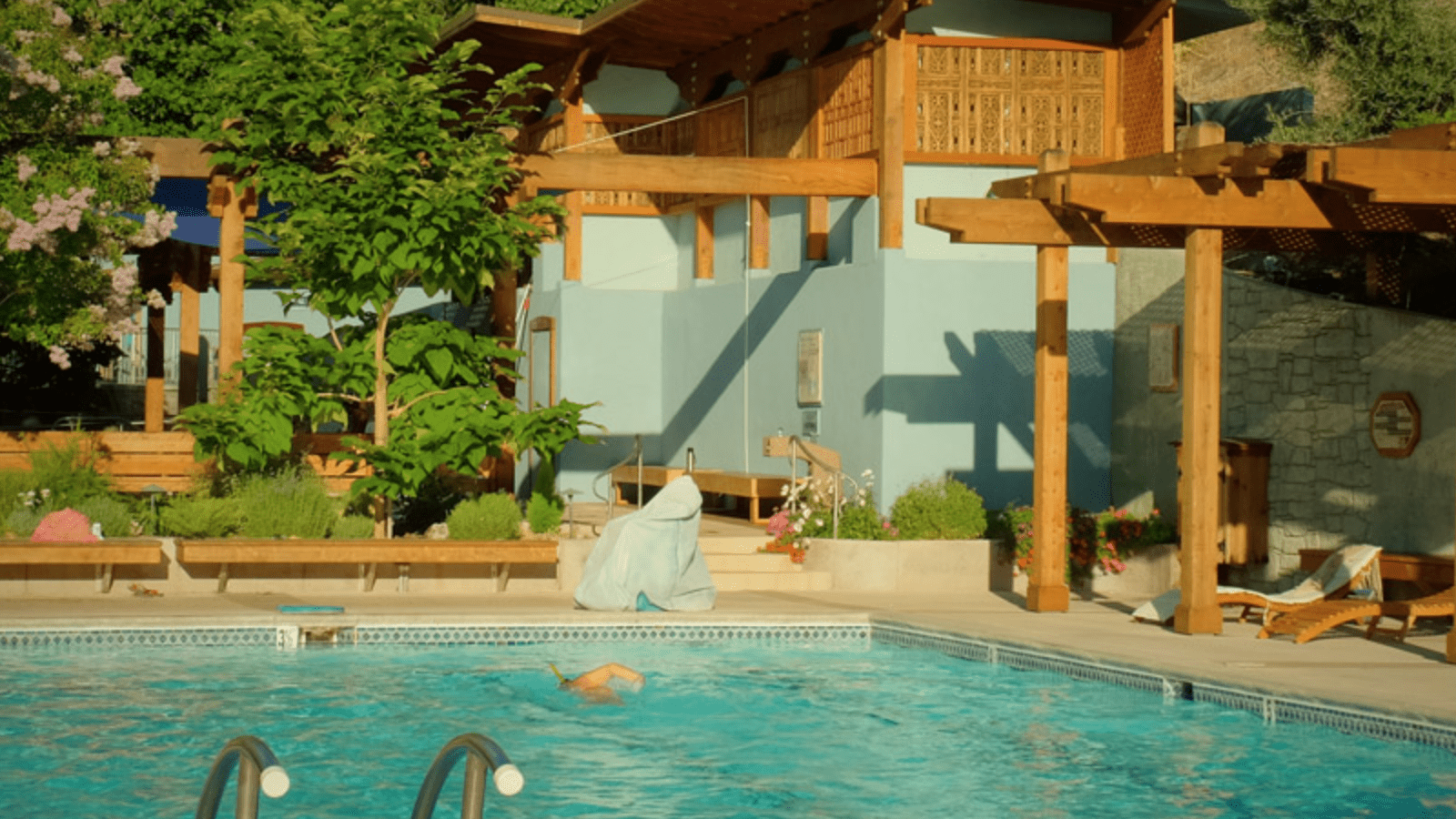 Set into the hills midway between Calistoga and Clear Lake, Harbin Hot Springs is a health spa inspired in equal measure by European and Native American hot spring traditions and Japanese onsen. Watsu, a type of water massage inspired by shiatsu, was started here and the many thermal pools are used for aquatic healing modalities — if that's your jam. Warm, hot and cold plunge pools are just the beginning — Harbin has six additional pools at varying temperatures for relaxing, sweating, socializing, swimming and experiencing Watsu or other water-bound body work.
Significantly impacted by fire in 2015, Harbin Hot Springs is an on-going work in progress. Many former structures have been rebuilt and spaces reimagined to be a more integral part the natural world. The Dancing Bear Café ably stands in for a full-service restaurant and the Yoga Room remains a sacred space. Hiking trails have been restored and new trails have emerged.
HIGHLIGHTS:  Though you can visit just for the day to experience the pools, staying overnight in the Domes, Caravans or Cottages, each group set a 10-minute walk from the main pools, means exposure to even more pool time. The Domes even have two private pools exclusively for Dome dwellers. Caravans have built-in kitchens and Cottages welcome groups greater than two.
Heritage House Resort & Spa
This former farmhouse is set in a sweep of 37 acres perched at the cliff's edge overlooking the Pacific Ocean. Panoramic views from every room offer an opportunity to watch whales migrating and abalone divers searching for treasure off the resort's own beach. Rooms are set into blocks behind the resort's main rooms, all with individual entrances and rainfall showers and some with fireplaces (gas or wood-burning) and kitchens. 
Enjoy a drink and a meal at the onsite 5200 Restaurant & Lounge. The bar's comfy chairs face the sea and the French-accented American menu features locally-sourced seafood and many foraged foods. Martinis, such as a Lemon Gin Collision, are modern riffs on classic cocktails and suit the updated hotel's time-honored spirit.
There's a full slate of spa services and yoga on the Deerfield Meadow or get your sweat on in the fitness room or on one of the many onsite hiking trails. Heritage House Resort and Spa offers Tesla and generic electric vehicle charging for all resort guests. You may even spot a couple saying "I do" at the oceanfront gazebo.
HIGHLIGHTS:  The hotel's concierge makes a visit here as relaxed as you like. Ask about programs to roast s'mores over a fire pit and picnics at the beach. Or how to watch Same Time, Next Year, the 1978 romantic comedy with Alan Alda and Ellen Burstyn, on your in-room flat screen TV. The exteriors for the movie were shot here.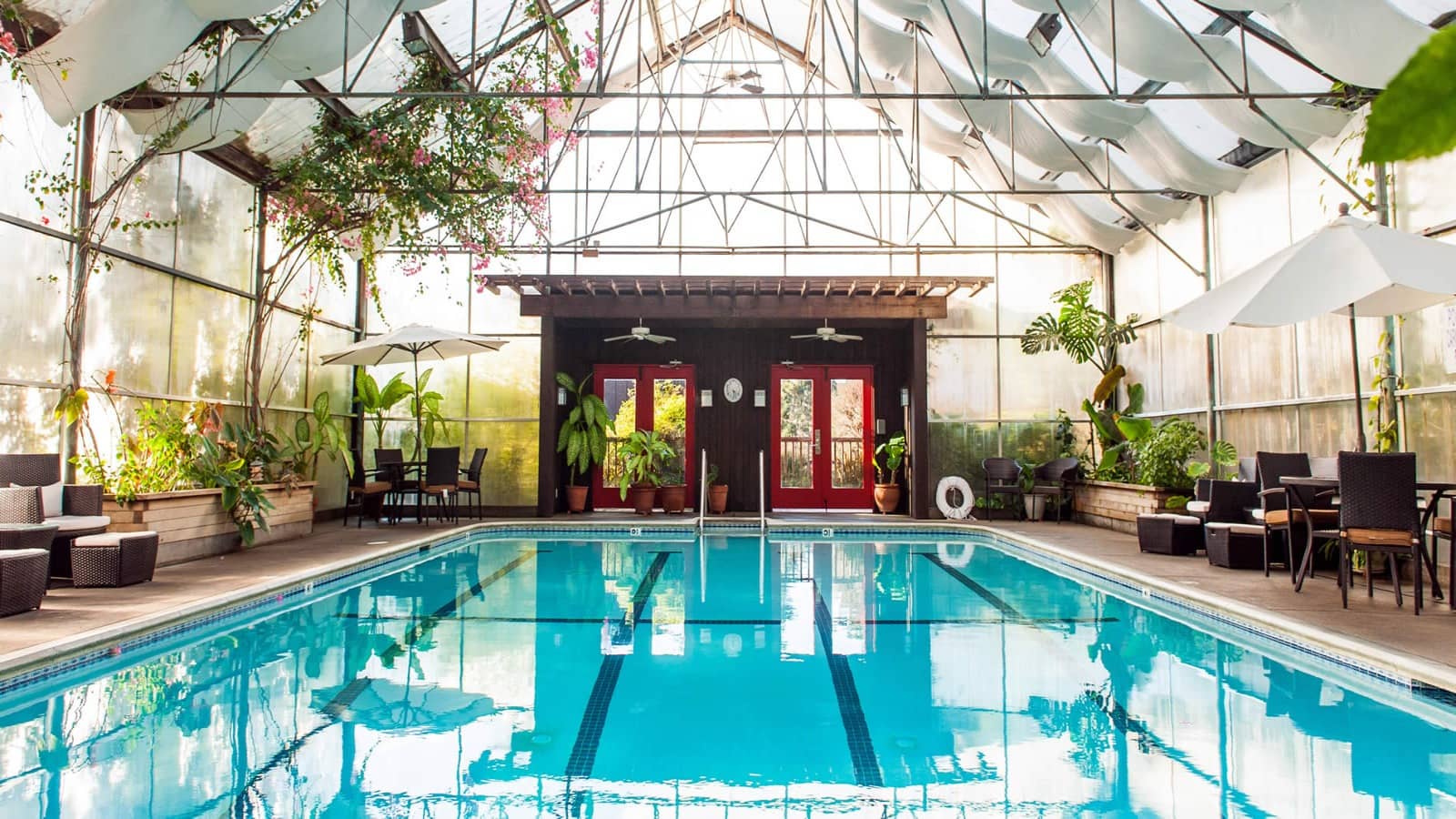 Beloved for its prime position right on Big River and close to downtown Mendocino, Stanford Inn is an integrated resort, with numerous programs to experience Mendocino offered onsite. Gardening and cooking classes, nature walks and tai chi, there's even a creative play shop for adults to let their inner Stan Lee or Georgia O'Keeffe out. If you have to pick just one, why not try a ride in a locally handcrafted outrigger canoe? Known as Mendolea, they are perfectly suited for a ride up the never-developed Big River Estuary, a part of the Mendocino Headlands State Park.
Rooms are gathered into two main buildings and most face organic gardens, an orchard, a barn and pasture with horses, donkeys and llamas, and a boathouse with dock. Five King rooms can be combined to form suites and feature pine walls with redwood accents and wood-burning fireplaces. Two large suites, both in stand-alone cottages, feature a kitchen nook, dining area and separate bedroom and river views. All rooms enjoy complimentary breakfast and onsite Ravens Restaurant is so well-regarded for its conscientious sourcing and personalized attention, reservations are recommended at the same time as you book your room.
HIGHLIGHTS:  Many guests visit Stanford Inn just for its pool. Situated inside a greenhouse, the pool's salt waters and extended lounge seating makes it easy to while away a chilly afternoon or evening — it stays open to 11 pm, late for Mendocino.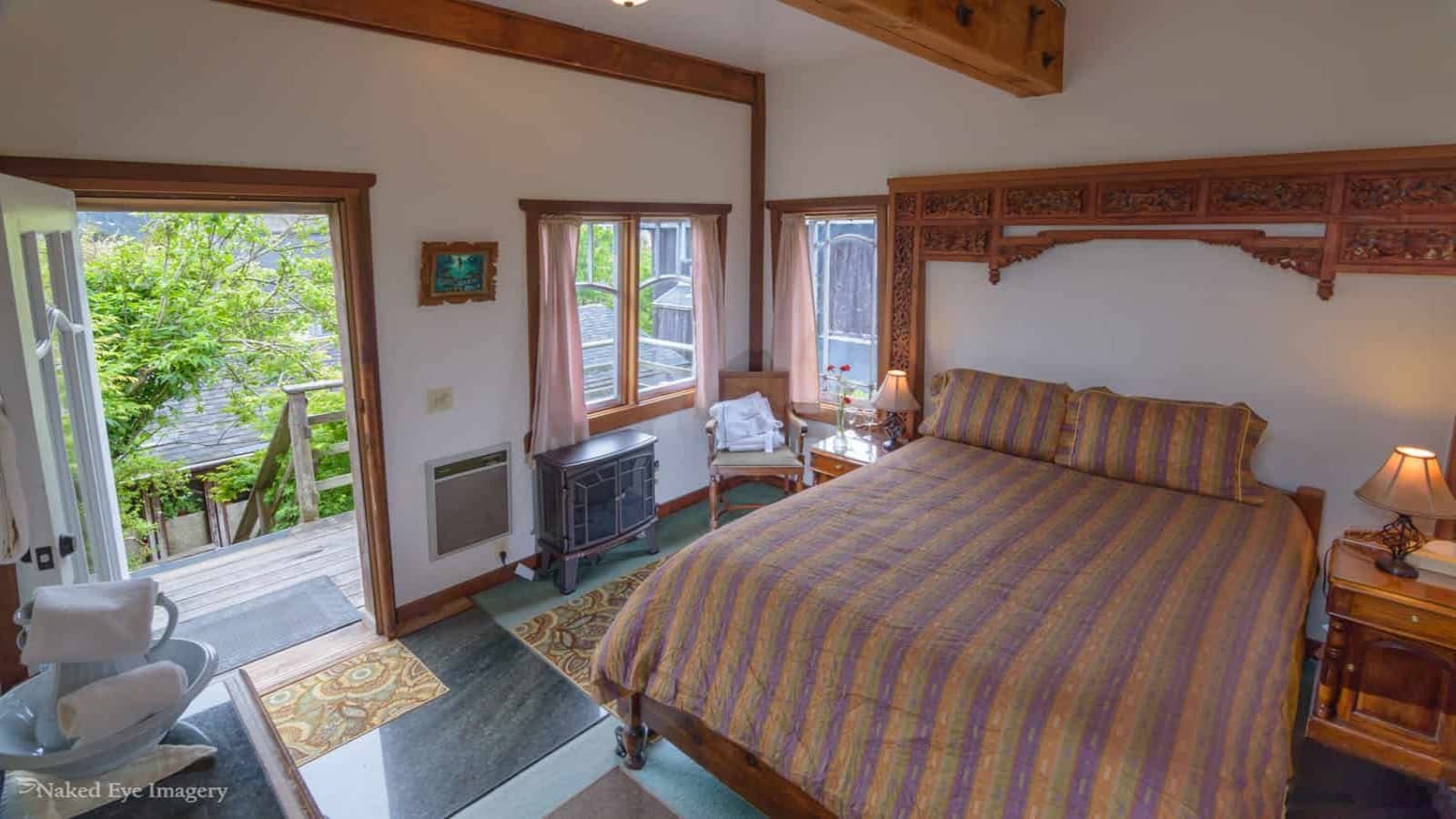 Downtown Mendocino is the region's hub of hospitality and Sweetwater Inn & Spa is in the midst of it all. Within easy walking distance are restaurants, coffee shops, yoga studios and access to the Mendocino Trail which runs along the coast. The sunny yellow Victorian hosts three upstairs rooms. Individual "towers" — the Redwood Tower initially functioned as a water tower — are unique and homey. Sears Tower has a sunken living room, Redwood Tower's deck has 360º views of Mendocino and Sweetwater Tower has a shared downstairs bath and spa area. Truly, this is a one-of-a-kind inn.
HIGHLIGHTS:  If Mendocino was once a hippie paradise, the outdoor redwood hot tubs at Sweetwater Inn and Spa would be their Shangri-La. One private tub claims a sunning deck and infrared sauna, another has access to the cedar wood sauna and a third, designed to be communal has access to a communal sauna. Both are clothing optional.
More Local Favorites in the North Bay