The Big Island has restaurants that cater to all tastes and budgets, so whether you've spent the day relaxing at the beach or daytripping in the mountains, you'll definitely want to enjoy the dinner meal. Here are some of our favorite options on the Kohala Coast.
But wait, there's more. We're here to help demystify some of the unusual words you might see on menus like furikake, laulau and lilikoi — and explain which meat is being served and why. And possibly most importantly of all, provide the fun facts on the origins of local dishes. 
If you're happy with your meal, tag us @HawaiiIslander on Instagram to share the love.
Feature Photo: Merriman's Facebook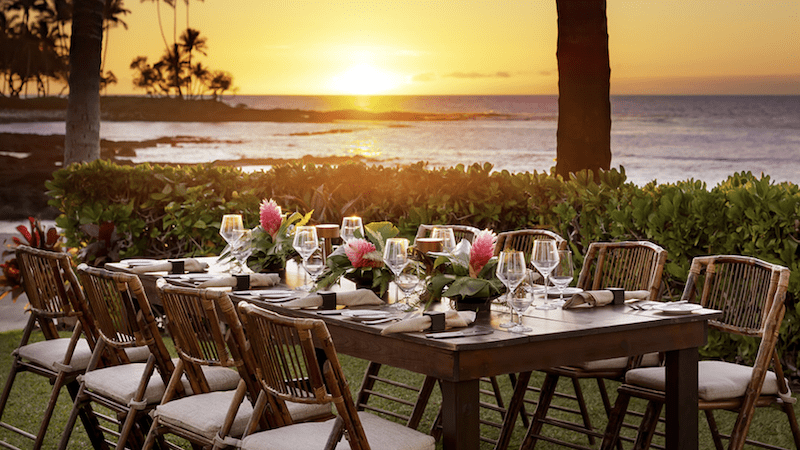 Located inside the Fairmont Orchid Hotel north of Kailua-Kona, Brown's Beach House boasts spectacular views and live Hawaiian music. The restaurant can accommodate small groups as well as larger parties. The menu features fresh seafood and also specialties like Big Island venison. We recommend bringing a large group so you can sample as much of the menu as possible. Open daily for dinner from 5:30pm to 8:30pm. Reservations recommended.
Chef Peter Merriman is one of the godfathers of Hawaii's farm to table movement, and Merriman's is leading the way for culinary excellence on the islands. Their lunch menu has all the fixings of a great midday meal — we recommend the Caesar salad to start, followed by the fresh-catch fish sandwich and accompanied by a couple glasses of chardonnay. Currently open Wednesday through Saturday for lunch from 11:30am to 2pm, Saturday and Sunday for brunch from 10:30am to 1pm, and daily for their "Taste of Waimea" Prix Fixe dinner from 5pm to 8:30pm. Reservations required and Merriman's has multiple locations, so double check your reservation to make sure it's at the right place.