You're on vacation, soaking in rays, snacking on pupus, sipping on drinks, yet something is amiss. Maybe a sense of purpose? Visitors to Kaua'i have multiple opportunities for everyone to pay it forward, while enjoying the island's boundless natural wonders and learning about traditional Hawaiian culture. If you're looking to do some good and leave some good on your next trip, here are four ways to malama (take care of) the Garden Isle.
Feature Photo: Na Lima Kokua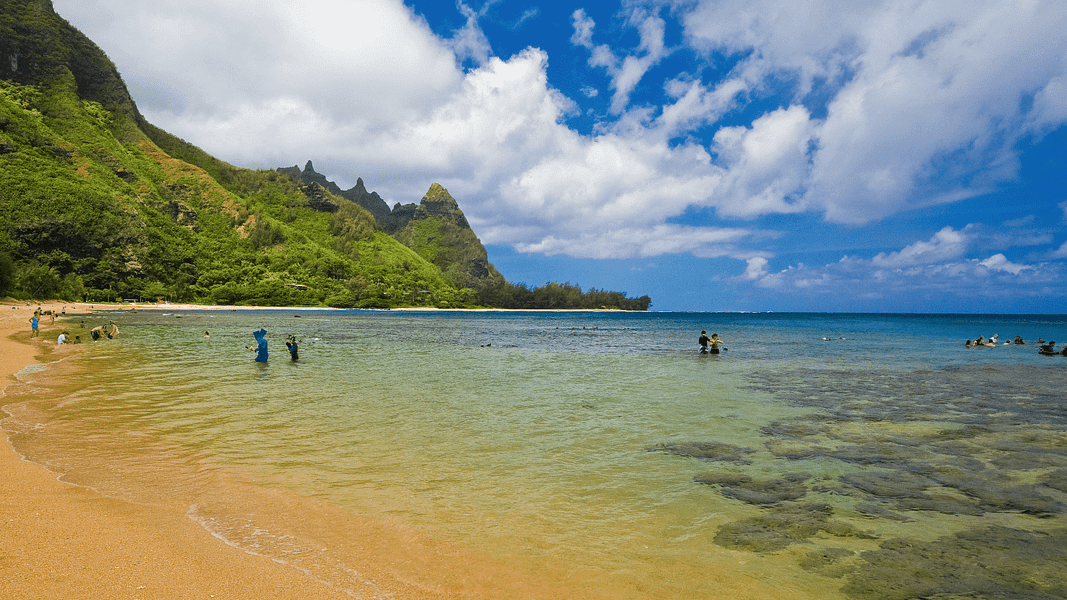 Combine the health benefits of a beach walk with feel-good eco-friendly vibes by participating in a beach cleanup.  Not only will you help keep the sands of Kaua'i looking swell, you'll also protect its spectacular marine life — including endangered green sea turtles, Hawaiian monk seals and migratory seabirds — from ingesting plastic, cigarette butts and other debris or getting entangled in old netting. Surfrider Kaua'i organizes "Net Patrol" outings most Wednesdays at various beaches around the island. The Friends of Kamalani & Lydgate Park invite visitors to join them every Saturday at 8:30 a.m. to clean up the beach around Morgan Pond, a rock-lined swimming area off Lydgate Beach on the East Side. On the North Shore, volunteers meet near the big rocks at Kahili (Rock Quarry) Beach on the first Sunday of the month from 8:30 to 10:30am to remove trash and invasive plants from the beach, part of Hawai'i Land Trust's 17-acre preserve just south of Kilauea National Wildlife Refuge. 
More info:  kauai.surfrider.org, kamalanius.wordpress.com, hilt.org
Hawaiian fishponds not only represent the pinnacle of Polynesian aquaculture, they also provide welcoming environments for native flora and fauna in typically gorgeous oceanfront settings. The 600-year-old Alakoko fishpond off the Hule'ia River, the largest on Kaua'i at 39 acres and visible from an overlook near Nawiliwili Harbor, comes with a fascinating legend. The story goes that a small-statured people known as menehune built it overnight, passing rocks hand to hand from 25 miles away. The modern effort to remove invasive mangrove and restore some 2,000 feet of  basalt rock wall will take considerably more time, so visitors are welcome to register for Malama Hule'ia community workdays every third Saturday morning. After a morning of physical labor, volunteers share a lunch together to celebrate their progress.
More info: Malama Hule'ia, Alakoko (Menehune) Fishpond, Lihu'e, 808.626.5210, malamahuleia.org
Wedged between two emerald ridges near the end of the road on the North Shore, National Tropical Botanical Garden's Limahuli Garden and Preserve is a stunning place to learn about Hawaiian culture's deep connection to the natural world. Register several days in advance to help maintain the garden and expand your cultural knowledge during Na Lima Kokua (Helping Hands) workdays, every Tuesday and Thursday from 8 to 11am. 
Prefer to stick to the South Shore? Check the National Tropical Botanical Garden's website for volunteer opportunities at its McBryde and Allerton gardens in Lawa'i Valley, near Po'ipu Beach.
More info: Limahuli Garden and Preserve, 5-8921 Kuhio Hwy., Hanalei, 808.826.1668, ext. 4, kanuhawaii.org
Kaua'i has colorful markers along the highway to note the start and end of each ahupua'a, the ancient land division system of Hawai'i that created mountain-to-sea districts with enough resources to feed the communities within them. In turn, the people of each ahupua'a were expected to care for its resources. The Waipa Foundation applies that tradition of stewardship to restore the entire North Shore ahupua'a of Waipa, just north of the town of Hanalei. Volunteers meet the fourth Saturday of the month at 9am to work in one of the three sections of an ahupua'a: mauka (uplands), kula (the flat or sloping lands below them) or kai (shoreline). Tasks may include controlling invasive weeds, planting native trees or edible plants, or working in the lo'i kalo (taro patches).  Wear appropriate clothes, shoes and sun protection and bring water and snacks. Waipa Foundation will provide gloves, tools and, if you RSVP in time, a farm-fresh lunch. 
More info: Waipa Foundation, 5-5785 Kuhio Hwy., Hanalei, waipafoundation.org