As the warm days of summer fade away, the sounds, smells, and chill of autumn bring forth the holiday food cravings — aromas of spices, rich meats, pumpkin, and more tingle the taste buds. Before diving into your next holiday meal, know the best wine to pair with it. Depending on whether you roast, smoke, or deep fry that turkey, your wine choice will be different. The same goes for a ham or your chosen style of casserole. This guide will take you through the best wines for your next holiday meal. The white wines are selected because their versatility works well with savory and sweet flavors. The reds each have bold, red fruit flavors, earthiness, light tannins, and moderate acidity that complement a traditional Thanksgiving menu.
Feature image courtesy of Kelsey Chance on Unsplash
Illustrations by Skye Addicks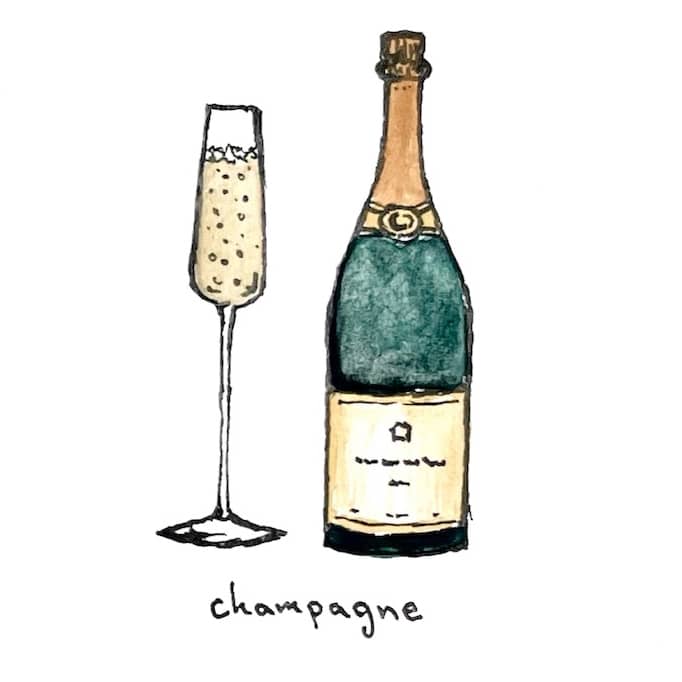 Any sommelier will insist on a splash of sparkling to start a meal; Thanksgiving is no different. Champagne is bold enough to pair with dinner, and its white currant and white raspberry flavors accentuate cranberry flavors. Furthermore, champagne's sparkling, crisp nature acts as a palate cleanser to rich meats and gravy. 
Champagne pairs best with cranberry flavors.
A wine for sweet and savory dishes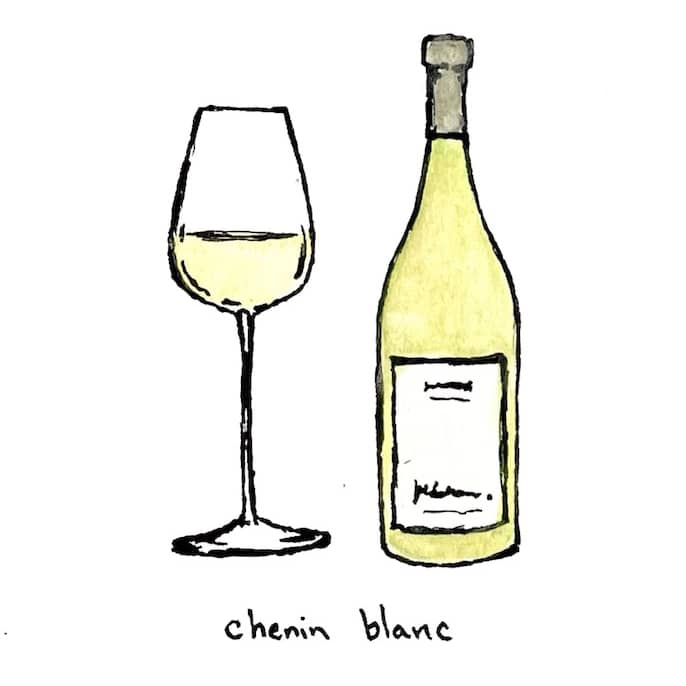 The diversity of Chenin Blanc makes it a good choice for a feast featuring a wide array of flavors. Despite its range, the true Chenin Blanc notes (apple on the nose and a zingy acidic palate) always shine through. It works equally well with sweet and savory flavors, from crisp and dry to oaked and rich. When crisp and clean (stainless steel barreled), it pairs well with brussel sports, roasted asparagus, and a green bean casserole. When oaked, a Chenin Blanc can offer an excellent substitute for chardonnay and complement a roasted turkey.
Chenin Blanc (unoaked) pairs best with green bean casserole. Oaked Chenin best pairs with your roast turkey or mashed potatoes.
Pair this wine with roasted turkey for a good time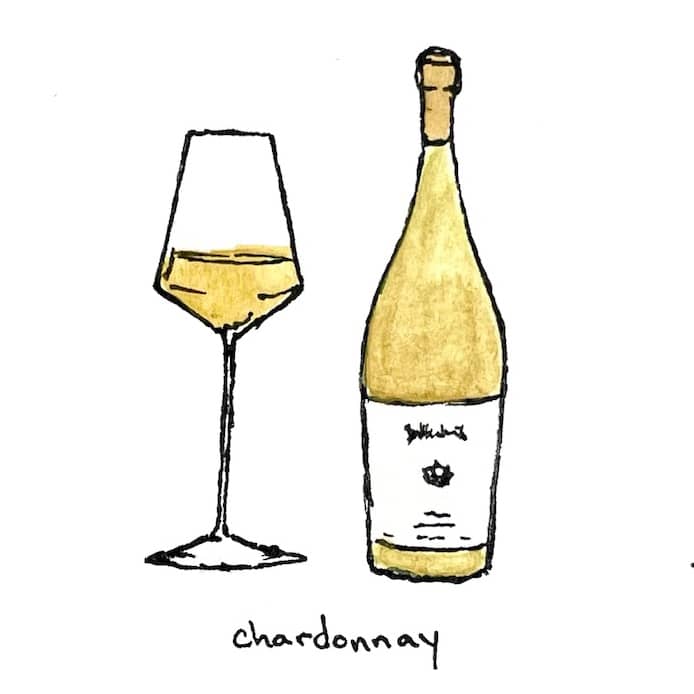 Though not one of the usual top pics for a Thanksgiving meal, Chardonnay is one of the most popular grapes in the world and thus worthy of a mention. Its diversity of styles, from cool climate crisp to moderate buttery and oaky, allows this grape to blend (no pun intended) perfectly into a range of meals. In leaner styles, Chardonnay's high acidity pairs well with creamier dishes and seafood like oysters or veggie risotto. Oaked Chardonnays pair well with a roasted turkey and rich or starchy veggies like pumpkin, squash, potatoes, and corn.
Chardonnay pairs best with roasted turkey, pumpkin dishes, and squash. 
Complements every holiday-flavored dish
A classic and probably the #1 pick among fine wine lovers for Thanksgiving, Pinot Noir is a must at your next holiday meal. Red fruit flavors and light body pair well with traditional Thanksgiving dishes with simple spicing or cream-based dishes like a casserole or mashed potatoes. Its versatility works well with dark and white turkey meat, accentuating the cranberry-like flavors found on your plate.
Pinot Noir pairs best with turkey and cranberry sauce or a mushroom dish. 
Hangs well with the big and bold crowd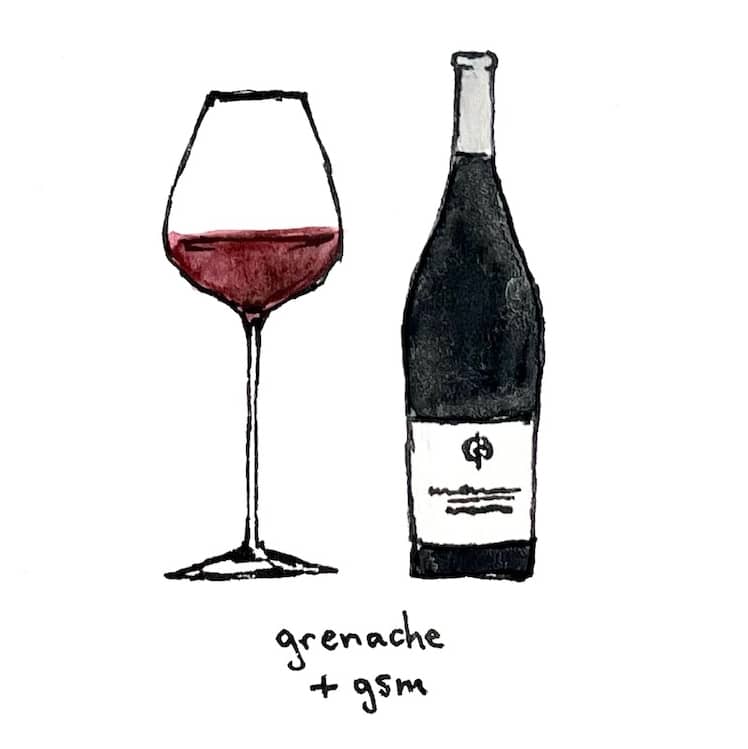 Grenache is a rich and flavorful wine with a high-intensity profile that matches holiday dishes like roasted meats and spiced veggies. A GSM Blend contains Grenache, Syrah, and Mouvèdre as its main ingredients ( Syrah and Mourvedre act as bold blending varietals). These bolder tastes pair well with smoked turkey, and the tertiary flavors of dried berries and fig of an aged GSM pair well with stuffing and roasted squash. The earthiness of Mourvedre and the meaty/leatheriness of the Grenache accentuate the savory flavors of gravy and turkey.
Grenache + GSM blends pair best with a smoked turkey. 
Amarone della Valpolicella
A lil' dried-cherry for your sweet ham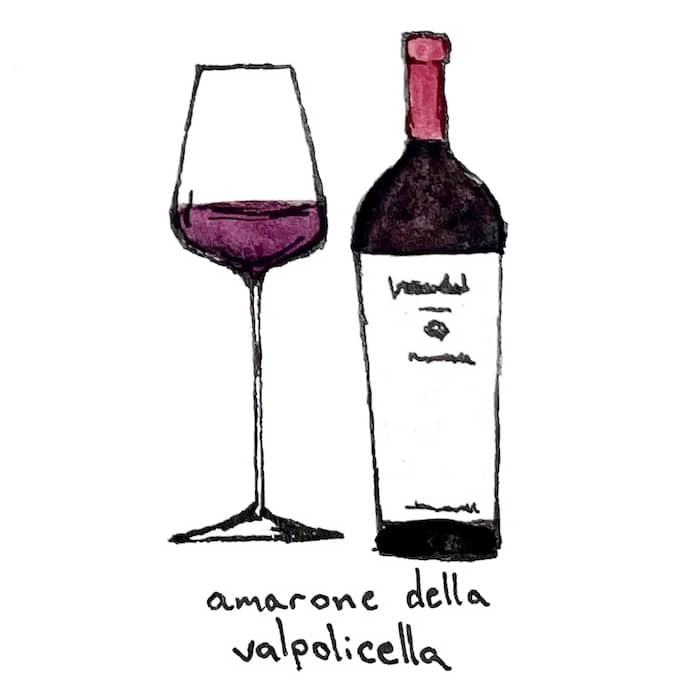 The Amarone style of wine from the Valpolicella region has a rich dried-cherry sweetness that pairs incredibly well with sweet ham, braised meats, mushrooms, and aged cheese. A moderate acidity is a palate cleanser for richer dishes like gravy; its bigger body accentuates meats.
Amarone della Valpolicella best pairs well with a sweet ham.