Yes, the Pacific Ocean can make a great swimming pool, but since conditions aren't always ideal, especially for keiki (kids) and novice swimmers, it's great to book a hotel with a gorgeous pool for cooling off when the sun is high. Food and drink service is also a plus. Here are our favorite hotel pools on Oahu.
Feature image: Sheraton Waikiki Facebook
TIP: Hotel check-in time is usually 4pm. Ask for early check-in. Most hotels will oblige.
Adults and kids get special treatment here: Guests ages 16 and up can bask in the Edge Infinity Pool, which visually blends seamlessly with Waikiki's waves, while all ages can frolic at Helumoa Playground, the large, heated fantasy pool shared with the neighboring Royal Hawaiian Hotel that includes a 70-foot water slide, an interactive fountain area for tykes and lounging chairs right in the water. Both are bustling and great for people-watching, just like Waikiki.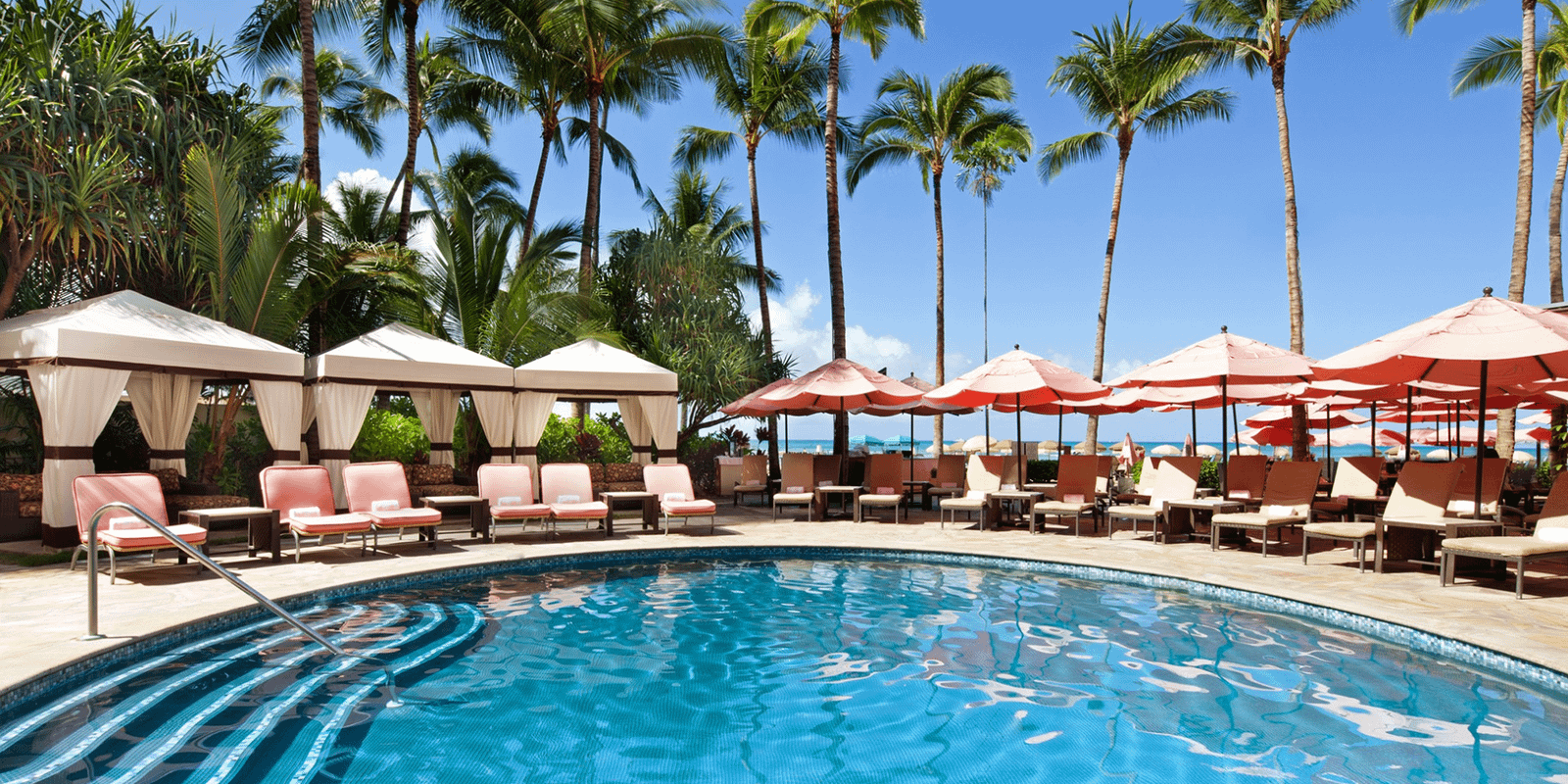 Similar to the neighboring Sheraton Waikiki, the Royal Hawaiian offers two delightful options. The tranquil Malulani Pool, just steps from the sand, is flanked by pink umbrellas and chaise longues with white tented cabanas to rent. Families will love the Helumoa Playground, the sprawling, heated fantasy pool shared with the Sheraton Waikiki includes a 70-foot water slide, an interactive fountain area for tykes and lounging chairs right in the water.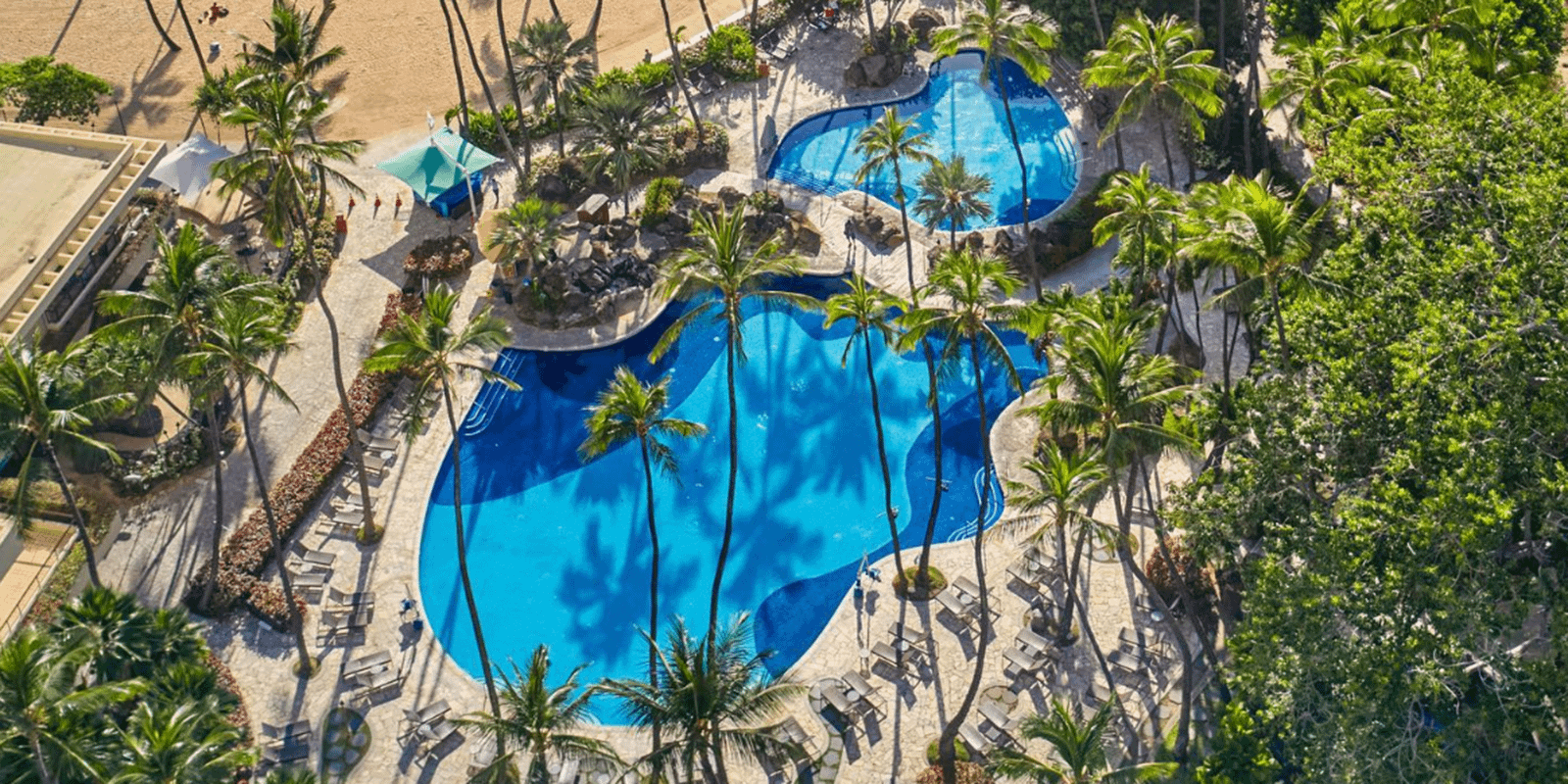 Hilton Hawaiian Village
Waikiki Beach Resort
A city unto itself, the high-rise compound of Hilton Hawaiian Village holds six pools worthy of  a metropolis, too. Families will want to head to the 10,000-square-foot Super Pool right off the beach, with a shallower Keiki Pool tiered above it, or the 5,000-square-foot Paradise Pool overlooking the Duke Kahanamoku Lagoon and including Waikiki's longest water slide. Quieter leafy oases include the Tapa Pool, the adults-only, fourth-floor Kalia Tower pool with whirlpool, and the Ali'i Pool and whirlpool, exclusive to guests of the Ali'i Tower.
Aulani, a Disney Resort & Spa
Like the planet, Disney's resort in Ko Olina in West Oahu seems to have more water than land. There are seven different pools and splash zones—some serene infinity-edge, some with slides and fountains—and all expertly designed. Even kids experienced at snorkeling will delight in Rainbow Reef, a 3,800-square-foot private saltwater snorkeling lagoon, although the Waikolohe Pool's tunnel body slide and Waikolohe Stream's lazy river or whitewater tubing are tempting as well.
Four Seasons Resort Oahu
at Ko Olina
Ko Olina's consistently warm, sunny weather and glowing sunsets provide incentives to linger in one of the Four Seasons' four pools. Grownups have the cream of the crop—the gorgeous and discreetly located cabana-lined Adult Pool, almost as long as the multistory spa's lap pool and with cocktail service just like the more central Serenity Pool—but kids will enjoy the easy beach access from the Family Pool, too.
Couples and solo travelers in particular will revel in the views from the stylishly remodeled Prince Waikiki's curving infinity-edge pool high above the sailboats bobbing in Ala Wai Harbor. A handsome pool deck links it with the keyhole-shaped main pool, compact in size but suitable for splashing around by kids. Both are saltwater pools with sweeping views.
'Alohilani Resort Waikiki Beach
The Instagram-ready Swell Pool on the recently renovated 'Alohilani Resort's 5th-floor deck features teak furniture, fire pits, driftwood sculptures, day beds and amazing views of Waikiki Beach and city lights. The saltwater pool also has a companion Keiki Pool for children and an excellent cocktail and food menu at its Swell Bar.

The beautiful rock-lined, palm-fringed pools here are saline, just like the ocean they overlook. The large main pool offers hot tubs at either end, perfect for soaking up sunset, and the enticing keiki (children's) pool includes a waterfall and an 80-foot-slide. Bonus: Ocean Villa guests also have use of a secluded pool by Kuilima Bay.