Wine bars are like snowflakes: each one is distinct in look and feel, wine selection and vibe. Customers play a role, too, influencing what gets placed on the wine list and the food menu. We looked at Bay Area wine bars and found a few where we want to hang out, chill, drink a glass or two of wine, learn something new. It's the IRL part we like best.
Featured Photo: Courtesy of Savvy Cellar
One Ferry Building, Store #23, San Francisco
Wines: International and California wines of distinction.
Why Visit: Owner/Partner and Master Sommelier Peter Granoff's wine bar was the fourth business to open at the city's iconic Ferry Building after it was renovated in 2003 and has been pouring a heavily curated list ever since. "People expect it to be California-centric, but there is a large international component that appeals to locals," Granoff says. Granoff offers what he calls "high-quality wine that represents a good value proposition" in 2 oz., 5 oz. and carafe-size pours or you can self-construct a flight. "Grab any wine off our shelf and drink onsite for $12 corkage," Granoff insists, an amount unheard of in San Francisco. Granoff invites you to play with your wine, pairing it with caviar, plates of charcuterie and cheese, or a Mediterranean mezze plate. "Explore your own taste parameters," he says while enjoying the terrific people watching on the patio. Almost 20 years on, it's still a scene.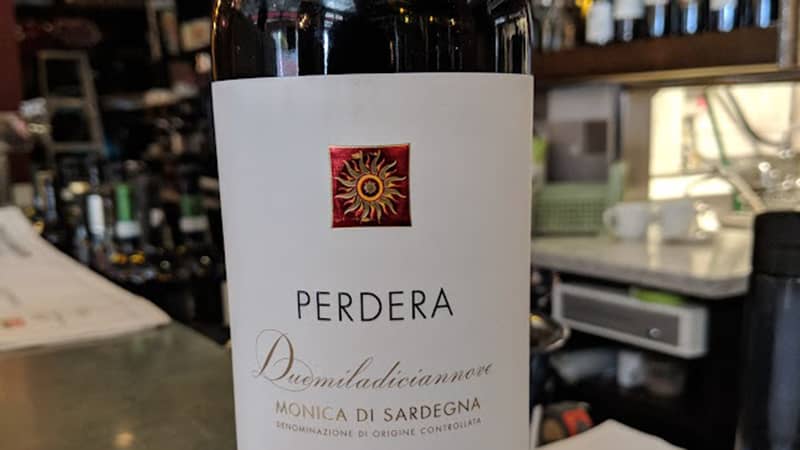 2800 California Street, San Francisco
Wines: Winner of the Wine Spectator Award of Excellence in 2021 for the fourth consecutive year, a score for a six-year-old business.
Why Visit:  Wine is women," says Owner/Wine Therapist Tim Skyler Hayman, who confirmed that 85% of his clientele are of the so-called fairer sex. Around a cool zinc bar, two big couches and four comfy chairs encourage lounging with a 6-ounce pour (the standard here) of eclectic wines from anywhere in the world. Hand-painted murals show the world's wine regions and a significant investment in sound proofing means guests can hear themselves talk, even when there is live music (six days a week). A bottomless brunch is insanely popular on the weekends, but most come in for Hayman's guidance on what to pair with their extensive menus. At dinner that might be a medium-bodied red grape — Monica from Sardinia — with the pork ragu while at brunch, Chef Jeff's NOLA roots come to the forefront in a fried catfish Benedict or house made beignets — his burger also won Best Burger from the SF Bay Guardian two years running. "We also do flights, but our most popular program is the bartender's choice, which we say is a wine therapy session," Hayman adds.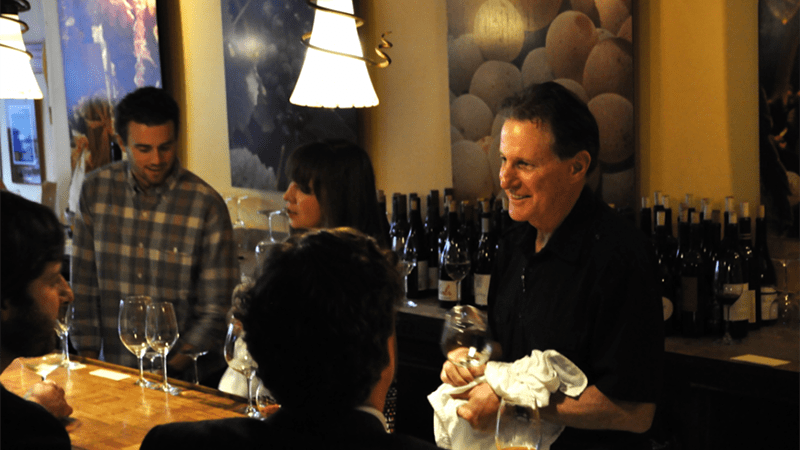 2113 Chestnut Street, San Francisco
Wines: Small batch California wines served in Riedel stemware.
Why Visit: Forty-nine years on Chestnut Street (it first opened in 1974) with a specialty in small California wine producers is the winning ticket for a wine bar that pours half and full glasses or a bottle. There are also new discoveries from Oregon and Washington as well as a well-curated selection of international labels. A small menu of cheese, salami, or hummus plates staves off hunger until dinner can be had nearby.
443 Clement Street, San Francisco
Wines: At an up-and-coming neighborhood spot, wines are curated by a Master Sommelier.
Why Visit: Michael Ireland has been a Master Sommelier since 2006, spending most of his time in Michelin starred restaurants like French Laundry, Quince, Benu, and Restaurant at Meadowood. Established in 2016 amid the Clement Street lineup of pan-Asian eateries and old-time Irish pubs, Ireland's venture is a laid-back space. "I grew up on a skateboard and wanted to get back to that," Ireland says. "High Treason is like coming over to my house — drink some good wine and listen to some records. Wine was never meant to be a highbrow thing." His list reflects his history sourcing wines: He doesn't stick to a region or style, recently discovering an orange wine an Italian Coenobium, made at a monastery in Lazio, for example. "It's an absolute classic," Ireland says. He's got 40 wines by the glass and says that chilled wines, including Lambrusco and a light pinot noir from JK Carriere, are flying out the door. Open six years with skateboard decks on the walls, album covers arranged as artwork and a "great bottles" wall, it's one part punk and one part mid-century modern. Try one of those chilled reds with a plate lunch (or dinner) from Unco Franks, Hawaiian island grindz, which is running the kitchen.
1754 Polk Street, San Francisco
Wines: French wine focus.
Why Visit: After sixteen years in Polk Gulch, owners and Frenchmen Samie Didda and Certified Sommelier Germain Michel credit their success to a regularly updated wine list and food program which is all-in on France. Ok, ok, there is the occasional Malbec from Argentina or Trebbiano from Italy but really, it's all about France's many wine regions, accompanied by a French-influenced menu of small plates (escargot, oven-baked Camembert), flatbreads, and grands (duck leg confit, gratin de Ravioles du Royans).
Music sourced from French radio floats over the red-tinted room, aglow with warmly lighted lamps. At the bar or at a table, the Flight Club Happy Hour includes three pours for $12 and the weekend oyster special runs $13. "We always talk about F AMELIE," says Michel, who has clients who come back every time they visit San Francisco. He currently is recommending the beef carpaccio with any of the 15 cru Beaujolais on the Amelie list or the warm pistachio goat cheese ball with Minervois from Didda's Domaine du Somail in the Languedoc.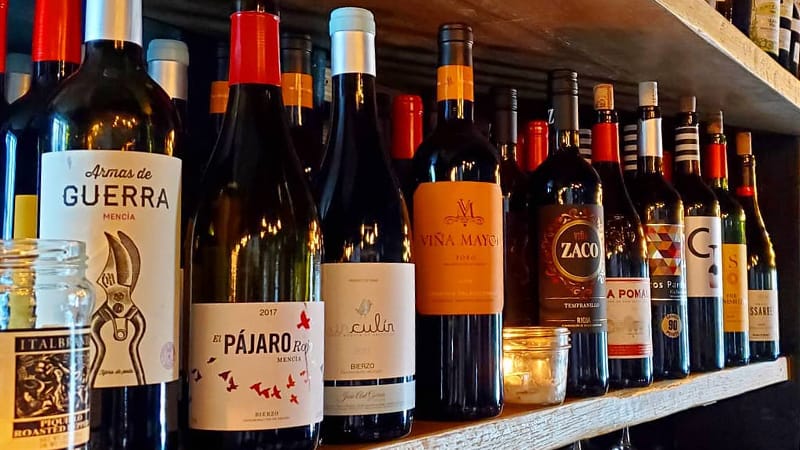 1327 Polk Street, San Francisco
Wines: Spanish wines, sherries, and vermouths.
Why Visit: Lower Nob Hill welcomed owner Daniel Azarkman's homage to all things Spanish just over three years ago. "They have a vermouth hour in Spain between 4 and 6 in the afternoon — I love that culture of grazing, eating where it is not necessarily about a meal but as a social activity," says Azarkman who fell in love with the Spanish bar culture on a visit and wanted to bring that idea to San Francisco. While getting together is the primary activity, the Spanish wines, sherries and vermouths are all organized on the menu by what to pair them with, streamlining the process for the adventurous or just the hungry.
Azarkman, who was drawn in via sherry's beguiling whispers, notes that there are eight styles of sherry, "and seven of them have less sugar than most table wines. Sherry is very food friendly." Think of his neighborhood watering hole as an alternate reality where California is still a Spanish territory. "We are not authentically Spanish," he says. His suggested pairing? Azarkman swears by the old Spanish saying: "If it swims, manzanilla or fino, if it flies, amontillado or palo cortado, and if it runs, oloroso."
207 Corte Madera Avenue, Corte Madera
Wines: Known best for boutique California wines, but covers the world.
Why Visit: The large parklet out front and convivial atmosphere are big draws for a wine bar that is built into the Corte Madera community. A tight menu of bar snacks includes must-try prosciutto-wrapped dates and classic duck rillettes, as well as cheese and charcuterie boards. Live music and wine tastings with winemakers from Italy or just over the hill in Sonoma are part of the fun. "I wanted to turn it into a place where people could come, sit, drink good wine, talk about or forget about their day, smile and be with friends," says owner Kyle Hendrix. "I think that's happened."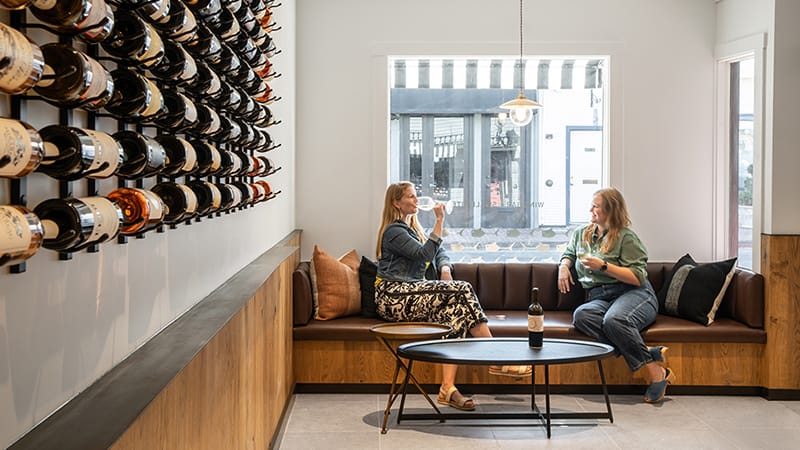 Wines: California wines, exceptional international bottlings, local craft beer.
Why Visit: New to the North Bay wine scene (they opened in fall of 2021), Squalo Vino has quickly become a destination for its European-style wine bar and lounge. Launched by SG Ellison, John Hoffman, Peter Wohlfeiler (a.k.a. the Tiburon Tasting Trio) who made the lounge a community social hub, the lounge is a mix of locals in need of refreshment and tourists who are surprised at Tiburon's emerging wine scene. Stop in to try the "Fish & Chips," one oz. of Royal White Sturgeon Caviar or Russian Osetra Caviar with warm potato chips and crème fraiche paired with the "Sparklers Flight." Besides being classic, Champagne's lively, palate refreshing bubbles provide a delicious contrast to the salty richness of fine caviar," says General Manager Kelly Barrett.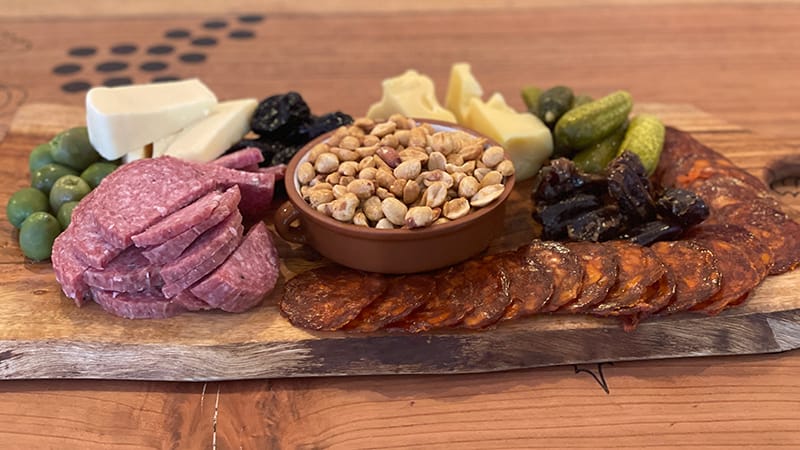 122A Kentucky Street, Petaluma
Why Visit: I have a passion for wine," says owner Jason Jenkins. "All of it." After living in nine countries with the State Department and brokering wine sales in France and Italy, Jenkins settled down in Petaluma, opening a wine shop there with globally sourced wines that meet his criteria of balanced flavor and lower alcohol. Pair any on his list with a dish from his extensive tapas menu — stuffed squid, white sardines and Galician mussels — and hang out at the heavy wood bar flanked by wine barrel seating or at a low table with regular chairs. Jenkins soft spot, for the moment at least, is pinot noir from the Petaluma Gap, but stop in and start talking and who knows where your next tasting experience might lead?
151 Petaluma Blvd South, Petaluma
Wines: Locally made and international boutique and hard to find wines.
Why Visit: Owner and wine director Sahar Gharai grew up visiting Sonoma wineries and, after spending time in Italy, sought to create the enoteca experience in his hometown. Open since 2007, the bar features 40 wines by the glass which can be done up as flights and there is a special Coravin list so customers can try higher end barolos, burgundies and bordeaux. A menu of pizzas and paninis is popular but Gharai's current favorite is sauteed mushroom crostini with goat cheese paired with Anaba Sonoma Coast pinot noir. "The earthy, savory, and delicate flavors of both the mushrooms and the Pinot Noir make the perfect pairing," Gharai says. Order one, then chill for a while watching the classic movie projected behind the bar.
295 Magnolia Avenue, Larkspur
Wines: Napa Valley wines from Backstage.
Why Visit: An extension of the family's vineyards on Howell Mountain, northeast of Saint Helena, the tasting room in downtown Larkspur is dedicated to the family's wines. Owner and Head Winemaker, Angelo Pera makes a chardonnay and a pinot noir from the Russian River Valley but the rest of the lineup is Napa Valley cabernet sauvignons, rosé, sauvignon blanc and others. "What makes us unique is our approach to modern winemaking and our ability to make super-premium wines that you won't be able to find anywhere else," Pera says. Try them at the U-shaped bar or while ensconced in the patio's large lounge chairs, preferably with a plate of balsamic-roasted beets or bites of roasted pork in tortilla cups.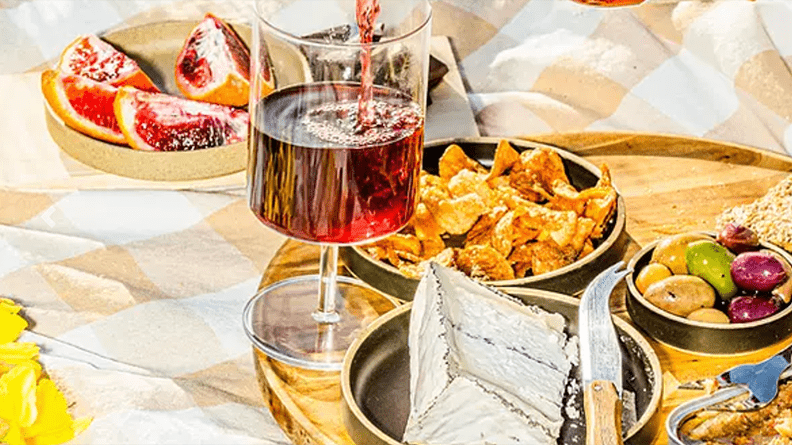 1401 Marina Way South, Suite 280, Richmond
Wines: The most extreme form of natural wines.
Why Visit: Owner Noel Diaz wanted to make wine and launched a career as a winemaker in 2013. He uses all organic grapes in his pet nat, rosé, orange and other natural wines. Diaz had no intention of having a bar, but the continual requests of neighbors asking when his winery was open encouraged him to convert part of the winery into a bar. Since opening in 2019, Diaz developed the wine program to only offer zero/zero wines, or wines that have absolutely no additives and have not been filtered. "It's the most extreme form of natural wine," Diaz says. Zero/zero wines from seven in house producers means 20 different cuvees made in Richmond. The Study also carries wine from other Californian and American producers, as well as an extensive selection of zero/zero wine from places such as Chile, France, Italy and Spain. This summer, The Study is serving a three course, prix fixe summer menu ($40) of stone fruit with baby greens, wood grilled steak with pureed potatoes, and roasted nectarine with wild thistle honey and creamy sheep's milk cheese. Diaz pairs it all with Purity Wine's 2020 La Niña, a co-ferment of Sonoma Pinot Noir and Nevada County Viognier. "It's an almost airy pairing of fruit and earth with enough balance of structure and lightness to carry the entire meal," Diaz says. He promises that you will have a good time and you'll leave more informed than when you walked in.
750 W Evelyn Ave, Mountain View
Wines: Wines that are true to the varietal where they grow best.
Why Visit: Co-owner Jim Yang credits growing up in Europe with helping define his palate, a flavor preference he refers to as "old world." He likes to pick wines that are true to a place's identity. For California, that means Cabernet Sauvignon, Chardonnay, Zinfandel and Petite Sirah, for example. A menu of draft and canned beers complements a glass and bottle program, but many guests prefer to stop in for the week's "mystery flight." Flatbreads, cheese and charcuterie boards and small plates of meatballs, crostini and Parmesan tater tots make fine eating, too.
More Local Favorites in the Bay Area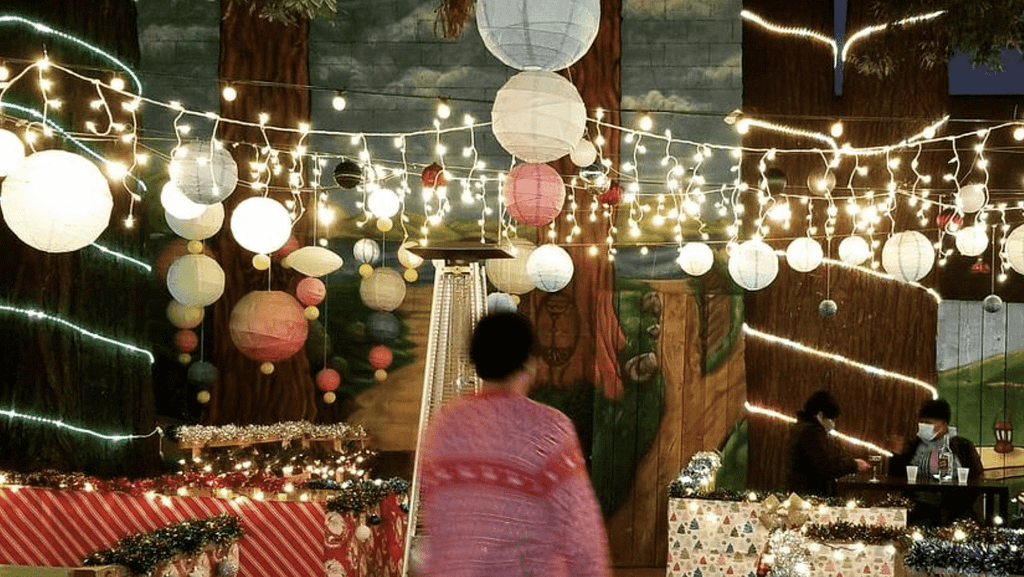 A full bar and happy hour specials draw crowds to this low-key neighborhood lounge with a large patio. There are many reasons to come here: the great outdoor space, really good drinks, killer music and friendly service. You really can't go wrong. Hours are Wednesday through Sunday 5pm to 12am. Closed Monday and Tuesday. doublestandardbar.com