Featured Photo: Heidi Kaden via Unsplash
Oakland Zoo, UC Berkeley Campus and Jack London Square: Explore the East Bay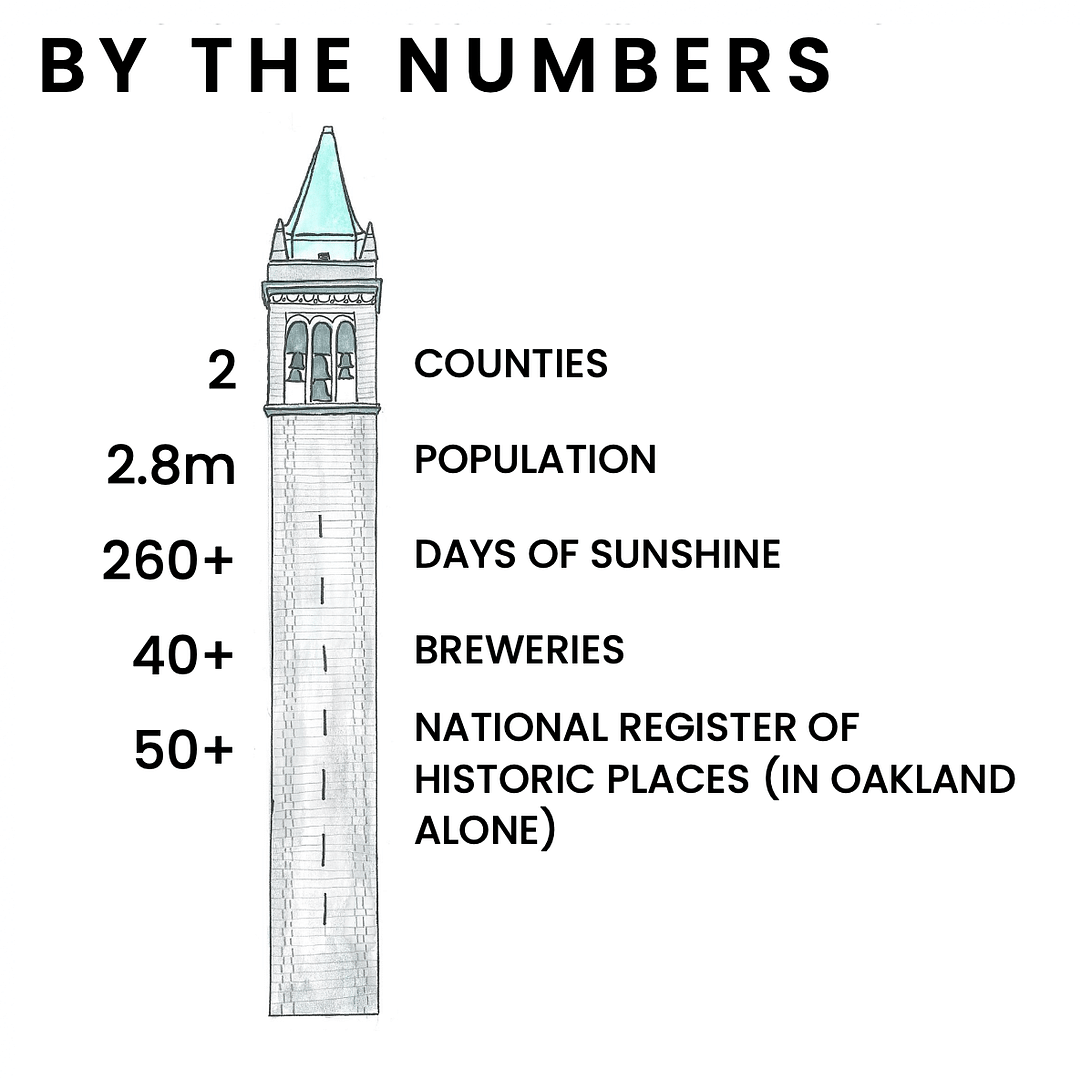 Oakland is the 2nd most diverse city in the country.

You can stand on Alameda Island and be in San Francisco at the same time, as the old Alameda Naval Air Station was built on landfill that crossed over the county line in the middle of the bay.

Standing at 307 feet tall, the Campanile (also referred to as Sather Tower) at UC Berkeley is the third tallest bell and clock tower in the world.
Long known as the lesser stepsister of the Golden Gate Bridge, the 8.4-mile-long San Francisco-Oakland Bay Bridge is now ultra glam. The gorgeous eastern span replacement was the most expensive public works project in California history. The western span puts on a light show nightly with 48,000 high-performance LEDs, best viewed from S.F.'s Embarcadero. And traveling back towards the city provides an incredible panorama.
Once you cross the bridge, the road splits into three choices: Highway 80 is to the left (north along S.F. Bay), Highway 580 is the middle fork (east), and Highway 880 to the right (south).
Oakland: "Oaktown" has a quieter Chinatown than its neighboring city, but nearby Jack London Square is a vibrant shopping and dining area. The RingCentral Coliseum is a huge draw for Oakland Athletics games, outdoor concerts, and more, while the Oakland Arena hosts indoor concerts for up to 20,000 fans. One mile south is Oakland International Airport (OAK). All are also accessible from S.F. via BART (Bay Area Rapid Transit).
Lake Merritt is a great place for a 3.1-mile city walk, a trip in a Venetian gondola, or to shop for locally crafted foods and wares.
Trending restaurants include Brown Sugar Kitchen for chicken and waffles, Horn Barbecue for Texas-style meats, El Paisa for tacos, Lion Dance Café for a Singaporean-Italian blend, and Schwaramaji for Jordanian dishes.
Berkeley: A world-class institution, the University of California at Berkeley, was founded in 1868 and is best known as the birthplace of The Free Speech Movement in the 1960s. The Greek Theatre offers a beautiful venue for concerts with bay views in the distance.
While protesting may be a way of life in this city, so is enjoying fine quality food. Chef Alice Waters founded Chez Panisse on Shattuck Avenue in North Berkeley in 1971. By sourcing local ingredients, she's credited with creating the modern Food-to-Table Movement in her flagship restaurant downstairs and a café upstairs.
Nearby is the "Gourmet Ghetto," nicknamed for its multitude of ethnic restaurants, including The Cheese Board Collective, Wrecking Ball Coffee Roasters, Grégoire Restaurant, Cha-Ya, Agrodolce Osteria, Cesar, and many more.
Livermore: At the eastern end of Alameda County, this city is home to 40 world-class wineries and well worth a day trip. Most oenophiles don't know that Wente Vineyards, founded in 1883, is the country's longest, continuously operated family-owned winery. In fact, 75 percent of California's Chardonnay has been derived from Wente's clone.
The East Bay region was originally settled by the Huchiun/Ohlone tribes, followed by Spanish and Mexican conquistador, before Americans settled in the mid-1850s.
What to Do in the East Bay
Where to Eat in the East Bay
Where to Stay in the East Bay