Featured Photo: Alviso Marina County Park /AllTrails
Downtown San Jose, FoodieLand Night Market and Silicon Valley: Explore the South Bay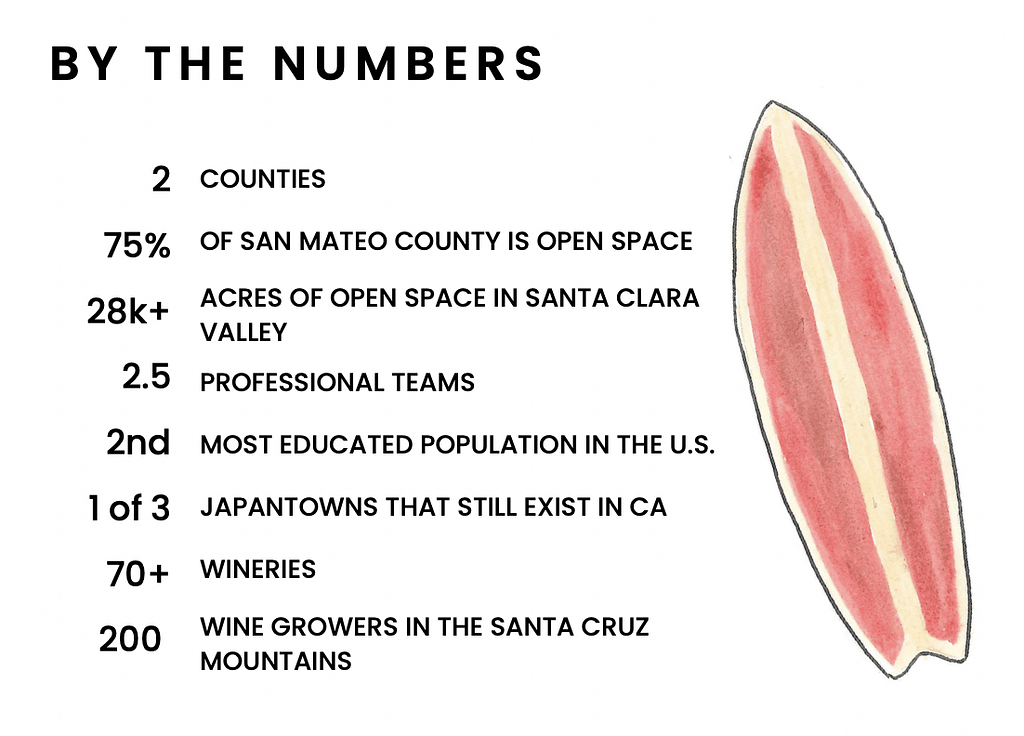 San Jose used to be the state capital, and is the 3rd most populous city in California. 

Silicon Valley is home to many of the world's largest tech companies and where the microprocessor was developed.
The handheld calculator. The integrated circuit. The microprocessor. The personal computer, iPod, iPad, and iPhone. All of these and many more were created in the South Bay.
Let's drive south about 50 miles on Highway 101 to explore what it has to offer.
Burlingame: Charming town with lots to see. A Shorebird Sanctuary is home to a dozen species of migratory birds. The Peninsula Museum of Art features talent from the Greater Bay Area. Mingalaba Restaurant for Burmese food and Curry Hyuga for Japanese delicacies are popular downtown. And The IT's-IT Factory is still making incredibly delicious ice cream sandwiches since 1928.
Silicon Valley: Originally a nickname for Santa Clara County, this global center for more than 2,000 innovative tech companies is home to Adobe, Apple, Cisco, Facebook, Google, HP and Netflix. If you own electronic devices, chances are, part or all of them were created here by the area's brilliant scientists, inventors, and coders. The area even spurned a popular HBO series by the same name.
Palo Alto: The "Birthplace of Silicon Valley" offers 36 parks, over 40 miles of walking and biking trails, and great shops along University Avenue, including an Apple Store. The HP Garage is a private museum where Hewlett-Packard was founded in 1939.
Stanford: Stanford University is an elite institution with Stanford Health Care and Stanford Children's Health on its campus. Stanford Shopping Center is an open air mall with over premier 150 stores such as Bloomingdale's, Neiman Marcus, and Nordstrom, plus nearly 30 restaurants.

Santa Clara: The esteemed Santa Clara University, California's Great America amusement park, and Levi's Stadium, home of the San Francisco 49ers, are the big draws here, as well as the Intel Museum, where silicon chips were first manufactured.
San Jose: Northern California's largest city is the cultural, financial, and political center of Silicon Valley, and home to over 50,000 millionaires. The Tech Museum of Innovation and IMAX Dome Theater are family-friendly. The SAP Center hosts Sharks games and concerts; the Winchester Mystery House is creepily interesting; the San Jose Museum of Quilts & Textiles may surprise you; and Lick Observatory at Mount Hamilton is still seeing stars since 1888.
Eating in San Jose is all about ethnic diversity in the historic downtown district: Café Eden offers shawarma, falafels, and manakeesh; Da Kine Island Grill takes your taste buds to Hawaii; the Blackbird Tavern is a great California bistro; while Tasty Tacos, Zona Rosa, Adelita's Taqueria & Bar, Chavelas Restaurant, and El Camaron De Sinaloa provide great Mexican fare.
San Jose was settled in 1777 as Pueblo de San José de Guadalupe and was the first city founded in California. It was incorporated in 1850, was known for agriculture through World War II, shifted to industrial manufacturing, then technology in the 1970s.
What to Do in the South Bay
Where to Stay in the South Bay