Red, white, rosé, or sparkling? No visit to San Francisco is complete without a visit to Wine Country an hour or so north of the city. Sonoma Valley and Napa Valley both have highly walkable town centers bearing their names: Start in either — or do both — before exploring further. Alternatively, enjoy the wine train, a hot air balloon ride, a 47-mile bike path, or a gondola ride to see Napa and Sonoma from another perspective.
Featured Photo Credit: Napa Valley Wine Train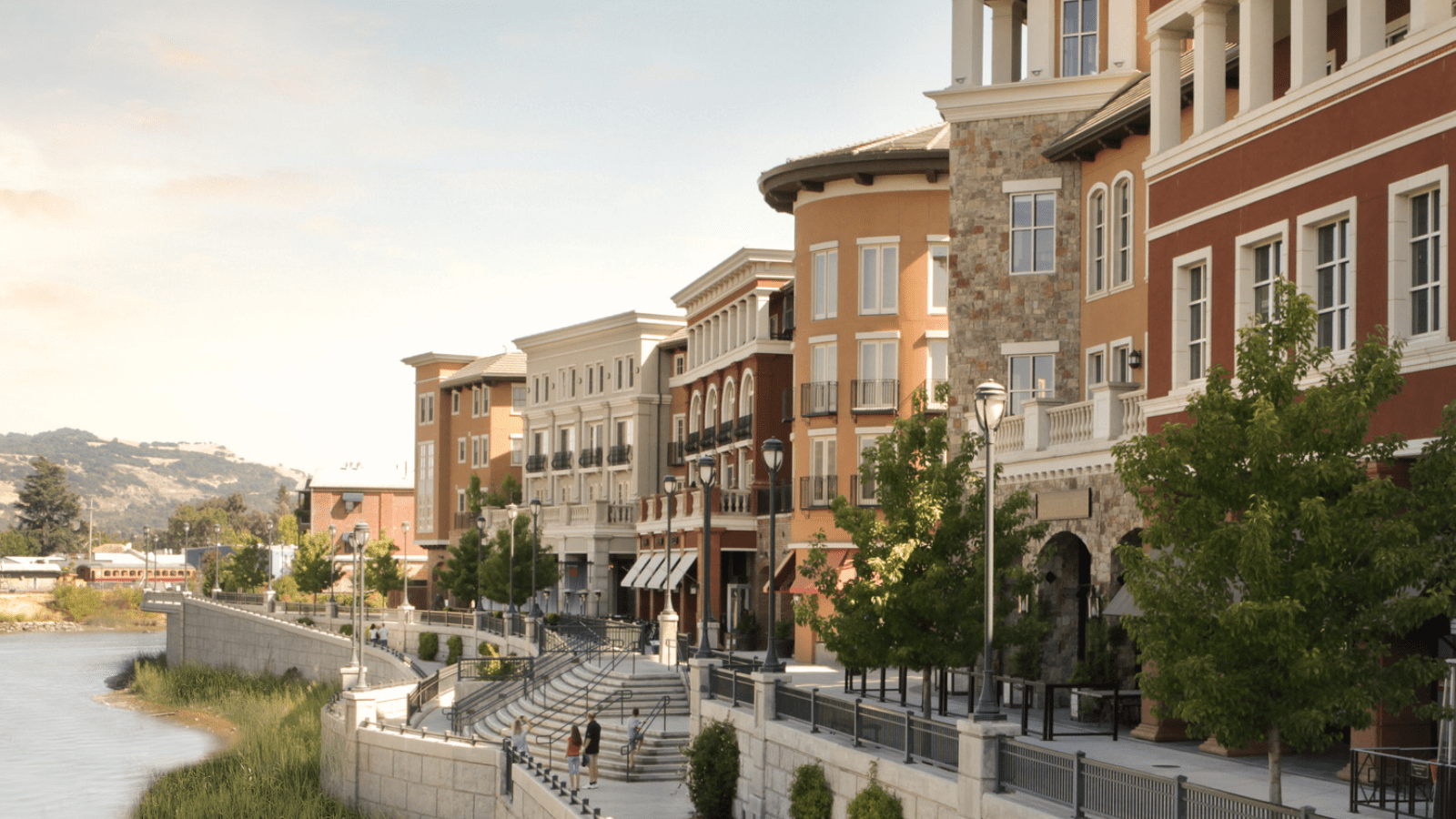 Downtown Napa & Oxbow Public Market
Napa Valley Welcome Center
707.251.5895
While transportation is required to explore the sprawl of Napa Valley's 30-by-5 miles, Downtown Napa presents opportunities for a walkable adventure on both sides of the Napa River. First Street Napa is the heart of downtown shopping, dining, and wine tasting. Oxbow Public Market has an outstanding collection of local food and drink purveyors under one roof in a riverside location with an outdoor deck. Historic Napa Mill has more to explore. Take a gondola ride to see more from the water, rent a bike to ride the Napa Valley Vine Trail starting at Oxbow. visitnapavalley.com, donapa.com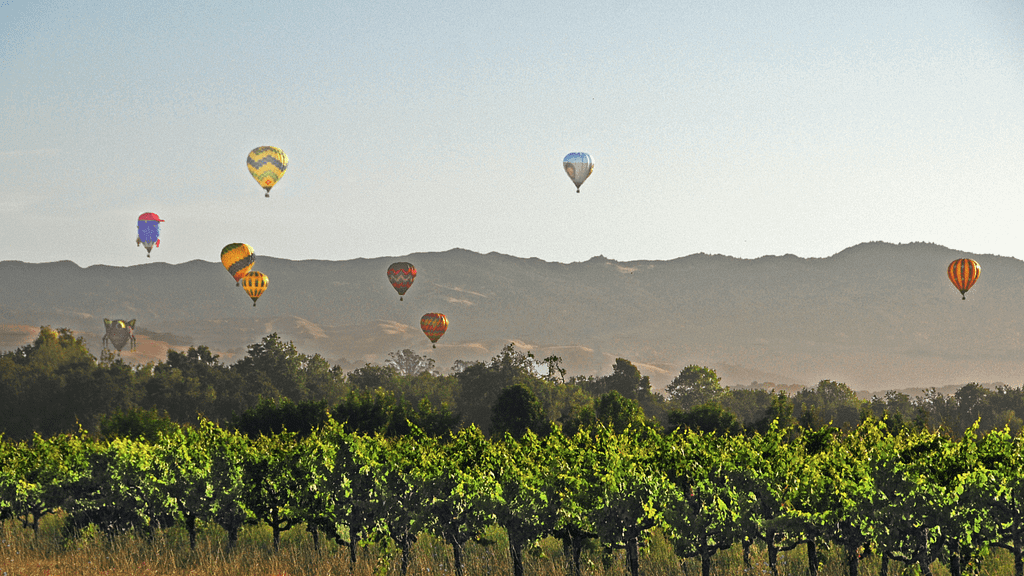 Various Providers
Float high above the valley taking in panoramic vistas from inside a giant wicker basket held aloft by elementary principles of science: hot air rises. Appreciate the stillness and the majesty from heights of 1,000-to-3,000 feet. Three different hot air balloon companies operate in the valley. In both Sonoma and Napa valleys, half a dozen hot air balloon companies depart at dawn from various locations depending on weather conditions. Ask about hotel pickups, dress warmly and go easy on the coffee — there are no restrooms in the sky. 
800.427.4124
Skip the traffic jams; sip on sparkling wine instead. A white tablecloth gourmet multi-course lunch (or dinner) is served in an elegant vintage domed rail carriage that gently chugs through Napa Valley, stopping at classic wineries for tours and tastings. The scenic 36-mile journey goes from Downtown Napa to St. Helena and back, passing charming towns and 33 legacy wineries such as Robert Mondavi, Charles Krug, Grgich Hills Estate, and Domaine Chandon. Choose a tour from two hours to six hours at different times of day, seven days a week. winetrain.com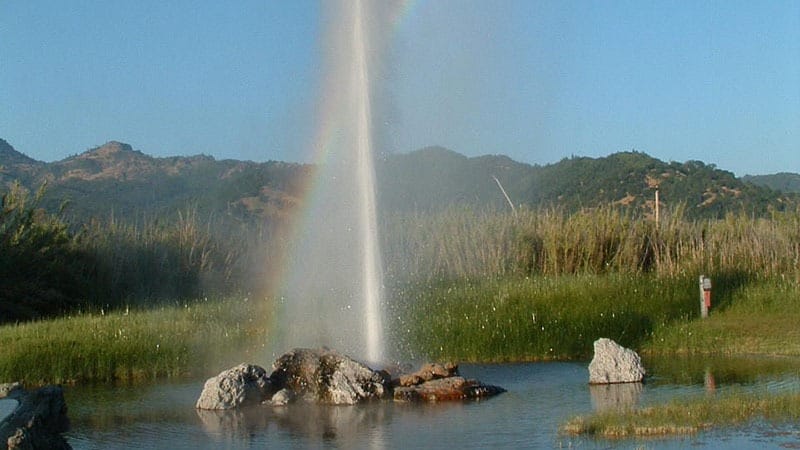 707.942.6463
In Calistoga where hot springs bubble under the surface, Old Faithful Geyser is one of the state's most photographed places. Powered by natural geothermal pressure of a subterranean volcano located just two miles from downtown, rainbows form in the misty spray that faithfully erupts up to a height of 60 feet every 15 to 30 minutes. Children love it. Learn how geysers work at the Geology Museum, have lunch in the picnic grounds, visit the petting zoo to see llamas, horned sheep, and mountain goats. The geyser site is open every day, but there is an admission charge. oldfaithfulgeyser.com
Sonoma State Historic Park and Sonoma Plaza
707.938.9560
With origins dating to the mid-19th century, California's largest town square is a grassy plaza with four identical sides to give equal importance to all its merchants. Today it's home to festivals and a weekly farmer's market, popular for its shops, restaurants, tasting rooms, galleries, a historic inn and vintage cinema. In the middle, Sonoma City Hall is a handsome 1908 Italianate structure. Highlights for history buffs: General Vallejo's headquarters and Mission San Francisco Solano de Sonoma, northernmost Franciscan outpost. Don't miss: Bear Flag Monument, a registered landmark where California's flag was first raised to mark independence from Mexico in 1846. parks.ca.gov/sonomashp/
Looking for more things to do in the area?
Visit our Wine Country page for more ideas on where to eat, stay and things to do.