Disneyland Resort is ringing in the Year of the Rabbit and the Cat with its annual Lunar New Year celebration, now in full swing at Disney California Adventure Park through Feb. 15, 2023. The multicultural festivities honor Chinese, Vietnamese and Korean traditions — Disney style — with stunning décor, themed food, character appearances and festive entertainment. Here are the best ways to celebrate Lunar New Year at Disneyland.
Featured Photo: Courtesy of Disneyland
Lunar New Year Marketplaces
Sample festive Asian-inspired dishes from beautifully decorated Lunar New Year Marketplaces and participating dining locations throughout the Disneyland Resort. To save some money, pick up a Sip and Savor pass, which gets you six redeemable coupons for festival food and non-alcoholic drink items at a discount. Here are some menu highlights to whet your appetite.
A Lunar New Year staple, tradition dictates that long noodles promise a long life. At Longevity Noodle Co., try Spicy Pork Dandan Noodles, pan-fried with ground pork and a spicy chile sauce, perfectly complemented by the marketplace's Pale Ale with mandarin and bergamot zest, or the milder Garlic Noodles tossed in garlic butter and parmesan. To drink, try the Rasberry Oat Milk Tea made with Joffrey's Coffee & Tea Co. ceylon tea, raspberry and demerara syrups and oat milk, garnished with raspberries. 
At Lucky 8 Lantern, Quesabirria Egg Roll with Guajillo Pepper Consomé, filled with Oaxaca cheese beef birria is an inventive take on the traditional egg roll. For dessert, Mandarin Mousse Cake combines vanilla cake with clementine compote, topped with white chocolate crunch balls and a tangerine glaze. For a caffeine boost, Coconut-Lavender Matcha Foam Iced Coffee should do the trick. 
One of two new marketplaces this year, Bamboo Blessings is home to the festival's Instagram darling dish, the Mickey Chinese Hot Dog Bun, a Mickey-shaped brioche bun dotted with hot dog. If hot dogs aren't your thing, this spot is still worth a stop for the Mickey Mouse-shaped Purple Sweet Potato Macaron, a sweet treat almost too pretty to eat.
Char Siu BBQ Pork Bao is another festival favorite. Pizza lovers should try the Pepperoni Pizza Bao Bun, served with marinara. Sip cocktails like the Lychee Celebration and the Soju Peach Yuja-Ade, made with soju, a Korean spirit, mixed with yuja-lemongrass purée, dragonfruit and peach syrups, butterfly pea flower tea and lemon juice. 
It's corn! From EPCOT to Disney's Animal Kingdom, Disney parks continue to prove they know how to do corn on the cob deliciously. Gochujang Elote, steamed corn on the cob rolled in gochujang aioli and cotija cheese, drizzled with spicy gochujang sauce. Staying true to the marketplace's name, Red Spice Fried Chicken Bites are fried chicharrones in spicy red chile sauce. Counteract the heat with a Guava Whiskey Cocktail, made with whiskey, ginger liqueur, guava nectar, coconut cream and lime juice.
Another new marketplace this year, Wrapped With Love serves up Pork and Shrimp Wontons and plant-based Bok Choy & Mushroom Dumplins. The cocktail menu has two exotic drinks — a Pineapple Baijiu Cocktail and a Grapefruit-Melon Wine Cocktail.
More Lunar New Year Food and Drink Spots
If you're not the grazing type or you're just in the mood for a full meal, head to Paradise Garden Grill. Here you can try the biggest head-turning dish of the festival, a Sweet and Sour Whole Fish, served family style for two with steamed rice and stir-fried vegetables. Other options include the Pork Banh Mi Sandwich, Korean-style BBQ Chicken, and plant-based Kimchi Bokkeumbap. The Tiger Milk Tea with BobaBam Brown Sugar Boba is another attention grabber this year. 
My favorite restaurant at Disney California Adventure Park, Pixar-themed Lamplight Lounge is a must-visit on any trip to Disneyland and features some seasonal specials for Lunar New Year. Surf & Turf Fried Rice is made with five spice-rubbed New York steak, sauteed shrimp, ginger pea puree and chile oil. For a sweeter snack, try the Sesame Seed Donuts, topped with sesame seed brittle and served with kaya jam dipping sauce. Lamplight's cocktails rarely disappoint, so this year's Lunar New Year special should be no exception — han soju, Aperol, carrot and orange juices and cream of coconut.
Disneyland Resort Hotels and Downtown Disney District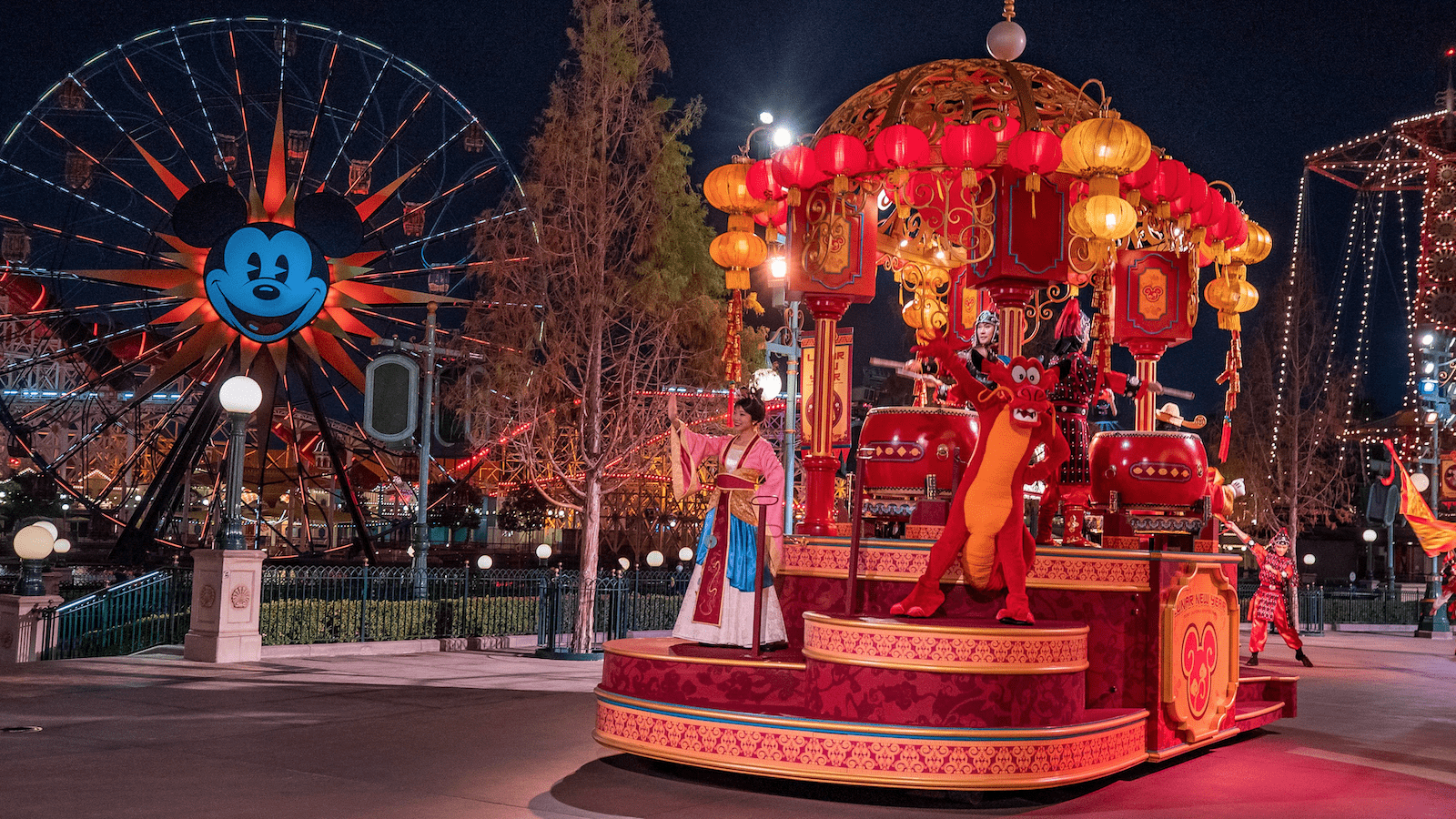 Mulan's Lunar New Year Procession
Mulan's Lunar New Procession is a dazzling, must-see parade that makes its way several times daily throughout all of Disney California Adventure park. Hosted by Mulan and her dragon pal Mushu, the pair are joined this year by Oswald, the Lucky Rabbit, and travel on a beautiful float decorated in red and gold with hanging lanterns that glow during evening performances. Umbrella and fan dancers in elaborate, colorful costumes perform traditional dances to beautiful music and a beautiful Chinese dragon adds to the spectacle.
Hurry Home – Lunar New Year Celebration
This nighttime water show on Paradise Bay is set to a score by Academy Award-winning composer Tan Dun and tells the story of a small lantern's journey to reunite with family for the annual Lunar New Year Celebration. The show appears shortly before "World of Color," which will be temporarily replaced with Disney's 100th anniversary version, "World of Color — ONE," debuting Jan. 27.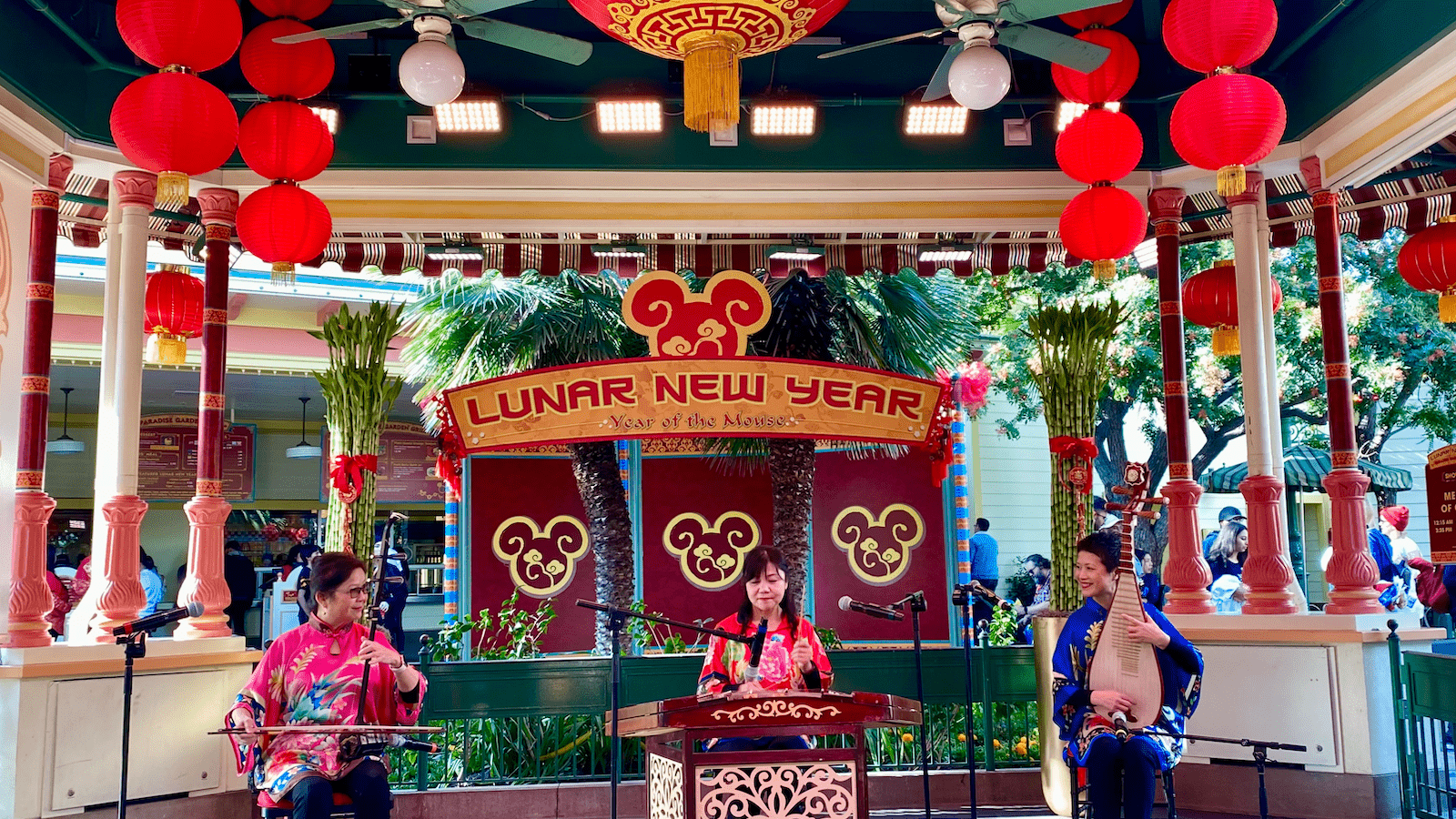 Paradise Gardens and Sonoma Terrace are both great spots to grab a table after you've rounded up your festival dishes to sample while listening to live music from San-Francisco based Melody of China, Korean-American a capella group Vocal Seoul, and a variety of community performing groups.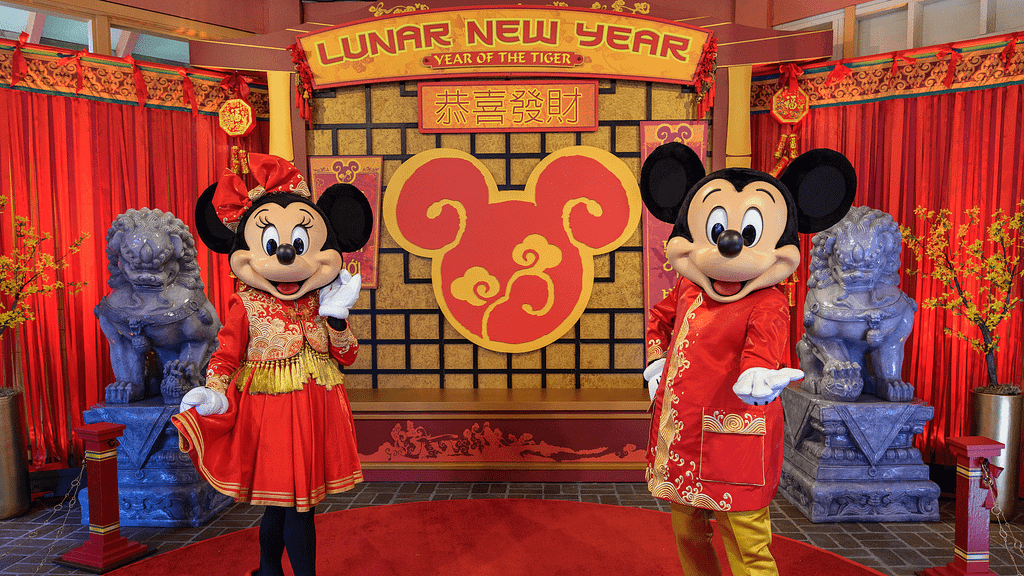 The Lunar Near Year celebration provides some unique opportunities to meet new and rare characters. Mulan and Mushu, Mickey and Minnie in beautiful festive costumes, and new this year for the Year of the Rabbit and the Cat, Oswald the Lucky Rabbit and Ortensia the Cat, meet at the Paradise Gardens Gazebo. Raya from "Raya and the Last Dragon" meets guests in Redwood Creek Challenge Trail.
Art walls display information about Lunar New Year, sharing the story of the celebration in each of the cultures represented at the festival. Guests can also learn what "year" (tiger, pig, dog, etc.) they are and kids and adults can try complimentary arts and crafts, including dragon's pearl coloring craft and Chinese calligraphy. 
The Lucky Wishes Wall is a meaningful space where guests can walk beneath strings of lanterns displaying the written wishes of other guests and add their own to the mix.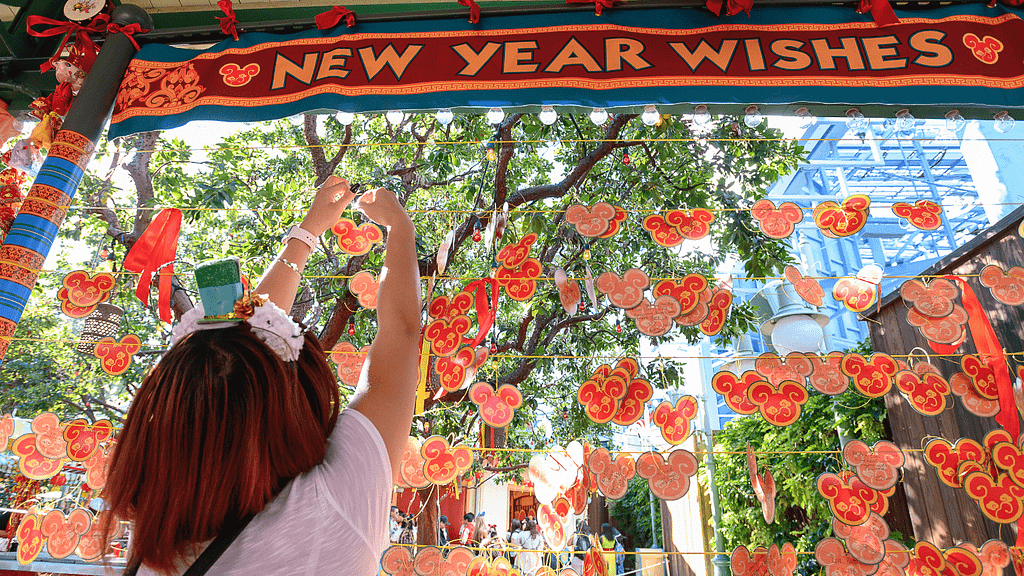 Commemorative Lunar New Year merchandise in bold reds and golds like a Spirit Jersey, tumbler, Minnie Ears, and more are available as fun souvenirs of this very limited time event. 
To visit Disneyland Park and Disney California Adventure Park, guests must have a valid ticket and theme park reservation for the park they want to visit or a park hopper ticket and a theme park reservation for their starting park. 
Limited-time ticket offers are available on weekdays for Southern California residents during the festival and beyond, through May 25, 2023. 
Select rooms at Disneyland Resort hotels are also available for all guests at up to 20% at a Disneyland Resort hotel on most Sunday through Thursday nights—from January 9 through March 9, 2023.