Thanks to its Mediterranean climate and an abundance of farms, ranches, and artisanal producers, California is a year-round food basket — and winter is no exception. An array of seasonal produce, handcrafted delicacies, and sustainably sourced meats provide inspiration for home cooking throughout the cold weather months. These winter recipes are inspired by California's rich source of fresh and local ingredients. From a warming stew and a melty cheese fondue; to a hefty layered salad and a rustic oozing fruit tart; winter food doesn't get fresher, tastier, or more satisfying than this.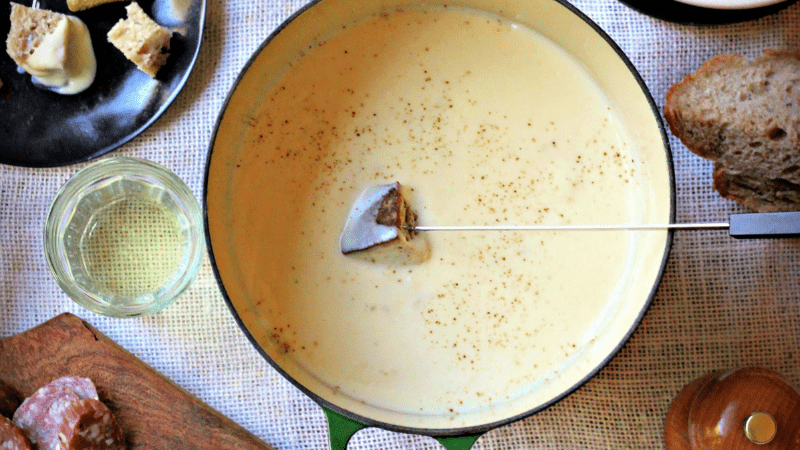 Alpine cheeses, such as Gruyère, Raclette, and Emmental, are classic fondue ingredients. Northern California's Nicasio Valley Cheese Company handcrafts organic, farmstead, artisan cheese using authentic, traditional Swiss recipes from the alpine village of Maggia. Their San Geronimo washed rind cheese resembles a cross between Fontina and Raclette, which are both excellent melting cheeses and stand up well to the spirited flavors in this rich fondue. nicasiocheese.com
Ingredients
Serves 6
1/4 cup Calvados brandy

3 tablespoons cornstarch

1/2 teaspoon salt

1/2 teaspoon freshly ground black pepper, plus extra for serving

1/4 teaspoon nutmeg

3 cups dry, un-oaked white wine, such as Sauvignon Blanc

1 large garlic clove, minced

1 1/2 pounds alpine-style melting cheese, coarsely grated

1 loaf country style or levain bread, cut in 3/4-inch cubes
Instructions
1. Have all your ingredients ready before you begin. Once you start cooking, the fondue will come together quickly, and during this time it must be constantly stirred.
2. Whisk the Calvados, cornstarch, salt, black pepper, and nutmeg in a small bowl, until smooth. Set aside.
3. Combine the wine and garlic in a large heavy saucepan, Dutch oven, or fondue pot. Heat over medium heat until tiny bubbles form, giving the wine a fizzy appearance, without coming to a boil.
4. Add the cheese, one handful at a time, stirring constantly with a wooden spoon until each handful is melted before adding the next. When all the cheese is added, continue stirring for about one minute to slightly thicken — do not let the fondue boil during this entire process.
5. Stir in the cornstarch mixture and continue to stir until the cheese thickens to a fondue consistency. (Note: Some cornstarch brands thicken more easily than others. If your fondue remains thin, whisk 1 more tablespoon cornstarch with 2 tablespoons white wine and stir into the cheese.)
6. When the fondue is ready, remove from the heat. Pour the cheese into a warm fondue pot if necessary and place over a fondue burner. Serve immediately with extra ground pepper, the bread, and parboiled vegetables such as small potatoes, cauliflower, and broccoli florets.
Beef Bourguignon à la California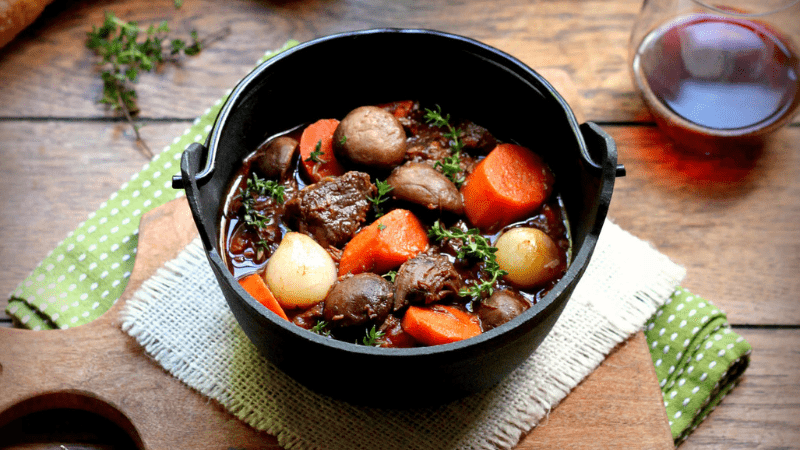 Beef bourguignon is a classic beef stew, named for the wine-rich region of Burgundy, France. It's a delicious one-pot dinner perfect for a cold night or an après-ski meal, with slow cooked chunks of meat swimming in a fragrant stew of red wine. While French tradition relies on using a burgundy wine or Pinot Noir for the base of the stew, California's wine country presents numerous varietals and red blends for local inspiration, such as a heavy bodied Pinot Noir, Cabernet, Merlot, or Syrah. The wine needn't be pricey, but it should certainly be quaffable before you pour it into the pot.
For the meat, look to California's ranches that provide grass fed, sustainable meat for great flavor and best practices. Stemple Creek Ranch is a 4th generation family ranch in Tomales, Marin County. Their regenerative, organic agricultural practices enhance and rehabilitate their entire ecosystem by focusing on soil health and increasing carbon in the land, and their beef are grass fed and finished. 
Ideally, start the stew a day ahead of serving (or even two). Not only will the flavor improve with time, it allows the fat to rise to the top when it cools, which is a nifty way to get rid any extra unctuous fat. After a night in the fridge, all you need to do is lift off the solidified fat from the surface before you reheat the stew, and you will be left with a silky rich stock. stemplecreek.com
Ingredients
Serves 6
Stew:
Extra-virgin olive oil

2 1/2 to 3 pounds beef chuck, excess fat trimmed, meat cut into 1 ½ to 2-inch chunks

Kosher salt and freshly ground black pepper

1/2 cup Cognac or Calvados

2 carrots, chopped

1 yellow onion, chopped

4 garlic cloves, chopped

1 (750-ml) bottle full-bodied red wine

1 cup beef or chicken stock

4 thyme sprigs

2 bay leaves

1 (6-ounce) can tomato paste

1 tablespoon balsamic vinegar
Vegetables:
Olive oil

8 ounces cremini or white mushrooms, ends trimmed, halved (or quartered if large)

Kosher salt

1 to 2 medium carrots, peeled, sliced 1/2-inch thick

8 ounces pearl onions, peeled (optional)
Instructions
1. Heat the oven to 300°F. Heat 2 tablespoons oil in a large Dutch oven or oven-proof pot with a lid over medium-high heat. Season the beef with salt and pepper. Working in batches, add the beef to the pan, without overcrowding, and brown on all sides, 6 to 8 minutes. Transfer to a plate and repeat until all the beef is browned.
2. Add the cognac to the pot and deglaze, stirring up any brown bits. Reduce by half, and then pour the cognac over the reserved beef.
3. Add 1 tablespoon oil, the carrots, onion, and garlic to the pot and sauté over medium heat until the vegetables soften without browning, 3 to 4 minutes. Return the beef and cognac to the pot. Add the wine, stock, thyme, bay leaves, and tomato paste. The beef should be submerged in the stock. Add more stock or wine if needed.
4. Bring to a boil, then turn off the heat, cover the pot and transfer to the oven. Cook until the meat is very tender, 2 1/2 to 3 hours, stirring every hour or so.
5. Place a sieve over a large saucepan. Carefully pour the stew into the sieve and strain the liquid into the saucepan. Separate the chunks of meat from the vegetables and set the meat aside. Press down on the remaining vegetables in the sieve to extract as much juice into the drained liquid as possible and then discard the mashed vegetables.
6. Boil the liquid until the sauce is reduced by about one-third and slightly thickened, about 20 minutes, skimming the fat from the surface. Stir in the balsamic vinegar and season to taste with salt and pepper. Return the beef to the sauce. (Note: At this point the stew may be made one to two days in advance. Cool, then cover and refrigerate overnight. One hour before serving, remove from the refrigerator, discard any collected fat from the surface of the stew, and prepare the vegetables.)
7. Heat 1 tablespoon olive oil in a skillet over medium heat. Add the mushrooms, lightly season with salt, and sauté until light golden but not too soft, 3 to 4 minutes. Transfer to a bowl. Add 1 tablespoon oil to the same skillet, then add the carrots and onions and sauté until bright in color and crisp-tender, 4 to 5 minutes. Transfer to the bowl with the mushrooms.
8. Add the vegetables to the stew and simmer over medium heat to heat through, 10 to 15 minutes. Ladle the stew into warm bowls and serve.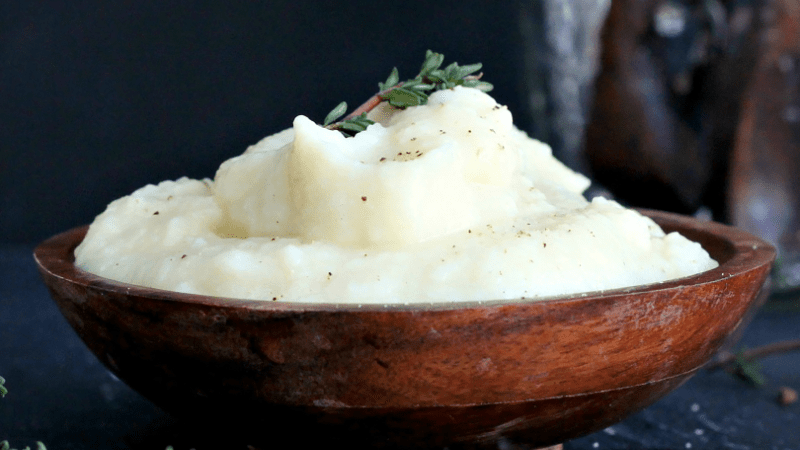 Cauliflower is a cool-season vegetable which makes it a favorite winter staple. This nutrient-rich brassica is produced in many areas of California, including the central coast where Rodriguez Farms in Watsonville grows a variety of seasonal organic produce, including white cauliflower and colorful hybrids.
Cauliflower is wonderfully versatile. It can be roasted, grilled, steamed, and pureed. In this recipe, chicken stock adds savory depth of flavor to a silky cauliflower purée. For a vegetarian version, substitute vegetable stock or water and adjust the seasoning accordingly. rodriguezbrosranch.com
Ingredients
Makes 4 servings
1 large head cauliflower, florets and core cut into 1-inch pieces

2 cups chicken stock

1/3 cup finely grated Pecorino Romano cheese, loosely packed

1 garlic clove, minced

2 tablespoons unsalted butter, room temperature

1 teaspoon salt

1/4 teaspoon freshly ground black pepper, plus extra for garnish

Fresh thyme leaves
Instructions
1. Place the cauliflower and chicken stock in a large pot. Bring the stock to a boil, then reduce the heat to medium-low. Cover the pot and simmer until the cauliflower is very tender, about 20 minutes.
2. With a slotted spoon, transfer the cauliflower to the bowl of a food processor. Add the cheese, butter, garlic, salt, and pepper and process to blend. If the purée is too thick, thin with some of the cooking stock to your desired consistency.
3. Serve garnished with fresh thyme leaves and extra black pepper.
Delicata, Radicchio, and Black Rice Salad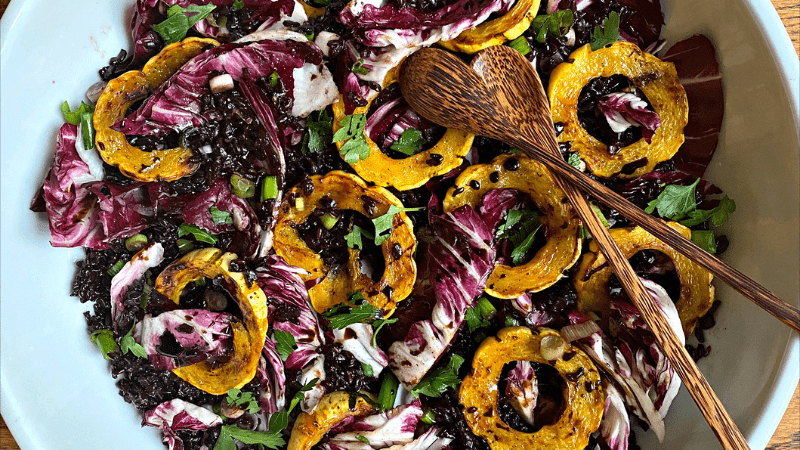 Don't overlook a salad in the winter. The cold weather invites layering hefty, nourishing ingredients into our meals, including salads. This vibrant bowl is a perfect example. It's layered with roasted delicata squash, sturdy radicchio leaves, and nutty black rice for a nutrient-rich salad, bound together by a glossy balsamic vinaigrette.
Black rice (also known as forbidden rice) is an heirloom rice, that's high in protein and anti-oxidants. California is a major source of rice, and Lundberg Family Farms is one of California's largest producers, including their organic black pearl rice. lundberg.com
Ingredients
Serves 4
Dressing:

1/4 cup extra-virgin olive oil

2 tablespoons balsamic vinegar

1 teaspoon Dijon mustard

1 small garlic clove, minced

1/4 teaspoon kosher salt

1/8 teaspoon freshly ground black pepper
Salad:

1 cup black rice, rinsed

Kosher salt

1 large delicate squash, scrubbed clean

1 to 2 tablespoons extra-virgin olive oil

1 teaspoon ground cumin

1 teaspoon sweet paprika

1/2 teaspoon freshly ground black pepper

1 large head radicchio, cored, leaves torn into shards

3 scallions, thinly sliced

1/4 cup coarsely chopped Italian parsley leaves

2 tablespoons pumpkins seeds
Instructions
1. Whisk the dressing ingredients in a small bowl.
2. Cook the rice until tender, according to package instructions. Season to taste with salt and set aside to cool to lukewarm or room temperature.
3. Heat the oven to 400°F.
4. Cut the squash crosswise in 1/3-inch thick slices and scoop out the seeds. Place the rings in a large bowl. Add the oil, 1 teaspoon salt, the cumin, paprika, and black pepper and toss to coat. Arrange the squash rings on a rimmed baking sheet lined with parchment. Transfer to the oven and roast until golden brown in spots and tender, about 25 minutes, flipping once. Remove from the oven and lightly brush with the dressing. Cool to lukewarm or room temperature.
5. Spread the radicchio in a wide shallow serving bowl. Stir the scallions into the rice and then spoon the rice over and around the radicchio. Arrange the delicata rings around the salad, tucking some of the rings under the radicchio leaves. Sprinkle the parsley and pumpkins seeds over the salad. Drizzle with the remaining dressing.
Blood Orange Crostatas with Salted Caramel Sauce
Citrus is abundant in the winter, which means it's time to indulge in California's blood oranges. Sweet and tart, murky and winey, the blood orange is more nuanced than its navel counterpart with a brilliant purple hue that will brighten up any dessert.  
Blood oranges thrive in the Mediterranean, and California, with its Mediterranean-like climate, is a primary source of blood oranges. Moro are the most common type of blood orange. They are small with a mottled burgundy-fuchsia flesh, which is the centerpiece of these rustic mini-crostatas.
Ingredients
Makes 6 to 8 mini-crostatas
For the crust:

1 1/2 cups all-purpose flour

1/4 cup granulated sugar

1/2 teaspoon salt

1/2 cup unsalted butter, chilled, cut in cubes

1/2 cup sour cream
For the filling:

8 ounces mascarpone cheese, room temperature

3 tablespoons granulated sugar

1/2 teaspoon vanilla extract

1/4 teaspoon ground cardamom

Pinch of ground cinnamon

2 navel oranges, skin and pith cut away, sliced crosswise, about 1/4-inch thick

3 blood oranges, skin and pith cut away, seeded and sliced crosswise, about 1/4-inch thick, each slice cut into 3 to 4 sections

1 egg, lightly whisked

Demarra sugar, for sprinkling
1. Make the crust: Combine the flour, sugar, and salt in the bowl of a food processor. Briefly pulse to combine. Add the butter and pulse to achieve a crumbly consistency. Add the sour cream and pulse a few times until the dough just begins to stick together. Turn the dough out onto a piece of plastic wrap and shape into a disk. Wrap and refrigerate for at least one hour.
2. Heat the oven to 400°F.
3. Whisk the mascarpone, sugar, vanilla, cardamom, and cinnamon in a small bowl to lighten and combine.
4. Remove the dough from the refrigerator and divide into 6 to 8 equal portions. Roll out each portion in a circle about 5 to 6 inches in diameter and 1/4-inch thick. Place a tablespoon of mascarpone in the center of the dough, spreading it slightly, while keeping about 1 inch clear around the border of the dough. Place a navel orange slice in the center. Top with 3 to 4 blood orange sections. Fold the exposed edges of the dough in around the oranges, shaping and pinching to create a rim of crust (the centers will still be exposed). Transfer to a baking sheet lined with parchment and repeat this process with the remaining dough.
5. Brush the pastry dough with the egg and sprinkle each crostata with about 1 teaspoon demarra sugar. Transfer to the oven and bake until the crusts are firm to the touch and golden brown, about 45 minutes. Remove and cool on a rack. Serve warm or at room temperature, with salted caramel sauce, if desired (recipe below).
This recipe is adapted from The Kitchn.
Salted Caramel Sauce
Makes about 1 cup sauce
1 cup granulated sugar

6 tablespoons European-style unsalted butter, room temperature, cut into 4 pieces

1/2 cup heavy cream, room temperature

1 teaspoon sea salt flakes, such Maldon
1. Pour the sugar into a large heavy-bottomed saucepan. Cook over medium-high heat until the sugar melts, whisking occasionally and swirling the pan to ensure even cooking. The sugar may clump, but that's ok — keep stirring until it melts. When the sugar is the color of dark amber, carefully whisk in the butter (it will foam).
2. Remove the pan from the heat and slowly pour in the cream (it will foam again) and whisk until smooth. Add the salt. Cool for about 10 minutes and then pour into a glass jar and cool to room temperature. The sauce may be stored in the refrigerator for up to 1 month.
SUSTAINABLE ENTERTAINING TIPS
Use this menu as a guide for your next get together and remember that you don't need to sacrifice sustainability for a dinner party. Here are a few tips to keep your gathering eco-friendly.
1. Shop products that are local, organic, and sustainably raised or sourced.
2. Send digital invites to reduce paper waste.
3. Rely on nature for decorations. Create a centerpiece of foraged branches, leaves, and flowers.
4. Focus on quality, not quantity. Reduce food waste by not over-shopping.
5. Use cloth napkins and reusable plates, glasses, and utensils. If you use disposable dishes and utensils, make sure they are bio-degradable. Use eco-friendly cleaning products and recyclable packaging.
6. Spread the leftover love and send your guests home with biodegradable food containers.
Lynda Balslev is an award-winning food writer, editor and recipe developer based in the San Francisco Bay area. She writes about food and travel, contributes to NPR's Kitchen Window, Relish magazine, Marin Magazine and authors the blog TasteFood, a compilation of more than 500 original recipes, photos and stories.