The humble potato should be knighted. Densely caloric, it has sustained human populations across the globe for millennia. Peru, where the tuber first flourished some 7-10,000 years ago, nurtured over 4,000 varieties before the Spanish conquest of the region reduced the cultivars to just a few. (A resurgence is bringing them back.) It's also worth noting that boiled potatoes are ranked number one in terms of satisfying foods, beating out eggs, cheese and even steak.
As humans rediscover the fleshy, surprisingly nutritious tuber as a global comfort food, potatoes are stepping out, getting makeovers (in the hands of chefs) and becoming something we can once again cheer. Carbs be damned, here come the potatoes!
Featured Photo: Aurum
With a rough, brown-grey skin, white interior, and low moisture content, the Russet is widely used when serving whole baked potatoes and, when peeled, for mashed potatoes. 
Nutrition Note: A surprising source of protein (8 grams per potato) and potassium (three times more than a banana).
Though often confused with sweet potatoes, yams are not in the potato family and are not widely grown in the United States. The problem is: the term "yam" has been used in place of "sweet potato" for so long, we can never go back.
Nutrition Note: High in potassium, manganese and copper, important minerals for metabolism and heart function.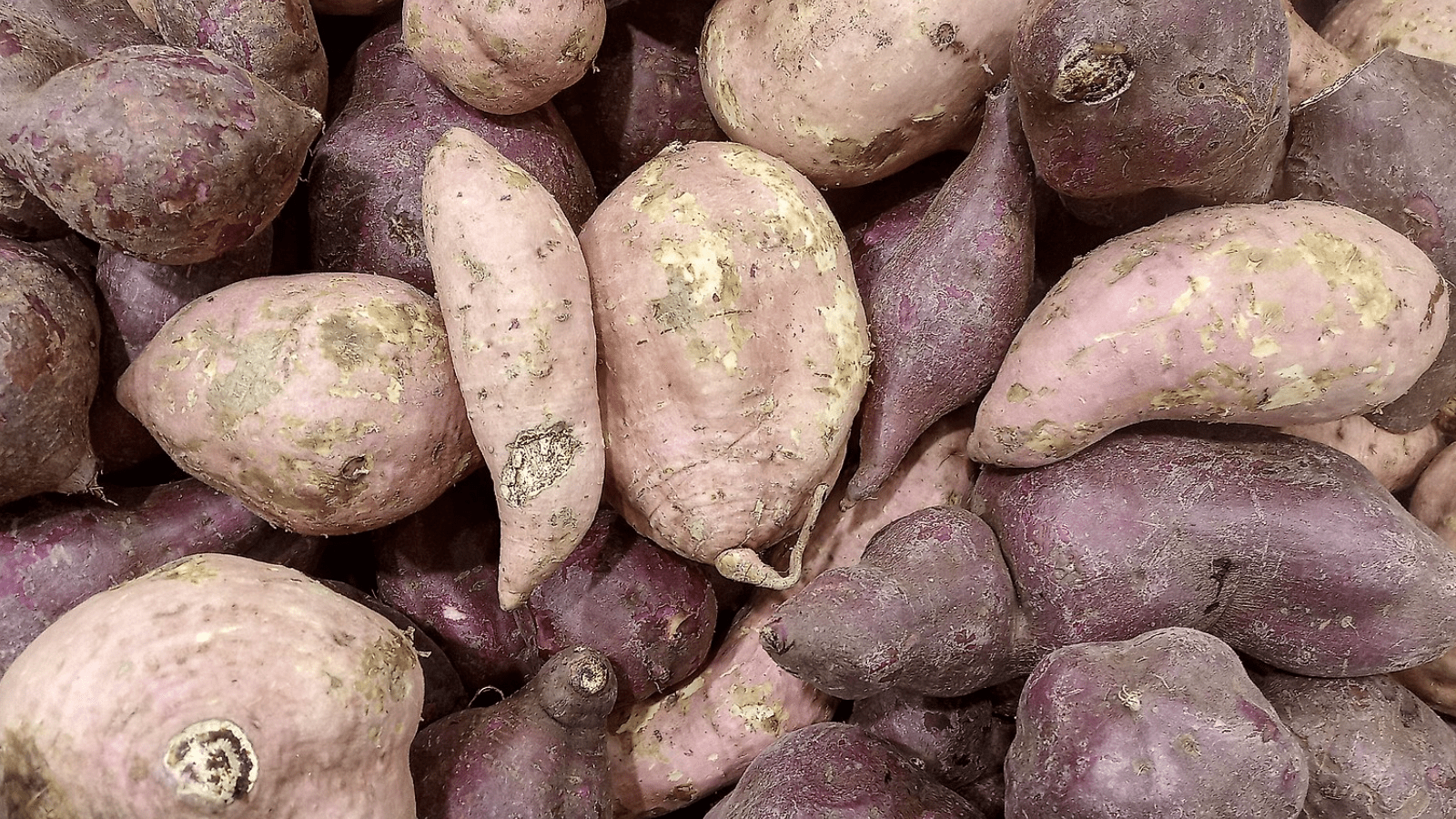 An orange-colored potato (a yam is white or pale yellow inside) with a smooth skin, tapered shape and high moisture content. Native to North America, sweet potatoes used to be cream-colored but a 1930's popular cultivar changed their color to orange.
Nutrition Note: Loaded with resistant starch, this tuber becomes a source of nutrients for the beneficial bacteria in your gut, helping improve blood sugar control.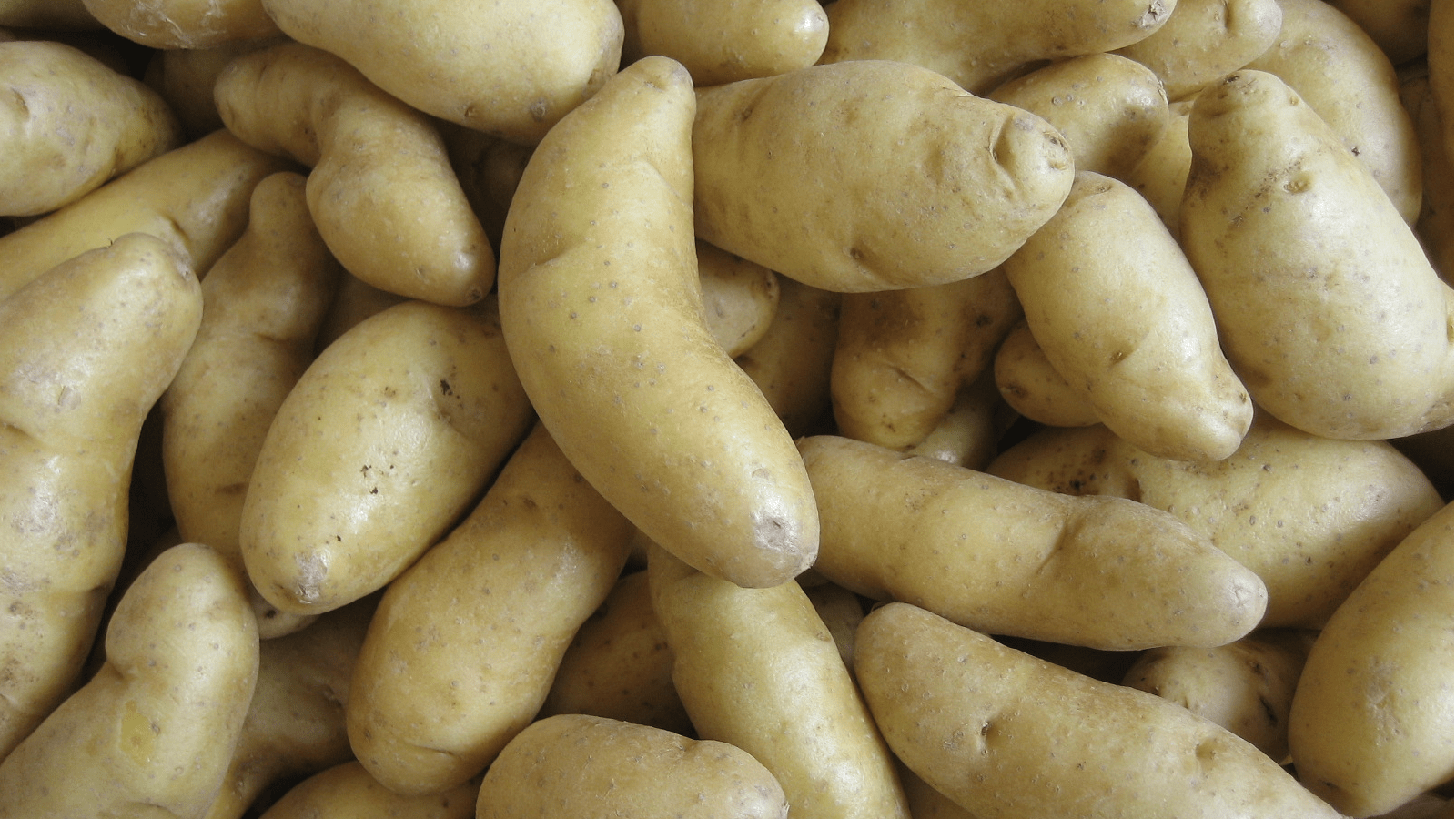 These high moisture content little guys go by many different names — white, yellow, new, fingerling, Finn, Red Bliss, Yukon Gold (a brand name of yellow potato), and more — and all are defined by the slight shine to their skin and their ability to hold their shape when cooked. Typically boiled for potato salad or sliced for gratins such as pommes Dauphinoise or pommes Anna, these guys hold firm, making them a poor candidate for mashing.
Nutrition Note: Loaded with resistant starch, this tuber becomes a source of nutrients for the beneficial bacteria in your gut, helping improve blood sugar control.
A brand name variety of wax potato, Kennebecs have long been used for potato chips and French fries by chefs and restaurants such as In-n-Out who rely on the sturdy potato to produce a firm snap that yields to a soft interior.
Nutrition Note: Rich in compounds like flavonoids, carotenoids and phenolic acids, potatoes can reduce the risk of chronic diseases like heart disease.
An admittedly incomplete guide to where to eat potatoes done up as they should be.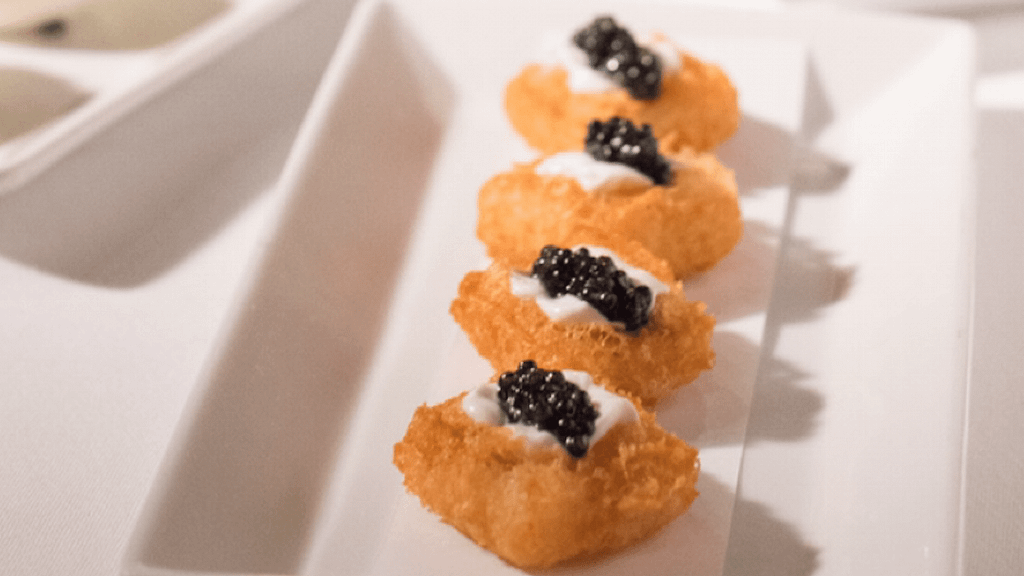 "It's been our signature item since 2002," says chef-partner Bruce Hill. Hill prefers Kennebecs, using them in Bix's fries as well. Inspired by a Chinese recipe for taro puffs, Hill's pillows went through plenty of trial and error before landing on a lacy, football-shaped concoction that is puffy and creamy. The batter is about ¾ potato, ¼ taro made with baked Kennebecs that, once they hit the rice brain oil at exactly 375°F, look like they are falling apart but results in layers of lace. "It seems like a mistake, Hill says. A craveable mistake that has become synonymous with the restaurant. Hill tops his with American sturgeon caviar and Straus crème fraiche. Could a glass of Champagne be far behind?
The perfect French fry is a deceptively simple dish and, in this case, the black truffle shavings atop the fries hog all the glory. Yes, the essence of truffle is remarkable and embeds the dish deep into your senses, but it is the crisp on the Russet potatoes, searingly hot with a give under your teeth, that exposes the potatoes peacock-like strut and reignites the truffles' aromas in the best way.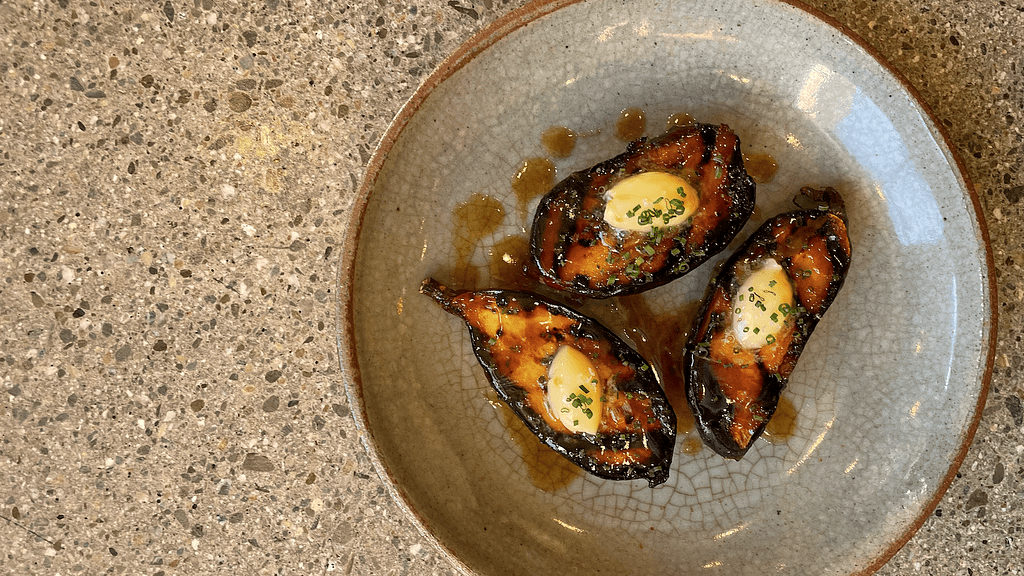 Baked until creamy, Japanese sweet potato gets the royal treatment in the hands of chef and owner Brandon Rice. Cut in half, then smoked over fig wood, the purple-skinned potato with cream-colored flesh is grilled and coated in tare glaze and honey butter. "The sum of everything together is greater than its parts," Rice says.
On the menu for over 20 years is chef Grégoire Jacquet's signature potato puff. A batter made with baked Russet potatoes is scooped into the fryer and cooked until the exterior is golden and crispy but pillowy soft and hot on the inside. Chef serves them with a seasonally flavored house made mayonnaise.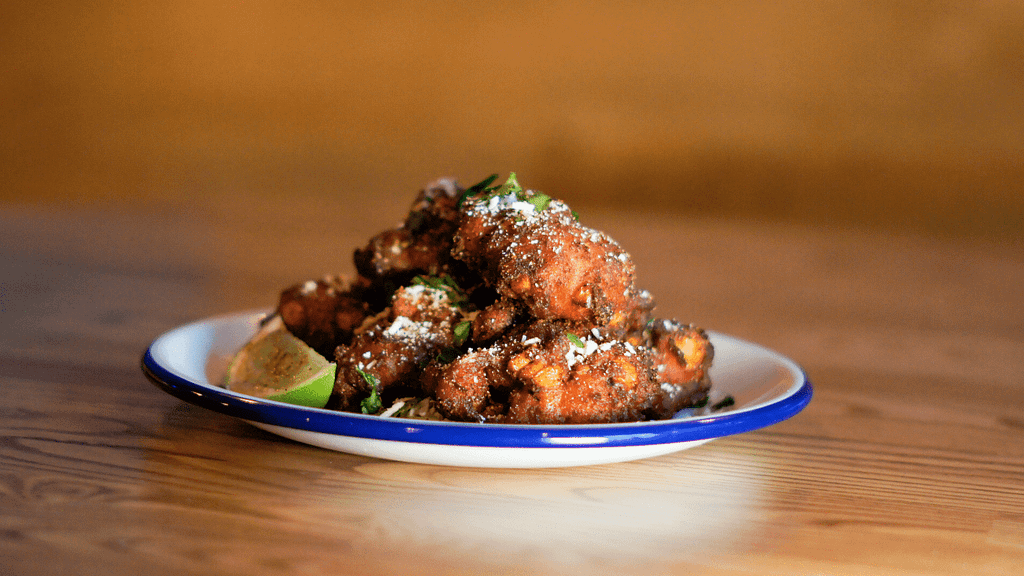 Chef Matt Meyer plays with American and Mexican ingredients creating instant classics like his potato and corn fritter. Adding sweet potato puree to nixtamalized corn flour and roasted corn adds sweetness and heft to the fritters before they are fried in rice bran oil, then seasoned with salt and ancho chile powder. The flavor is at once true to Mexico and right at home in NorCal.
Russet potatoes are cubed while slightly firm and blended with green onions, sharp cheddar and house-made cream of mushroom soup before more cheddar cheese is added, resulting in gooey potatoes with a crisp edge. It's a dish to cherish, one that lodges chef Matt Horn's tribute to a casserole his grandmother made for family gatherings in the firmament of hallowed family memory and of modern barbecue side dish in equal measure.
Chef Manish Tyagi is known for updating traditional Indian dishes at his Los Altos restaurant and his spin on a russet blends influences from his world travels. Affectionately known as a potato tornado for its hasselback-ish shape, the russets at the heart of the dish are double-fried for enough crispness to support the dish's unique architecture. Placed atop a trio of chutneys and sprinkled with cilantro chutney powder and black salt, it redefines the fried potato in the best way.
Beloved throughout Spain is a classic dish from the Barcelona region equitably named for its accompanying sauce. In Los Altos, executive chef Oscar Cabezas makes his bravas with Yukon Golds, soaking the spuds for 24 hours to remove excess starch. Deep-fried, the potato triangles are topped with house made aioli and a sauce thick with tomatoes, garlic and onion for a taste of "Barca" that resembles no other. "There are countless nuances between potato types and this dish is definitely our most loved tapa — in our restaurants but also in Spain in general," Cabezas says. "It is always appealing." 
A popular North Indian street food snack, aloo (potato) chaat originated in northern India in the late 17th century during the reign of Mughal Emperor Shah Jahan. At Rooh's peninsula location, sweet cubes of sweet potato are steamed, then lightly coated with spices, rice flour and corn flour in preparation for a dip in the fryer. More spices, red onion and cilantro and a dash of sweet and sour yogurt mousse flavored with rose water grace the concoction, which is further topped with kale tempura and a chutney holy trinity — cilantro, tamarind and mint. Crispy dried chickpea discs push the dish to 11 on the crunchy scale.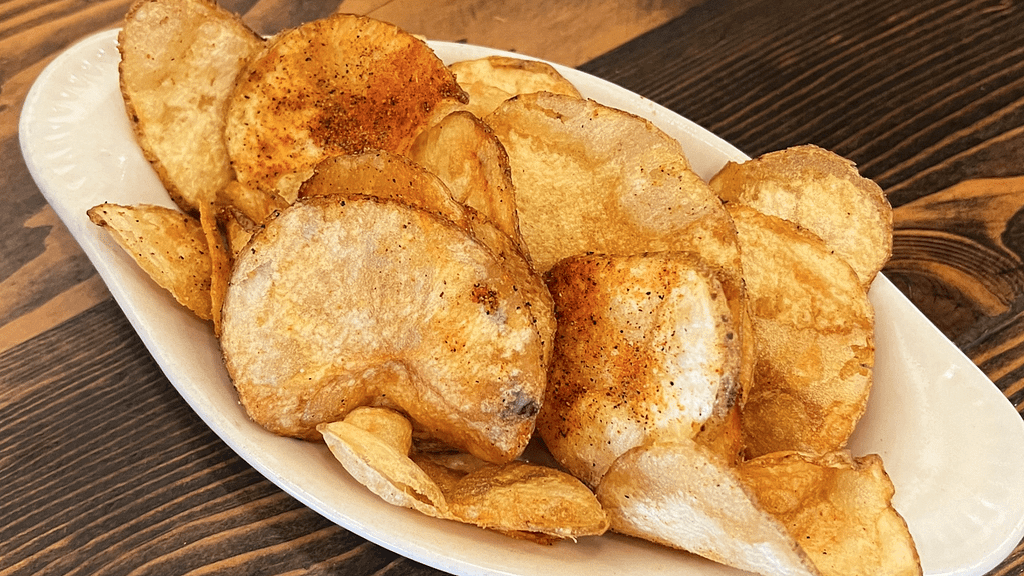 Proprietor Robert Wellbeloved swears by Chipperbec potatoes for his San Rafael restaurant's perfect potato chips. Grown for low sugar and low moisture, Chipperbec's are a fryer's dream — "They are the best for frying," Wellbeloved confirms. Available alongside the restaurant's sandwiches or as a side order, these chips are manually sliced on a mandolin and soaked in a water bath before hitting the fryer for a 350°F stint in canola oil. Emerging golden, the chips are hit with a 10-ingredient sprinkle that adds a smoky, spicy sweetness, the perfect foil for the firm snap of the chip.
One of seven fillings for the street tacos and calzados (a type of riceless burrito), red garnet potatoes already pack a flavorful punch. The team maximizes the seductress's assets by griddling diced potato — some with peel still attached — with rice brain oil until brown. The deep red potatoes are then tossed in La Q's mojo seasoning (trust us, it's delicious) before a final steam softens their texture. Only now is the singular potato ready to be wrapped in a tortilla before it makes its way to your mouth.
Made with a raised dough, the addition of roasted sweet potatoes adds subtle nutty flavor and moisture while creating a soft yet somehow lofty bite. While the cooking oil and temperature surely an important part of Johnny's inimitable texture, the Larkspur and San Rafael teams kept this detail under wraps, preferring to let the dough speak for itself.
More Local Favorites in the Bay Area
Where to Eat Potatoes in the Bay Area