When you hear the word luau, you might imagine fire dancers, aloha shirts, hula and mai tais. For good reason: That's standard fare at the type of luau most visitors to Hawaii will enjoy. As entertaining as they are, these tourist-oriented luau don't much resemble the traditional Native Hawaiian celebrations. Originally called 'aha'aina (meaning "meal gathering"), these feasts were deeply symbolic, filled with ritual and often marking  historically significant events.
Traditional 'aha'aina often were frequently held after victory in war, a birth or for the dedication of a temple or canoe. In 1819, Soon after the death of King Kamehameha I, his son, King Kamehameha II (a.k.a Liholiho) and his stepmother, Queen Kaahumanu, lifted the kapu (taboo) that prevented men and women from eating together at a rather somber 'aha'aina on Hawaii Island. The symbolic act of women and men eating together signaled the end of the kapu system that had governed Hawaiian society for generations. It's also at that feast that the term "luau," the word for the kalo (taro) leaf, was applied to 'aha'aina. The biggest luau on record occurred in 1847 in celebration of Lā Hoʻihoʻi Ea, or Restoration Day, when the Hawaiian Islands were returned to the control of the monarchy after a rogue British naval captain briefly claimed them for England. Kamehameha III hosted ten thousand guests in Nuuanu Valley on Oahu, where they consumed 271 hogs, 482 gourds of poi, 602 chickens, 2,245 coconuts and 4,000 kalo plants.
Though much has changed since the old days, you can find hints of the traditional 'aha'aina dishes on modern luau menus. Look past the pasta salad and fruit cocktail for the flavors of an ancient tradition that has lived on long after the kings and queens of Hawaii.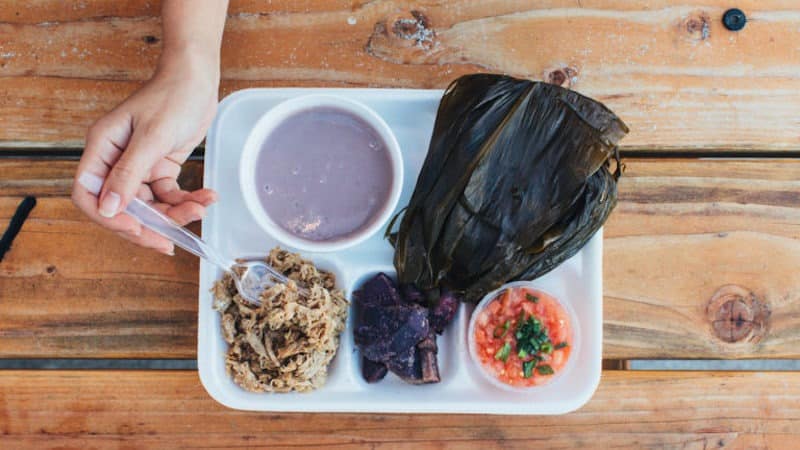 Kalo was such an important part of the Polynesian diet that in Hawaiian lore, Haloa — a kalo plant born from the god Wakea — was considered the older brother of human beings. To make poi, the starchy root of the kalo plant is cooked and pounded to a paste. Poi remains a mainstay traditional food at a luau and goes well mixed with salty foods like kalua pig and laulau.
A whole pua'a (pig) is rubbed with sea salt and slow-cooked in an imu (an earthen pit-oven filled with hot lava rocks). The result is meat with a smoky, rich flavor and that falls off the bone. Pork was such a valuable protein in ancient times that Polynesian voyagers brought pigs along on their canoes when they set out in search of new islands to settle. Pork was considered kapu, or forbidden, to all but the ali'i (chiefs).
A luau stew consists of cooked kalo leaves (hence the name), coconut milk and a protein — very often squid. This green, pudding-like mixture is one of the more visually challenging foods at a luau, but if you're not deterred by the look of it, you'll be rewarded with a unique salty-sweet flavor.
Chances are you've already heard of poke (pronounced poh-KAY), because it's caught on beyond Hawaii more than any other traditional Hawaiian food has. Poke, which means to "cut crosswise," is usually cubed fresh raw fish — typically 'ahi — tossed with sea salt, seaweed and sesame oil. There are dozens of variations that include ingredients like tako (cooked octopus), crab, shrimp, salmon, avocado, onion and much more. If you try nothing else at your lū'au, go for poke.
Tender young kalo leaf tips are mixed with salty/oily butterfish and meat (pork or chicken, typically), then wrapped in ti leaves and slow-cooked in an imu, often alongside a pig. Unwrap the ti leaves (which are inedible), mix the meat and kalo with poi to cut the saltiness and you'll be treated to one of the most traditional of Hawaiian meals. "Lau" is Hawaiian for "leaf," and "laulau" may refer to the fact that two different types of leaf are used in the dish.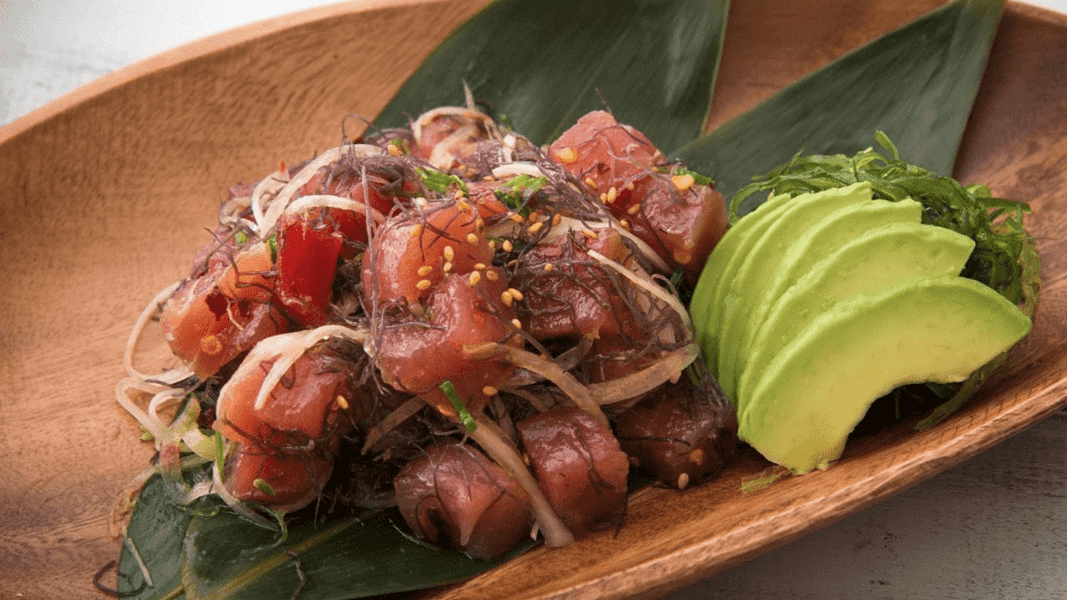 Limu is the Hawaiian word for algae, and it can refer to many different kinds. Limu kohu ("pleasing seaweed") adds a soft, succulent crunch to many dishes; it's commonly added to poke. Limu kohu isn't farmed but is harvested by hand from the reefs; in ancient times, it was cultivated in fishponds. The green, lettuce-like limu palahalaha is often added to soups and seaweed salads. Small amounts of the fine limu 'ele'ele can flavor an entire pot of stew. Fresh limu may be ground into a relish or served as a side dish.
'Opihi are limpet snails that cling to the reef or rocks in the intertidal zone. This briny but sweet delicacy is often pried from the rocks and eaten raw with a touch of sea salt, or it may be cooked, often grilled on a barbecue. Many varieties are edible; 'opihi alinalina (yellowfoot limpet) is the most prized and hardest to pick. 'Opihi makaiauli (blackfoot limpet) is the most common because it's the easiest to collect. 'Opihi ko'ele are comparatively huge — some the size of a baseball — and live fully submerged. 'Opihi picking can be risky business in Hawaii, as intrepid collectors will scramble out onto rocks in the surf zone, pick fast and race back to safety when a wave comes in — or try to. But the danger is worth the reward — fresh 'opihi is just that good.
A dessert pudding made with coconut cream and pia, Hawaiian for arrowroot, though in modern times cornstarch is usually substituted for pia.
A tangy side of salted salmon, tomatoes, onions and scallions, lomi salmon is a hybrid dish that traces its roots to 19th-century whaling in Hawaii, when Native Hawaiian sailors traveled to and from the Pacific Northwest. Salted salmon was common fare on whaling ships heading to the Islands, and the ever adaptable Hawaiians made it their own. Lomi means "to rub," a reference to the way salt would be rubbed on the salmon to preserve it (and where the term for Hawaiian massage — lomilomi — comes from).
Ko Olina
Considered one of the best if not the most popular luau on Oahu, Paradise Cove offers an amazing buffet, hula and fire-knife dancing, all on the oceanfront at Ko Olina, on the island's leeward side.
North Shore
Learn about Polynesian culture by visiting six unique villages at Polynesian Cultural Center, then enjoy a luau dinner and evening show with an all-inclusive, full-day pass. Includes shuttle from and to Waikiki.
Toa luau in Waimea Valley features hula, fire-knife dancing, a kava ceremony and Hawaiian dinner buffet. Includes admission to Waimea Valley's stunning botanical gardens and waterfall.
Waikiki
Waikiki Starlight luau at the Hilton Hawaiian Village is widely regarded as the best luau in Waikiki, featuring Tahitian, Samoan and Hawaiian dance, a dinner buffet and fire-knife dancing.
Kaanapali
Regarded as Maui's most authentic and popular luau, the Old Lahina luau offers a beachfront experience with and glorious sunset and an emphasis on traditional Hawaiian food and entertainment.
Located beachfront at Kaanapali, the Sheraton's Maui Nui luau tells the history of Maui through music and dance and history at the foot of the famous Pu'u Keka'a (Black Rock), along with fire dancing and a Hawaiian buffet.
Wailea
Te Au Moana luau at the Wailea Beach Resort Marriott, features traditional Island food and Polynesian stories about the ocean told through music and dance.
Kona
One of the best luau on Hawaii Island, the Voyagers of the Pacific luau at the Royal Kona Resort treats you to an oceanfront evening of Hawaiian music and dance as well as Samoan fire-knife dancing.
Kohala
A delicious Island buffet, Hawaiian music and dance, and epic storytelling at the Hilton Waikoloa Village.
Set at the Smith family garden in Wailua, this luau features a buffet feast, open bar, hula and dance performances from Asia and the Pacific Islands in the torch-lit Pele Amphitheater.