Hawaiian culture has long been at the core of the Outrigger Kā'anapali Beach Resort, which opened on Maui's golden sands in 1964. So it's fitting that along with the recent renovation of a majority of its guest rooms and the debut of its award-winning beachfront restaurant, Huihui — all part of an $80 million renewal project — the hotel is also re-energizing its renowned Imi'po'okela cultural programs for guests, employees and the community. 
 "One of the things I'm most excited about is we have a new director of Imi'po'okela, Kahulu De Santos," says Mike White, the hotel's general manager. "She has been an absolute delight and a wonderful addition to the team. We have somebody who is very involved in the culture and brings a lot of knowledge, and she speaks Hawaiian."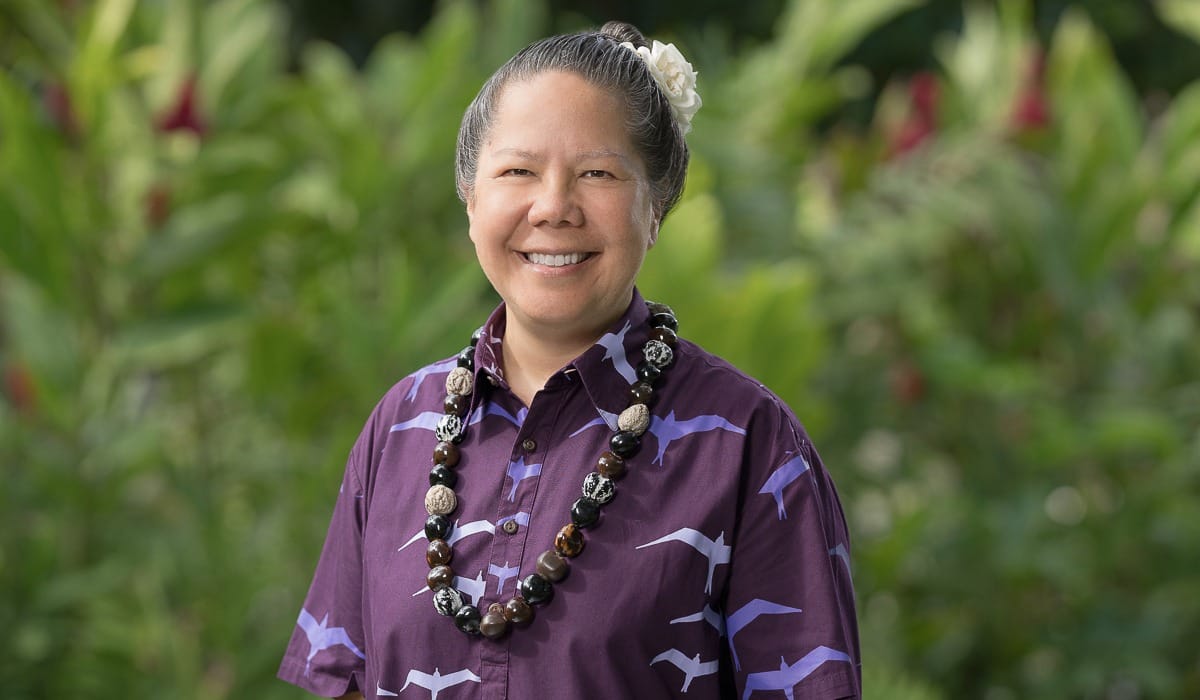 Previously at Aulani, the Disney resort on O'ahu, De Santos was ready to move back home to Maui when the hotel advertised the new position, White said. She arrived just in time to experience the hotel's recent fourth annual Kauluhiwaolele Fiber Arts Conference, and is now gearing up for the 30th edition of its popular Hula O Nā Keiki children's hula competition event November 10-12. 
The contest for boy and girl soloists, duos and, beginning this year, groups of keiki ages 5 to 17  "has become a place where not only the local hālau, but hālau from other islands, bring their keiki to perform in ways that are not always readily available," says White, using the Hawaiian words for hula schools (hālau) and children (keiki).
One of the competition's most distinctive elements is its requirement that contestants perform an oli, or chant, in Hawaiian and that the chants be specifically about Maui. Those had become hard to find when the contest first began, White notes. Now many chants and mele (songs) have been newly written or revived due to Hula O Nā Keiki.
 "We started off where we wanted to do it for the kids and the community, but also to reenergize and bring back to life some of the old Maui chants, by challenging the hālau to do the research and find those chants to perform," White explains. "From a community perspective, this is something that they've always been able to depend on the hotel to present and preserve." 
Photos courtesy of: Aubrey Hord
Photos courtesy of: Zane Mathias
Learning how to oli strengthens participants' knowledge and command of the Hawaiian language as well as their personal connection to a beloved Hawaiian tradition. Throughout the years, many of the haumāna (students) have grown up to become kumu (teachers) and have their own hālau hula. The winning kaikamahine (girl) and keiki kāne (boy) also have their youthful grace and beauty memorialized in a stunning black-and-white photo portrait on the beach, shot in the early morning the Sunday after the competition. 
While community support for this year's Hula O Nā Keiki has been overwhelming, there are still several events the public can enjoy with no tickets required. On November 10,  the hotel will present a free live music and hula show at 6 p.m.; doors open at 5:30 p.m. with seating  first-come, first-served. During the two days of competition, November 11-12, the community is also welcome to a festival of Hawaiian arts, fashion and local food with island vendors.
The fiber arts conference of weaving classes and exhibitions also blends preservation and celebration of native traditions. It starts and end with cultural ceremonies and concludes with live entertainment, displays and auctions to raise scholarship funds for instructors and students. This year 25 teachers and 155 students participated, fashioning hats, mats, bracelets, baskets, leis and other woven items from lauhala (pandanus leaves), coconut leaves and sennit, and even feathers.
*Although this year's conference has already passed, it will be back and better than ever September 6-9th, 2023 
Photos courtesy of: Aubrey Hord
"It's just such a fun event because all the energy's so positive," notes White. "Everyone's there to learn and listen, and the response that we get from the students is just one of such thankfulness that we're bringing all these master weavers, or kumu, together, from whom they can learn. We're hearing from the kumu that they love the event because it's a great teaching event but it's also an opportunity for them to spend time together as fellow masters and learn from each other."
This year students also had a chance to work with large pieces of kapa, the soft, thin sheets of fabric made from the bark of the paper mulberry tree (wauke), as well as the dyes used to decorate it, and according to White. "They had all kinds of questions and they wanted to test this and that," he notes. "The designs were very bright colors and it was really a diverse group of kapa products."
The weaving conference is more than just a fun way to learn about Hawaiian arts and crafts, White adds. "Our staff came to us and said to us, 'These arts are going to die off if we don't start focusing on generating more interest and generating more master weavers.' So while it's a wonderful event for the folks involved, the secondary purpose is to help preserve these arts in which certain practices or procedures have started to disappear."
Guests can also experience Hawaiian cultural activities offered through the Kawenaokeao cultural center in the hotel lobby. In addition to classes on 'ukulele, lei making, hula and the Hawaiian language, guests can sign up for multiple sessions a week on decorating kapa, weaving fibers, observing the ocean and using nature for navigation.
Navigation is also the theme at Huihui, where videos of sailing canoes on ocean voyages screen above patrons happily tucking into locally sourced food and listening to live Hawaiian music. Readers of Hawai'i magazine voted Huihui one of the top five new restaurants statewide in 2022, while Maui No Ka 'Oi magazine also gave it 'Aipono Awards for Maui's Best New Restaurant and Best Regional Cuisine.
 "We're very excited because the reception has been absolutely wonderful," White says. "The restaurant turned out, as far as the feel and siting of the restaurant, beyond my wildest dreams as we were planning it. It has a really nice feel to it."