Artists and artisans keep all five senses racing at Waikiki Beachcomber by Outrigger
Long considered a luau for the senses, Hawaii captivates visitors with the scent of plumeria and pikake lei, the warm caress of gentle breezes and lapping waves, and the sounds of slack-key guitar and ukulele. But few hotels have curated the sensory experiences of their guests as thoughtfully as the Waikiki Beachcomber by Outrigger, which calls itself "Hawaii's first and only craft hotel."
Found in the pulsating heart of Waikiki — on Kalakaua Avenue, a block from the beach and steps from popular shops and restaurants — the recently reimagined hotel has enlisted renowned local artists and influential experts to create distinctive sights, sounds, scents, tastes and touches for guests in public and private spaces. Combined, they produce Waikiki's most memorable sense of all: a unique sense of place. Here's how they do it.
Photos: Zak Noyle's Photography
The vivid sensory immersion begins as soon as visitors alight the open-air escalator to the second-floor lobby, which passes a 75-foot-long mural by acclaimed surf photographer Zak Noyle. The visual journey begins near a reef under deep turquoise water and ends in light at the surface of the ocean.
"That's at Pipeline on the North Shore," explains Noyle, referring to the legendary break that hosts big-wave surf championships in winter. "It's pretty rad to see it that way — the only bummer I have is that it's so close, you can't admire it all at once.
Luckily, those who are staying in the 496-room hotel can enjoy a close-up view of Noyle's aquatic photography: Another of his soothing-yet-exhilarating North Shore images appears on the headboards in each guest room. "I wanted something engaging that would transport the viewer there," Noyle notes. "I want people to hold their breath when they view it — I want you to feel like you're underwater."
Communicating the beauty and the power of the ocean has particular meaning for Noyle, who grew up riding the waves of Waikiki. "Waikiki is not only the birthplace of surfing — it's where I fell in love with surfing, it's where I fell in love with the ocean," Noyle says. "It's very important for me to share that with our visitors and our kama'āina (residents), to help them immerse themselves in the water. It's very powerful, but also beautiful and calming."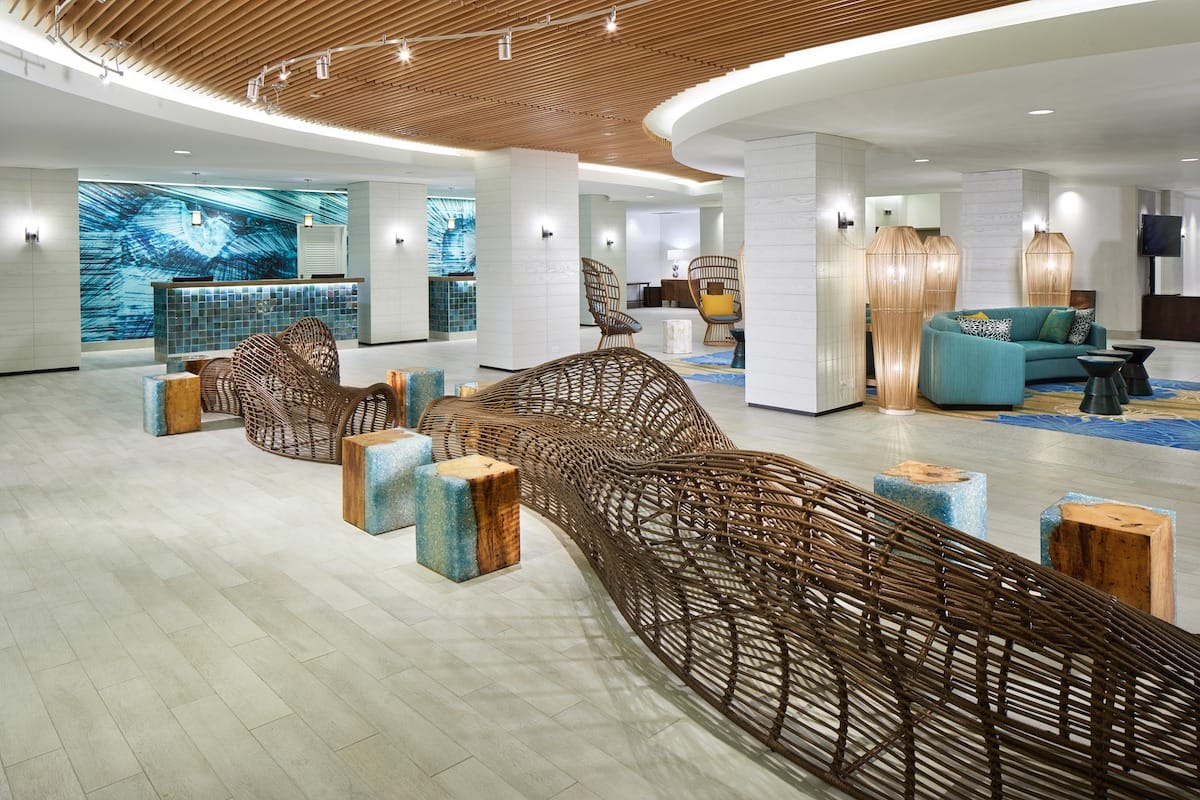 Photo: Waikiki Beachcomber lobby
It's hard to put your finger on exactly the genres or eras woven into the evocative music you hear along the escalator, in elevators and other public spaces of the Waikiki Beachcomber. You might hear traditional Hawaiian sounds like the blow of the pū, or conch shell, and the beat of fingernails on the ipu heke, or gourd; Asian elements like Tibetan bells or Chinese harp; and vintage background elements like the crackle of vinyl albums and radio static. Snatches of Hawaiian melodies may waft in and out, underpinned by electronica-style percussive beats.
"I was trying to capture something that was at once both ancient and modern," explains Makana, an award-winning slack key guitarist, recording artist and music producer who in recent years has been helping Facebook and Instagram build a library of public-domain Hawaiian music.
"When you think of the music of Hawaii, it's generally melodic driven. When you think of modernity, and a lot of the revamping and rebranding that's going on in Waikiki, including at the Beachcomber, you think of that lounge-y, down-tempo vibe," he notes. "My inspiration was, 'Wait a minute, I wonder if I can communicate through music what they're trying to do, while centering that experience in something that is timeless and Hawaiian.'"
As an analogy, Makana points to the work of Honolulu chef Ed Kenney, who sources food locally and reinvents and deconstructs traditional dishes like laulau, a mix of pork and butterfish wrapped in luau (taro leaves). "I took all the ingredients and I wrapped them in the luau leaf of the rhythms and the pace of how Waikiki has become," he says. "For us, Waikiki is not just how tourists experience it; it's many layers, and those are all layered into the music. I've tried to encapsulate those into the music, like archaeology that has layers over layers of thousands of years.
Artisan Tastes and Aromas
Photos: Hawaiian Aroma Caffe and Maui Brewing Company
You can also hear a variety of live local music at the Beachcomber's on-site food and beverage outlets, the poolside Instagram-worthy Hawaiian Aroma Caffe, which also operates an art gallery with a café on the ground floor, and Maui Brewing Company, which faces Kalakaua Avenue. And at Hawaiian Aroma Caffe, the latte foam art of barista Barby Casagrande has created such a cult following that people can take classes with her. Still, it's the heady combination of tastes and scents that lure patrons to return again and again. 
Jonathan Rotmensch, co-founder of Hawaiian Aroma Caffe, says he named his establishment in honor of his Italian mother's love of espresso in the morning. "Every day she would use her macchinetta, an Italian espresso maker, and the aroma would fill the whole house," he recalls. "I'd wake up to this smell, and the aroma was a new day, a fresh start, and so I thought the name sounded good."
Rotmensch says he tried hundreds of coffees in Italy before working with Jean-Claude Drui, the founder of Hawaiian Paradise Coffee, to produce a roast that mimicked his favorite. While the café offers Hawaii-grown coffee from Oahu's North Shore and Hawaii Island's Kona and Kau districts, its espresso drinks rely on an "amazing" proprietary roast of estate-grown Guatemalan and Peruvian beans, Rotmensch says. 
But the café is also known for its food options, including four kinds of acai bowls, a variety of waffles (including a matcha green tea version with coconut drizzle), and panini. "I decided people appreciate quality and once people started to drink the right coffee, we started to give them the right sandwiches," Rotmensch notes.
Similarly, Maui Brewing Company general manager and partner Shawn Shelton says the restaurant prides itself on its globally influenced menu along with its renowned lineup of signature beers and rotating special drafts. "It's a unique position to be a brewery and have such elevated food — pub fare with a global twist that has a palate for every guest — from a scratch kitchen, where things are hand-cut, hand-made and made to order," Shelton says. "We're lucky to have a chef who's studied locally to understand where these ingredients and flavors come from."
When guests ask what he recommends, Shelton notes, "I say pizza — we make all of our crusts by hand with our Bikini Blonde beer. It's made every day with very few ingredients, and it's fresh and delicious and good for you."
The same beer also appears in another favorite item of Shelton's, the Baja fish taco. "We dip our local line-caught mahi-mahi in a Bikini Blonde beer batter and serve it on fresh-made corn tortillas with house-made slaw and some chiles as well," he explains.  
The first beer ever to be brewed with coconut and toasted coconut, MBC's Coconut Hiwa Porter "really put us on the map," Shelton says, and is not only brewed year-round but also appears in seasonal variations. Another highlight are craft cocktails such as the chile-salted watermelon margarita, incorporating "Tequila, house-made agave sour, fresh watermelon juice and a little bit of simple syrup, and a little rim of salted chile, which is amazing," Shelton says.
Photos: Waikiki Beachcomber pool
Not surprisingly, the Beachcomber's sparkling, open-air swimming pool with hot tub one story above busy Kalakaua Avenue is a focal point for guests. According to Kiana MacDonald, the hotel's front desk director, a popular program of poolside yoga classes by expert local instructors, with mats provided by the Beachcomber, should be able to resume soon.
In the meantime, she says, many guests appreciate the singular sensation of watching a family-friendly "dive-in" movie while floating in the pool or basking in the hot tub. Hawaiian Aroma Caffe provides food service during the free Saturday night event. "It's just open to registered guests, and we have a different movie every month," MacDonald explains. "We usually play it at 7:30pm, and since the pool doesn't close until 10pm, you can swim and watch the movie, or sit in the hot tub, which has a perfect view of the film."
Previous selections have included The Greatest Showman, Night at the Museum and several X-Men features, MacDonald says. And if staying dry is more to your liking, "we have the existing chaise chairs or one of the cabanas," she notes. "It's really comfortable and you can just enjoy it."  
For more information or reservations, see www.waikikibeachcomber.com.