La Perouse Bay is one of the most popular hikes in the Wailea area, because you really feel like you have gotten away from civilization and into the true beauty of Maui. This can be a solo adventure or group activity, either way if you plan to hike to Kanaio Beach from La Perouse Bay, it's best to do it early or later in the day, when the heat is not so intense. Called Keoneʻoʻio Bay by the Hawaiians,* La Perouse Bay later got its name from French explorer Captain Jean-François de Galaup, comte de La Pérouse who mapped this area as well as the nearby island, Kahoʻolawe in 1786. He is said to be the first westerner to land on Maui. While the dates seem to vary, geologist agree that this lava marks Haleakala's last eruption.
Go to our shop page for cute UV tops, water shoes and other essentials.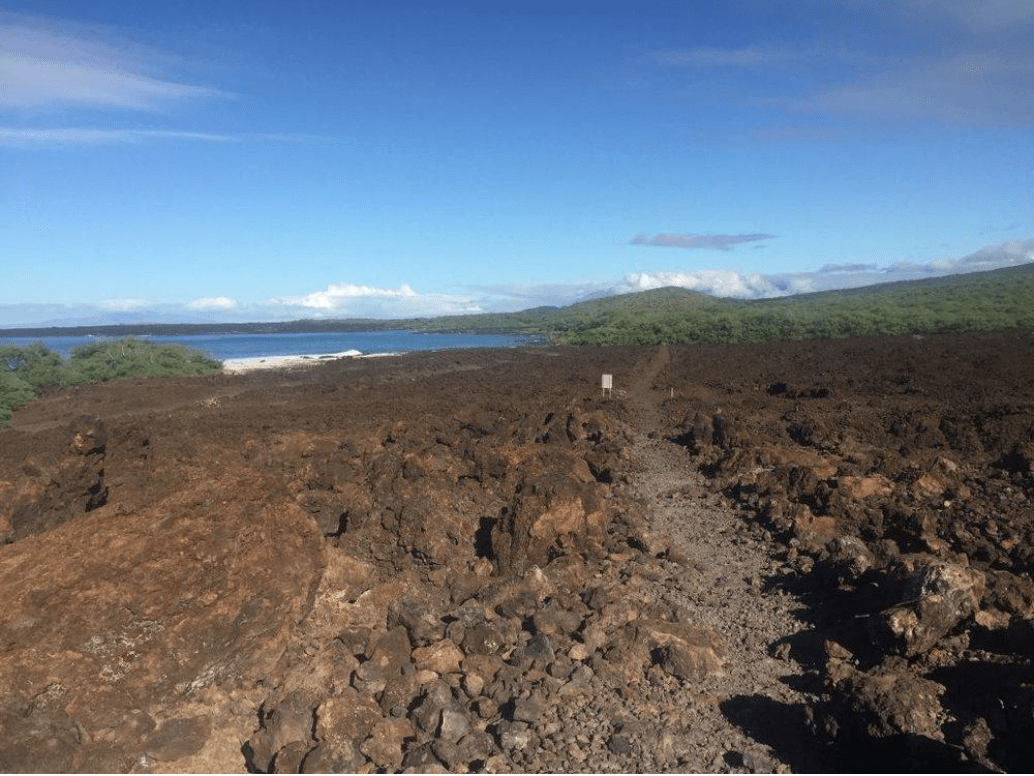 What you'll see: 
The bay is situated just south of the Ahihi-Kinau Natural Area Reserve. Fishing is prohibited within the reserve, but you will see many endemic and other fish species, marine mammals, green sea turtles, and coastal plants. If you plan to snorkel, be aware of conditions and ask the local concierge, clerk at the snorkeling shop, family picnicking at the bay about potential dangers.
The Hike: 
If you plan to leave the beach area there is a two-mile, centuries old path on lava, leading to Kanaio Beach. Fun fact, the trail is called Hoapili trail and is part of the King's Trail which once circumnavigated the island. Here you will find archaeological ruins, a rocky beach and some shade (watch out for thorns). It is a great spot to have a picnic, reflect on life, and take in the beautiful view of Haleakala. Note the small string of cinder cones that mark the southwest rift zone. These are remnants of the basaltic lava flow 900,000 years ago that formed this rounded peninsula.
Cultural Significance: 
According to Jonelle Kamai, a local cultural advisor, "[The structures found here] were typical lodging huts used by the people who lived in upcountry, the climate here would not have been comfortable enough to live here year round, but the abundant fishing and lure of the ocean would bring people down to visit, not unlike today."
What does it mean?
Words and phrases mentioned and translated by Jonelle Kamai.
A'a basaltic lava forming very rough jagged masses with a light frothy texture.
Ahihi-Kina'u the marine preserve
Alanui street, road, highway, thoroughfare. Literally "large path."
Haleakalā place name. House [used] by the sun.  Literally "house (hale) by (a) the (ka) sun (lā)."
Heiau place of worship, shrine, religious temple
Ho'okipa To entertain, to greet, to welcome host, to be hospitable.
Iki  Small, little, slight.
Kanaio Beach Kanaio translates as false sandalwood tree, and is a land division on the south side of Haleakalā, where its shore lies approximately between Kamanamana and Pōhakueaea Points. The several small rocky beaches here are known collectively as Kanaio Beach.
Keoneʻōʻio Bay, translates as the bonefish sand, and is the original name of La Pérouse Bay. Here you'll find small pockets of calcareous sand and coral rubble on the shore of an otherwise rocky bay.
Keone, sand
ʻŌʻio, or bonefish, is a popular fish for eating that forages in pockets of sand and is found at all three sites.
* Hawaiians didn't call themselves "Hawaiians" hundreds of years ago, a better term would be kanaka maoli, which means indigenous Polynesian people of the Hawaiian Islands or their descendants. But to keep things simple, I use the term Hawaiians.