Los Angeles offers a range of hotels that provide great value for travelers seeking affordable accommodations without compromising on comfort and convenience. When looking for good value hotels, don't forget to check for any current promotions or discounts available on the hotel's website or through online travel platforms. Additionally, booking in advance and being flexible with travel dates can often result in more affordable rates. Here are the best value hotels in Los Angeles.
Feature photo: Short Stories, courtesy of Stefan Merriweather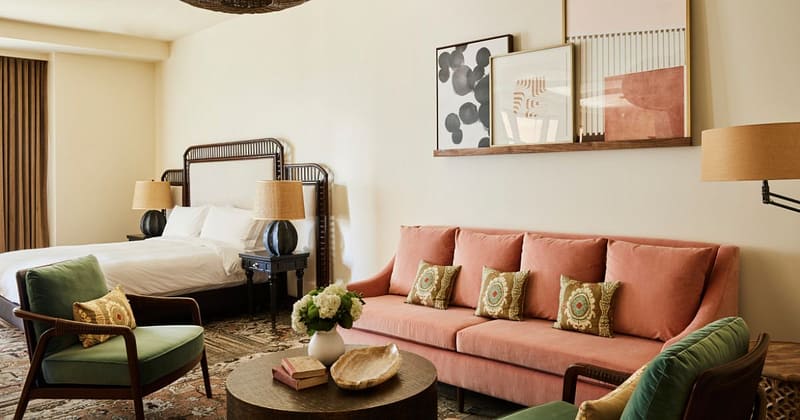 New to the "Vinyl District," a neighborhood embracing Hollywood and the Sunset Strip, is The Aster, a private club with a public all-suites boutique hotel from Salt Hotels. Even before its October 2022 opening, The Aster drew attention with the building's mural from Tristan Eaton. Eye candy (check out the view of Capitol Records) also comes by way of the pool deck and the rooftop bar.
TIP: Hungry? There's no reason to leave. Deliciousness of another kind can be had at The Aster's two restaurants — Aster Park and Chef Marcel Vigneron's Lemon Grove.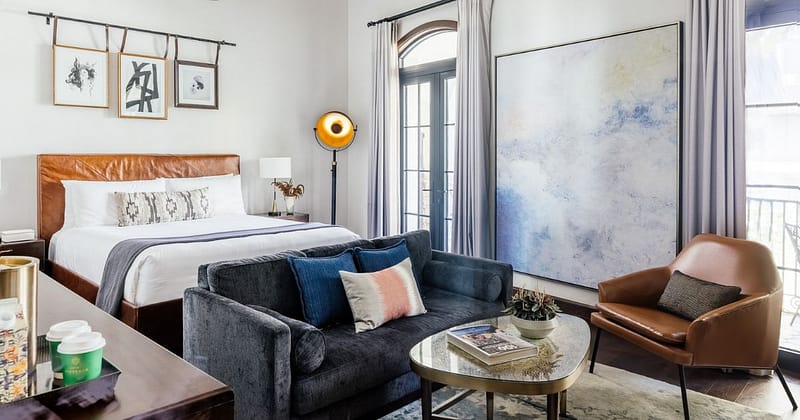 Situated in DTLA, Hotel Figueroa can be considered somewhat of a newcomer, having reopened in 2018, but the property has been around since 1926, when it served as a women-only hostel/YWCA. The theme of independent women continues today through the hotel's impressive art collection and eclectic design. Soak in the vibe over cocktails at Bar Magnolia. Linger longer over a meal at either Café Fig, La Casita, or Sparrow.
Yes, that's right, this Beverly Hills boutique hotel tucked on the tree-lined Lasky Drive is listed under value hotel stays. The only hint from Maison's traditional exterior that a distinct style awaits inside is the hotel's double red doors. The Kelly Wearstler-designed, sleek interiors keep the senses attuned. Another decision to be made: Mandarin- or Parisian-style accommodations? Luxe trappings await either way. Rest up, then take on Rodeo Drive.
TIP: At the on-site Bar Noir, Lucite stools and French slipper chairs suggest sitting down and sipping a cocktail or two.
Despite the name of its parent company, Coast Hotels, the Safari Inn isn't near the seashore. Instead, it's located in the San Fernando Valley city of Burbank. It is settled on a palm-lined street and sports a vintage sign emblazoned with a surfboard. Happily, there is an outdoor swimming pool for those looking to get some swim and sun time in. This mid-century modern hotel has been a fixture in Burbank since the 1950s.
TIP: Making mealtime convenient is Olive's Bistro & Lounge, open for breakfast, lunch and dinner.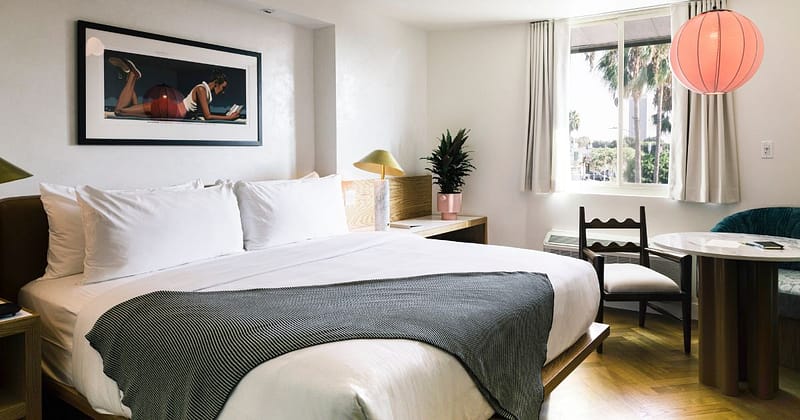 This Fairfax District hotel was once affectionately known as the Farmer's Daughter, a tip of the hat to its proximity to The Original Farmers' Market. Today, it's been rebranded as Short Stories. And, yes, each room has "a collection of worthwhile books." You'll also find artwork from LA-based artist Kenton Nelson, a trademark Italian apothecary, and a libations-stocked in-room bar.
TIP: When not hanging poolside, explore this "Television City" neighborhood and its shopping Mecca, The Grove. A must: visiting local icon, the 1931-established Canter's Deli.