What now appears as the ruins of a Grecian emperor's massive bath that went way over budget, are actually the remains of an early San Francisco mayor's outsized fantasy. Adolph Sutro was his name. As a young man, Sutro built a four-mile tunnel through a mountain to improve access to the silver mines of Nevada's Comstock Lode. He then brought his energies and ambitions into San Francisco and, in addition to becoming mayor, Sutro undertook another challenging project: building San Francisco's once luxurious Sutro Baths, which opened in 1896.
Featured Photo: Sutro Baths exterior circa 1896/W. C. Billington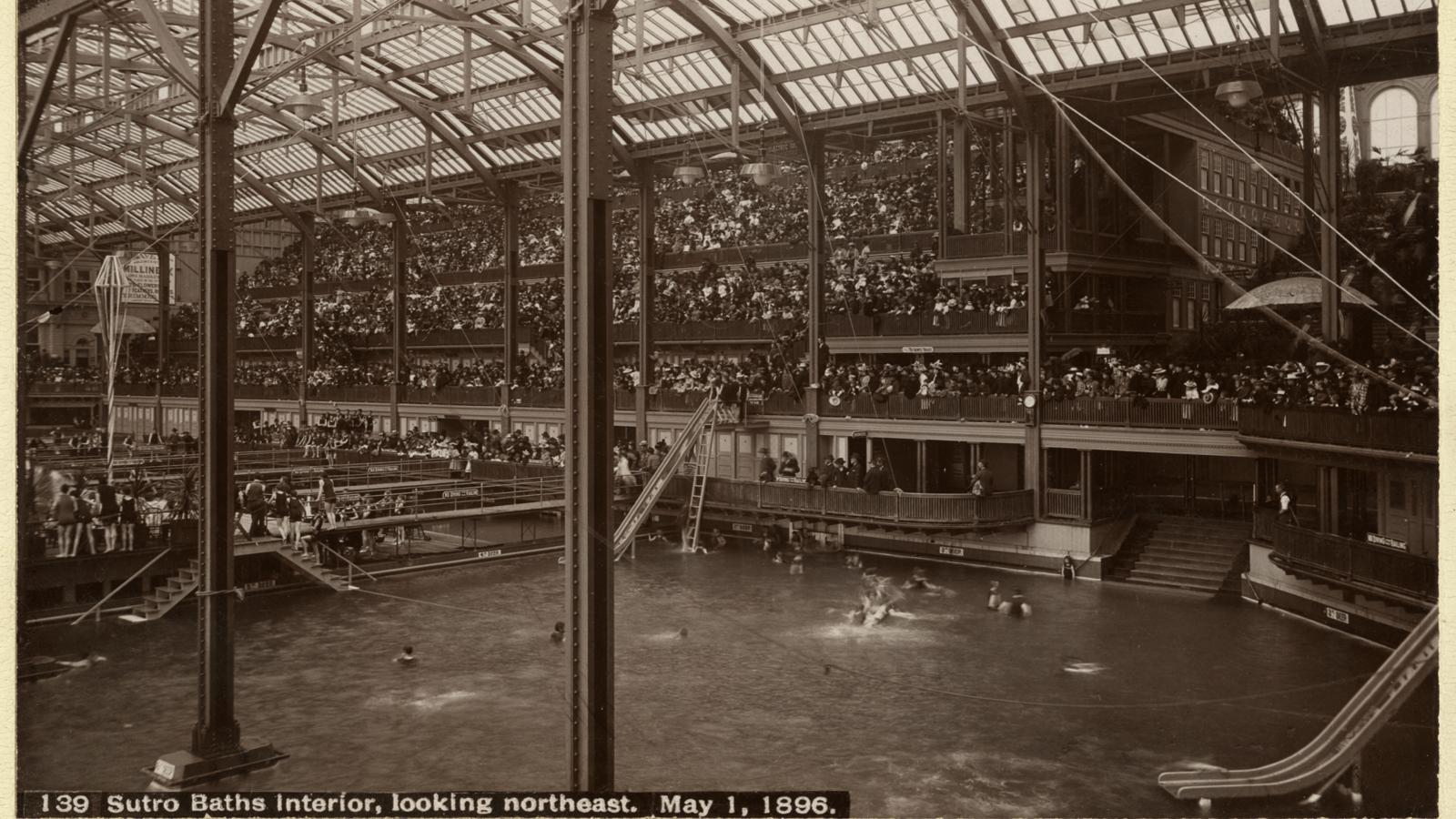 These baths were not for the affluent upper classes. Because along with energy and ambition, Adolph Sutro was endued with desire to enlighten, even inspire, the masses. So Sutro Baths was a place where working folks would exercise and refresh themselves, and also a venue where one could stroll on lawns underneath tropical palms while gazing at rare paintings, tapestries and such relics as Greek gods and goddesses and statues of characters from the novels of Charles Dickens.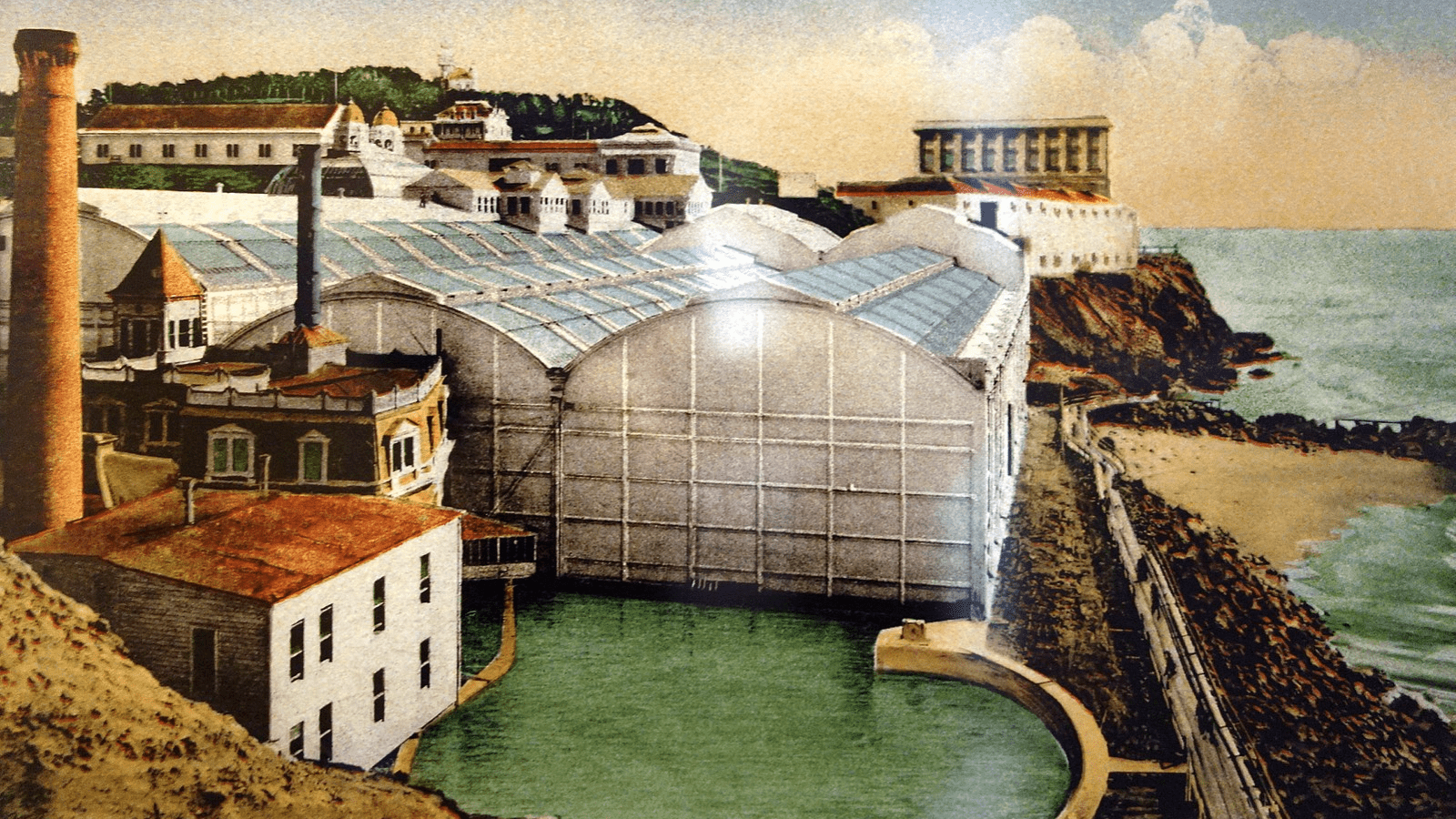 And about the baths, ah yes, the baths. There were seven of them, one filled with fresh water, the rest filled with saltwater and all set at varying temperatures. All of the pools featured water slides, floats, trapezes and springboards of various heights from which to dive. The largest of the seven pools was ingeniously filled every day in one hour by the Pacific Ocean's rising tide. In total, the pools held nearly two million gallons of water and could accommodate 10,000 bathers at a time — 20,000 bathing suits, along with 40,000 towels were available to rent. And if getting wet wasn't your style, Sutro Baths had an amphitheater seating 3,700 where shows were staged regularly, along with three restaurants that seated 1,000 diners on a nightly basis.
In all, Sutro Baths sat on three acres and cost $1 million in late-1800s dollars to construct. It was often billed as "California's Tropical Winter Garden" and held forth on the westernmost tip of San Francisco for 70 years. But years were not friendly to the Sutro Baths. 
Adolph Sutro died two years after his mecca opened, and his heirs lacked his passion for his palace. In 1937, Sutro's heirs converted the major pool into a skating rink; in the early 1950s, a new owner switched all pools to skating rinks; still business lagged. Then in 1964, developers bought the abandoned hangar-like structure with plans to construct high-rise apartments. But in 1966, a massive fire saved them their demolition costs and their plans for apartments never materialized. Today, the desolate remains of Adolph Sutro's baths are one of many attractions of the 87,000-acre Golden Gate National Recreation Area.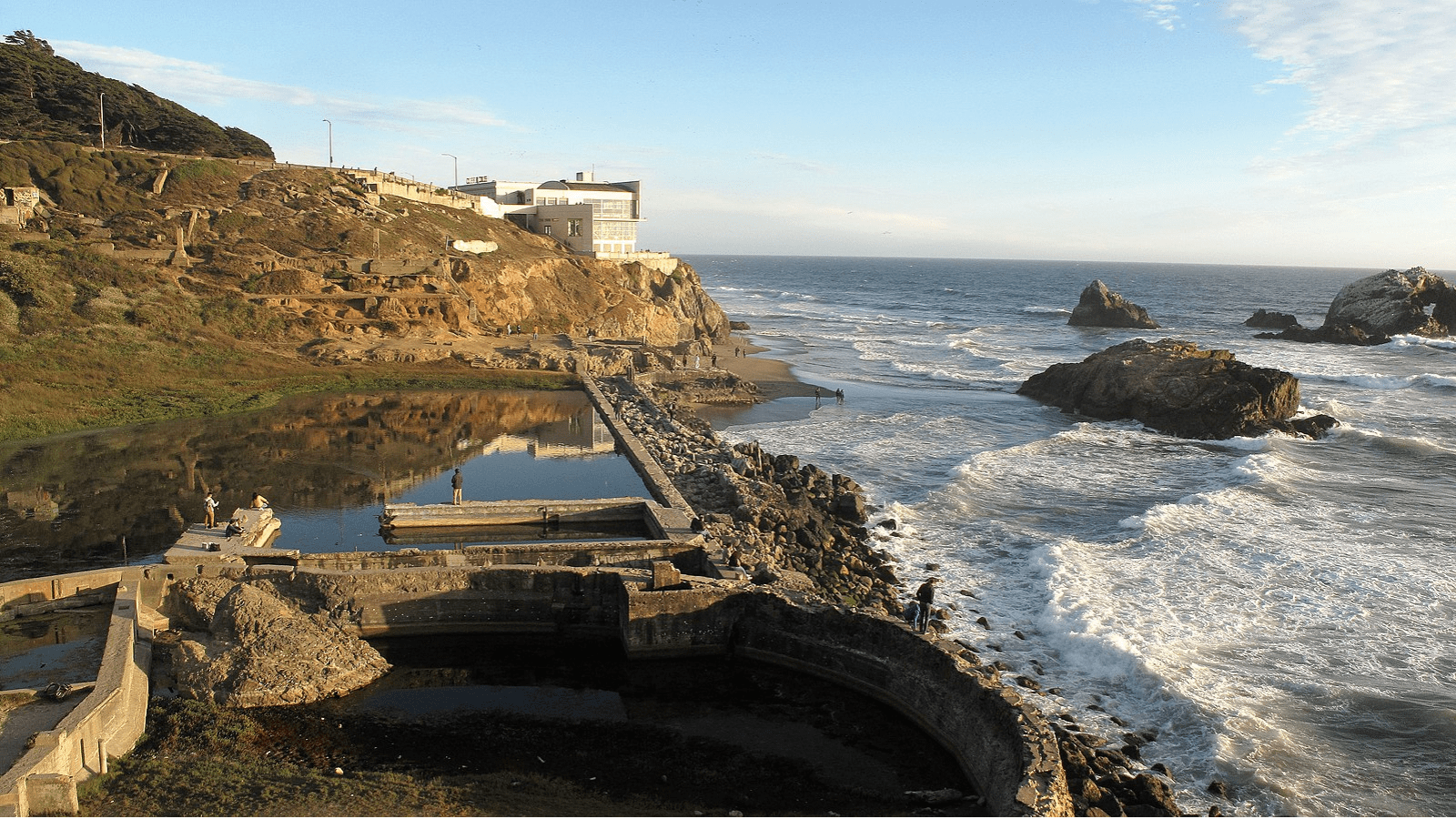 To reach the remains of the Sutro Baths, go west on Geary Blvd. from downtown San Francisco until it ends with at the Pacific Ocean and the Lands End area of the Golden Gate National Recreation Area.