A trip without your best friend is not a real vacation. And let's be real — there's nothing more sad than saying goodbye to your little buddy as you walk out the front door for a weekend getaway.
That said, here is a whole cache of pet-friendly getaways and hotels in Tahoe, Sonoma, Carmel and Marin. And if you want to bring a little surprise with you, pick up one of these toys your dog will love.
Featured Photo: Kojirou Sasaki
Garland Ranch Regional Park, Carmel
Roughly 9 miles into Carmel Valley is a little-known yet exceptional dog-friendly destination called Garland Ranch Regional Park with acres of open space. Once you pull in to the parking lot, follow the trail down the steps into the woods, cross a wooden bridge over the murmuring Carmel River, and gaze upon the open valley with the Santa Lucia Mountains rising ahead, you'll know you've found a special place that you and your dog will return to year after year.
Along with hiking with your dog at Garland Ranch amongst the numerous scenic trails, you can also partake in bird-watching (you can pick up a Checklist of Birds brochure at the usually unstaffed visitor center to mark those you've seen). The center also provides hiking maps — try the 1.25 mile Lupine Loop or the 1.5 mile Rancho Loop.
The park has an area set aside for mountain biking as well, plus picnic tables just beyond the Carmel River. And, of course, there are the famed beaches of Carmel, most of which are hugely popular destinations for dog owners because of their very tolerant pet policies. And if you need a pet-friendly place to stay, The Hideaway, The Getaway Carmel, Carmel Mission Inn, Monte Verde Inn, and Casa de Carmel are all great options.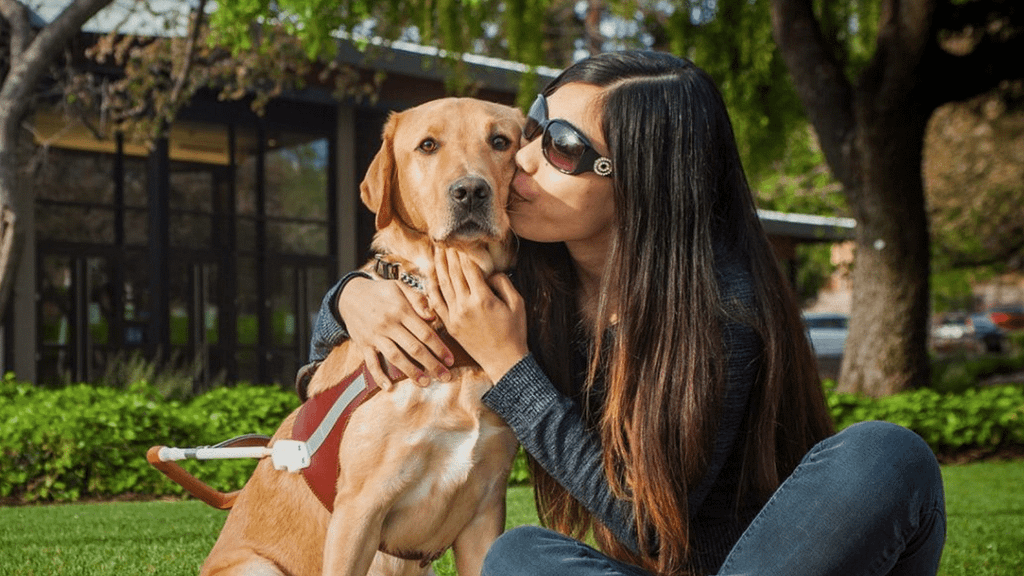 In the early 1940s Lois Mayhew realized there was a need to help wounded servicemen who would return from World War II without their sight. So in May of 1942 she rescued a German Shepherd named Blondie from a Pasadena dog pound and paired her with Sgt. Leonard Foulk, and together they were the first graduates of Lois' revolutionary new school — Guide Dogs for the Blind.
Today, Guide Dogs for the Blind in San Rafael (Marin County) is still breeding and training Labrador retrievers, German shepherds, and golden retrievers to act as eyes for the blind. After the dogs go through a rigorous four- to five-month training (you'll often see them on the streets of San Rafael with their trainers), they're introduced to their new owners, who then go through another few weeks of training with their canine companions, who are always provided free of charge.
What does this have to do with you? Guide Dogs for the Blind is a nonprofit organization that exists solely on private donations and volunteerism, so I strongly urge you to the set aside a weekend to visit the campus and watch a graduation ceremony (good luck not getting all teary-eyed) and take a guided tour, then look into ways you can join their family of volunteers or make a tax-deductible donation. 
Most of the beaches in Lake Tahoe are off limits to dogs, but here's a little secret: Near Zephyr Cove in South Lake Tahoe there's a place called North Beach that's part of Tahoe National Forest and allows dogs. You can park at the Zephyr Cove parking lot, then walk about 100 yards north to the beach. And a great source for more pet-friendly places to play in Tahoe is the Tahoma Meadows — click on "Pet Info" on the left column and it'll take you to their "Adventures with Your Dog at Lake Tahoe" page.  
If your dog had a bucket list, this would be on it: Drive to the Wine Country town of Healdsburg (window down, head out), rent a canoe at Russian River Adventures, and spend a gloriously sunny day leisurely floating down a serene stretch of the scenic Russian River, hanging out on the bow sniffing the river scents, swimming around the boat, and being the center of attention. There's barely a rapid on the river so it's very safe for both dogs and humans, and they sell doggie life jackets at the canoe rental shop as well.
What dog wouldn't enjoy a guided vineyard tour? An outfit called Zephyr Adventures hosts Sonoma Vineyards Walks where, for $125 per person (minimum group size is two), you get your own professional guide for the day who takes you on two vineyard walks of your choice, and inside access to private vineyard lands and people you would otherwise never see or meet. Also included are two wine tastings and lunch at the famous Dry Creek General Store. With advance notice you can also bring your well-behaved pooch to most wineries.
By the end of the tour you'll not only learn about wine making, grape growing, and the history of the vineyards from your own personal guide, you'll also be intimately familiar with some of the finest wines in Sonoma County. Log on to tastevacations.com to read more about the four wineries they offer tours to, then pick the two that look the most interesting (this tour also makes a great gift by the way). 
TRAVEL TIP: There are numerous websites on where to stay and play with your pet, but the best by far is dogfriendly.com.