There is no region as contradictory as the desert. At once, it's a dry, barren expanse. A monochromatic, sun-bleached brown landscape that's empty except for a handful of low-lying shrubs — a place people are banished where vultures circle overhead. But there's also a certain mystique surrounding this terrain.
It's impossible to notice when you're barreling down the highway, but at ground level the desert teems with life. Amid the rocks and bushes is an abundance of color and texture, resilient creatures and plants that have evolved to thrive in this unforgiving environment, and the most spectacular pastel pink sunsets around. Perhaps best of all, this enigmatic place doesn't even require a flight.
Here are the best places to stay, eat and things to do on your Palm Springs road trip.
Featured Photo: Kasia Pawlowska
About an eight hour drive from the Bay Area, the Mojave National Preserve is an ideal escape if you're looking for a rugged experience. Mid Hills, Hole in the Wall and other developed campgrounds are open, but if you wanna go big, primitive vehicle camping is also permitted throughout the 1,542,776 acres of the wilderness area. All you need to do is find an existing site — a fire ring — to not cause further damage to the land, and you're good to set up camp. 
Silent during the day, aside from warm gusts of breeze and sounds of scurrying lizards, everything changes when the sun dips below the horizon. Birds chirp, jackrabbits start hopping around. Surroundings infuse with color without the glaring rays and hues of green, purple and maroon pop out. Even the softest looking flora is deceptively spiky. Chollas, a cylindrical cactus, are known for their ability to "leap" and attach to you. I know from experience, walking away from one with no less than 10 thick, black barbs lodged in my calf and upper thigh. The desert is not shy, it will assert itself.
With no light pollution, stargazing is magnificent. Countless constellations, the Milky Way and shooting stars are easily visible, even through the mesh top of a tent. Check out the National Park Service website for a map of primitive site locations. nps.gov/moja/index.htm
A hipster den, a mid-century modern gem in the desert — the Ace Hotel & Swim Club has been described in many similar terms since it opened in 2009. Formerly a Westward Ho with a Denny's attached to it, this 179-room hotel is in a central location with plenty of restaurants and attractions like Joshua Tree, the Salton Sea, Salvation Mountain nearby. But with its onsite spa, restaurant and bar, two big pools — one of which has an old school bus that's been converted into a DJ booth next to it — this is just as easily a place you never really have to leave. 
Dog-friendly with a glamorous Sahara, bohemian-vibe, the rooms feels like being inside an air-conditioned luxury Sibley tent. But no two rooms are exactly alike. Some have a garden patio or a fireplace, others have record players, all have vintage furniture and original artwork created by local artists. A truly unique getaway. acehotel.com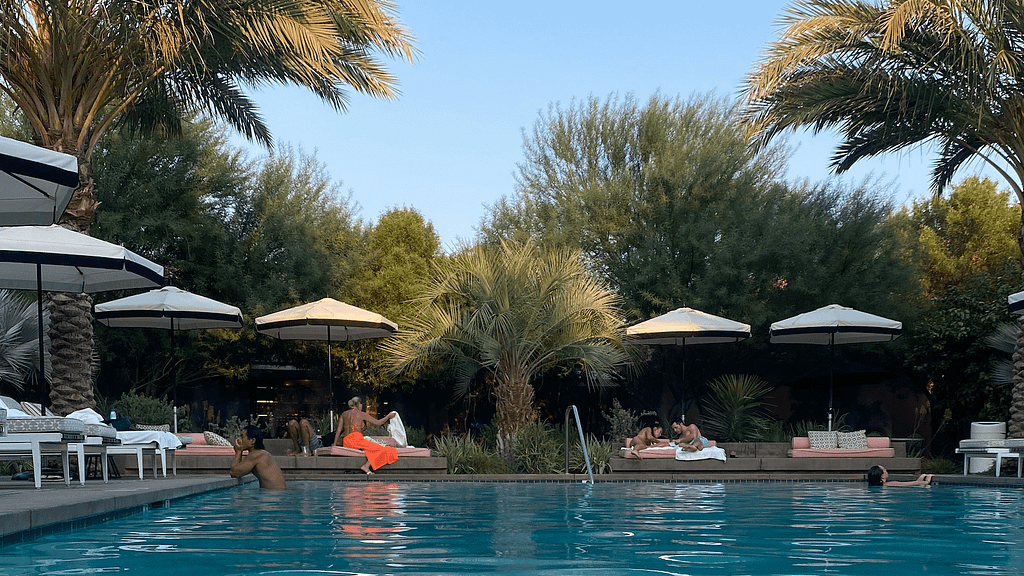 About 15 miles southeast of Palm Springs, the Sands Hotel & Spa in Indian Wells is an oasis with a Moroccan twist. The desert seems to eschew cookie-cutter hotels and this is no exception — each of the 46 guest rooms and three suites has its own original design. Award-winning interior designer Martyn Lawrence Bullard used a series of different color combinations, furniture, and custom textiles to create the spaces, making each feel refined yet warm.
The Pink Cabana, the hotel's restaurant, is open and has expanded outdoor dining to the Olive Grove. With Chef Jason Niederkorn at the helm, the Pink Cabana serves up Mediterranean cuisine with a Moroccan influence that's garnered accolades from Condé Nast Traveler, LA Times and Forbes, amongst others. It doesn't get much better than lounging on your private patio or under a mister by the palm flanked pool, sipping on mojitos and nodding off to smooth, daytime disco jams. sandshotelandspa.com
Stepping inside the Tropicale feels like walking onto the set of The Birdcage. With heavy Miami vibes and menu featuring lighter fare that's ideal for the desert climate, there are plenty of fresh and grilled items here including the vintage ranch gorgonzola-crusted filet mignon and Kailua barbecued pork chops in addition to numerous salads and tapas. And mojitos. The mojitos are fantastic. 
The Coral Seas Lounge, midcentury style bar, wraps around the dining room and leads outside to a lush, 2,000 square foot dining patio where a variety of specialty cocktails and old-school favorites are mixed. It's a perfect nighttime gathering spot. thetropicale.com
A restaurant, concert venue and desert legend, Pappy + Harriet's Pioneertown Palace has been universally treasured since 1982. It also has a compelling history. Pioneertown was a living movie set and more than 50 films and a handful of TV shows were filmed here throughout the 1940s and 1950s.
In 1982, Harriet and her husband, Claude "Pappy" Allen, opened Pappy + Harriet's Pioneertown Palace. A one-of-a-kind venue that serves some of the best ribs in the country — sue me — coming to Pappy's to see a show is always a treat. I've seen a few over the years, but dozens of world-renowned acts have also taken the stage over the years, including the likes of Paul McCartney and Robert Plant. pappyandharriets.com
October 4-17
The tournament makes its long-awaited return, as the world's best tennis stars gather underneath our sun-kissed sky for this world-renowned event. The unique Tennis Paradise experience includes exciting on court action, live entertainment, shopping, exquisite dining and more.
October 7-10
This 4-day, twice a year experience is enhanced when embraced in the great outdoors amongst fellow music lovers. Better still in an intimate setting, where the distinction between artist and audience is blurred, and a passionate performance can be truly relished in close proximity to the stage. Add free water to patrons, no service charges on reasonably priced tickets, and well… let the games begin.
October 14-17
Modernism Week Fall Preview 2021 is a four-day long event which will host events, tours and parties, some hosted in private locations. The Palm Springs Modernism Show & Sale — Fall Edition will be taking place, featuring over 40 premier national and international decorative and fine arts dealers — offers exclusive access before it is opened to the public. 
November 1-7
The 35th annual Greater Palm Springs Pride is happening this year as a free festival bringing a diverse community together. Known for celebrating strength, equality and self-determination of the LGBTQ community, Greater Palm Springs Pride celebrates with a parade, festival and a vendor marketplace.