They call it Death Valley for a reason. Utterly inhuman, this scorching region of tortured rock, shifting dunes and fetid lakes is one of the hottest and most inhospitable regions in the world — an unnatural phenomenon so eerie it would make Hieronymus Bosch cringe with envy. This, of course, is all the more reason to come and see it for yourself, simply because there is no other place like it on the planet: a haunting, primordial enigma that is both fascinating to behold and troubling to the soul — a geologic car wreck if you may. But describing the surreal beauty of a desert is like reading a guide book; you get the picture, but it's never as good as the real thing. For that, you must take the trip.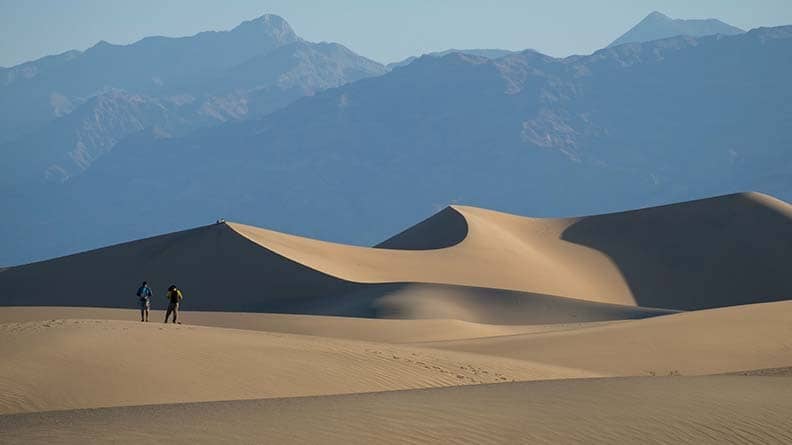 Death Valley earned its cheerful moniker from ill-fated 49ers who, in search for California gold, were forced to cross California's Mojave Desert to avoid Sierra Nevada snowstorms to the north. The unlucky souls who didn't make it must have turned in their sandy graves when, in 1933, President Herbert Hoover designated Death Valley a national monument ("They made this place a park?").
The result was a gold mine of a different sort: tourism. In fact, Death Valley is one of the largest and most heavily visited National Parks in the United States. Perhaps it's our love affair with the wild west that explains the droves of curious Georges who arrive from around the world in their wide-brimmed hats, dark glasses and tennis shoes.
Whatever the reason, during the summer months — when temperatures regularly reach and exceed 120 degrees Fahrenheit — foreigners outnumber Yanks four to one (oddly enough, German tourists relish our near-mythical heat waves). From October through May, however, the weather is far more agreeable, making Death Valley the ideal off-summer destination.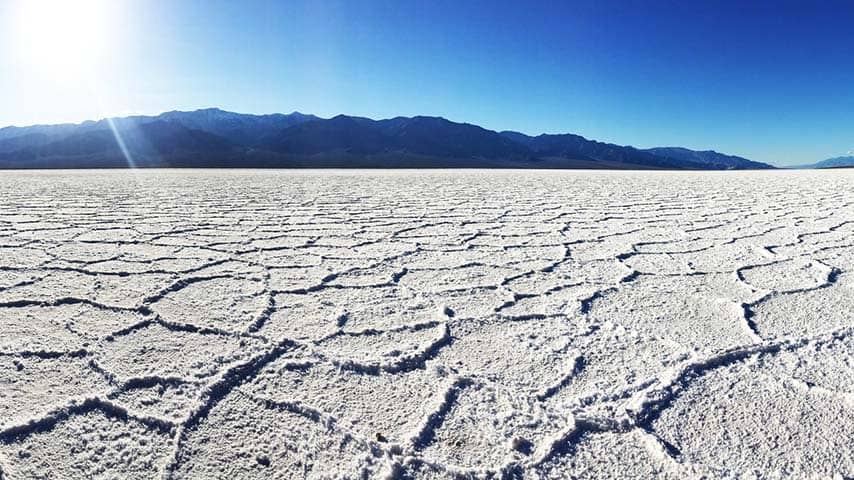 Visiting a desert begs the obvious question, "But, what do you do there?" In Death Valley, at least, you're spoiled for choices. In fact, there are so many fascinated sights to see that it's a good idea to first visit the Furnace Creek Visitor Center (Furnace Creek is the hub of Death Valley National Park), watch the hourly slide show on Death Valley's attractions, and form a game plan of the places you have time to see while you're there. And be sure to check out the free mineral and mining museum while you're here — you'd be amazed at the utility of borax.
Top on your touring list should be Badwater Basin, a foul-tasting but non-poisonous spring-fed pond oozing with sulphates, chloride and various tiny critters you wouldn't want to swallow. Just beyond Badwater is a huge, shimmering lakebed of moist white minerals that is the lowest spot in the Western Hemisphere, 279 feet below sea level.
Other highlights include Artists Palette, an eroded hillside colored with a mosaic of greens, reds, pink and blue hues (very trippy); Dante's View, an incredible scenic overlook of valley floor some 5,475 feet below; Sand Dunes, fifteen square miles of picturesque wind-blown dunes of golden sand (best seen at sunset); and the Salt Creek Interpretive Trail, home of the Salt Creek pupfish. Found nowhere else on earth, this unique and ancient genus of salt water fish lives in the briny marshes of Salt Creek (from the boardwalk you can see nearly a million of the hardy little buggers squirming around).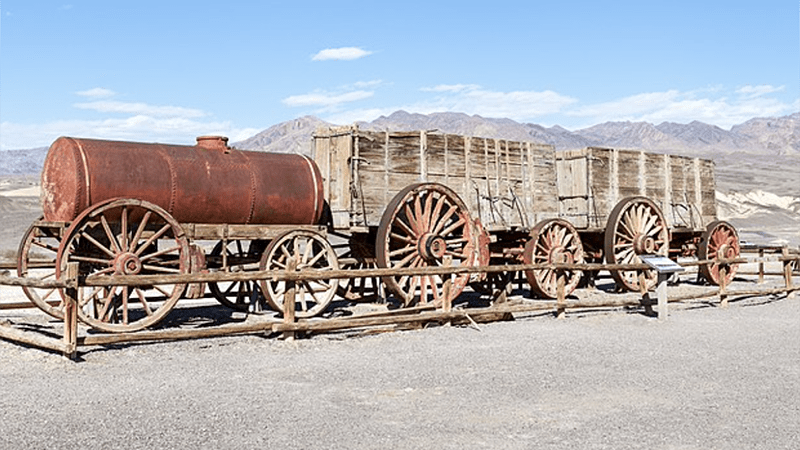 Equally as mystifying as the natural attractions are the manmade curiosities scattered throughout Death Valley. Foremost is Scotty's Castle, the former desert retreat of an eccentric Chicago millionaire that is, oddly enough, Death Valley's most popular attraction. Built in the 1920s, the ornate mansion is the last thing you would expect to find in the desert. Unfortunately, the historic site was partially destroyed by fire in April of 2021. It is scheduled to re-open in 2022. Check the website for current information. The Harmony Borax Works, located a few miles from Furnace Creek, is also worth a look. In the late 1800s millions of pounds of borax were mined from the valley floor and hauled — via huge wagons pulled by 20-mule teams — nearly 200 miles to the rail station at Mojave. A short trail lined with interpretive signs leads past the ruins of a dilapidated borax refinery.
Far more recent man-made additions to Death Valley are the region's only lodgings: the The Inn at Death Valley, a posh resort overlooking the valley; Furnace Creek Ranch, where the more budget-conscious people stay; two outlying low-budget resorts, the Stovepipe Wells Village, and Panamint Springs Resort, and ten campgrounds (see "Death Valley Lodging" below). Otherwise, Death Valley is, well, deserted.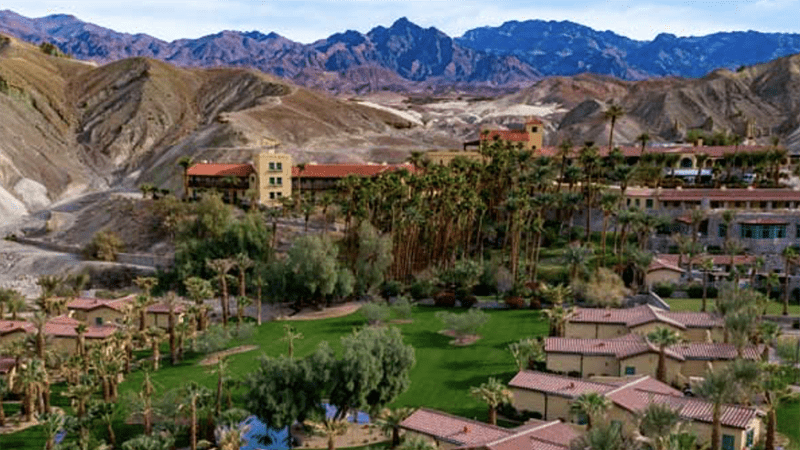 A literal oasis in the desert, the Oasis at Death Valley, formerly the Inn at Furnace Creek, is more Palm Springs than Death Valley. Current owners spent $100-million on renovating the historic inn that has been operating since the 1920s. Accommodations include a four-story hotel and casitas throughout the grounds. A multitude of palm trees, lush lawns and ponds surround the opulent estate, where well-heeled guests play tennis and golf, ride horseback through the surrounding desert, or lounge by the heated spring-fed pool. Plush guest rooms are loaded with every conceivable amenity. Be sure to reserve a room months in advance; the hotel is usually filled year-round.
Located on the western boundary of Death Valley is Panamint Springs, a small, privately owned resort about 45 miles west of Furnace Creek. If you're not wealthy enough to afford the Furnace Creek Inn, this should be your first choice for lodging. It offers 14 rustic motel units — all equipped with standard furnishings, including the requisite A/C — that form a half moon around the lodge and restaurant. There's also a campground with hot showers, as well as full hook-ups for RVs. Both the staff and guests tend to be the fun-loving low-maintenance types, particularly in the evening when the beers start flowing (okay, early afternoon). 775.482.7680
Everyone who can afford the Inn at Death Valley and doesn't know about Panamint Springs Resort stays here. It offers over two hundred motel-like units equipped with a telephone, television, and air-conditioning. Smoking and non-smoking rooms are available as well. On the grounds are a spring-fed pool, golf course, lighted tennis courts, three restaurants, a saloon, and a general store. The caveat, however, is that the place is huge and always packed, which completely spoils the get-away-from-it-all experience one hopes to find in the desert.
Stovepipe Wells, located about 20 miles northwest of the Inn at Death Valley, is similar to Furnace Creek Ranch, but on a smaller and slightly cheaper scale. The 83 motel rooms are rather plain — as is the adjacent pool, gift shop, general store, restaurant and saloon — but it your looking to save a little money and don't really care where you sleep (as long as the air conditioning works), the Stovepipe will suffice.
If all of the lodgings above are booked, then I recommend staying in nearby Lone Pine, which has several inexpensive lodgings.