Wondering where to experience the culture and natural beauty of Palm Springs? You've come to the right place. From iconic and scenic must-visit places to activities that are unique to the area — here's what you should do while visiting Palm Springs.
Featured Photo: Andreas Canyon at Agua Caliente, courtesy of Max Whittaker
After grabbing a date shake at Hadley's Fruit Market, continue cruising east on the 10 freeway towards Palm Springs. You can't miss the giant Cabazon Dinosaurs — a kitschy roadside attraction that's fun for the kids. Mr. Rex, Dinny and 50 more gargantuans provided endless photo opps and Instagram favorites. Young ones can do the dinosaur dig and fossil panning or climb inside the 150-foot Brontosaurus — or  potentially Apatosaurus — for free which naturally leads to the gift shop. cabazondinosaurs.com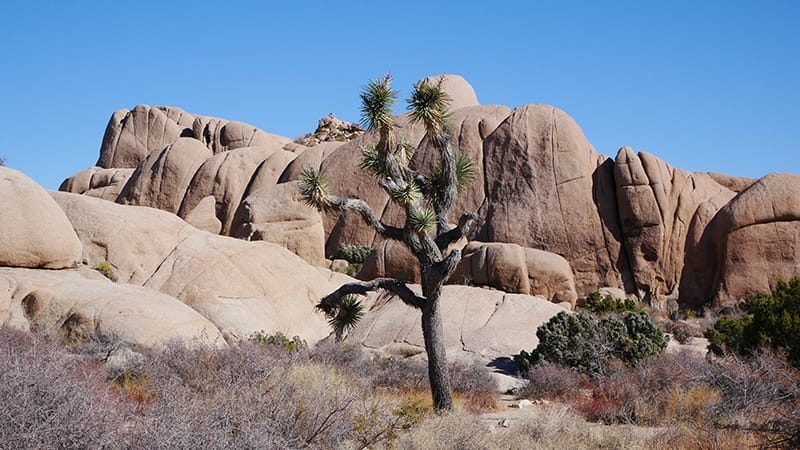 This Dr. Seussian National Park, known for its bristled twisted trees, giant boulders and desolate landscapes, may have been put on the map by U2's famed album, but rock climbers, star gazers and adventurers have long known about the park's wealth of beauty and solace. You can hike, bike or camp, explore cactus gardens, wander through the wildflowers, catch the Perseid Meteor Showers in all their glory, grab your binocs for birding or tackle one of the 8,000 rock climbing routes through this magical 800,000-acre park. nps.gov/jotr/
Living Desert Zoo and Gardens
This gorgeous zoo, tucked in a canyon, is a perfect afternoon adventure where you can mingle with butterflies, ride a camel, meet the meerkats, or feed a giraffe during the daily feedings. During the holiday season a dazzling display of lights, music and holiday cheer enlivens the park during WildLights. livingdesert.org

If pioneer relics, crystals and rare plants are of interest to you, then a stop here is essential. Established by Patricia and Chester "Cactus Slim" Moorten in 1938, the property is now a living museum that features the world's first cactarium — a term the couple invented — as well as plants from Baja California and as far south as Guatemala. Stop by the Cactus Castle, the Moorten's Mediterranean style home, and grab a spiky memento from the nursery on your way out. moortenbotanicalgarden.com
The historical heart of Palm Springs, and the home of the Palm Springs Walk of Stars, is lined with none other than palm trees that are continuously illuminated with sparkling lights. On Palm Canyon Drive as well as Indian Canyon Drive beside it, visitors will find a goldmine of art galleries, restaurants, pubs, historical buildings and every kind of shop. palmsprings.com/palm-canyon-drive/
Tick some superlatives off your list and head to Mt. San Jacinto State Park and Wilderness Area via the Palm Springs Aerial Tram, the world's largest rotating tram car. Traveling over two-and-a-half miles along the cliffs of Chino Canyon, the tram cars rotate slowly over the course of ten minutes, providing eye-popping sights with every turn. At the top, it is 30 degrees cooler than the desert floor, meaning you can have a snowball fight in April while the masses bake below. Considered a sky island as it contains plants and animals that couldn't survive valley temps, visitors can find numerous forests of Ponderosa, Jeffrey and Lodgepole pines, and even a grove of giant sequoia trees. pstramway.com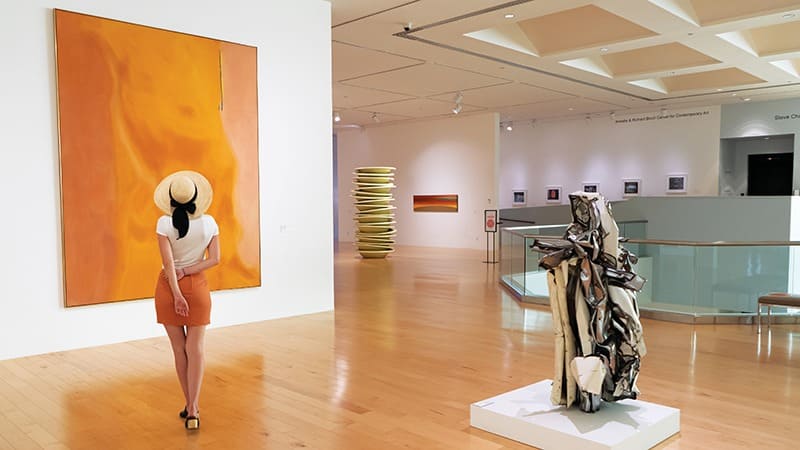 The Palm Springs Art Museum boasts two museums in downtown Palm Springs and a sculpture garden in Palm Desert. The main campus houses the famed Annenberg Theater, while the E. Stewart Williams-designed Palm Springs Art Museum Architecture and Design Center – Edwards Harris Pavilion is now devoted to just that. The Faye Sarkowsky Sculpture Garden displays the works of modern masters within four acres of landscaped desert teeming with water features, native plants, and winding walkways. psmuseum.org
Established in 1946 as a "living breathing movie set," Pioneertown filled the screens of 50 western films and serials during the 40s and 50s with legends like Gene Autry, Leo Carillo and Smiley Burnette in the saddle. You can still hitch your horse in this desert town, 30 minutes outside of Palm Springs, and explore the old bowling alley and mercantile shop. You may even catch the occasional gunfight on Mane Street (not a typo). Most importantly don't miss the barbecue and live music at local eatery Pappy and Harriet's where rock stars often drop in for surprise sets. Think Paul McCartney, Lucinda Williams or Jakob Dylan to name a few. visitpioneertown.com
Located within the Agua Caliente Band of Cahuilla Indians Reservation, the rugged, palm-flanked Tahquitz Canyon ends with a dramatic 60-foot waterfall, and is among the most culturally significant sites in the area. The legend of this canyon's namesake, Tahquitz, says that he was the first shaman created by Mukat, the creator of all things. Like many with power, Tahquitz used his power for good early on, but grew selfish over time and started to harm the Cahuilla People, who banished him to the canyon that now bears his name. It is said that rumblings within the mountain and green fireballs streaking across the night sky are his spirit living on. Stop at the visitor center at the entrance of the canyon to take in views from the observation deck and to see ancient artifacts. tahquitzcanyon.com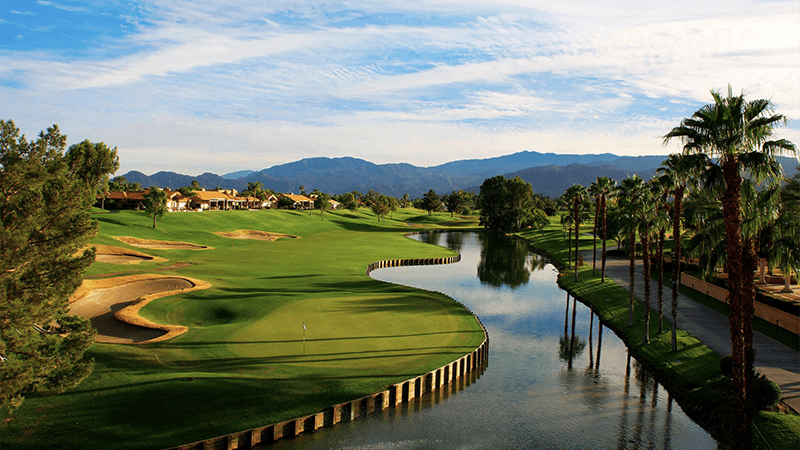 From the air, the Coachella Valley resembles a jigsaw puzzle consisting of more than 2,000 grassy configurations. Put them all together and that number represents the staggering sum of fairways and greens in this California desert playground where the sun shines all day. Picking a favorite is nearly impossible, but with its 6,706-yard layout set among beautiful rolling hills and spectacular sights of the surrounding desert mountains, and the Pete Dye Resort Course located at Westin Rancho Mirage Golf Resort and Spa is a must. In fact, it's been described by some as "potentially diabolical, yet indescribably playable." westinranchomiragegolf.com
Looking for more things to do in the area?
Visit our Palm Springs page for more!