Any list of luxury hotels in the East Bay will always feature the historic Claremont Club & Spa by Fairmont. Three more properties are within a stone's throw of the campus at UC Berkeley and another, in Jack London Square, is handy to San Francisco ferries and the Amtrak station. Without further ado, here are the best luxury hotels in the East Bay.
Featured Photo: Claremont Club & Spa
"The Little Castle" earned this name because its esteemed architect, Julia Morgan, also designed the famous Hearst Castle on a mountaintop south of Big Sur. Opened in 1930, this elegant property — which is on the National Register of Historic Places — is all about its gracious presentation and urban location in downtown Berkeley. Thirty-eight rooms and suites total, some have views of the Golden Gate Bridge. Amenities include complimentary breakfast, overnight parking, bocce, a courtyard and a heated indoor pool. There's on-site dining at Julia's.
TIP:  There's on-site dining at Julia's
"The White Castle on the Hill" is set on 22 acres of landscaped grounds, an elegant landmark since 1915, and just moments from the Oakland side of the Bay Bridge. In addition to superior accommodation in its 276 rooms and suites (many with views of San Francisco Bay), plus chef-led dining at Limewood Restaurant, hotel guests enjoy member privileges and facilities: tennis, swimming, fitness classes and spa treatments. Three outdoor heated pools include a children's activity pool plus a whirlpool. Valet parking.
TIP: There's hiking nearby at Claremont Canyon Regional Preserve.
Forget minimalism. Graduate Hotels go for maximum impact and a hyper-local approach, always in tune with the nearest center of higher learning — in this case, UC Berkeley, a less than a five-minute walk. Formerly Hotel Durant, the 144-room property housed in a historic building was newly branded in 2017. This hotel doesn't take itself too seriously. A lobby mobile is made from books, the walls are decorated with yearbook photos and shower curtains are dictionary-themed. A gastropub inside the hotel is Henry's Public House, named for the university's founder, Henry Durant.
TIP:  Don't miss the hosted wine and cheese hour.
When it comes to Berkeley, this property is all about old world style — with modern touches, naturally — and a central, highly walkable location. No two guest rooms are alike but they all have complimentary Wi-Fi, flat screen HDTVs, in-room safes and more conveniences. Also convenient, the University of California Berkeley campus is two blocks away and the Downtown Berkeley BART station is just across the street.
*Readers' Choice Best Luxury Hotel in the East Bay
TIP:  The hotel has wide appeal: social events, business meetings, families and their pets, too.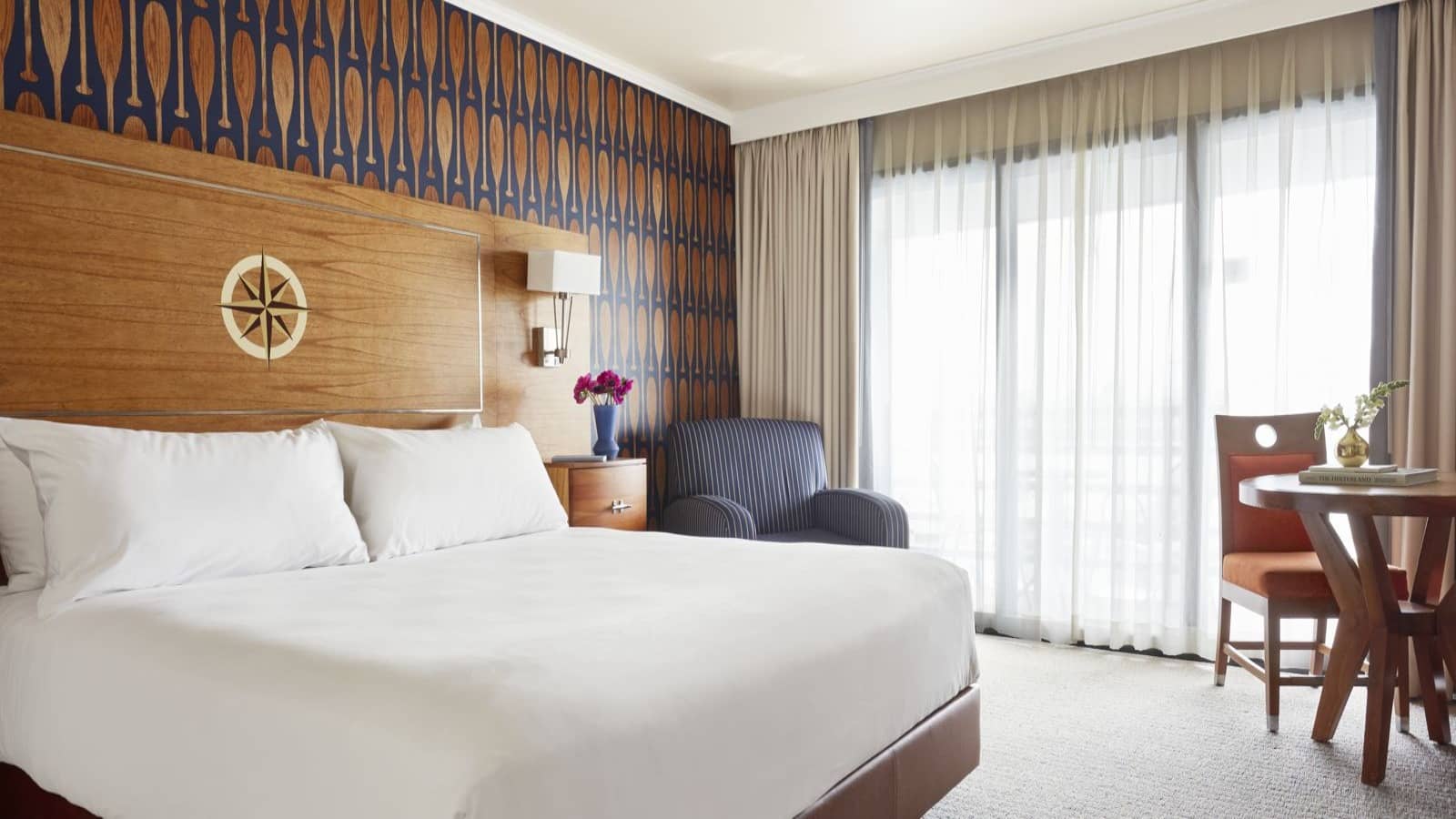 Balconies, fireplaces, and waterfront views of San Francisco Bay sounds just about right for a nautical-themed hotel in Oakland's Jack London Square. The big fireplace in the lobby is a boon on foggy evenings and the outdoor pool is a plus for sunny days. This is a family-friendly location, within walking distance to some of the best dining in Oakland, including adjacent Plank, with its beer garden, bowling and bocce. Ferries to and from San Francisco stop right here for a carless 30-minute jaunt across the bay. Collect or use Hyatt points.
TIP: The 145-room hotel is pet-friendly and close to the Amtrak station in Emeryville.
More Local Favorites in the East Bay