According to Wikipedia, the Santa Barbara South Coast region is the northernmost part of Southern California. No matter how you slice it, or measure it, it feels like Santa Barbara is in middle of California and attracts about seven million visitors a year — the pandemic has not slowed it down. Lodging options range from camping to roadside inns, short-term rentals, super opulent hotels and homes fit for royalty. 
High-end properties like The Ritz-Carlton Bacara and the now-shuttered Four Seasons Biltmore reinforce the town's uber-luxe reputation, however, value can be found throughout the county.
Upper State Street gives off the local vibe — you'll find lots of great restaurants and shops not serving the flocks of tourists. And an even more residential vibe is the area between Goleta and the city of Santa Barbara — locals call it "Noleta" — which is also full of plenty of under-the-radar places to seek out good rates.
Here are our top picks for hotels in Santa Barbara.
Featured Photo: The Ritz-Carlton
Offering a taste of that old-timey elegance, Mar Monte Hotel has recently reopened as a reincarnation of the historic 1930s Vista Mar Monte, which went through many iterations and eventually was simply known as, "The Hyatt" for decades. The property is still under the Hyatt umbrella in the Unbound Collection. The 200-room Spanish-style property ambles over three oceanfront acres with a pool, comfortable lobby areas and two ballrooms for celebrations or company meetings. Another great feature of this property is the proximity to the Cabrillo Pavilion, which has also undergone a sizable renovation, and is a popular spot used for big family parties and weddings and large group functions. hyatt.com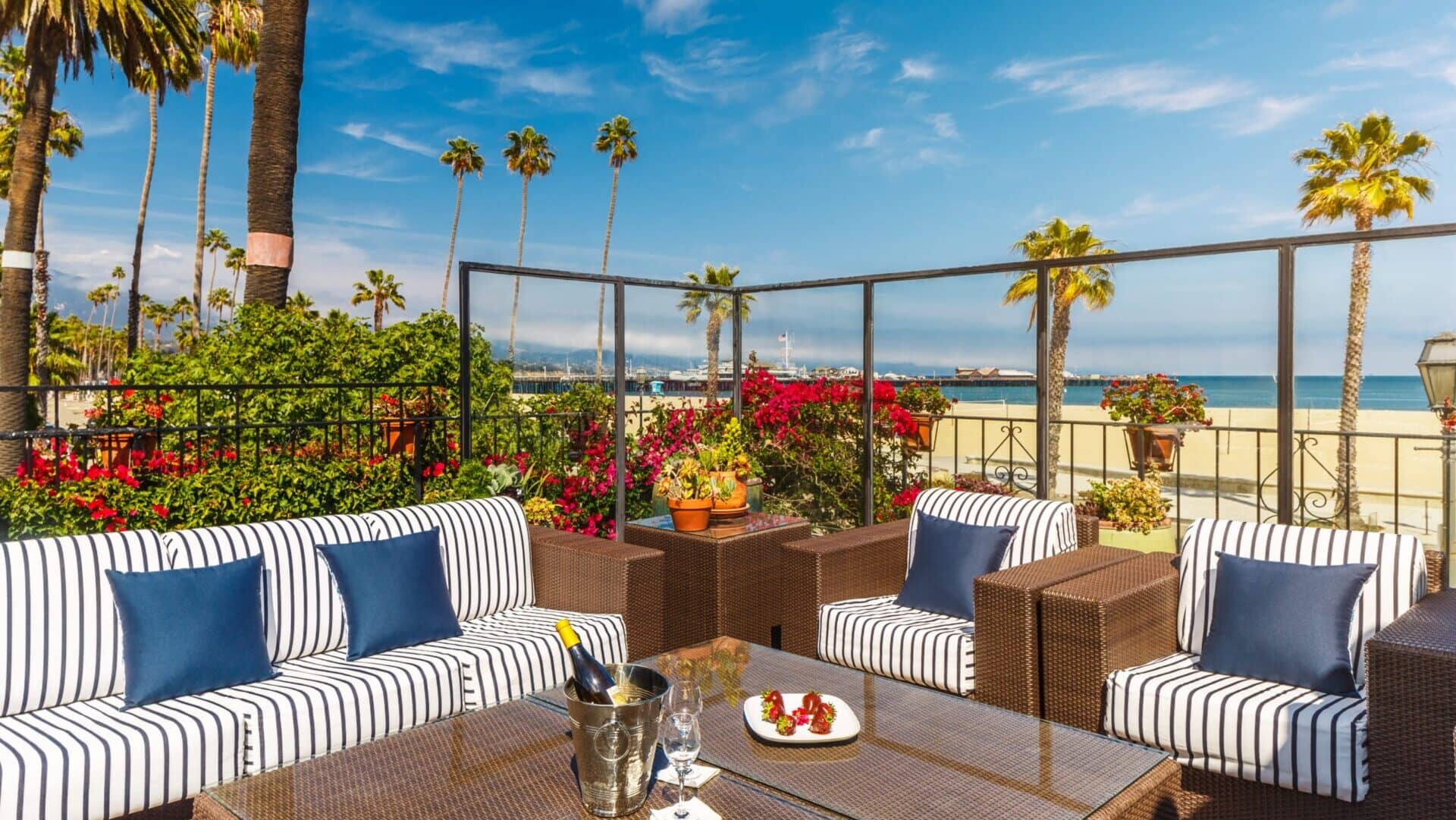 Another one of our favorite spots is the Hotel Milo, also across the street from the beach, named for the prolific historical hotelier Milo Potter, whose popular Potter Hotel helped to put Santa Barbara on the tourism map back in 1903. Today, all that is left of this grand dame is a park lined with palm trees, which is now a convenient courtyard in the center of the 2.5 acre property with a bounty of fire pits and seating areas scattered throughout. hotelmilosantabarbara.com
More Local Favorites in Santa Barbara