Lake Tahoe, situated on the California-Nevada state line is a bucket list destination for adventure seekers, families and nature lovers from all over the world. The crystal clear lake, surrounded by the majestic Sierra Nevada mountain range reigns as both a winter sports haven with 15 world class ski resorts and a summer mecca with its endless hiking and mountain biking trails. And if you want to make the most of it, you'll need fuel. To start your day strong, here are the best breakfasts in Tahoe.
Feature Photo: Fire Sign Cafe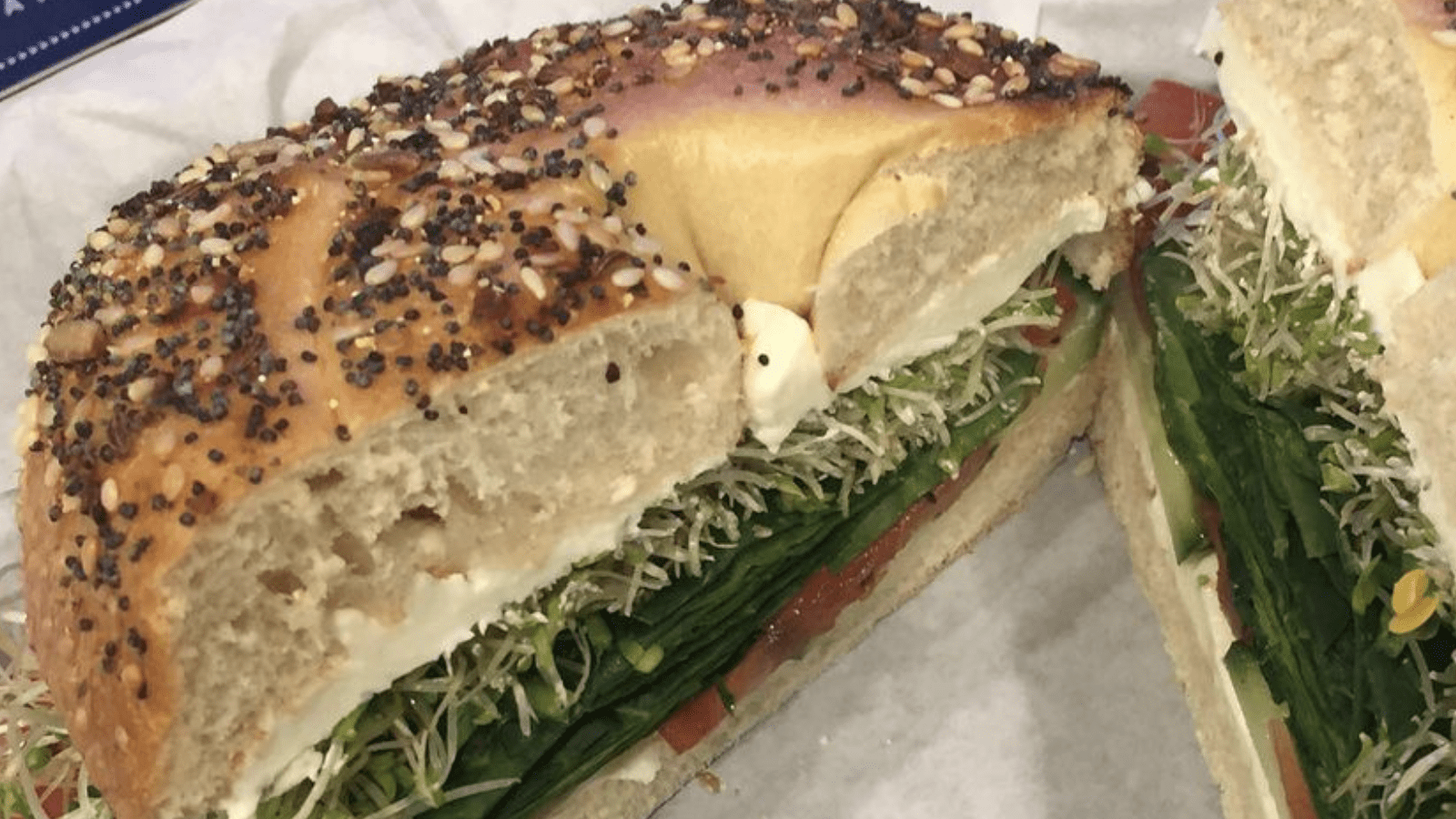 Located in the heart of beautiful Tahoe Vista in Perennial Plaza across the street from Sandy Beach, enjoy a wholesome breakfast on the go, made fresh to order from all natural, organic and local produce in a quick and friendly manner. Pep's Breakfast Burritos and acai bowls are made with a healthy twist on these familiar favorites while they proudly serve piping hot Blind Dog Coffee Roasters coffee every morning. Open Monday through Tuesday, Friday through Sunday 8am to 2am. pepstahoe.com
No lake views here, and indoor seating is limited, but the delicious breakfast fare and friendly service more than make up for it. Don't miss the house-made sage-and-cheddar biscuits, served with fried eggs and chorizo gravy, or the sourdough Tahoe blue French toast, topped with warm blueberry compote, raspberry coulis, Meyer lemon, ricotta and toasted almonds. Feel-good bonus: The restaurant uses local, sustainable and humanly raised ingredients. Open Thursday through Monday 8am to 2pm. sageleaftahoe.com
Wild Cherries Coffee House
"Good feelings, great coffee and great fare." For over 20 years, this Truckee mainstay has been lauded for its bakery specializing in European-style pastries, artisan sourdough breads, focaccia, savory quiches, fruit and custard pies, fresh muffins and scones to name just a few! Feel free to enjoy your breakfast, snack or lunch at this laid back hub in Truckee, long a locals favorite or simply pop in for one of their fresh, flavorful roasted coffees. Open 6am to 4pm daily. wildcherriescoffeehouse.com 
Although Smokey's is known for its succulent barbecue, the family-friendly restaurant also serves up a mighty fine breakfast as well. Stick to hearty classics like biscuits and gravy, buttermilk pancakes and all matter of egg-centric plates (with barbecue or chicken fried steak or in an omelet filled with your preference of ingredients) or opt for south-of-the border Mexican favorites like breakfast burritos or huevos rancheros smothered in ranchero sauce, beans, and melted cheddar and jack cheese. Don't worry about oversleeping: Breakfast is served until noon. Open Monday and Wednesday 8am to 3pm and Thursday to Sunday 8am to 9pm. Closed Tuesday. smokeyskitchen.com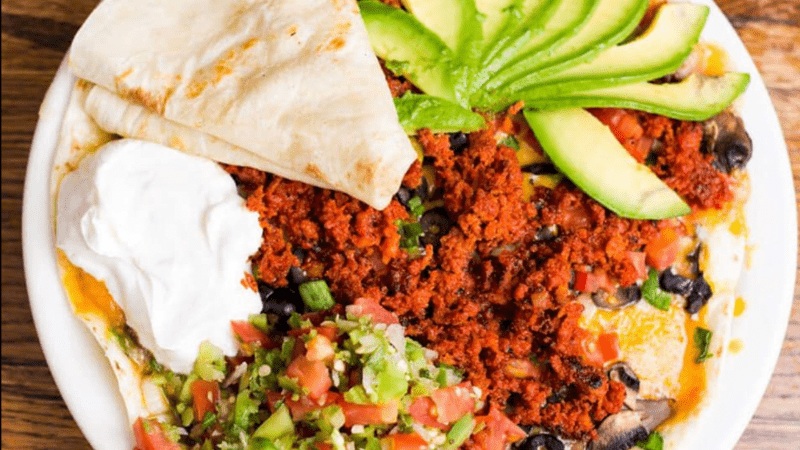 Across the street from its namesake lake, family-owned Donner Lake Kitchen has been serving its local favorite huevos rancheros since 1994. Sweet tooths should order the decadent French toast stuffed with blackberries and cream cheese. Top it off with a fully loaded bacon bloody Mary. There's sure to be a wait at the petite restaurant on peak weekends, but you can order a drink while you wait or take a walk by the lake to make the time pass more quickly. Open daily 7am to 2pm. facebook.com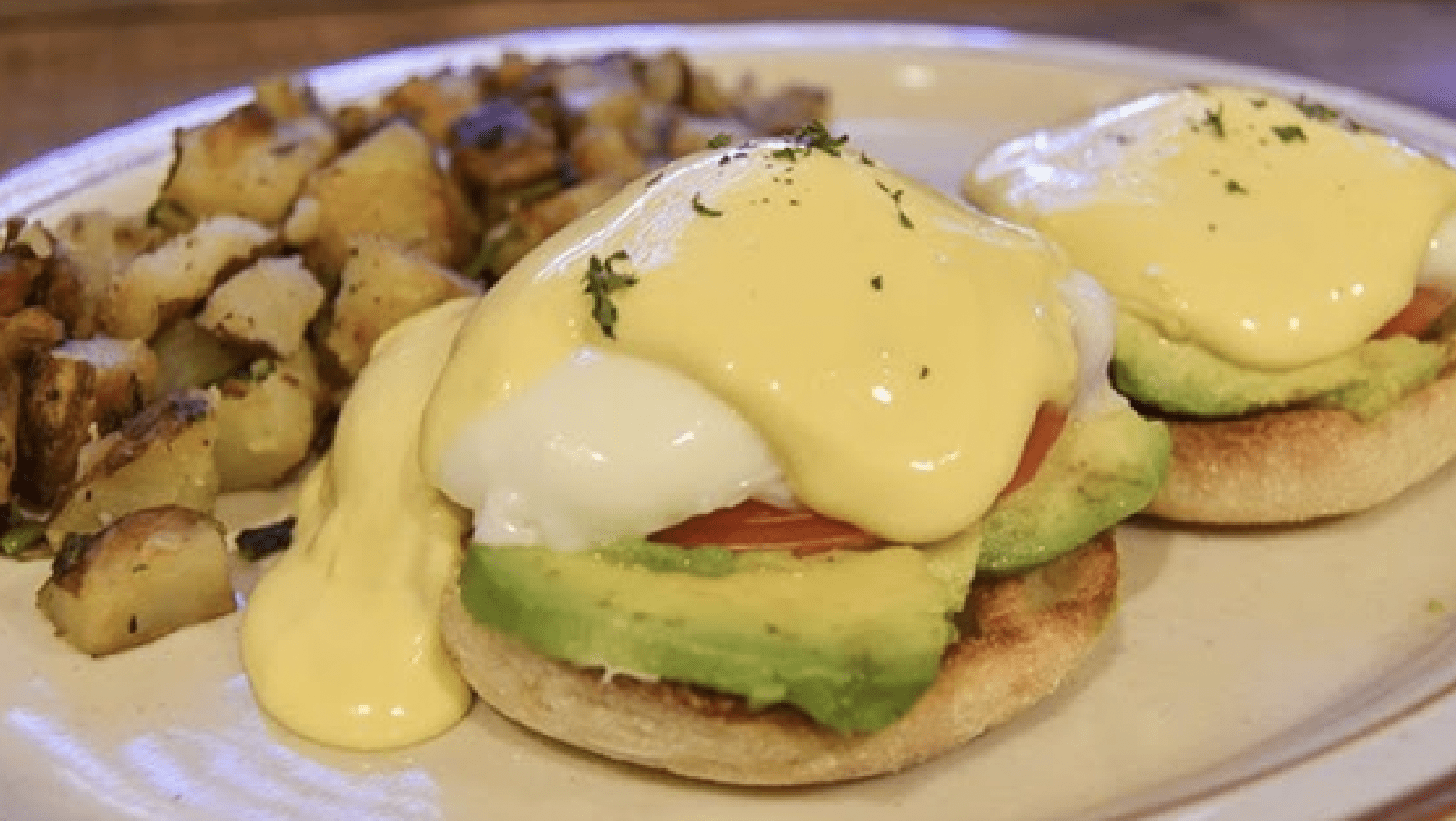 Open since 1978, Fire Sign Cafe has been the go-to breakfast spot on the west shore for over 40 years. Charming with a sense of home, Fire Sign's well-rounded breakfasts include traditional and veggie egg Benedicts, a variety of egg scrambles including their top sellers, kielbasa, (made with green onions and Monterey jack cheese) and reuben scrambles, huevos rancheros and all kinds of griddle specials, including the pecan and nut seed waffles. Open 7am to 3pm daily. firesigncafe.com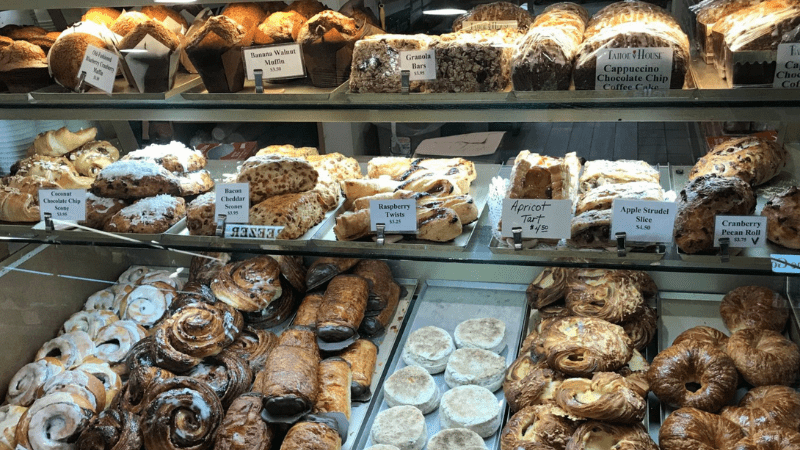 Tahoe House Bakery & Gourmet
If coffee and pastries are your go-to breakfast, head straight to Tahoe House. All of their pastries, from cinnamon rolls and apple strudel to a multitude of muffins, are baked daily on site. Grab a seat by the cozy fire in winter or head to the patio in warmer weather. While you're there, pick up a loaf of house-baked bread and provisions from the grocery to go. Open daily 6am to 3pm. tahoe-house.com
Glazed and Confuzed Tahoe Donut
If you're craving a sweet start to your morning, and the best donuts to be found around the lake, you'll find a variety of small batch, handcrafted donuts, fritters and cinnamon rolls and other essential items like bagels, yogurt, breakfast sandwiches and cereal for a mouth-watering morning start. Be sure to get there on the earlier side before they sell out! Open Wednesday through Sunday 8am to 2pm. glazedandconfuzedtahoedonut.com.
Serving up diner breakfast classics in a retro atmosphere, the Red Hut Cafe has been a South Lake staple since 1959. Waffles are definitely the thing to order here, made using the same recipe for more than 50 years and loaded with your choice of toppings like coconut, pecans or berries. Of course, there are also eggs on offer served any which way accompanied by crispy hashbrowns, toast and various protein add-ons, as well as pancakes and French toast. Open daily from 6am to 2pm. facebook.com
More Local Favorites Near Tahoe