Sometimes We Just Need to Get Away...
It seems to happen to everyone at some point. That one year, when the sh* just seems to pile on and on and on. In 2020, as the world collectively was treading water, one of my best friends, Jenn, was hit by a tidal wave of a year. As in: her mom died, she was diagnosed with breast and then a uterine cancer scare — and then endured complications with her surgeries. All while managing a new high-pressure job and two teenage sons at home. Observing from the sidelines, our friend group, which dates back to college, created a text thread that was there for the highs and lows. One of the highs was her quip, "Well, good news about getting a double mastectomy, is I'll get a tummy tuck and new boobs." And a low, "So, I now need a hysterectomy; just call me Joe, I have no more lady parts." Followed by a plea from her gay son regarding the "Joe" joke, "Boobs don't make you a woman."
Since there wasn't much we could do about navigating gender rights and wrongs, or her health, we decided to put something way out on the calendar we could all look forward to. Hawaii was quickly deemed as the place we would all gather to celebrate her new bikini bod. Liz, a creative director in Silicon Valley, quickly changed the name of the thread to "Aloha Boobie Reveal." Spirits soared and the planning began. On our list: nightlife, poolside cocktail service, shopping, and the beach. Considering the world was still in travel limbo, and I have deep ties to the island, there was no question — the ABR would happen in Waikiki.
Feature Photo: Daniel Lee on Unsplash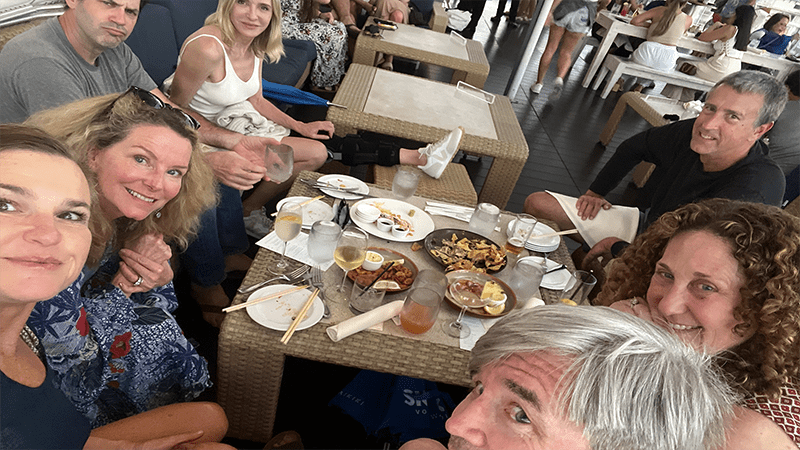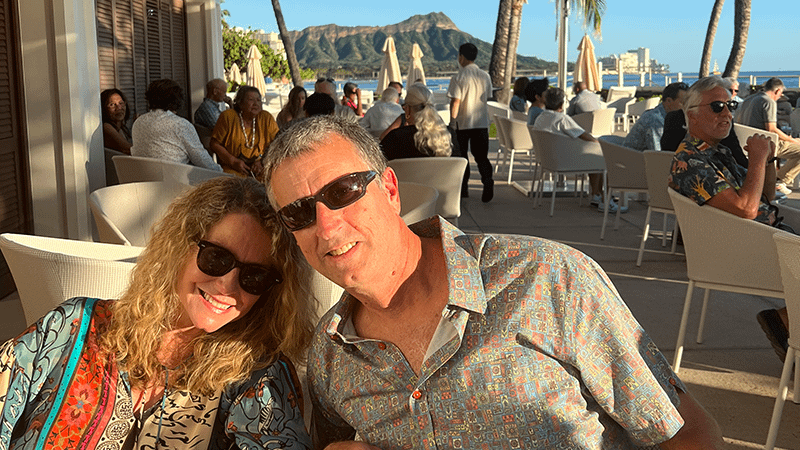 As we started to plan, I was surprised to learn that out of our group of eight, four had last visited to celebrate their high school graduations (in the 1980s) and two had never been. While Waikiki is a cosmopolitan destination for Asia, Oceania and Canada, in the past couple decades, Californians only made up about ten percent of the visitor population. However, last year, the Golden State supplied nearly thirty percent of the visitors to Waikiki.
My friend Monica from Newport Beach, California, has worked in Waikiki for five years with Outrigger Hospitality, and confirms these stats firsthand. As she explains, "Once vaccines became widely available and the State implemented the Safe Travels Hawaii program, we saw a huge influx of visitors from the mainland U.S. market, who otherwise would have booked international beach vacations — and many of them were traveling to the islands for the first time."
Flights may become a little easier, too: Hawaiian Airlines will resume its nonstop service between Oakland and Kona, which last operated in 2016, between June 15 and September 16. It will also add a second nonstop flight between San Francisco and Honolulu May 15 through August 1.
Waikiki is also loud. Known for live music, it's where Bruno Mars and Bette Midler got their start — there are some really talented performers — and it's hard to walk a block without hearing live music spilling out into the streets. Some venues are louder than others. You'll find beautiful piano playing in the lobby of the iconic Moana Surfrider, or Johnny Valentine (Bruno's uncle) under the banyan tree on Monday nights. Duke's Waikiki owns Sunday nights, where Henry Kapono rocks the stage as the sun sets surrounded by people dancing in the sand. The Blue Note brings in top music and comedy talent, the list goes on. During one particularly loud performance at dinner, Liz, came up with a great solution. She had us all download an app called Psych!, which allowed us to enjoy the music along with some laughs as we got to learn random facts about each other via the game, all without talking. 
Another unique aspect of Waikiki that I love pointing out to friends are the turtles and white fairy terns. Yes, there is the Honolulu Zoo across the street from the Waikiki Aquarium where visitors can learn about hundreds of animals (terrestrial and marine) species, however, I'm always pleasantly surprised to see very large sea turtles floating amongst the tourists who often shriek with joy once they realize that rock is actually moving. Looking up you'll see the beautiful dance of the white fairy terns, usually flying in pairs over the ocean and between buildings. Navigators have followed these birds home for centuries to find land, while they can be found throughout the Hawaiian archipelago, for some reason, they have chosen Waikiki/Honolulu as their only nesting place in the main eight islands.
I have my favorite places to stay in Waikiki for various reasons. I'm a fan of being on the edge of the metropolis. For value, Kaimana Beach Hotel, Prince Waikiki and Surfjack stand out, for group getaways, Modern Honolulu, Queen Kapiolani, Outrigger Waikiki and the list goes on. 
We chose the Outrigger Reef Beach Resort because it's also one of my favorite group locations, is situated on the water, has an interior pool (and bar), is centrally located near shops and restaurants and is on the tail end of a multi-million dollar renovation. It was perfect for our needs with various price points, and the aforementioned central, interior pool. We splurged on sharing a cabana on a Saturday, where we played games, swapped magazines and just hung out for a nice solid day of relaxing.Be
Since I visit often, I didn't need much help planning the trip; however, I did turn to my local friends since so much has changed over the pandemic. Monica has been luring her friends and family from California for years. "Waikiki has a surf and city vibe," she says. "There's always something new to see, store to shop or restaurant to visit. And it's one of the best places in the world to learn how to surf. The waves are gracious and the water is warm — much warmer than in California! The team at Faith Surf School, led by the legendary Moniz family, are caring and knowledgeable instructors who ensure that everyone has a great time learning to surf on a board or even wave slide on an outrigger canoe."
We rented stand-up paddle boards and confirmed that "gracious" is a perfect way to describe the waves. The vessel of choice, however, became the colorful blow up rings we found left in the lobby from the ABC Store. Much easier to float and chat.

Find culture amidst the concrete. Don't be fooled by the density of the high rises, there are some cultural gems, such as The Gallery Waikiki on 2300 Kalakaua Ave. a whimsical curation of really fun art from island artists. House of Mana Up, is a coalition of makers, throughout the islands, that receive funding and help creating business and their flagship store is in the Royal Hawaiian Shopping center. Speaking of centers, if you miss the old tchotchkes from the original International Market Place (the new one, now houses a Tesla dealership among other high end retailers), you can find funny t-shirts, hula dancing car ornaments, and bling galore on Dukes Lane, in the middle of town.
Our group went in various directions on some of the days, visiting Pearl Harbor, which is best done first thing in the morning to avoid crowds — same goes for hiking Diamond Head (now requires reservations). Snorkeling the Nature Preserve at Hanauma Bay also requires reservations. There was a surf competition happening on the North Shore when we visited, so we avoided going there and instead went kayaking in Kaneohe Bay, followed by a hike to Makapuu Lighthouse to catch some whales frolicking and jaw dropping views. While we were there, the state was rolling out their Malama program, which emphasizes being respectful of the land and residents. Many hotels are offering a 3rd night free in exchange for volunteering efforts and some attractions such as Kualoa Ranch and Hololeʻa – Tour Loko Ea Fishpond and Sustainable Coastlines Hawaii are a great way to immerse yourself in the culture and various communities.
Waikiki was the ideal destination for our needs, we were able to do our own things during the day, and meet up at Kani Ka Pila Grille poolside for happy hour, dressed in appropriate aloha attire, then have a great meal within walking distance. Flights are easy, rideshare is easy, and once you get there, three days fly by like a pair of white fairy terns heading out to sea.
Make ressies! You won't be the only ones wanting to get dinner at sunset. 
Download Waze: Go Hawaii has partnered with the app to include points of interest and advice on appropriate beaches.
Be Pono: Spend an afternoon immersed in community by volunteering.
Visit history: Iolani Palace and Pearl Harbor will not disappoint.  
Get wet: You are staying at one of the most beautiful bays in the world, book surf lessons, an outrigger tour, or even just a touristy sunset cruise. 
Pack light: The shopping is as much of an attraction as the ocean. 
Go through a travel agent: Local Getaways has a partnership with FROSH Travel agency, which offers great perks such as free breakfasts and upgrades.