How does one make the world's most Hawaiian hotel even more Hawaiian? That's a challenge that Outrigger Kā'anapali Beach Resort decided to take on before pandemic-related closures gave the venerable West Maui property expanded time for a metamorphosis. And now that the first phases of this $75 million transformation, dubbed Kealaula ("the light of early dawn" or "the glow of sunset"), have emerged from their chrysalis, it's clear the results were worth the wait. Whether you wake up in a beautifully enhanced room, take part in the inspiring hi'uwai ceremony at the beach, or toast sunset from the new, voyaging-themed Huihui restaurant, you'll experience an unparalleled sense of Hawai'i.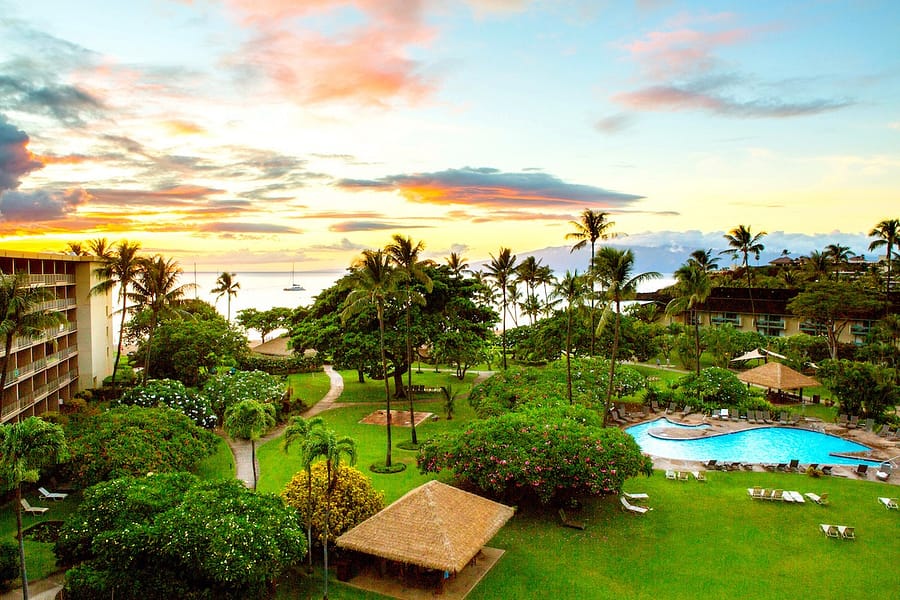 Two wings of the 432-room hotel, now renamed the Papakū South Wing and Kauhale Southeast Wing, debuted new guestrooms this spring that embed Hawaiian aesthetics into a chic, contemporary design. Philpotts Interiors, the Honolulu design firm that has created new looks for such prestigious hotels as Four Seasons Oahu at Ko Olina, Hotel Wailea on Maui and the Royal Hawaiian in Waikiki, took its inspiration for the Kealaula project from the kukui nut. The hotel is renowned for presenting a polished kukui nut lei to each guest in a farewell ceremony, and the versatile kukui (candlenut) trees traditionally served as a source of light, herbal medicine, black dye, food seasoning, and wood for canoes, among other uses.
Look closely, as I did on a recent stay, and you'll see subtle patterns in textures and textiles reminiscent not only of kukui nuts but also of woven mats, kāpala (designs stamped on kapa cloth) and the geometric lines and curves of traditional tattoos. The shape of the midcentury modern-style bedside lamps recalls the 'ipu, or gourd drum, used in hula, while the white-topped wooden end table also has echoes of the pahu, or sharkskin drum. Two large reproductions of vintage botanical prints of native flowering plants add a pop of color to the largely neutral palette of sand, weathered wood and stone hues, also offset by crisp white bed linens and plush textured headboard.
The newly gleaming bathrooms with double vanities also feature a subtle Hawaiian touch in their white tiling, and even the sleek wooden ceiling fans are suggestive of the islands' long-winged shearwater species. However, the true treasure in the new rooms is just that: a large shadowbox holding a makamae, or treasured object.
Hanging over a handsome wood table for two, these cultural artworks include mākau, carved wooden  fishhooks, including the enormous one in my room designed to reel in a shark; lūhe'e, a woven lure for octopus that may include a cowrie shell for bait and a stone sinker; lei kūpe'e and lei pipipi, necklaces made of the shells of marine snails or small mollusks; and mea kaua, carved weapons for hand-to-hand (or hand-to-skull) combat that look surprisingly beautiful when safely behind glass. "All the makamae were done by our employees, which is just kind of unbelievable," notes Mike White, the hotel's general manager since 1985.
He should believe it: His staff first created a similar set of artisanal implements in the mid-2000s, in response to a local cultural practitioner who wanted the hotel's Makahiki celebration — the traditional beginning of the winter season of relaxation — to better reflect its origins. "Makahiki is also a time of retooling, of making things, which you would have made to present to the king to pay your taxes," White explains.
Pu'u Keka'a a.k.a. Black Rock Ceremony
The day after I checked in, I had just enough time for a quick cup of Hawaiian coffee in my room before presenting myself at sunrise to Kepa Nae'ole, one of Maui's most revered watermen and cultural practitioners. The head of the hotel's ocean sports program, known as Hale Huaka'i, Nae'ole was quick to share the Hawaiian name for our location, nicknamed Kā'anapali Beach and Dig Me Beach in recent years, but historically considered part of Hanakao'o Beach. "We're in the Lahaina moku, not the Kā 'anapali moku," he notes, referring to the Hawaiian term for the major districts of each island.
The tall, rocky point separating us from true Kā 'anapali Beach to the north typically called Black Rock is properly called Pu'u Keka'a, he adds. Although many visitors come to jump off it into waters popular with snorkelers, Nae'ole says it is still considered a leina a ka 'uahane, "a leaping off point for recently departed souls." Those souls are jumping into Pō, "the realm of ancestors and our descendants who are yet to be born, a timeless dimension we cannot see but they can see us," Nae'ole continues. "It's their job to come in and out of this portal to push us, to make that chance encounter, or avoid injury, or take on a task that changes your whole life."
Nae'ole then leads us in "E Ala E," a Hawaiian chant to greet the dawn and set our intentions for the day, before instructing us on hi'uwai, the tradition of immersing oneself in water as a form of purification.
"When you immerse yourself in the water, you are connecting with all the energy of the universe," he explains. "We believe we came from the stars. We are connected all the way to the beginning. A lot of people compare it to Catholic confession: You think about your life, your successes and failures, and you come out of the water more connected."
HuiHui Restaurant Serves Multiple Purposes
After that refreshing dip, I had a chance to explore the newly lush four-acre courtyard that includes breadfruit trees and other Polynesian garden staples. In the lobby, I admired not only the makamae but also the gorgeous portraits of the boys and girls who have taken top honors at the hotel's annual Hula O Nā Keiki contest, which will mark its 30th anniversary  (delayed a year by the pandemic) with celebratory performances in late 2021 rather than a competition; proceeds will benefit the participating local hula troupes.
Although I wasn't able to dine inside the new Huihui restaurant, which opened to resort guests on June 28, I had a chance to sample some of its signature dishes and craft cocktails with executive chef Tom Muramoto, who incorporates locally sourced ingredients like lū'au (taro leaf), octopus and venison in creative presentation. I also toured its spectacular dining room, featuring a Herb Kane mural and views that destine it to be a top draw.
But Huihui, which can mean "a constellation of stars" or "mingled," will also house the hotel's traditional outrigger canoes and serve as a voyaging academy for high school juniors and seniors hoping to become crew members with the Polynesian Voyaging Society, according to White.
Giving back to the community as well as perpetuating Hawaiian culture may ultimately be the most Hawaiian elements of this most Hawaiian hotel, which could have simply rested on its laurels instead of embarking on the Kealaula transformation, especially during a pandemic. But White said his team of employees and the hotel's owners wouldn't have it any other way.
"We have been very clear with the owners about the degree to which we have felt for 35 years that to be an operating hotel in Hawai'i, we should reflect and respect the host culture," White says. "Our employees feel good about what they're doing, not just for the hotel and the guests, but for the community."