Hawaii is a fantastic place to eat your way through, especially if you're looking to try dishes that you may not have tasted before. For some, being introduced to new ingredients, names that are unfamiliar, and preparations that may seem exotic can sometimes be a little intimidating. But hey, you came to Hawaii for an adventure, right? So feel free to dive right into something new with this basic glossary of Hawaiian food terms.
Take this guide with you when checking out the best restaurants on Maui, Oahu, Kauai and Hawaii Island.
Featured Photo: Courtesy of Jonathan Borba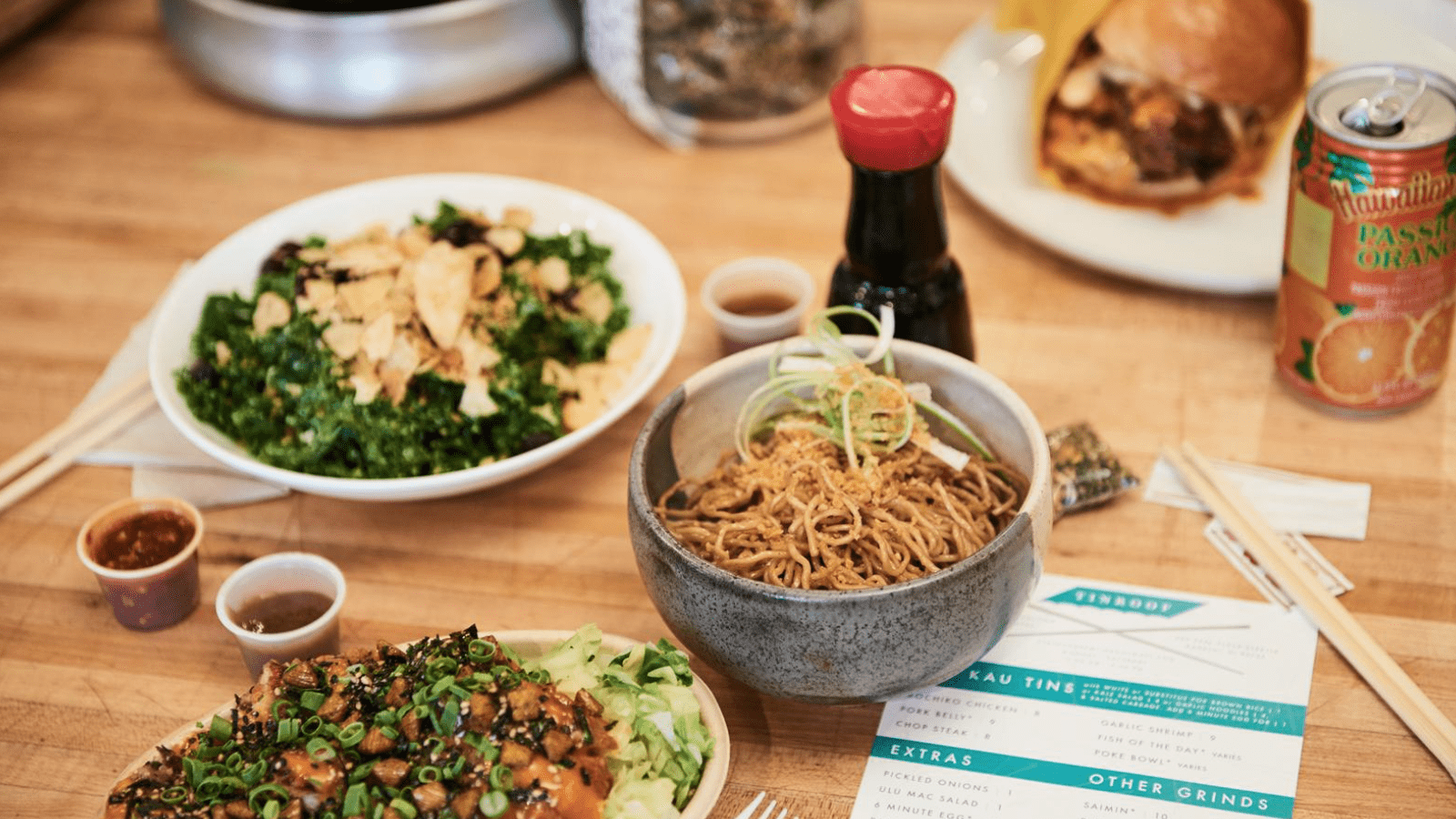 Origin: Hawaii
Definition: A movement, started in 1991, to give Hawaiian regional food its own distinct, contemporary flavor by sourcing ingredients from local farmers and ranchers and combining it with the variety of ethnic influences brought to the Islands by the various waves of immigration to the Islands.
Origin: Hawaii (name)
Definition: In Hawaii there are two fish known as 'ahi, the Bigeye Tuna and the Yellowfin Tuna. These deepwater fish have firm, red flesh and a high fat content that makes them great for everything from sashimi and poke to grilling and sautéing. 
Origin: Hawaii
Definition: Volcanic soil has a big impact on the food that comes from Hawaii, right down to the salt. 'Alaea salt is unrefined sea salt that is mixed with red, volcanic clay that is rich in iron oxide. This Hawaiian red salt can typically be found in dishes like kalua pig, pipikaula, and poke.
Origin: Japan
Definition: While the bento originated in Japan, other Asian cuisines have also adopted this single-serve box meal that typically includes rice or noodles, fish or meat, and vegetables (sometimes pickled). Grab-and-go bentos can be found throughout Hawaii.
Origin: China
Definition: This sweet preparation for pork is a Cantonese style sauce that includes five spice powder, honey, fermented tofu, and other sauces to create a sticky glaze. In Hawaii char siu chicken is as popular as pork. Char siu pork and chicken are often served with rice and char siu pork can be found stuffed inside the handheld favorite, manapua.
Origin: Japan
Definition: This condiment brings a lot of umami and ocean flavors to dishes through the primary ingredients of nori, sesame seeds, salt and sugar. Different varieties include other ingredients like bonito flakes and poppy seeds. Use it to season rice, vegetables, and fish.
Origin: Hawaii
Definition: A type of preparation of pork that involves seasoning with Hawaiian salt and slow roasting in a pit in the ground, known as an imu, with heated lava rocks and banana or ti leaves. This is a dish often found at luaus and other gatherings. 
Origin: Korea
Definition: Salted and fermented vegetables, typically made with Napa cabbage, served as a side dish at Korean meals. This popular condiment can be found everywhere in Hawaii as a side dish or an ingredient in dishes like kimchi fried rice.
Origin: Hawaii
Definition: This Hawaiian dish is made with protein, typically pork or butterfish, and vegetables. The ingredients are wrapped in prepared luau leaf, which is then wrapped in ti leaf, tied and steamed. Once cooked, the meal is unwrapped from the ti leaf and served with rice.
Origin: China
Definition: Li hing powder is a flavoring agent that adds a delightful sweet/sour/tartness to everything from gummy candies to the rim of a margarita glass. Made of ground dried plums that have been pickled in licorice, salt, sugar, red food coloring, and sometimes aspartame, li hing can be an acquired taste.
Origin: Hawaii (name)
Definition: If you have a passion for the tart sweetness of passion fruit, you'll definitely want to add lilikoi to your vocabulary. Available in both the yellow and purple varieties, this is a common ingredient in cocktails and desserts where the pulp of the fruit is used to add a punch of flavor.
Origin: Hawaii
Definition: One of the heartiest breakfasts you'll find in Hawaii is the Loco Moco — a hamburger patty served over rice then topped with a fried egg and brown gravy. Of course, you can eat it any time of the day and there are a variety options available like mahi mahi and even Spam!
Origin: Hawaii
Definition: This heart-shaped leaf is the top of the kalo plant, one of the most important plants in Hawaiian history, culture, and cuisine. The leaves are wrapped around meats and vegetables (then wrapped again in ti leaves) to make laulau or cooked with coconut milk, meat, and vegetables for luau stew. 
Origin: Portugal
Definition: One of the many food gifts brought to Hawaii by plantation workers, the malasada is a fried yeast pastry similar to doughnuts. They come with a variety of fillings, from tart guava to creamy chantilly and are finished with a dusting of cinnamon and sugar.
Origin: Japan; however, the Okazuya is unique to Hawaii
Definition: From Japanese — "okayu" meaning side dish and "ya" meaning shop or store, these small, typically family-owned shops give customers the opportunity to choose a variety of side dishes in order to build their own affordable plate lunch.
Origin: Hawaii
Definition: Rice + mac salad + meat are the typical components of a Hawaii plate lunch, a standard meal that can be found at nearly any restaurant or takeout place. Originally inspired by the bentos that Japanese laborers brought to the plantations, plate lunches are standard fare today and can include other sides like kimchi, sweet potato salad or corn.
Origin: Hawaii
Definition: Appetizers that are typically served before the meal or as a meal in and of themselves. Light pupus are typically cold and include poke, boiled peanuts, edamame, etc. Heavy pupus include Korean chicken wings, pipikaula, char siu, etc. Many bars and karaoke rooms serve pupus.
Origin: Japan
Definition: Technically, shoyu is a broad term used for Japanese-style soy sauce that is made from fermented soybeans, wheat, salt and water. In reality, if someone tells you to grab the shoyu, just grab the nearest bottle of soy sauce that you see, and you'll be ok.
Origin: Hawaii
Definition: Ti leaf is one of two important Hawaiian leaves used for cooking. These long, slender leaves aren't actually eaten, rather they are used as a wrap (like banana leaves) for steaming and roasting. Ti leaf is used in combination with luau leaf to make lau lau.
Origin: Philippines (ube means "tuber" in Tagalog) 
Definition: Ube is a purple yam that is used as the base for a variety of desserts and breads. The fairly mild flavor is reminiscent of vanilla, making it easily loved by many people. Add to that the vibrant violet that the tuber turns the dishes, and it's no wonder that ube has been a trending ingredient for the past few years.
Origin: Hawaii (name); pronounced "vah-na" 
Definition: This spiny sea urchin is not a creature that you want to encounter while swimming or snorkeling thank to their painful spines, but they are a favorite seafood among many Hawaiians. 
More About Hawaiian Foods