Portuguese immigrants from Madeira and the Azores brought the malasada — a pillowy, typically square doughnut (without a hole) dusted with sugar — to Hawai'i in the 1870s, when they joined multi-ethnic plantation workforce. Now found on the dessert menu of gourmet restaurants as well as at roadside stands and bakeries, the malasada has taken on various local flavors, from fillings such as guava jelly and haupia (coconut pudding) to toppings like li hing mui sugar (a sweet, salty, tangy mix made from dried plums). It's hard to eat just one. Here's a list of our favorite places to indulge.
But wait, there's more. We're here to help demystify some of the unusual words you might see on menus like furikake, laulau and lilikoi — and explain which meat is being served and why. And possibly most importantly of all, provide the fun facts on the origins of local dishes. 
If you're happy with your meal, tag us @HawaiiIslander on Instagram to share the love.
Located halfway between Kailua-Kona and Volcanoes National Park, the Punalu'u Bake Shop is the perfect place for a scrumptious rest stop on your road trip. You'll know your close when you catch the scent of freshly baked goodness wafting through the air. This place sits on 4 acres of tropical gardens, perfect for stretching those legs as you enjoy a warm, sugary malasada. There's also an outdoor restaurant if you're in the mood to stay awhile. Open daily 8:30am to 5pm.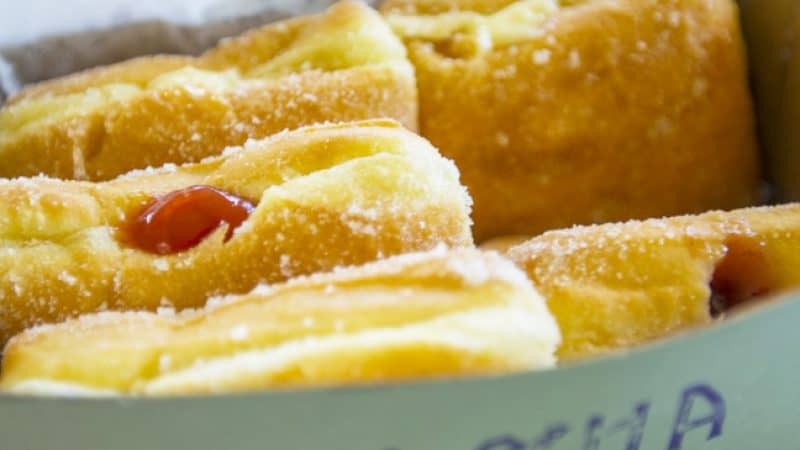 Since 1969, Tex Drive-in has been serving up "ono kine grindz" that just means super tasty food. There's viewing windows so you can watch along as your malasadas are being made to order. Outside has a small dining patio with ocean views. There's a full menu but it's alright if you'd like to start your meal with a hot and sugary malasada. Open daily 6am to 6pm. 
If you're a fan of comfort food on the go, while you're in Hawaii, definitely give Zippy's a try. Since 1966, Zippy's has been serving all the local favorites, and they have Napoleon's Bakery to bring you warm sweet treats after your meal. The bakery has a lot of different options, malasadas included, freshly made to order! Open Monday through Thursday 6am to 7pm, Friday and Saturday and 6am to 8pm, and Sunday 6am to 6pm.