Hawaiian food comes in many different shapes and sizes. Some of it is a reflection of the ancient cultures and traditions that the original Polynesian voyagers brought with them to create the backbone of Hawaiian history and culture. Canoe plants — along with the ocean's bounty — have set Hawaii up for endless generations to be able to eat off of the 'aina (land) and from the sea, as long as everyone practices their kuleana (responsibility) to care for them.
Food also reflects the waves of different people and industries that took root in the Islands. As each new group introduced their own cuisines and products, many took hold and became their own Hawaiian version of the dish. Though the sugarcane and pineapple plantations of the 19th and 20th centuries are no longer dominant monocrop offerings, their influence on Hawaii's food history is everlasting thanks to the outside labor brought in to help in the fields. Korea, Japan, Puerto Rico and other countries have huge influences on what people in Hawaii eat to this day.
It's the fusion of traditional and new, of authentically Polynesian and uniquely foreign, of ancient methods and contemporary ones coming together to feed our 'ōpū (stomach) and our soul with ono grinds and nurturing dishes that illustrate not only where Hawaii has been, but also where it can go in the future.
Here are some key Hawaiian staples to be on the lookout for.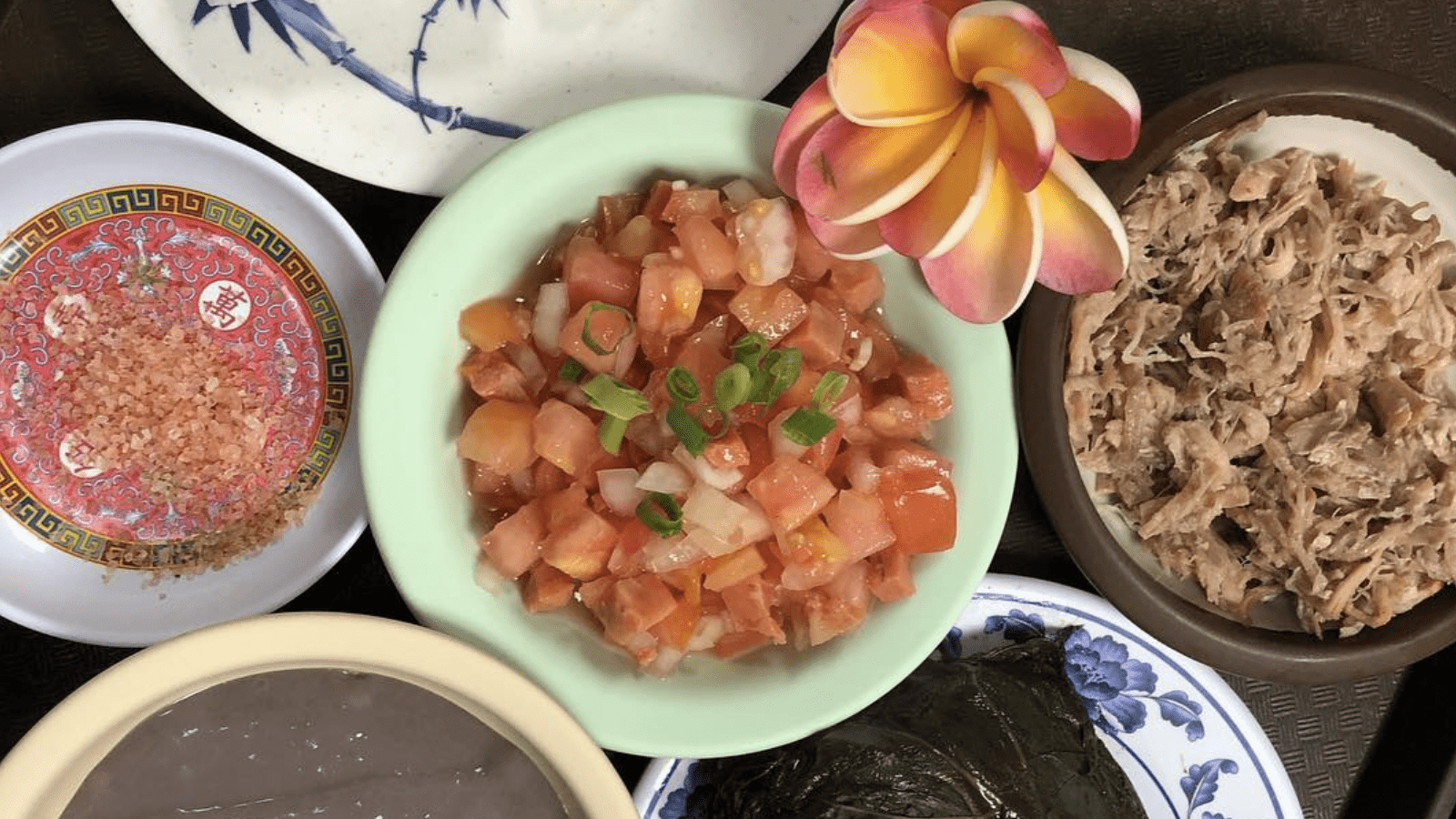 More than any other meat, pork has a big place on Hawaiian tables. Pua'a (pigs) were part of the original bounty that voyagers brought to Hawaii more than 800 years ago. Kalua pork is one of the biggest, most time-consuming and most important parts of a traditional luau. To make this traditional dish, a pig is roasted inside an in-ground oven called an imu until the meat is smoky, rich, and falling off of the bone.
And of course there's Spam, which was introduced in the early 20th century by American servicemen. Folks in Hawaii love Spam — it is particularly beloved when it's sliced, heated, then laid atop rice and wrapped in seaweed to make the portable snack, Spam musubi. It can also be found cooked into fried rice and incorporated into breakfast plates.
One of Hawaii's most recognizable foods — even if people still have trouble pronouncing "po-kay" — this fish dish has taken the U.S. mainland by storm, a 21st century version of it, anyway. The basic ingredients in poke include diced fish — poke means "to cut crosswise into pieces" — salt, limu, and roasted and ground kukui (candlestick nut). Poke is made with a variety of fish, though ahi tuna is probably the most popular, as well as octopus and salmon. There are a variety of preparations including spicy ahi and Hawaiian style — the best approach is to try different ones to find your favorite. Throw it in a bowl for an easy lunch, or bring a container and some chopsticks along for a simple party pupu (appetizer).
Luau stew is a deeply satisfying meal made from taro leaves, cooked down with coconut milk along with different meats. One notable variation on the luau stew is squid luau, prepared simply with the leaves, coconut milk and the tentacles of squid. This is also a staple dish for luaus and gatherings. 
Though many of Hawaii's reefs are sadly disappearing, there are a few notable fish that can be harvested for dinner with a net, a pole, a speargun, or a three-pronged spear. Uhu, the bullethead parrotfish, is one reef favorite, though it has been overfished in recent years and sustainable fishermen have been greatly limiting their catches as a result.
There are many invasive species that negatively impact the reefs that local fishermen are encouraged to catch, such as ta'ape (blue striped snapper, pictured above) and roi (peacock grouper), that are fortunately quite tasty. In addition to fish, Hawaii's shallow reefs are home to two varieties of lobster: ula (spiny lobster) and ula pāpapa (slipper lobster), both of which are a delicacy due to the skill required to catch them.
Ono, ahi, mahimahi (pictured above), opakapaka — these are just a few of the deep water fish that are brought into local fish shops throughout the Islands. Local fishermen haul in a variety of fish that is quickly sold to some of the Island chain's best restaurants, diced and prepared for poke typically sold directly from the shop, and broken down and sold directly to consumers for home preparations. Sport fishing is also a recreational activity that visitors can participate in, especially on Hawaii Island and Molokai.
The Hawaiian limpet is another treasured favorite that has been overfished, or over-picked to be more accurate. They are an important part of Hawaiian cultural celebrations, which has led to a decline in their numbers, along with unsustainable harvests. 'Opihi picking is one of the more dangerous ways to gather food, with pickers often being taken by the waves crashing onto the rocky cliffs where the 'opihi cling. These small shellfish can be eaten raw or cooked in a variety of ways including steaming and grilling.
Grabbing a plate lunch of garlic shrimp can be a bit of an adventure in and of itself. On Oahu, the North Shore is not only a destination for surfers, but also for those looking for a mouth watering plate of shell-on shrimp cooked with butter and chunks of garlic. The garlic shrimp craze originally began with Giovanni's Shrimp Truck in 1993, but has since exploded into a staple at a wide variety of restaurants and food trucks. In addition to garlic, flavors like lilikoi, pineapple, and lemon pepper help to shake the flavors up (go ahead and order half/half if you like a little sweet and savory on your plate).
18th century whaling influences can still be seen in places like Lahaina, Maui, as well as on many local plates. The salted fish that whalers brought in by boat served as the precursor to lomi or lomilomi salmon, a cold fish preparation that includes diced, salted salmon, sweet onions, and tomatoes. This dish is often found at traditional luaus and large gatherings or in the poke case at local groceries.