Long, sunset drives down the Pacific Coast Highway. Flashbulbs popping during red carpet Hollywood premieres. An ever-evolving arts and culture scene that inspires. Communing with nature in the Santa Monica Mountains and the Angeles National Forest. Culinary experiences that speak of a global community. There are many reasons people visit Los Angeles. There is, after all, beauty and adventure at every turn. 
Exploring the 503-square-mile city to discover all its treasures could make for a pleasant lifetime pursuit. For those undertaking their first foray into the City of Angeles, we've compiled this all-encompassing guide. These historic landmarks, iconic locations, and under-the-radar attractions will steal one's heart and whet appetites for future visits.
A starting point for learning about Los Angeles' origins begins in the Mid-Wilshire area with a visit to La Brea Tar Pits & Museum: one of the first 100 IUGS Geological Heritage Sites proclaimed by the International Union of Geological Sciences (IUGS). (Don't miss visiting the Los Angeles County Museum of Art (LACMA) while in this complex). Here, it's possible to see the world's sole urban Ice Age excavation in action, with ongoing discoveries of fossils ranging from giant mastodons to the most delicate of insects. 
By 8,000 B.C., Los Angeles was settled by the Chumash and Tongva Native American tribes. The region became a Spanish outpost in 1769, with 21 Spanish missions, which can be visited along The California Missions Trail, being built throughout the state. 
Downtown's Olvera Street can be considered the "birthplace" of Los Angeles. This veritable living museum features a mixture of objects from the Native American, African and European cultures of the 44 settlers who traveled from Mexico to establish the city in 1781. 
In 1821, Mexico declared its independence, taking control of California. By the conclusion of the Mexican-American War in 1848, the United States had acquired California. New residents poured in during the Gold Rush, along with the dawning of the Southern Pacific Railroad and the oil boom. 
Another industry would find its way to Los Angeles — the film industry. It kicked off in 1908 with the filming of The Count of Monte Cristo. Since then, LA's Hollywood district has been the hub of the entertainment world. Signaling its location is the famed Hollywood sign, which was first erected on Mount Lee in 1923. Want to get up close and personal? Take to the dusty trails cowboy-style on a Sunset Ranch Hollywood horseback tour.
Set out on the Pacific Coast Highway (PCH) to discover an architectural jewel chockfull of culture: Getty Villa Museum. Fashioned after a Roman country home, Getty Villa houses impressive Greek and Roman antiquities collections. Permanent exhibitions are on the villa's first floor, with changing exhibitions on its second story. A favorite to happen upon — the Roman-era mummy.
Equally as sigh-worthy are the ocean views. Numerous spots, from the property's four gardens to its colonnaded walkways, are just right for soaking in these idyllic vistas. One that's dreamy unto itself is the Outer Peristyle's reflecting pool.  
Not to be missed is Getty Villa's sister site, the Getty Center. Located atop a mountain in Brentwood, a monorail is required for transporting guests. Art spanning from the Middle Ages to the new Millennium is captivating. And, of course, so are the lofty views of the city.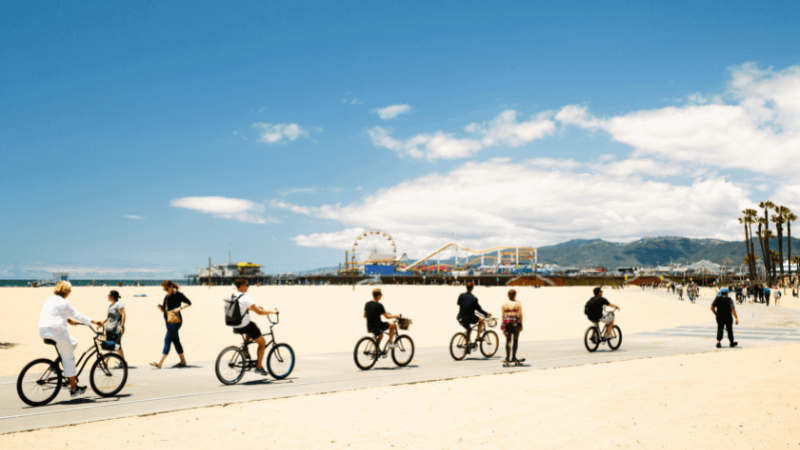 Movie buffs will immediately think of Santa Monica Pier when its namesake city is mentioned. Indeed, this National Historic Landmark has been featured in many films, television episodes, and music videos.
After walking under the iconic sign and onto the pier, head to the 1916-built Looff Hippodrome. Inside is the whimsical, 1920s-era wooden carousel with 44 horses, a rabbit, a goat, and two sleighs ready to provide a whirl. At the end of the pier, more thrills await with Pacific Park, an amusement park with 12 rides, including a roller coaster and Ferris wheel. Gaze out from the pier to see Santa Monica boardwalk in motion with rollerbladers, cyclists, and street performers.
There's magic to be discovered in Downtown Los Angeles (DTLA). Where it resides: The Last Bookstore. Located in a 22,000-square-foot former bank, This temple of books is touted as being "California's largest used and new book and record store." As brick-and-mortar bookstores disappear, visiting this unique shop will cement memories of shelves stacked with tomes. As for those stacks, they're fanciful unto themselves, fashioned into tunnels, some with books literally flying off the shelves. There are also several gallery shops on the mezzanine level.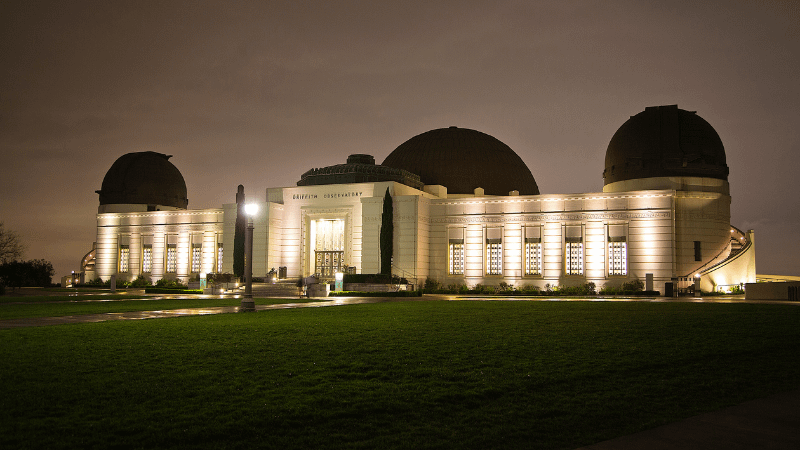 One of the best views of Los Angeles can be had atop Mount Hollywood with a visit to the Griffith Observatory. The Samuel Oschin Planetarium with its Zeiss Universarium Mark IX star projector lifts those views even higher up into the galaxies. Since its doors opened in 1935, the observatory has reigned as the "most-visited public observatory in the world." Today, visitors can partake in various programs, exhibits, and talks. 
Beyond the observatory, there's much to be explored within Griffith Park. One of America's largest municipal parks and wilderness areas, this 4,210-acre space is known for its diverse hiking and cycling trails, golf course, and horseback riding. Other attractions in the park include the Greek Theatre, a concert venue in an amphitheater, the Los Angeles Zoo and the Autry Museum of the American West. 
Movie Studios & Iconic Hollywood
The romance of the silver screen is undeniable, and there are myriad ways to glimpse Hollywood's past and present in LA. Walking in the footsteps of celebrities past and present is possible through various film studio tours, including Warner Brothers, Paramount Pictures, and Sony Pictures. Then, there's Universal Studios' 60-minute behind-the-scenes tour that's included with admission to the theme park. 
The intersection of Hollywood Boulevard and Highland Avenue brings together history and glamour. It's not unusual to happen upon a street closure as a red carpet event is underway. Where the luminaries are likely headed? Merely follow the gold stars of the Walk of Fame to find out. 
Many lead straight to Ovation Hollywood, an entertainment complex where Dolby Theatre, home of the Academy Awards, and the TLC Chinese 6 Theatres, with its forecourt filled with over 200 sets of hand- and footprints of famous celebs, are located. Film premieres are often underway across the street at the historic El Capitan Theatre. Just next door, Jimmy Kimmel Live! films in the El Capitan Entertainment Centre. 
Rodeo Drive. The name of this Beverly Hills destination evokes images of Bentleys pulling up to designer boutiques — Alexander McQueen, Tiffany & Co., Dior, Burberry, Chanel, Cartier… sigh. It's a shopper's paradise, Champagne included. This is the heart of Beverly Hills and drips with wealth, opulence, luxury, and palm trees at every turn. There's even a podcast devoted to the street. 
European ambiance can be found along the cobblestone walkway of Two Rodeo Drive. Linger awhile at 208 Rodeo Restaurant over a bottle of Dom Perignon. Close out the perfect day by attending a performance at The Wallis, aka Wallis Annenberg Center for Performing Arts. 
After the New Year's Eve countdown, parade lovers gear up for the next morning's event proclaimed as "America's New Year Celebration" — the Rose Parade. Hosted since 1890 by the Tournament of Roses, the parade features floral-decorated floats, marching bands, and equestrians in all their splendor. Die-hard fans camp out the night prior for prime viewing along the five-and-a-half-mile route on Pasadena's Colorado Boulevard. Can't make the parade? Check out Floatfest: A Rose Parade Showcase. Tickets are required for this two-day event (located on Sierra Madre and Washington Boulevards) following the parade.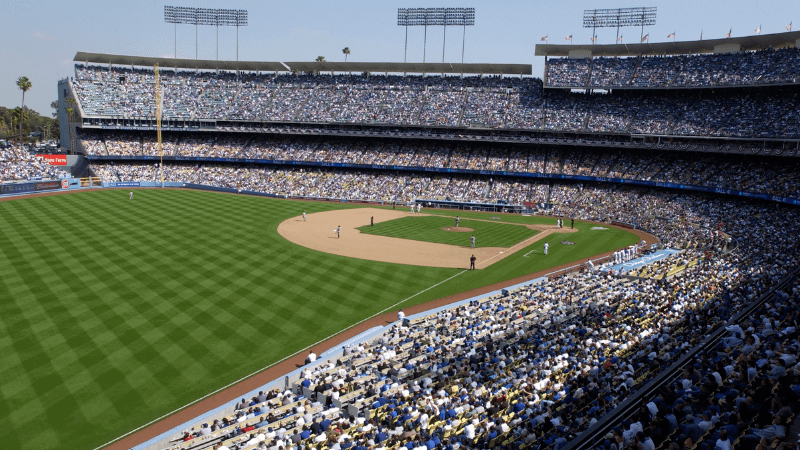 "On your mark. Get set. Go!" These words set 27,000+ runners in motion each March as the Los Angeles Marathon gets underway. In 2023, feet will hit the pavement on March 19. The 26.2 course begins at Dodger Stadium, winding its way to the finish line on Century City's Avenue of the Stars, where a Finish Festival celebration also takes place. Not a runner? Catch the pre-event Health & Fitness Expo (March 17 and 18) at Dodger Stadium. On race day, cheer participants on, then toast their achievement with some suds in the event's Guinness Beer Garden.
Going 17 years strong and counting, the Los Angeles Times Festival of Books is held each April (on 4/22 and 4/23 in 2023) on the University of Southern California (USC) campus. This free, public event is touted as the largest book festival in the northern hemisphere. The two-day festival often kicks off with music from the Trojan Marching Band, leading into author panels (tickets required), storytelling, writers' book signings, and other literary activities. 
The "largest Cinco de Mayo celebration in the world," Fiesta Broadway, kicks off prior May 5 on the last Sunday of April in Downtown Los Angeles. Live music, folklorico and salsa dancing, food, and more have earned this celebration the nickname "The Super Bowl of Festivals."
Each June, the monthlong LA Pride takes place, culminating in a weekend parade and festival (2023 dates: June 9 to June 11). Among the LGBTQ+ community and public events is LA Pride in the Park, a concert with impressive headliners (Christina Aguilera took the stage in 2022). Drawing over 130,000 spectators to the sidewalks of Hollywood Boulevard on LA Pride's famous parade. Happening year-round: Pride Makes a Difference, a program addressing food and housing insecurity, mental wellness, and careers for all ages of LA's LGBTQ+ community.
Ready for some riveting theatre? Hollywood Fringe Festival has plenty to sate imaginations each June (from June 9 to June 25 in 2023). Various venues along Santa Monica Boulevard's Hollywood Theatre Row offer performances all within a stretch of Hollywood that's alive with pop-up sidewalk performances and theatre patrons excitedly discussing the freedom of expression that is the Hollywood Fringe.
When summer approaches, picnic baskets come out in anticipation of the annual Hollywood Bowl concert series, which typically runs June through the entirety of summer (2023 season is from June 10 through September 16). The amphitheater first opened in 1922. Since then, cars and buses filled with music lovers have made their way to Highland Avenue. Upon arrival, coveted picnic spots are procured, and impressive spreads displayed.
As twilight approaches, the live performances get underway. The Bowl has been host to headliners, including Ella Fitzgerald, The Beatles, Stevie Wonder, Tom Petty and many more. A mainstay is the Hollywood Bowl Orchestra, helmed by Conductor Thomas Wilkins. Amping up excitement even more — favorite nights that include singalongs with films (this year, The Sound of Music on September 16) or conclude with a fireworks display. 
The food scene in Los Angeles just might be what evoked the first chef's kiss. What's promised — a memorable culinary experience while visiting a beloved venue like Canter's Deli, grabbing a legendary Pink's hotdog, scouting taco joints such as El Ruso of Netflix's Taco Chronicles fame, or using a phone app to track a favorite food truck like Kogi Korean BBQ. Whether experiencing an old-school classic like Tito's Tacos or the two Michelin-starred Hayato, taste buds rejoice over the city's flavor. 
Time a visit that coincides with Dine LA Restaurant Week, when excellent prix fixe menus showcase LA's outstanding cuisine and venues. In 2023, this event will celebrate its 15th anniversary from April 28 to May 12.  
Carnivores will want to consider options ranging from the acclaimed Bestia LA in the Arts District to the beloved Barbacoa Estilo Atotonilco El Grande in Arleta. Vegans will crave dishes from the cult classic Café Gratitude (multiple locations), as well as Vietnamese fusion/comfort food from Âu Lạc. An unexpected surprise for ice cream lovers is the Gelato Festival vegan ice cream at Four Seasons Beverly Hills' Culina Ristorante + Caffé. 
Then there are iconic restaurants that have been drawing in regulars and newbies alike, some for over 100 years, including Philippe The Original with its french dip, comfort food from The Original Pantry, burgers at The Apple Pan, chops at Musso & Frank Grill, and veal scaloppine at Dan Tana's.
Gourmands will want to make reservations at the city's 25 Michelin-star restaurants (as of 2022), which speak to LA's melting pot of cultures.
Two Michelin-star establishments:
One Michelin-star establishments:
Settle in at one of the myriad spots where Shutters on the Beach takes advantage of its oceanfront location. The hotel is a true getaway, all whilst being in the thick of Santa Monica Boardwalk's action. Take in the full vibe via Beach House Suite accommodations, where two fireplaces, two balconies, and the lulling waves of the Pacific are ready-made for relaxing. Book luxuriant treatments at ONE Spa, followed by seasonal, local, and coastal cuisine at the resort's three dining venues: Coast Beach Café and Bar, Living Room, One Pico Restaurant, and Courtyard where, yes, the views continue to dazzle.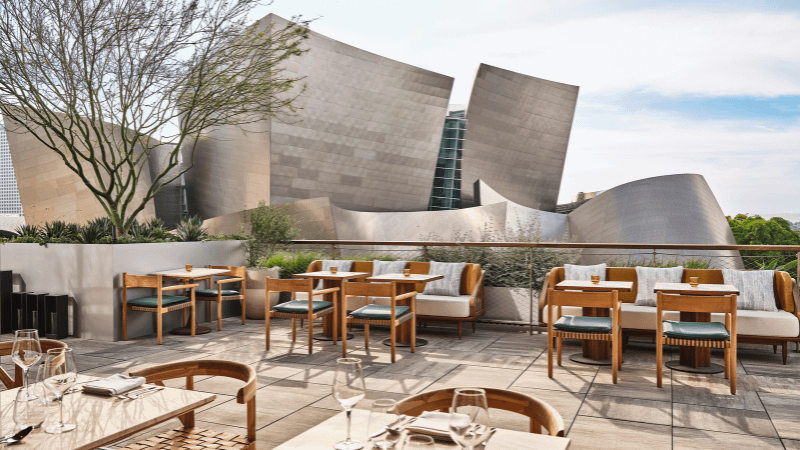 Even before its July 2022 grand opening in Downtown Los Angeles (DTLA), Conrad LA was creating a buzz. The Frank Gehry-designed, 28-story luxury hotel appeals to the eye with its blend of contemporary and West Coast Modernist movement styles. From the private pool deck overlooking the city, it's possible to see nearby DTLA attractions, including The Broad museum, Walt Disney Concert Hall, the Museum of Contemporary Art (MOCA), and The Music Center. Conrad LA is located within an attraction itself — The Grand LA, a new shopping, dining, and entertainment destination.
Want to know where to luxuriate during a stay? Take a wellness journey via Conrad Spa. Follow up by dining at one of two restaurants from Chef José Andrés — over Spanish cuisine at San Laurel, or Latin and Asian flavors at Agua Viva on the hotel's rooftop.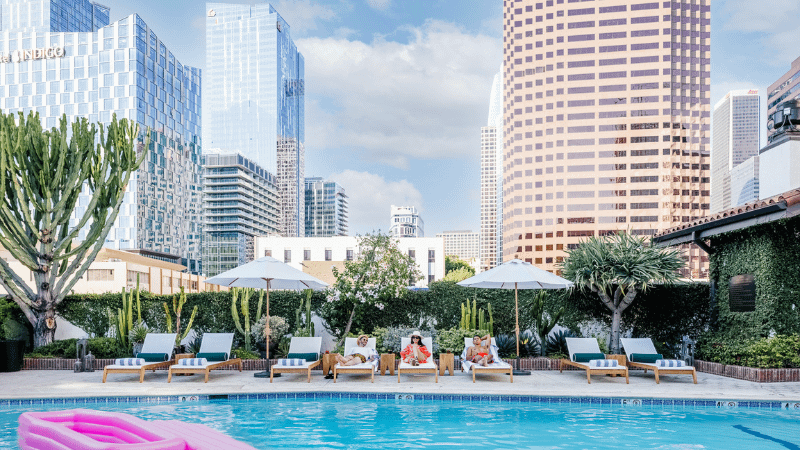 Also situated in DTLA is Hotel Figueroa. Though it can be considered somewhat of a newcomer, having reopened in 2018, the property has been around since 1926, when it served as a women-only hostel/YWCA. The theme of independent women continues today through the hotel's impressive art collection and eclectic design. Soak in the vibe over cocktails at Bar Magnolia. Linger longer over a meal at either Café Fig, La Casita, or Sparrow. Ready to hit the town? No problem. Located conveniently nearby are LA Live, Grand Central Market, Arts District, and Little Tokyo. 
The glamour of Hollywood's Golden Era is alive and well at the Hotel Roosevelt. Situated right on Hollywood Boulevard, the property has hosted luminaries such as Marilyn Monroe, Carole Lombard, and Clark Gable (check out the suites designed with them in mind), since its 1927 opening. Visit today, and it's not uncommon to come across celebrities by the '60s-style pool swilling cocktails from the Tropicana Bar. Feeling peckish? Duck into dining in venues such as The Barish by Nancy Silverton and 25 Degrees. Want to embrace the hotel's vintage vibe? Catch some live jazz at The Lobby or comedy at The Cinegrill Theatre. 
New to the "Vinyl District," a neighborhood embracing Hollywood and the Sunset Strip, is The Aster, a private club with a public all-suites boutique hotel from Salt Hotels. Even before its October 2022 opening, The Aster drew attention with the building's mural from Tristan Eaton. Eye candy (check out the view of Capitol Records) also comes by way of the pool deck and the rooftop bar. Deliciousness of another kind can be had at The Aster's two restaurants — Aster Park and Chef Marcel Vigneron's Lemon Grove. 
Traditional afternoon tea in The Living Room of The Peninsula could be the most civilized way to begin a stay at this luxury hotel. No matter the temps outside, the crackling fireplaces are cozy and welcoming. Save room for dining at The Belvedere, a European brasserie, then partaking in an aperitif at The Club Bar later. Staying in an elegant suite comes with a perk that makes one look forward to LA traffic — the complimentary use of a BMW. 
Tucked away just off the Sunset Strip of West Hollywood (WeHo) is the famed Chateau Marmont. There's a sense of mystery, along with a bit of awe, when visiting this 1927-opened hotel. Dine at the Chateau's charming restaurant in a garden setting and get a chance to get a glimpse of film deals being made over lunch. Check into a suite or bungalow, and a sense of privacy prevails — yes, one can relax in Moroccan ambiance without the threat of prying eyes. Stay in the Penthouse Suite — time on the terrace may lead to extending one's stay. 
This iconic hotel at the intersection of Wilshire Boulevard and Rodeo Drive has been a Beverly Hills fixture since 1928. Though the lure of Beverly Hills shopping will likely find guests hitting the neighborhood's sidewalks, spending an afternoon poolside with a cocktail is a worthy pursuit. Even better is taking a sensory journey (the walk through the alcove with water walls and a giant crystal is magical) via the Forbes Five-Star The Spa at Beverly Wilshire. Dining at Wolfgang Puck's The Cut, or TheBlvd, is spectacular, as well.