It's summer solstice, and Danish Vikings have invaded California's Muir Beach. They are easy to locate. If you don't see their red flags or hear a chorus of song, then just follow the smoke to the burning effigy. When you approach the lively group, you will be welcomed like an old friend and handed an ice-cold Carlsberg beer. While the singing is optional, drinking is not.
Summer solstice, or midsummer, is widely celebrated throughout northern Europe and the Baltic countries. In Denmark, the tradition harks back to the Viking era, when midsummer was a magical evening steeped in pagan ritual celebrating the summer light. Blazing bonfires were lit to ward away malingering evil spirits; flowers and herbs with medicinal properties were gathered for curative needs; and pilgrimages were made to healing springs. With the rise of Christianity, the pagan traditions were tidied up and packaged into the decidedly less hedonistic anniversary of the birth of John the Baptist (Sankt Hans) on June 23, which became Denmark's official day of the solstice celebration known as Sankt Hans Aften.
Nowadays, the summer solstice is an excuse for Danes to stay up late and party — and who can blame them after a long winter in the dark? And what a party it is: People of all ages gather along the beaches that line the coast, fjords, and lakes. The daylight lingers to near midnight, when the sun attempts to set, teasing the horizon, before changing its mind and rising again in the wee hours of the morning. Bonfires are lit, speeches are made, songs are sung, and food and drink are plentiful. The celebrations culminate with an effigy of a witch burnt over the fire, a relatively contemporary addition to the litany of solstice rituals and a symbol of banishing evil spirits — much to the delight of neo-pagans, children, and pyromaniacs alike.
The beauty of this celebration is that it is not confined to the motherland. Wherever there are Danes, a beach, and the summer solstice, you can be sure there will be a party. For many years, Muir Beach in Marin County has hosted a group of expat Danes, along with an ever-increasing entourage of their friends and Viking-wannabes who fancy a party honoring the longest day of the year. It's a wonderful blend of Nordic tradition and Californian sensibilities. Picture a roaring bonfire, kettle grills roasting sausages and skewers of meat, tables laden with local cheese, baskets of freshly picked strawberries and platters of inspired farmers' market salads, with plenty of local wine and Danish beer for refreshment.
Even if you don't know a Dane, or if you are not near a beach, the longest day of the year is a celebration for all. So, pack a picnic, rally your friends and head to a beach, a park, or even your backyard. While there is no precise way to celebrate at a solstice party, a good rule of thumb is the more the merrier, a grill is essential, and potluck is the way to go. Let the hosts take charge of the grilled foods and sundries; ask everyone else to complete the menu with an appetizer, salad, or dessert and to contribute a bottle for sharing. Time the festivities for the end of the afternoon to enjoy a few hours of sunshine before the sunset. Once the sun begins to set, build a bonfire if you are permitted (and be sure to check your local rules first). While burning an effigy is entirely optional, don't forget long sticks for roasting s'mores and snobrød, which are skewered "snakes" of bread cooked over the coals — a Danish campfire favorite.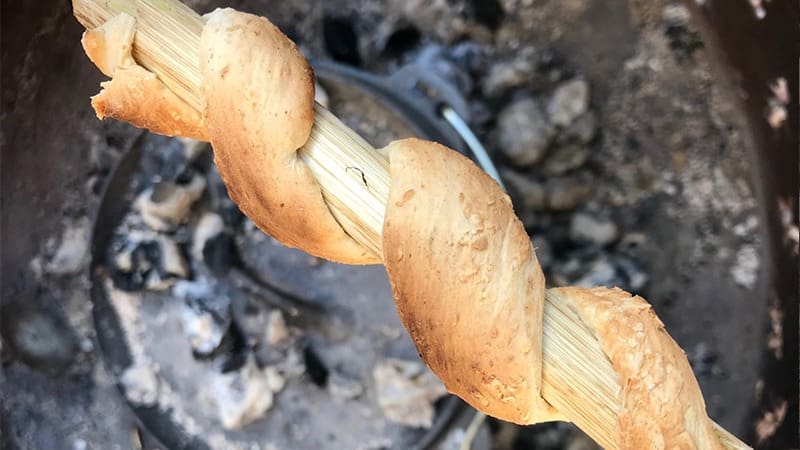 Danish Camp Fire Bread (Snobrød)
Makes 6 to 8
2 1/4 cups all-purpose flour
1 cup warm water
2 tablespoons olive oil
1 teaspoon instant yeast
1 teaspoon sugar
1 teaspoon kosher salt
Combine all the ingredients in a large bowl and mix to blend. Cover the bowl and let rise in a warm place for 1 hour. Punch the dough down, form a ball, and divide into 6 to 8 pieces. Roll each piece into a long sausage shape. Wrap the dough around a long stick or skewer. Hold the skewer with the dough over the embers. Cook until golden brown on all sides, turning the stick as needed. Eat as is or make a hole in the center for a hotdog or sausage.
Grilled Skirt Steak Skewers with Green Chile Sauce
Marinade:
1/4 cup fresh lime juice
2 tablespoons olive oil
2 garlic cloves, minced
2 tablespoons soy sauce or tamari
2 tablespoons (packed) light brown sugar
1 tablespoon Sriracha
1 teaspoon ground cumin
1/2 teaspoon kosher salt
1/2 teaspoon freshly ground black pepper
2 1/2 pounds skirt steak, cut against the grain in 1-inch strips
Sauce:
1 large poblano pepper, stemmed, coarsely chopped
1 large jalapeño pepper, stemmed, coarsely chopped
2 garlic cloves
1 cup (packed) cilantro sprigs
1 cup (packed) Italian parsley sprigs
1/2 cup (packed) mint leaves
2 tablespoons extra-virgin olive oil, plus more as needed
Juice of 1 lime
1/4 teaspoon ground cumin
1/4 teaspoon kosher salt, or more to taste

1. Whisk all the marinade ingredients in a small bowl. Place the steak strips in a resealable plastic bag or glass container with a lid. Pour the marinade over and turn the steak to coat. Cover and refrigerate for 4 hours or overnight.

2. Make the sauce: Place the peppers and garlic in a food processor. Pulse to chop. Add the cilantro, parsley, mint, oil, lime juice, cumin, and salt and process to blend. Add more oil, 1 tablespoon at a time, until the sauce is thick but pourable. Taste for seasoning and add more salt or a pinch of sugar if desired.

3. Remove the steak from the refrigerator 30 minutes before grilling. Thread the strips on pre-soaked bamboo skewers and discard the marinade.

4. Prepare the grill for direct cooking over high heat. Grill the skewers over direct heat until charred and cooked to your desired doneness, 5 to 7 minutes for medium-rare. Serve with the green chile sauce.
Danish Potato Salad with Garden Herbs

3 pounds new potatoes or small potatoes (red, white, or blue)
Kosher salt
1/4 cup extra-virgin olive oil
1/4 cup white balsamic vinegar
4 scallions, white and green parts chopped
1 large garlic clove, minced
1/2 teaspoon freshly ground black pepper
3 cups fresh herbs, such as parsley, mint, dill, chervil, chives, tarragon, coarsely chopped
Flowering mustard sprigs for garnish (optional)
1. Place the potatoes in a large pot. Cover with cold water and add 2 teaspoons salt. Bring to a boil over medium-high heat. Partially cover the pot and cook until the potatoes are fork tender, but not mushy, 10 to 15 minutes depending on the potatoes. Drain the potatoes and let stand for 5 minutes to cool slightly.
2. Cut the potatoes in half or large bite-size pieces and place in a large bowl. Add the oil, vinegar, scallions, garlic, 1 teaspoon salt, and the black pepper and stir to thoroughly combine. Cool to room temperature.
3. Before serving, taste for seasoning and add more salt and pepper if desired. Add the fresh herbs and stir to blend. If the salad is too dry, add additional olive oil. Serve at room temperature.
California Solstice Events:

Sail by Day and Party by Night
Alameda, California
Alameda's Encinal Yacht Club kicks off the summer with a small boat regatta, harbor stroll, boat building competition, and other nautical activities. It's Northern California's largest on-the-water celebration and finishes in the evening with the PirateCon party.
San Diego's Arts District Liberty Station celebrates the arrival of summer with three days of art, dance, music, and recreation, all free and open to the public.
Lynda Balslev is an award-winning food writer, editor and recipe developer based in the San Francisco Bay area. She writes about food and travel, contributes to NPR's Kitchen Window, Relish magazine, Marin Magazine and authors the blog TasteFood, a compilation of more than 500 original recipes, photos and stories.