Nicknamed "The Gathering Place," the island of O'ahu attracts not only visitors from all over the world but also artists and artisans inspired by the Hawaiian Islands as well as international trends in a variety of fields and genres.
Many of these have found a welcome home in Waikiki, thanks to Outrigger Resorts & Hotels. At the Outrigger Waikiki Beachcomber Hotel, for example, a free quarterly gathering known as TOMA — short for "Terrace of Modern Art" — creates a pop-up gallery on the hotel's outdoor pool deck. Guests can meet with local and visiting artists and mingle with fellow patrons over handcrafted cocktails and appetizers from Hawaiian Aroma Caffe, the lively contemporary art gallery and cafe on the hotel's street level on Kalākaua Avenue.
TOMA events always raise funds for a good cause, and the Oct.13 gathering was no exception. Some of the most renowned names in the  modern art scene of Hawai'i — Kelsie Dayna, Aloha De Mele, Solario Art and Lacyann Kaheakū Lyons among them — joined Japanese graphic artist TAMO in a benefit for the OutriggerCares Maui Host Relief Fund. The fund gives financial aid to Outrigger employees affected by the devastating wildfires in August. To find out the dates of the next TOMA event, follow Outrigger Beachcomber Waikiki on social media.
More than a dozen artists and influencers also created and contributed personal artwork to the recently renovated Outrigger Beachcomber Waikiki, providing a unique sensory ambiance from the moment guests step on the escalator to the second-floor lobby. Extreme-surf photographer Zak Noyle, Hawaiian fiber artist Marques Marzan and internationally acclaimed slack-key guitarist Makana were all part of the group dubbed "The Beachcomber Originals," who continue to collaborate with the hotel on new events and installations.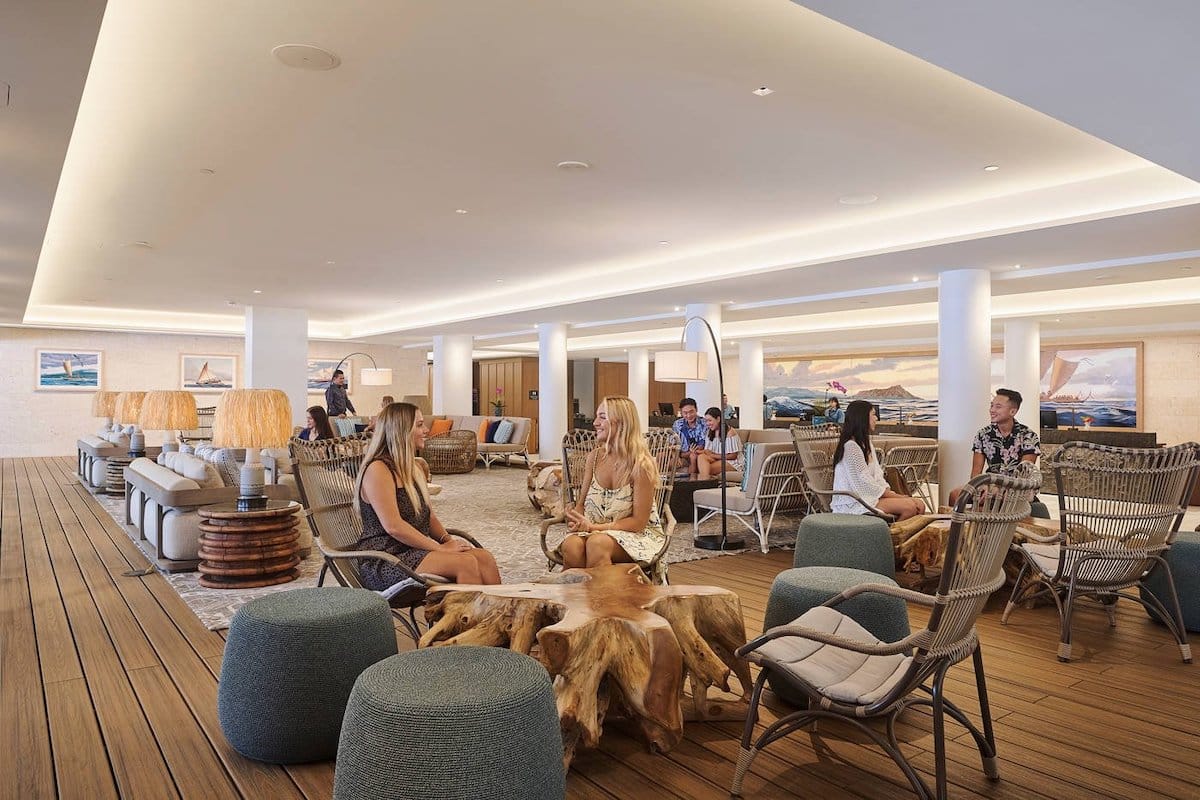 Marzan also created a wall-sized installation from coconut and hemp rope  for the recent $80 million transformation of  Outrigger Waikiki Reef Beach Resort . Titled  "Eia Hawai'i, He Moku, He Kanaka" ("Here Is Hawai'i, an Island, a People"), the woven piece serves both as a map of the islands and an appropriate backdrop for the resort's Herb Kāne Lounge, named after the late Hawaiian artist, historian and author whose seafaring paintings hang in the lounge across from the front desk. Kāne was also one of the founding members of the Polynesian Voyaging Society, helping build the Hōkūle'a sailing canoe that is currently traveling in Southern California waters as part of a four-year worldwide voyage.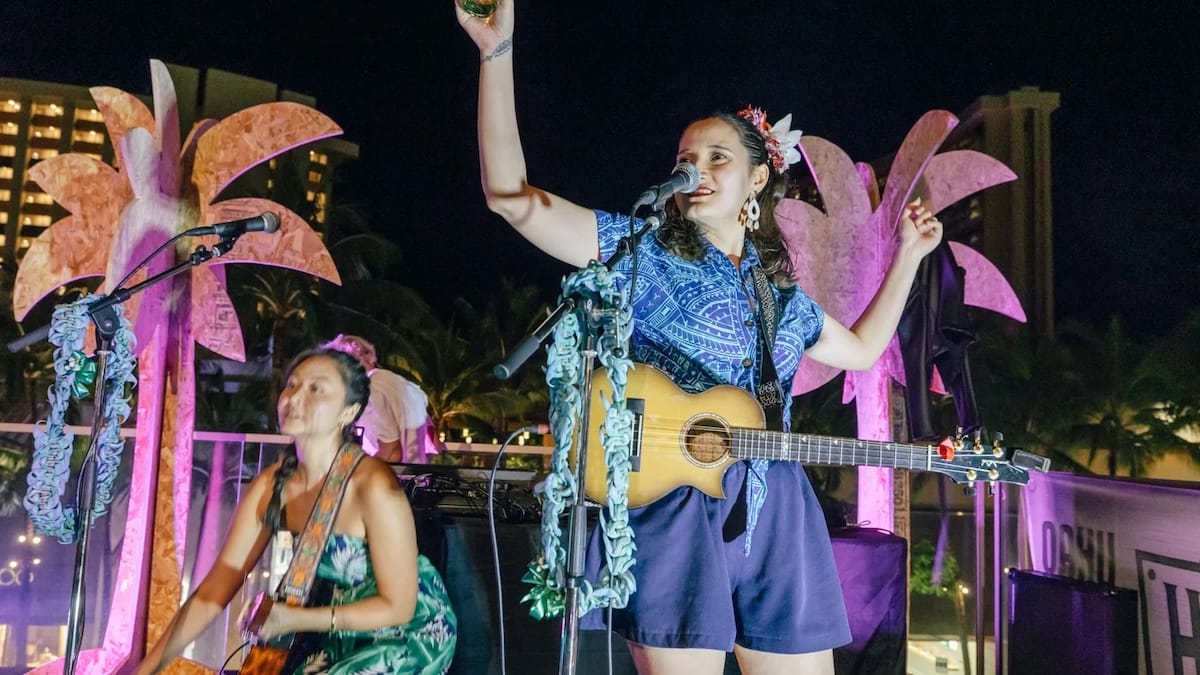 The resort's oceanfront Voyager 47 Club Lounge, available to premium rooms and suites, also pays homage to Hawaii's voyaging tradition, as does another wall-sized artwork, "I Ka Wa Ma Mua, Ka Wa Ma Hope" by Kamea Hadar. Translated in English as "Through  the Past Is the Future," the mural depicts a voyaging canoe with a crew of children, all of whom are modeled on young descendants or relatives of prominent Native Hawaiians and other luminaries, including the grand-niece of Israel "Iz" Kamakawiwo'ole and the grandson of Hōkūle'a master navigator Bruce Blankenfeld.
Hadar's colorful mural faces the Outrigger Reef's new A'o Cultural Center, where guests gather to learn traditional arts such as stringing leis, making kūpe'e (bracelets) from ti leaves or kukui nuts, 'ohe kāpala (bamboo printing), and playing kala'au (rhythm sticks.) The resort's poolside Kani Ka Pila Grille, now celebrating its 15th anniversary, also shares Hawaiian culture by presenting top Hawaiian musicians such as Sean Na'auao, Kawika Kahiapo, Ei Nei and Ho'okena from 6 to 9 p.m. nightly.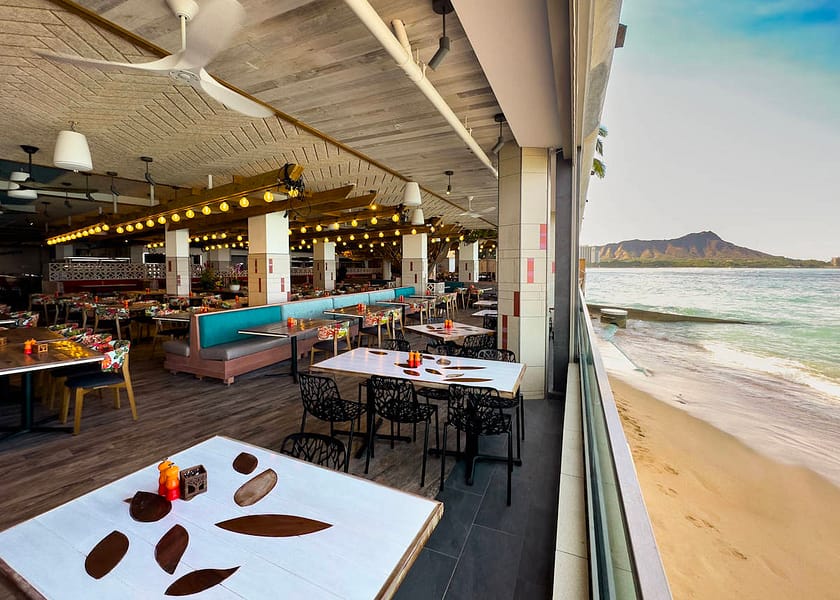 Monkeypod Kitchen by Merriman, the resort's brand-new signature beachfront dining experience, also features live music daily, at 12:30, 3:30 and 7:30 p.m., as well as the work of the islands' culinary artisans, including local distillers, brewers, farmers, ranchers and cheesemakers. Created by Hawai'i Regional Cuisine co-founder Peter Merriman, this all-day restaurant is his only oceanfront dining room on O'ahu and his only one serving breakfast. Don't forget to return later in the day for his famous Monkeypod Mai Tai with Kula organic silver and dark rum, housemade macadamia orgeat and honey-lilikoi foam.
The flagship of Outrigger's global beach beachfront portfolio, the resort recently debuted the Coral Reef Penthouse Suite in the all-new Diamond Head Tower, which pays tribute to the brand's "long-standing commitment to preserving, protecting and planting coral reefs through our global conservation program," according to Sean Dee, Outrigger's executive vice president and chief commercial officer. A portion of each direct booking o the premium penthouse — part of an all-new Wellness Wing that includes a fitness center and the Coral Kids Club —  goes toward coral reef reservation. Guests also can take advantage of complimentary reef-safe sunscreen by the pool.