Partner Content | Photo: Darrell Aquina plays the Slack Key Festival
Dating back to the days of 19th century paniolo (cowboys), slack key guitar is one of Hawaii's signature sounds. So it's no surprise this melodic tradition has found a showcase at Outrigger Kona Resort & Spa, part of a brand that celebrates local music and Hawaiian culture, and a gateway to discovering all that the island of Hawai'i has to offer.
The oceanfront resort will present some of slack key's most revered practitioners at the 26th annual Slack Key Guitar Festival — Kona Style on Sunday, October 29, from 1 to 5 p.m., in  partnership with the Kī Hō'alu Foundation. Performers include Ledward Kaapana, Stephen Inglis, Bobby Moderow, Sonny Lim and many others skilled in kī hō`alu, Hawaiian for "loosen the key," referring to the tuning popularized by the paniolo. The $20 tickets benefit the foundation.
"Hawaiian slack key guitar is an encapsulation of Hawai'i's rich and diverse history showcasing the artistry, tradition and community spirit within our islands," explained Luana Maitland, director of cultural experience at Outrigger Waikiki Beach Resort. "We are honored to work with the Kī Hō'alu Foundation to share this beloved genre of music from Hawai'i with kama'āina and guests alike."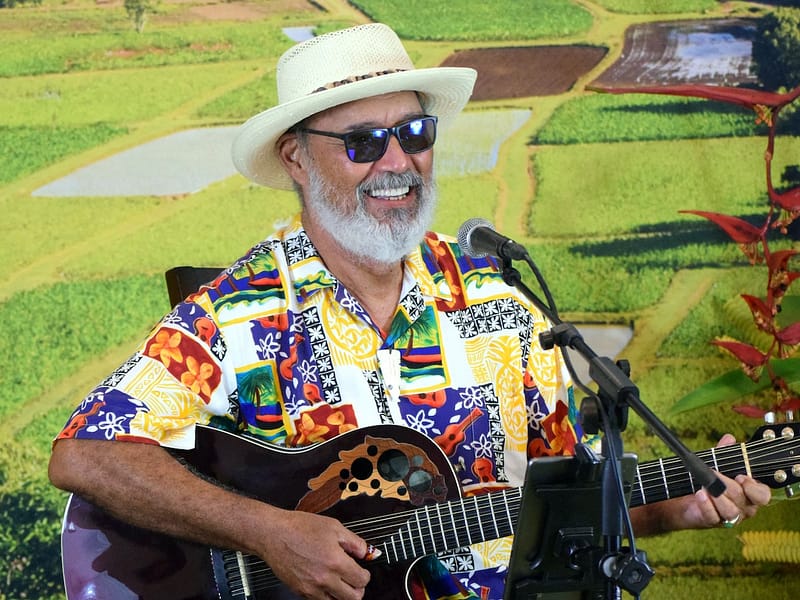 Overlooking Keauhou Bay just south of Kailua-Kona, Outrigger Kona Resort & Spa makes it easy for guests to immerse themselves in Hawaiian culture and history year-round. A free 90-minute cultural tour includes nearby historic sites such as the traditional fishing village of Kaukulaelae and the birthplace of King Kamehameha III. The second son of King Kamehameha I and Keōpūolani, he appeared to be stillborn at his birth in 1814, but revived in a freshwater spring on the edge of the bay.
 Within a 5-minute drive lie the boulder-strewn sea cliffs of the Lekeleke Burial Grounds and Kuamo'o Battlefield, where some 300 warriors lost their lives fighting over the traditional kapu system of laws and beliefs in 1819. The overthrow of kapu eased the evangelism of Christian missionaries, who arrived in 1820 and later built Mokuaikaua Church in Kailua-Kona, a 20-minute drive from Outrigger Kona along scenic Ali'i Drive. Across the street from the church stand oceanfront Hulihe'e Palace, the restored summer home of Hawaiian royalty. Both structures are open for tours.
The resort's twice-weekly outdoor Feast and Fire Luau offers another fascinating way to learn Hawaiian lore. While music and hula pay tribute to the Polynesian voyagers who settled Hawai'i and the culture they created in their new environment, the dinner menu highlights island favorites such as kalua pork, taro rolls, fresh local fish and malasadas (a kind of doughnut hole  brought by Portuguese immigrants.) The full bar provides pairings of beer, wine and mai tais.  
You can also find delicious pūpū (appetizers), beer and wine at the early-evening receptions of the resort's Voyager 47 Club Lounge, which  also serves complimentary breakfast to those with access. Club Room accommodations not only grant entry to the lounge, but also feature roomy suites with enhanced bath amenities. All of the 509 rooms on the 22-acre resort include private lānai (balconies), most with views of the Pacific Ocean or Keauhou Bay as well as tropical landscaping and lava rocks.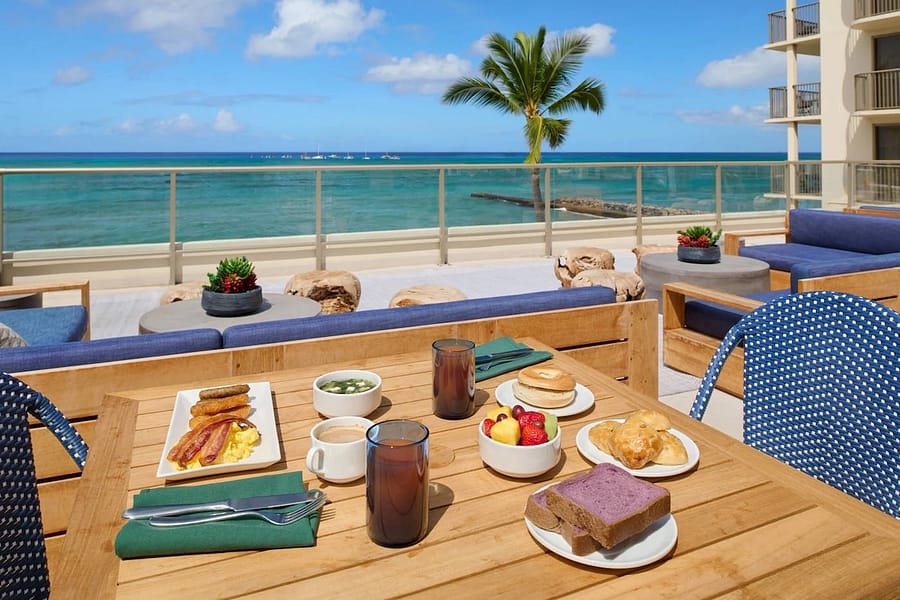 From the resort's paved walkway along Keauhou Bay and rooms overlooking it, guests can often spot the gentle marine giants known as manta rays. The Kona-Kohala coastline is one of very few easily accessible areas in the world where manta rays make regular appearances, filling their seemingly empty bellies on plankton, which in turn is attracted by artificial lighting at night. A 5-minute evening boat excursion from Keauhou Harbor will allow you to float with a snorkel above the mantas as they somersault through the water.
Nearby, Kealakekua Bay State Historical Park  offers opportunities for snorkeling, kayaking and hiking to the obelisk that marks where Captain James Cook — the first Westerner known to visit the Hawaiian Islands — lost his life in a skirmish in 1779. Another Englishman, Henry Greenwell, had a happier experience on the island, establishing one of the first Kona coffee farms in 1850. Take a free tour of Greenwell Farms, a 12-minute drive south from Outrigger Kona, then sample more coffee, chocolate and honey produced by local farms in rich volcanic soil.
You can also meet area farmers and artisans at the resort's twice-weekly Ho'olu Market, held on the lawn. It's just one of a number of on-site activities designed, like the Slack Key Guitar Festival, to connect you to the unique culture and people of Hawai'i.